1988 Upper Deck Promo
Description
These two cards of California Angels stars DeWayne Buice and Wally Joyner were the very first cards ever issued by The Upper Deck Company. They were given away to Hobby dealers as samples during the summer of 1988, primarily at that year's National Sports Collectors Convention in Atlantic City, in anticipation of Upper Deck obtaining licenses from Major League Baseball and the Major League Baseball Players Association. The design of the '88 promos is almost identical to what Upper Deck would use in their landmark 1989 Upper Deck set, with a few minor changes.
There are three variations of each card based on where the hologram on the reverse side is located. The most common variety, Type A, has a small rounded-oval shaped hologram on the bottom. On Type B, the hologram is of a similar shape, but extends to the bottom edge of the card. Only two of the hologram's four corners are rounded. Type C, by far the scarcest, has a hologram with four square corners at the top card. It is believed that only 25,000 copies of each player's card were printed.
History
Wally Joyner and DeWayne Buice were interested in investing in Upper Deck; however MLBPA by-laws prohibited players from investing in companies that have PA licenses. Buice, whose chance encounter with Upper Deck's founders while searching for a Chinese restaurant in November 1987, would continue to use his contacts to assist in UD's acquisition of an MLBPA license. After his playing career ended in midway through the 1989 season, Buice would later be rewarded with a 12% stake in UD, which he later sold back to the company for $17 million. (By comparison, in his two-and-a-half seasons as a Major League relief pitcher, Buice earned all of $212,500.) [1]
Buice, who was pitching for the California Angels at the time, would become a founding partner. In November 1987, Buice walked into a trading card store called The Upper Deck. He was noticed by the store owner Bill Hemrick. The two struck up a friendship that led to Buice having an autograph signing at the store, and within weeks, Buice had become one of Hemrick's business partners. Hemrick and his partner Paul Sumner were in the process of starting Upper Deck. The two did not have the connections to help land them the necessary license from the Major League Baseball Players Association (MLBPA), which would allow them to use the names and likenesses of the players on the cards. The only response they could elicit was that the players' union wasn't accepting another card company for three more years. Buice was told that if he could help them secure a license, he was promised a 12 percent stake in the card company. Buice would become a key figure in getting MLBPA officials to agree to a meeting. By the end of the 1988 season, Henrick and Summer received the license and were making baseball cards in 1989.
By the time Buice retired from professional ball at the end of the 1989 season, he had collected $2.8 million. Buice believed he was owed much more, so he sued Upper Deck executives. After a battle over his stake in the company was settled in court, he became a millionaire who reportedly made $17 million on the deal, far more than what he ever made as a baseball player. In two and a half seasons with the Angels, Buice made $212,500.
After winning the lawsuit, Upper Deck was originally scheduled to pay Buice his millions over a four-year period. Due to the 1994 baseball strike, Upper Deck's business stalled. Buice agreed to a six-year payment plan. Sales in 1995 and 1996 were down so much that for those couple years all the company's profits were going to Buice.
On the day in 1998 that Upper Deck cut its last check to Buice, there was a party at company headquarters. The top brass ordered everyone to work just a half day. Later that year at the Christmas party, Upper Deck CEO Richard McWilliam told employees that the company's deal with Buice was the worst deal it had ever done.
Checklist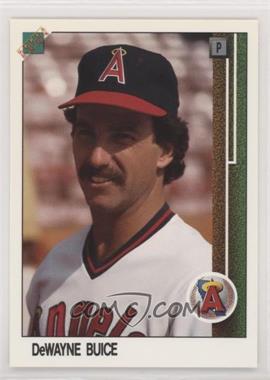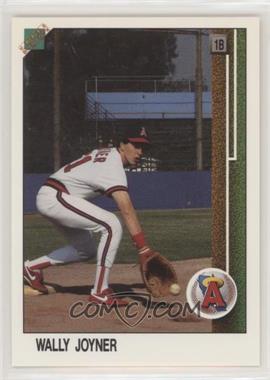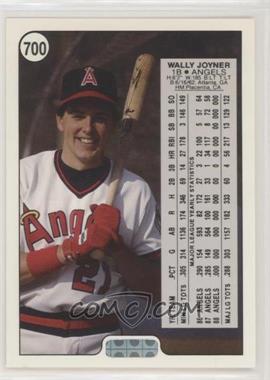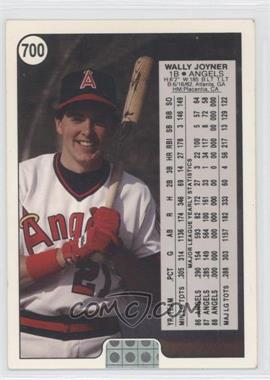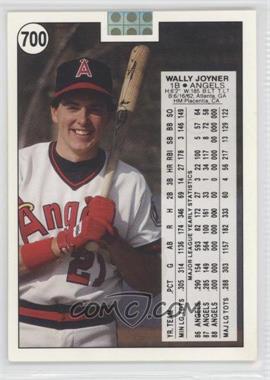 A1 DeWayne Buice
A700 Wally Joyner
B1 DeWayne Buice
B700 Wally Joyner
C1 DeWayne Buice
C700 Wally Joyner