2003 Upper Deck Prospect Premieres
Description
2003 Upper Deck Prospect Premieres is a 90-card set released in December, 2003. For the third straight year, the product features only minor league prospects and draft picks and no current Major League players. As a result, none of the cards in this set are considered "true" rookie cards.
Each 18-pack Hobby box should yield two of 65 Star Rookie autographs, and one of 40 Star Rookie jerseys.
This would be the final year for Prospect Premieres.
Distribution
18 packs per box, four cards per pack (MSRP: $2.99).
Reviews
Insertion Ratios
| Cards | Total Cards | Numbered To | Hobby Odds |
| --- | --- | --- | --- |
| Base | 90 | - | ? |
| Star Rookie Autographs | 65 | - | 1:9 |
| Star Rookie Game Jerseys | 40 | - | 1:18 |
Checklist
Base Set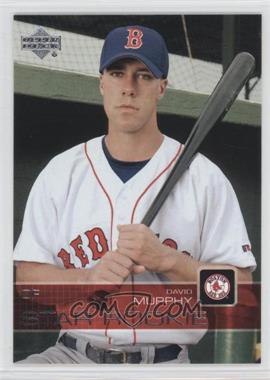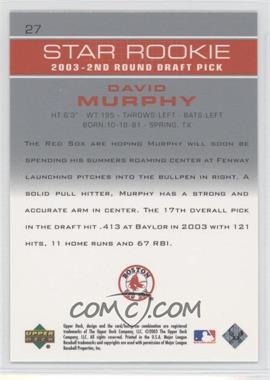 1 Bryan Opdyke
2 Gabriel Sosa
3 Tila Reynolds
4 Aaron Hill
5 Aaron Marsden
6 Abe Alvarez
7 Adam Jones
8 Adam Miller
9 Andre Ethier
10 Anthony Gwynn
11 Brad Snyder
12 Brad Sullivan
13 Brian Anderson
14 Brian Buscher
15 Brian Snyder
16 Carlos Quentin
17 Chad Billingsley
18 Fraser Dizard
19 Chris Durbin
20 Chris Ray
21 Conor Jackson
22 Kory Casto
23 Craig Whitaker
24 Daniel Moore
25 Daric Barton
26 Darin Downs
27 David Murphy
28 Dustin Majewski
29 Edgardo Baez
30 Jake Fox
31 Jake Stevens
32 Jamie D'Antona
33 James Houser
34 Jarrod Saltalamacchia
35 Jason Hirsh
36 Javi Herrera
37 Jeff Allison
38 John Hudgins
39 Jo Jo Reyes
40 Justin James
41 Kurt Isenberg
42 Kyle Boyer
43 Lastings Milledge
44 Luis Atilano
45 Matt Murton
46 Matt Moses
47 Matt Harrison
48 Michael Bourn
49 Miguel Vega
50 Mitch Maier
51 Omar Quintanilla
52 Ryan Sweeney
53 Scott Baker
54 Sean Rodriguez
55 Steve LeRud
56 Thomas Pauly
57 Tom Gorzelanny
58 Tim Moss
59 Robbie Wooley
60 Trey Webb
61 Wes Littleton
62 Beau Vaughan
63 Willy Jo Ronda
64 Chris Lubanski
65 Ian Stewart
66 John Danks
67 Kyle Sleeth
68 Michael Aubrey
69 Kevin Kouzmanoff
70 Ryan Harvey
71 Tim Stauffer
72 Tony Richie
73 Brandon Wood
74 David Aardsma
75 David Shinskie
76 Dennis Dove
77 Eric Sultemeier
78 Jay Sborz
79 Jimmy Barthmaier
80 Josh Whitesell
81 Josh Anderson
82 Kenny Lewis
83 Mateo Miramontes
84 Nick Markakis
85 Paul Bacot
86 Peter Stonard
87 Reggie Willits
88 Shane Costa
89 Billy Sadler
90 Delmon Young
Autographs & Game-Used
Star Rookie Autographs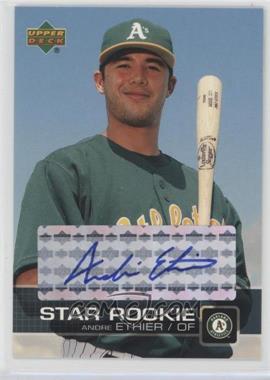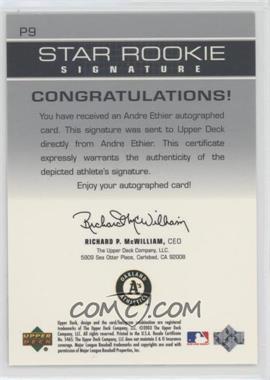 This set is an autographed pseudo-parallel of the first 71 cards in the base set. Each card is sequentially-numbered with a "P" prefix.
The following cards do not exist: P18, P28, P47, P54, P59 and P69.
P1 Bryan Opdyke
P2 Gabriel Sosa
P3 Tila Reynolds
P4 Aaron Hill
P5 Aaron Marsden
P6 Abe Alvarez
P7 Adam Jones
P8 Adam Miller
P9 Andre Ethier
P10 Anthony Gwynn
P11 Brad Snyder
P12 Brad Sullivan
P13 Brian Anderson
P14 Brian Buscher
P15 Brian Snyder
P16 Carlos Quentin
P17 Chad Billingsley
P19 Chris Durbin
P20 Chris Ray
P21 Conor Jackson
P22 Kory Casto
P23 Craig Whitaker
P24 Daniel Moore
P25 Daric Barton
P26 Darin Downs
P27 David Murphy
P29 Edgardo Baez
P30 Jake Fox
P31 Jake Stevens
P32 Jamie D'Antona
P33 James Houser
P34 Jarrod Saltalamacchia
P35 Jason Hirsh
P36 Javi Herrera
P37 Jeff Allison
P38 John Hudgins
P39 Jo Jo Reyes
P40 Justin James
P41 Kurt Isenberg
P42 Kyle Boyer
P43 Lastings Milledge
P44 Luis Atilano
P45 Matt Murton
P46 Matt Moses
P48 Michael Bourn
P49 Miguel Vega
P50 Mitch Maier
P51 Omar Quintanilla
P52 Ryan Sweeney
P53 Scott Baker
P55 Steve LeRud
P56 Thomas Pauly
P57 Tom Gorzelanny
P58 Tim Moss
P60 Trey Webb
P61 Wes Littleton
P62 Beau Vaughan
P63 Willy Jo Ronda
P64 Chris Lubanski
P65 Ian Stewart
P66 John Danks
P67 Kyle Sleeth
P68 Michael Aubrey
P70 Ryan Harvey
P71 Tim Stauffer
Star Rookie Jerseys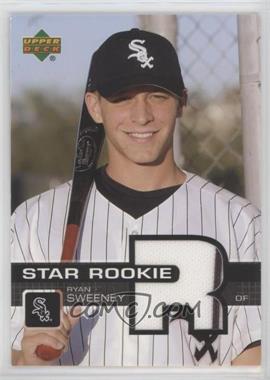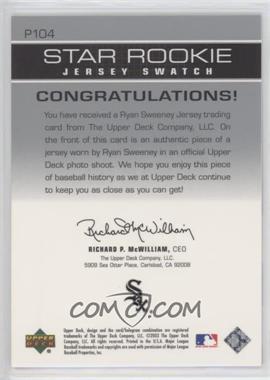 Cards #P72-#P89 are a game-used pseudo-parallel of the base set. Cards #P91-#P113 parallel base set cards from the first 71 cards in the base set. Card #P90 does not exist.
P72 Tony Richie
P73 Brandon Wood
P74 David Aardsma
P75 David Shinskie
P76 Dennis Dove
P77 Eric Sultimeier
P78 Jay Sborz
P79 Jimmy Barthmaier
P80 Josh Whitesell
P81 Josh Anderson
P82 Kenny Lewis
P83 Mateo Miramontes
P84 Nick Markakis
P85 Paul Bacot
P86 Peter Stonard
P87 Reggie Willits
P88 Shane Costa
P89 Billy Sadler
P91 Kyle Sleeth
P92 Ian Stewart
P93 Fraser Dizard
P94 Abe Alvarez
P95 Adam Jones
P96 Brian Anderson
P97 Chris Durbin
P98 Craig Whitaker
P99 Jake Fox
P100 Kurt Isenberg
P101 Luis Atilano
P102 Miguel Vega
P103 Mitch Maier
P104 Ryan Sweeney
P105 Scott Baker
P106 Sean Rodriguez
P108 Trey Webb
P109 Willy Jo Ronda
P110 John Danks
P111 Michael Aubrey
P112 Lastings Milledge
P113 Chris Lubanski