2007 Upper Deck
Description
2007 Upper Deck is a 1020-card set was issued over two series of 500 cards with additional 20-card Rookie Exchange set numbered sequentially at the beginning of the second series. Series One was released in March 2007, and the second series was released in June.
Distribution
Hobby: 16 packs per box, 15 cards per pack. 12 boxes per case.
Retail: 24 packs per box, eight cards per pack.
Fat Packs: 18 packs per box, 32 cards per pack.
Six-pack Blasters.
12-pack Blasters.
Reviews
Insertion Ratios
Series One
| Cards | Total Cards | Numbered To | Hobby Odds | Retail Odds | Fat Pack Odds |
| --- | --- | --- | --- | --- | --- |
| Base | 500 | - | ? | ? | ? |
| Gold | 500 | 75 | 1:16 | ? | ? |
| Printing Plates | 500 | four for each | ? | ? | ? |
| 1989 Reprints | 26 | - | 1:4 | 1:6 | N/A |
| Chronicles | 100 | - | 1:4 | 1:36 | N/A |
| Iron Man | 50 | - | N/A | W | N/A |
| Road to the Hall | 50 | - | N/A | T | N/A |
| Star Power | 50 | - | N/A | N/A | two-per-pack |
| Star Rookies | 50 | - | N/A | N/A | two-per-pack |
| Playoff Predictors | 30 | - | 1:16 | 1:240 | N/A |
| MVP Predictors | 70 | - | 1:16 | 1:240 | N/A |
| 2007 Rookie Redemptions | 20 | - | 1:96 | N/A | N/A |
| Star Rookies | 30 | - | N/A | N/A | 2:1 |
| UD Game Materials | 43 | - | 1:8 | 1:24 | N/A |
| Star Signings | 99 | - | 1:16 | 1:960 | N/A |
| UD Game Patch | 41 | - | 1:192 | 1:2500 | N/A |
| Iron Man Autographs | 4 | one-of-one | N/A | W | N/A |
Series Two
| Cards | Total Cards | Numbered To | Hobby Odds | Retail Odds | Fat Pack Odds |
| --- | --- | --- | --- | --- | --- |
| Base | 500 | - | ? | ? | ? |
| Printing Plates | 500 | four for each | ? | ? | ? |
| 1989 Rookies | 50 | - | 1:4 | ? | ? |
| Cooperstown Calling | 50 | - | N/A | W | N/A |
| Ticket to Stardom | 50 | - | N/A | T | N/A |
| MVP Potential | 50 | - | N/A | N/A | two-per-pack |
| Rookie of the Year Predictor | 50 | - | 1:16 | 1:96 | N/A |
| UD Game Materials | 40 | - | 1:8 | 1:24 | N/A |
| Matsuzaka Game Used | 1 | 150 | ? | ? | ? |
| 1989 Rookie Reprint Signatures | 24 | 5 | ? | ? | ? |
| Cooperstown Calling Autographs | 10 | - | N/A | W | N/A |
| Ticket To Stardom Autographs | 10 | - | N/A | T | N/A |
W: Exclusive to packs sold at Wal-Mart.
T: Exclusive to packs sold at Target.
Checklist
Base Set
Series One
Star Rookies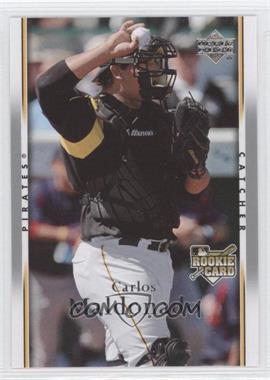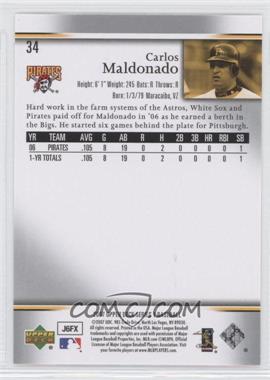 1 Doug Slaten RC
2 Miguel Montero (RC)
3 Brian Burres (RC)
4 Devern Hansack RC
5 David Murphy (RC)
6 Jose Reyes RC
7 Scott Moore (RC)
8 Josh Fields (RC)
9 Chris Stewart RC
10 Jerry Owens (RC)
11 Ryan Sweeney (RC)
12 Kevin Kouzmanoff (RC)
13 Jeff Baker (RC)
14 Justin Hampson (RC)
15 Jeff Salazar (RC)
16 Alvin Colina RC
17 Troy Tulowitzki (RC)
18 Andrew Miller RC
19 Mike Rabelo RC
20 Jose Diaz (RC)
21 Angel Sanchez RC
22 Ryan Z. Braun RC
23 Delwyn Young (RC)
24 Drew Anderson RC
25 Dennis Sarfate (RC)
26 Vinny Rottino (RC)
27 Glen Perkins (RC)
28 Alexi Casilla RC
29 Philip Humber (RC)
30 Andy Cannizaro RC
31 Jeremy Brown (RC)
32 Sean Henn (RC)
33 Brian Rogers (RC)
34 Carlos Maldonado (RC)
35 Juan Morillo (RC)
36 Fred Lewis (RC)
37 Pat Misch (RC)
38 Billy Sadler (RC)
39 Ryan Feierabend (RC)
40 Cesar Jimenez RC
41 Oswaldo Navarro RC
42 Travis Chick (RC)
43 Delmon Young (RC)
44 Shawn Riggans (RC)
45 Brian Stokes (RC)
46 Juan Salas (RC)
47 Joaquin Arias (RC)
48 Adam Lind (RC)
49 Beltran Perez (RC)
50 Brett Campbell RC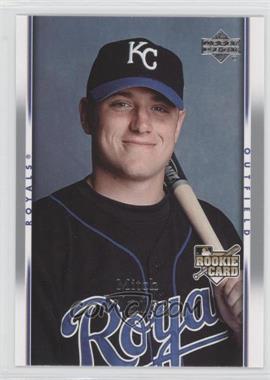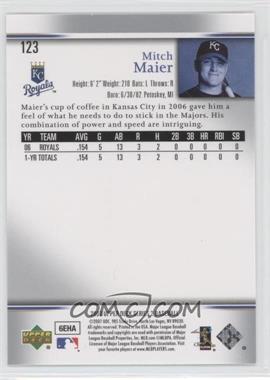 51 Brian Roberts
52 Miguel Tejada
53 Brandon Fahey
54 Jay Gibbons
55 Corey Patterson
56 Nick Markakis
57 Ramon Hernandez
58 Kris Benson
59 Adam Loewen
60 Erik Bedard
61 Chris Ray
62 Chris Britton
63 Daniel Cabrera
64 Sendy Rleal
65 Manny Ramirez
66 David Ortiz
67 Gabe Kapler
68 Alex Cora
69 Dustin Pedroia
70 Trot Nixon
71 Doug Mirabelli
72 Mark Loretta
73 Curt Schilling
74 Jonathan Papelbon
75 Tim Wakefield
76 Jon Lester
77 Craig Hansen
78 Keith Foulke
79 Jermaine Dye
80 Jim Thome
81 Tadahito Iguchi
82 Rob Mackowiak
83 Brian Anderson
84 Juan Uribe
85 A.J. Pierzynski
86 Alex Cintron
87 Jon Garland
88 Jose Contreras
89 Neal Cotts
90 Bobby Jenks
91 Mike MacDougal
92 Javier Vazquez
93 Travis Hafner
94 Jhonny Peralta
95 Ryan Garko
96 Victor Martinez
97 Hector Luna
98 Casey Blake
99 Jason Michaels
100 Shin-Soo Choo
101 CC Sabathia
102 Paul Byrd
103 Jeremy Sowers
104 Cliff Lee
105 Rafael Betancourt
106 Francisco Cruceta
107 Sean Casey
108 Brandon Inge
109 Placido Polanco
110 Omar Infante
111 Ivan Rodriguez
112 Magglio Ordonez
113 Craig Monroe
114 Marcus Thames
115 Justin Verlander
116 Todd Jones
117 Kenny Rogers
118 Joel Zumaya
119 Jeremy Bonderman
120 Nate Robertson
121 Mark Teahen
122 Ryan Shealy
123 Mitch Maier RC
124 Doug Mientkiewicz
125 Mark Grudzielanek
126 Shane Costa
127 John Buck
128 Reggie Sanders
129 Mike Sweeney
130 Mark Redman
131 Todd Wellemeyer
132 Scott Elarton
133 Ambiorix Burgos
134 Joe Nelson
135 Howie Kendrick
136 Chone Figgins
137 Orlando Cabrera
138 Maicer Izturis
139 Jose Molina
140 Vladimir Guerrero
141 Darin Erstad
142 Juan Rivera
143 Jered Weaver
144 John Lackey
145 Joe Saunders
146 Bartolo Colon
147 Scot Shields
148 Francisco Rodriguez
149 Justin Morneau
150 Jason Bartlett
151 Luis Castillo
152 Nick Punto
153 Shannon Stewart
154 Michael Cuddyer
155 Jason Kubel
156 Joe Mauer
157 Francisco Liriano
158 Joe Nathan
159 Dennys Reyes
160 Brad Radke
161 Boof Bonser
162 Juan Rincon
163 Derek Jeter
164 Jason Giambi
165 Robinson Cano
166 Andy Phillips
167 Bobby Abreu
168 Gary Sheffield
169 Bernie Williams
170 Melky Cabrera
171 Mike Mussina
172 Chien-Ming Wang
173 Mariano Rivera
174 Scott Proctor
175 Jaret Wright
176 Kyle Farnsworth
177 Eric Chavez
178 Bobby Crosby
179 Frank Thomas
180 Dan Johnson
181 Marco Scutaro
182 Nick Swisher
183 Milton Bradley
184 Jay Payton
185 Joe Blanton
186 Barry Zito
187 Rich Harden
188 Esteban Loaiza
189 Huston Street
190 Chad Gaudin
191 Richie Sexson
192 Yuniesky Betancourt
193 Willie Bloomquist
194 Ben Broussard
195 Kenji Johjima
196 Ichiro
197 Raul Ibanez
198 Chris Snelling
199 Felix Hernandez
200 Cha-Seung Baek
201 Joel Pineiro
202 Julio Mateo
203 J.J. Putz
204 Rafael Soriano
205 Jorge Cantu
206 B.J. Upton
207 Ty Wigginton
208 Greg Norton
209 Dioner Navarro
210 Carl Crawford
211 Jonny Gomes
212 Damon Hollins
213 Scott Kazmir
214 Casey Fossum
215 Ruddy Lugo
216 James Shields
217 Tyler Walker
218 Shawn Camp
219 Mark Teixeira
220 Hank Blalock
221 Ian Kinsler
222 Jerry Hairston, Jr.
223 Gerald Laird
224 Carlos Lee
225 Gary Matthews, Jr.
226 Mark DeRosa
227 Kip Wells
228 Akinori Otsuka
229 Vicente Padilla
230 John Koronka
231 Kevin Millwood
232 Wes Littleton
233 Troy Glaus
234 Lyle Overbay
235 Aaron Hill
236 John McDonald
237 Bengie Molina
238 Vernon Wells
239 Reed Johnson
240 Frank Catalanotto
241 Roy Halladay
242 B.J. Ryan
243 Gustavo Chacin
244 Scott Downs
245 Casey Janssen
246 Justin Speier
247 Stephen Drew
248 Conor Jackson
249 Orlando Hudson
250 Chad Tracy
251 Johnny Estrada
252 Luis Gonzalez
253 Eric Byrnes
254 Carlos Quentin
255 Brandon Webb
256 Claudio Vargas
257 Juan Cruz
258 Jorge Julio
259 Luis Vizcaino
260 Livan Hernandez
261 Chipper Jones
262 Edgar Renteria
263 Adam LaRoche
264 Willy Aybar
265 Brian McCann
266 Ryan Langerhans
267 Jeff Francoeur
268 Matt Diaz
269 Tim Hudson
270 John Smoltz
271 Oscar Villarreal
272 Horacio Ramirez
273 Bob Wickman
274 Chad Paronto
275 Derrek Lee
276 Ryan Theriot
277 Cesar Izturis
278 Ronny Cedeno
279 Michael Barrett
280 Juan Pierre
281 Jacque Jones
282 Matt Murton
283 Carlos Zambrano
284 Mark Prior
285 Rich Hill
286 Sean Marshall
287 Ryan Dempster
288 Ryan O'Malley
289 Scott Hatteberg
290 Brandon Phillips
291 Edwin Encarnacion
292 Rich Aurilia
293 David Ross
294 Ken Griffey, Jr.
295 Ryan Freel
296 Chris Denorfia
297 Bronson Arroyo
298 Aaron Harang
299 Brandon Claussen
300 Todd Coffey
301 David Weathers
302 Eric Milton
303 Todd Helton
304 Clint Barmes
305 Kazuo Matsui
306 Jamey Carroll
307 Yorvit Torrealba
308 Matt Holliday
309 Choo Freeman
310 Brad Hawpe
311 Jason Jennings
312 Jeff Francis
313 Josh Fogg
314 Aaron Cook
315 Ubaldo Jimenez (RC)
316 Manny Corpas
317 Miguel Cabrera
318 Dan Uggla
319 Hanley Ramirez
320 Wes Helms
321 Miguel Olivo
322 Jeremy Hermida
323 Cody Ross
324 Josh Willingham
325 Dontrelle Willis
326 Anibal Sanchez
327 Josh Johnson
328 Jose Garcia RC
329 Joe Borowski
330 Taylor Tankersley
331 Lance Berkman
332 Craig Biggio
333 Aubrey Huff
334 Adam Everett
335 Brad Ausmus
336 Willy Taveras
337 Luke Scott
338 Chris Burke
339 Roger Clemens
340 Andy Pettitte
341 Brandon Backe
342 Hector Gimenez (RC)
343 Brad Lidge
344 Dan Wheeler
345 Nomar Garciaparra
346 Rafael Furcal
347 Wilson Betemit
348 Julio Lugo
349 Russell Martin
350 Andre Ethier
351 Matt Kemp
352 Kenny Lofton
353 Brad Penny
354 Derek Lowe
355 Chad Billingsley
356 Greg Maddux
357 Takashi Saito
358 Jonathan Broxton
359 Prince Fielder
360 Rickie Weeks
361 Bill Hall
362 JJ Hardy
363 Jeff Cirillo
364 Tony Gwynn, Jr.
365 Corey Hart
366 Laynce Nix
367 Doug Davis
368 Ben Sheets
369 Chris Capuano
370 Dave Bush
371 Derrick Turnbow
372 Francisco Cordero
373 Jose Reyes
374 Carlos Delgado
375 Julio Franco
376 Jose Valentin
377 Paul Lo Duca
378 Carlos Beltran
379 Shawn Green
380 Lastings Milledge
381 Endy Chavez
382 Pedro Martinez
383 John Maine
384 Orlando Hernandez
385 Steve Trachsel
386 Billy Wagner
387 Ryan Howard
388 Chase Utley
389 Jimmy Rollins
390 Chris Coste
391 Jeff Conine
392 Aaron Rowand
393 Shane Victorino
394 David Dellucci
395 Cole Hamels
396 Jamie Moyer
397 Ryan Madson
398 Brett Myers
399 Tom Gordon
400 Geoff Geary
401 Freddy Sanchez
402 Xavier Nady
403 Jose Castillo
404 Joe Randa
405 Jason Bay
406 Chris Duffy
407 Jose Bautista
408 Ronny Paulino
409 Ian Snell
410 Zach Duke
411 Tom Gorzelanny
412 Shane Youman RC
413 Mike Gonzalez
414 Matt Capps
415 Adrian Gonzalez
416 Josh Barfield
417 Todd Walker
418 Khalil Greene
419 Mike Piazza
420 Dave Roberts
421 Mike Cameron
422 Geoff Blum
423 Jake Peavy
424 Chris Young
425 Woody Williams
426 Clay Hensley
427 Cla Meredith
428 Trevor Hoffman
429 Shea Hillenbrand
430 Pedro Feliz
431 Ray Durham
432 Mark Sweeney
433 Eliezer Alfonzo
434 Moises Alou
435 Steve Finley
436 Todd Linden
437 Jason Schmidt
438 Matt Cain
439 Noah Lowry
440 Brad Hennessey
441 Armando Benitez
442 Jonathan Sanchez
443 Albert Pujols
444 Ronnie Belliard
445 David Eckstein
446 Aaron Miles
447 Yadier Molina
448 Jim Edmonds
449 Chris Duncan
450 Juan Encarnacion
451 Chris Carpenter
452 Jeff Suppan
453 Jason Marquis
454 Jeff Weaver
455 Jason Isringhausen
456 Braden Looper
457 Ryan Zimmerman
458 Nick Johnson
459 Felipe Lopez
460 Brian Schneider
461 Alfonso Soriano
462 Austin Kearns
463 Ryan Church
464 Alex Escobar
465 Ramon Ortiz
466 Tony Armas
467 Michael O'Connor
468 Chad Cordero
469 Jon Rauch
470 Pedro Astacio
Team Checklists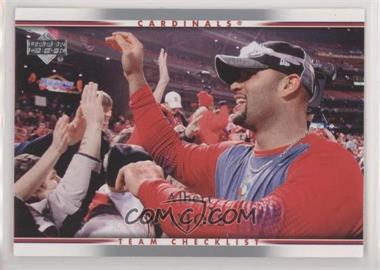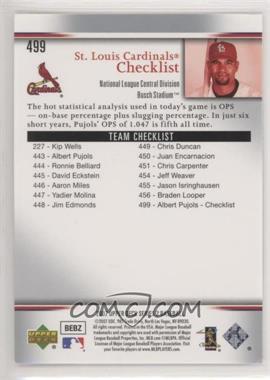 471 Miguel Tejada
472 David Ortiz
473 Jermaine Dye
474 Travis Hafner
475 Magglio Ordonez
476 Mark Teahen
477 Vladimir Guerrero
478 Justin Morneau
479 Derek Jeter
480 Nick Swisher
481 Ichiro
482 Scott Kazmir
483 Mark Teixeira
484 Vernon Wells
485 Brandon Webb
486 Andruw Jones
487 Carlos Zambrano
488 Adam Dunn
489 Matt Holliday
490 Miguel Cabrera
491 Lance Berkman
492 Nomar Garciaparra
493 Prince Fielder
494 Carlos Beltran
495 Ryan Howard
496 Jason Bay
497 Adrian Gonzalez
498 Matt Cain
499 Albert Pujols
500 Ryan Zimmerman
Series One Rookie Exchange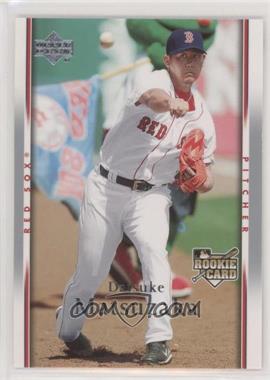 Randomly inserted into Series One packs were 20 different Rookie Exchange cards, numbered 501-520. Originally, each Rookie Exchange card was redeemable for one card from this set; however, complaints from collectors led Upper Deck to make each Exchange card good for the entire 20-card set. The Rookie Exchange cards expired February 27th, 2010.
Later, these cards were inserted into Series One & Two Combo Fat Packs.
NOTE: There are two different Daisuke Matsuzaka card #501s. The card of Matsuzaka appearing in a suit were randomly inserted into packs of 2007 Upper Deck Spectrum. A completely different Dice-K card, featuring Matsuzaka warming up in the bullpen, was inserted into the Fat Packs and fulfilled by the Rookie Exchange card.
Cards #502 and #503 were also randomly inserted into packs of Spectrum; however unlike with card #501, there were no changes.
501a Daisuke Matsuzaka RC (press conference)
501b Daisuke Matsuzaka RC (in action)
502 Kei Igawa RC
503 Akinori Iwamura RC
504 Alex Gordon RC
505 Matt Chico (RC)
506 John Danks RC
507 Elijah Dukes RC
508 Gustavo Molina RC
509 Joakim Soria RC
510 Jay Marshall RC
511 Travis Buck (RC)
512 Don Kelly (RC)
513 Kevin Cameron RC
514 Jared Burton RC
515 Kory Casto (RC)
516 Joe Smith RC
517 Jose Garcia (RC)
518 J.D. Durbin (RC)
519 Jamie Burke (RC)
520 Zack Segovia (RC)
Series Two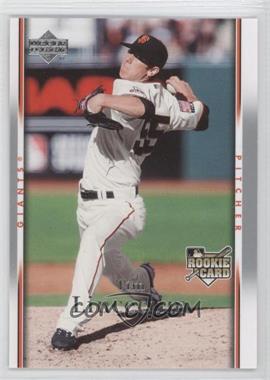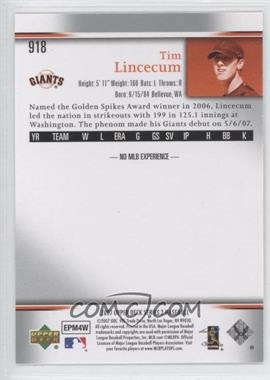 521 Randy Johnson
522 Brandon Lyon
523 Robby Hammock
524 Micah Owings (RC)
525 Doug Davis
526 Brian Barden RC
527 Alberto Callaspo
528 Stephen Drew
529 Chris Young
530 Edgar Gonzalez
531 Brandon Medders
532 Tony Pena
533 Jose Valverde
534 Chris Snyder
535 Tony Clark
536 Scott Hairston
537 Jeff DaVanon
538 Randy Johnson TC
539 Mark Redman
540 Andruw Jones
541 Rafael Soriano
542 Scott Thorman
543 Chipper Jones
544 Mike Gonzalez
545 Lance Cormier
546 Kyle Davies
547 Mike Hampton
548 Chuck James
549 Macay McBride
550 Tanyon Sturtze
551 Tyler Yates
552 Pete Orr
553 Craig Wilson
554 Chris Woodward
555 Kelly Johnson
556 Chipper Jones TC
557 Chad Bradford
558 John Parrish
559 Jeremy Guthrie
560 Steve Trachsel
561 Scott Williamson
562 Jaret Wright
563 Paul Bako
564 Chris Gomez
565 Melvin Mora
566 Freddie Bynum
567 Aubrey Huff
568 Jay Payton
569 Miguel Tejada
570 Kurt Birkins
571 Danys Baez
572 Brian Roberts TC
573 Josh Beckett
574 Matt Clement
575 Hideki Okajima RC
576 Javier Lopez
577 Joel Pineiro
578 J.C. Romero
579 Kyle Snyder
580 Julian Tavarez
581 Mike Timlin
582 Jason Varitek
583 Mike Lowell
584 Kevin Youkilis
585 Coco Crisp
586 JD Drew
587 Eric Hinske
588 Wily Mo Pena
589 Julio Lugo
590 David Ortiz
591 Manny Ramirez
592 Daisuke Matsuzaka TC
593 Scott Eyre
594 Angel Guzman
595 Bob Howry
596 Ted Lilly
597 Juan Mateo
598 Wade Miller
599 Carlos Zambrano
600 Will Ohman
601 Michael Wuertz
602 Henry Blanco
603 Aramis Ramirez
604 Cliff Floyd
605 Kerry Wood
606 Alfonso Soriano
607 Daryle Ward
608 Jason Marquis
609 Mark DeRosa
610 Neal Cotts
611 Derrek Lee
612 Aramis Ramirez TC
613 David Aardsma
614 Mark Buehrle
615 Nick Masset
616 Andrew Sisco
617 Matt Thornton
618 Toby Hall
619 Joe Crede
620 Paul Konerko
621 Darin Erstad
622 Pablo Ozuna
623 Scott Podsednik
624 Jim Thome
625 Jermaine Dye
626 Jim Thome TC
627 Adam Dunn
628 Bill Bray
629 Alex Gonzalez
630 Josh Hamilton (RC)
631 Matt Belisle
632 Rheal Cormier
633 Kyle Lohse
634 Eric Milton
635 Kirk Saarloos
636 Mike Stanton
637 Javier Valentin
638 Juan Castro
639 Jeff Conine
640 Jon Coutlangus (RC)
641 Ken Griffey, Jr.
642 Ken Griffey, Jr. TC
643 Fernando Cabrera
644 Fausto Carmona
645 Jason Davis
646 Aaron Fultz
647 Roberto Hernandez
648 Jake Westbrook
649 Kelly Shoppach
650 Josh Barfield
651 Andy Marte
652 Joe Inglett
653 David Dellucci
654 Joe Borowski
655 Franklin Gutierrez
656 Trot Nixon
657 Grady Sizemore
658 Mike Rouse
659 Travis Hafner
660 Victor Martinez
661 CC Sabathia
662 Grady Sizemore TC
663 Jeremy Affeldt
664 Taylor Buchholz
665 Brian Fuentes
666 Latroy Hawkins
667 Byung-Hyun Kim
668 Brian Lawrence
669 Rodrigo Lopez
670 Jeff Francis
671 Chris Iannetta
672 Garrett Atkins
673 Todd Helton
674 Steve Finley
675 John Mabry
676 Willy Taveras
677 Jason Hirsh
678 Ramon Ramirez
679 Matt Holliday
680 Todd Helton TC
681 Roman Colon
682 Chad Durbin
683 Jason Grilli
684 Wilfredo Ledezma
685 Mike Maroth
686 Jose Mesa
687 Justin Verlander
688 Fernando Rodney
689 Vance Wilson
690 Carlos Guillen
691 Neifi Perez
692 Curtis Granderson
693 Gary Sheffield
694 Justin Verlander TC
695 Kevin Gregg
696 Logan Kensing
697 Randy Messenger
698 Sergio Mitre
699 Ricky Nolasco
700 Scott Olsen
701 Renyel Pinto
702 Matt Treanor
703 Alfredo Amezaga
704 Aaron Boone
705 Mike Jacobs
706 Miguel Cabrera
707 Joe Borchard
708 Jorge Julio
709 Rick Vanden Hurk RC
710 Lee Gardner (RC)
711 Matt Lindstrom (RC)
712 Henry Owens
713 Hanley Ramirez
714 Alejandro De Aza RC
715 Hanley Ramirez TC
716 Dave Borkowski
717 Jason Jennings
718 Trever Miller
719 Roy Oswalt
720 Wandy Rodriguez
721 Humberto Quintero
722 Morgan Ensberg
723 Mike Lamb
724 Mark Loretta
725 Jason Lane
726 Carlos Lee
727 Orlando Palmeiro
728 Woody Williams
729 Chad Qualls
730 Lance Berkman
731 Rick White
732 Chris Sampson
733 Carlos Lee TC
734 Jorge De La Rosa
735 Octavio Dotel
736 Jimmy Gobble
737 Zack Greinke
738 Luke Hudson
739 Gil Meche
740 Joel Peralta
741 Odalis Perez
742 David Riske
743 Jason LaRue
744 Tony Pena
745 Esteban German
746 Ross Gload
747 Emil Brown
748 David DeJesus
749 Brandon Duckworth
750 Alex Gordon TC
751 Jered Weaver
752 Vladimir Guerrero
753 Hector Carrasco
754 Kelvim Escobar
755 Darren Oliver
756 Dustin Moseley
757 Ervin Santana
758 Mike Napoli
759 Shea Hillenbrand
760 Casey Kotchman
761 Reggie Willits
762 Robb Quinlan
763 Garret Anderson
764 Gary Matthews
765 Justin Speier
766 Jered Weaver TC
767 Joe Beimel
768 Yhency Brazoban
769 Elmer Dessens
770 Mark Hendrickson
771 Hong-Chih Kuo
772 Jason Schmidt
773 Brett Tomko
774 Randy Wolf
775 Mike Liberthal
776 Marlon Anderson
777 Jeff Kent
778 Ramon Martinez
779 Olmedo Saenz
780 Luis Gonzalez
781 Juan Pierre
782 Jason Repko
783 Nomar Garciaparra
784 Wilson Valdez
785 Jason Schmidt TC
786 Greg Aquino
787 Brian Shouse
788 Jeff Suppan
789 Carlos Villanueva
790 Matt Wise
791 Johnny Estrada
792 Craig Counsell
793 Tony Graffanino
794 Corey Koskie
795 Claudio Vargas
796 Brady Clark
797 Gabe Gross
798 Geoff Jenkins
799 Kevin Mench
800 Bill Hall TC
801 Sidney Ponson
802 Jesse Crain
803 Matt Guerrier
804 Pat Neshek
805 Ramon Ortiz
806 Johan Santana
807 Carlos Silva
808 Mike Redmond
809 Jeff Cirillo
810 Luis Rodriguez
811 Lew Ford
812 Torii Hunter
813 Jason Tyner
814 Rondell White
815 Justin Morneau
816 Joe Mauer
817 Johan Santana TC
818 David Newhan
819 Aaron Sele
820 Ambiorix Burgos
821 Pedro Feliciano
822 Tom Glavine
823 Aaron Heilman
824 Guillermo Mota
825 Jose Reyes
826 Oliver Perez
827 Duaner Sanchez
828 Scott Schoeneweis
829 Ramon Castro
830 Damion Easley
831 David Wright
832 Moises Alou
833 Carlos Beltran
834 Dave Williams
835 David Wright TC
836 Brian Bruney
837 Mike Myers
838 Carl Pavano
839 Andy Pettitte
840 Luis Vizcaino
841 Jorge Posada
842 Miguel Cairo
843 Doug Mientkiewicz
844 Derek Jeter
845 Alex Rodriguez
846 Johnny Damon
847 Hideki Matsui
848 Josh Phelps
849 Phil Hughes (RC)
850 Roger Clemens
851 Jason Giambi TC
852 Kiko Calero
853 Justin Duchscherer
854 Alan Embree
855 Todd Walker
856 Rich Harden
857 Dan Haren
858 Joe Kennedy
859 Jason Kendall
860 Adam Melhuse
861 Mark Ellis
862 Bobby Kielty
863 Mark Kotsay
864 Shannon Stewart
865 Mike Piazza
866 Mike Piazza TC
867 Antonio Alfonseca
868 Carlos Ruiz
869 Adam Eaton
870 Freddy Garcia
871 Jon Lieber
872 Matt Smith
873 Rod Barajas
874 Wes Helms
875 Abraham Nunez
876 Pat Burrell
877 Jayson Werth
878 Greg Dobbs
879 Joseph Bisenius RC
880 Michael Bourn (RC)
881 Chase Utley
882 Ryan Howard
883 Chase Utley TC
884 Tony Armas
885 Shawn Chacon
886 John Grabow
887 Paul Maholm
888 Damaso Marte
889 Salomon Torres
890 Humberto Cota
891 Ryan Doumit
892 Adam LaRoche
893 Jack Wilson
894 Nate McLouth
895 Brad Eldred
896 Jonah Bayliss
897 Juan Perez RC
898 Jason Bay
899 Adam LaRoche TC
900 Doug Brocail
901 Scott Cassidy
902 Scott Linebrink
903 Greg Maddux
904 Jake Peavy
905 Mike Thompson
906 David Wells
907 Josh Bard
908 Rob Bowen
909 Marcus Giles
910 Russell Branyan
911 Jose Cruz
912 Terrmel Sledge
913 Trevor Hoffman
914 Brian Giles
915 Trevor Hoffman TC
916 Vinnie Chulk
917 Kevin Correia
918 Tim Lincecum RC
919 Matt Morris
920 Russ Ortiz
921 Barry Zito
922 Bengie Molina
923 Rich Aurilia
924 Omar Vizquel
925 Jason Ellison
926 Ryan Klesko
927 Dave Roberts
928 Randy Winn
929 Barry Zito TC
930 Miguel Batista
931 Horacio Ramirez
932 Chris Reitsma
933 George Sherrill
934 Jarrod Washburn
935 Jeff Weaver
936 Jake Woods
937 Adrian Beltre
938 Jose Lopez
939 Ichiro
940 Jose Vidro
941 Jose Guillen
942 Sean White RC
943 Brandon Morrow RC
944 Felix Hernandez
945 Felix Hernandez TC
946 Randy Flores
947 Ryan Franklin
948 Kelvin Jimenez RC
949 Tyler Johnson
950 Mark Mulder
951 Anthony Reyes
952 Russ Springer
953 Brad Thompson
954 Adam Wainwright
955 Kip Wells
956 Gary Bennett
957 Adam Kennedy
958 Scott Rolen
959 Scott Spiezio
960 So Taguchi
961 Preston Wilson
962 Skip Schumaker
963 Albert Pujols
964 Chris Carpenter
965 Chris Carpenter TC
966 Edwin Jackson
967 Jae Kuk Ryu
968 Jae Seo
969 Jon Switzer
970 Josh Paul
971 Ben Zobrist
972 Rocco Baldelli
973 Scott Kazmir
974 Carl Crawford
975 Delmon Young TC
976 Bruce Chen
977 Joaquin Benoit
978 Scott Feldman
979 Eric Gagne
980 Kameron Loe
981 Brandon McCarthy
982 Robinson Tejeda
983 CJ Wilson
984 Mark Teixeira
985 Michael Young
986 Kenny Lofton
987 Brad Wilkerson
988 Nelson Cruz
989 Sammy Sosa
990 Michael Young TC
991 Vernon Wells
992 Matt Stairs
993 Jeremy Accardo
994 AJ Burnett
995 Jason Frasor
996 Roy Halladay
997 Shaun Marcum
998 Tomo Ohka
999 Josh Towers
1000 Gregg Zaun
1001 Royce Clayton
1002 Jason Smith
1003 Alex Rios
1004 Frank Thomas
1005 Roy Halladay TC
1006 Jesus Flores RC
1007 Dmitri Young
1008 Ray King
1009 Micah Bowie
1010 Shawn Hill
1011 John Patterson
1012 Levale Speigner RC
1013 Ryan Wagner
1014 Jerome Williams
1015 Ryan Zimmerman
1016 Cristian Guzman
1017 Nook Logan
1018 Chris Snelling
1019 Ronnie Belliard
1020 Nick Johnson TC
Parallels
Gold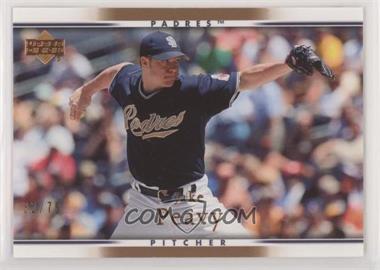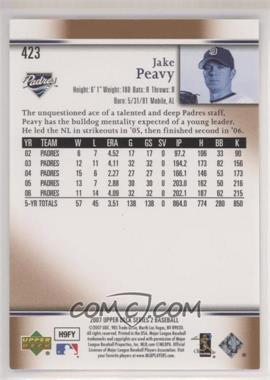 Gold parallels, which are serial-numbered to 75, are only available for series one (1-500) cards.
Printing Plates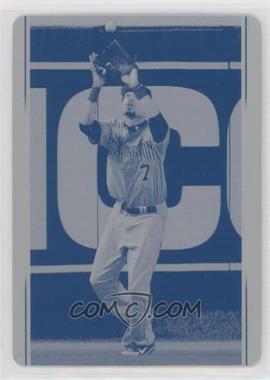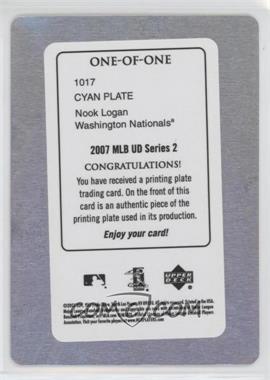 Each of the base cards, with the exception of the 20 Rookie Exchange cards, are available in a Printing Plate parallel. There is a set of four Plates for each card.
Predictor Editions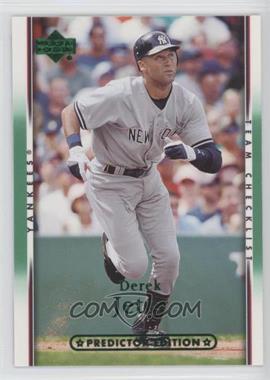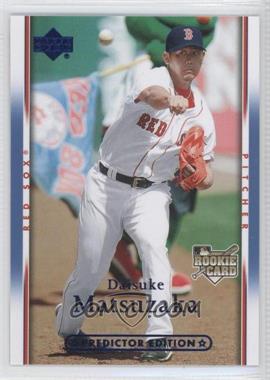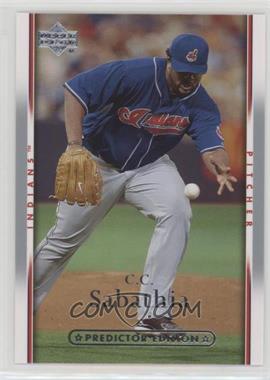 These cards were prizes in the Predictors contest (see below)
Green (Winning Postseason Predictor card EXCEPT the Red Sox; Series One only)
Blue (Winning Red Sox Postseason Predictor card; Series One only)
Purple (Winning MVP Predictor card; Series One only)
Silver (Winning Rookie of the Year Predictor card; Series Two only)
Inserts
1989 Reprints
Series One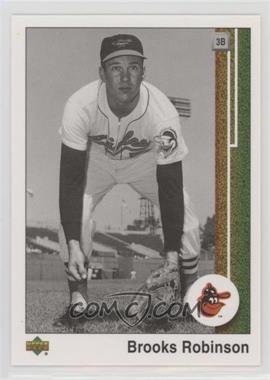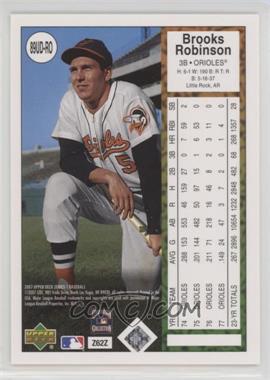 89UD-AK Al Kaline
89UD-BF Bob Feller
89UD-BR Babe Ruth
89UD-CA Rod Carew
89UD-CF Carlton Fisk
89UD-CM Christy Mathewson
89UD-CS Casey Stengel
89UD-CY Cy Young
89UD-DR Don Drysdale
89UD-FR Frank Robinson
89UD-GE Lou Gehrig
89UD-HW Honus Wagner
89UD-JB Johnny Bench
89UD-JF Jimmie Foxx
89UD-JR Jackie Robinson
89UD-LG Lefty Grove
89UD-LJ LeBron James
89UD-MJ Michael Jordan
89UD-MO Mel Ott
89UD-RB Reggie Bush
89UD-RC Roy Campanella
89UD-RH Rogers Hornsby
89UD-RJ Reggie Jackson
89UD-RO Brooks Robinson
89UD-SC Sidney Crosby
89UD-SM Stan Musial
89UD-SP Satchel Paige
89UD-TC Ty Cobb
89UD-TM Thurman Munson
89UD-WJ Walter Johnson
Series Two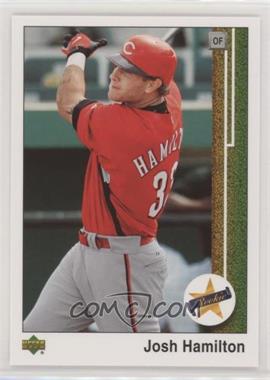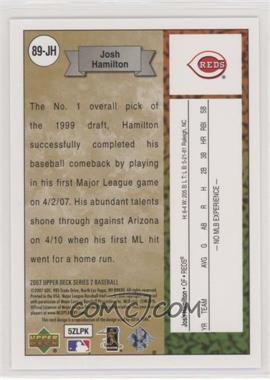 A set of four Printing Plates were inserted into Series Two Hobby packs.
89-AD Alejandro De Aza
89-AG Alex Gordon
89-AI Akinori Iwamura
89-AS Angel Sanchez
89-BB Brian Barden
89-BI Joseph Bisenius
89-BM Brandon Morrow
89-BN Jared Burton
89-BU Jamie Burke
89-CJ Cesar Jimenez
89-CS Chris Stewart
89-CW Chase Wright
89-DK Don Kelly
89-DM Daisuke Matsuzaka
89-DY Delmon Young
89-ED Elijah Dukes
89-FP Felix Pie
89-GM Gustavo Molina
89-HG Hector Gimenez
89-HO Hideki Okajima
89-JA Joaquin Arias
89-JB Jeff Baker
89-JD John Danks
89-JF Jesus Flores
89-JG Jose Garcia
89-JH Josh Hamilton
89-JM Jay Marshall
89-JP Juan Perez
89-JS Joe Smith
89-KC Kevin Cameron
89-KI Kei Igawa
89-KK Kevin Kouzmanoff
89-KO Kory Casto
89-LG Lee Gardner
89-LS Levale Speigner
89-MB Michael Bourn
89-MC Matt Chico
89-ML Matt Lindstrom
89-MM Miguel Montero
89-MO Micah Owings
89-MR Mike Rabelo
89-RB Ryan Z. Braun
89-SA Juan Salas
89-SH Sean Henn
89-SL Doug Slaten
89-SO Joakim Soria
89-ST Brian Stokes
89-TB Travis Buck
89-TT Troy Tulowitzki
89-ZS Zack Segovia
Iron Men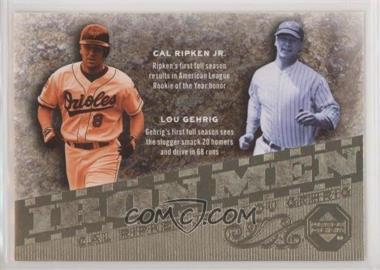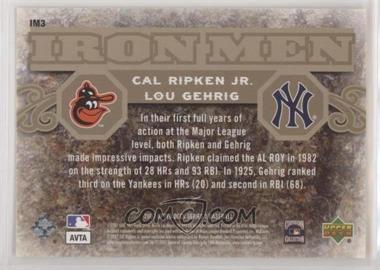 This 50-card set features Cal Ripken, Jr. and Lou Gehrig on every card and was exclusive to Series One packs sold at Wal-Mart. For brevity's sake, we are not listing a full checklist.
Road to the Hall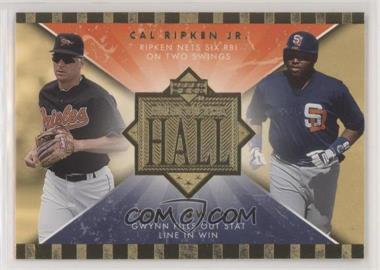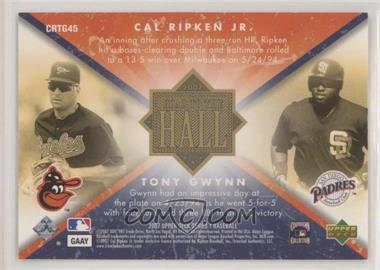 This 50-card set features Cal Ripken, Jr. and Tony Gwynn on every card and was exclusive to Series One packs sold at Target. For brevity's sake, we are not listing a full checklist.
Cal Ripken, Jr./Ken Griffey, Jr. Chronicles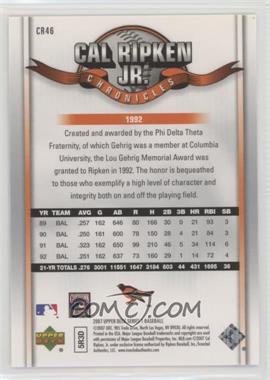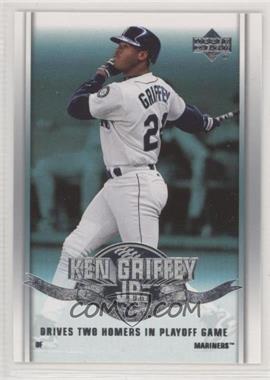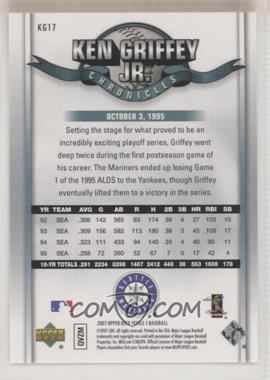 Two 50-card tribute sets of Cal Ripken, Jr. and Ken Griffey, Jr. were randomly inserted into Series One Hobby and retail packs. For brevity's sake, we are not listing a full checklist. A set of four Printing Plates for each card were randomly inserted into Hobby packs.
NOTE: Ken Griffey, Jr. has an autographed version (#KG1) but it is not serial-numbered and oddly is not listed in any Beckett checklist catalogs. The back of the card confirms the autograph on the front, evidencing that the autograph version that exists was not an in-person signature.
Star Power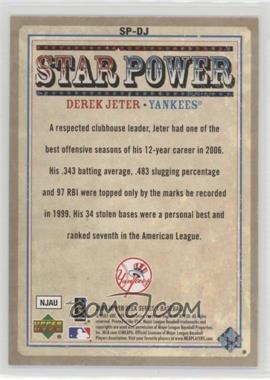 Two cards from this set were inserted into each Series One Fat Pack.
SP-AJ Andruw Jones
SP-AP Albert Pujols
SP-AR Alex Rodriguez
SP-BR Brian Roberts
SP-BZ Barry Zito
SP-CA Chris Carpenter
SP-CB Carlos Beltran
SP-CC Carl Crawford
SP-CJ Chipper Jones
SP-CS Curt Schilling
SP-CU Chase Utley
SP-CZ Carlos Zambrano
SP-DA Johnny Damon
SP-DJ Derek Jeter
SP-DO David Ortiz
SP-DW Dontrelle Willis
SP-FS Freddy Sanchez
SP-FT Frank Thomas
SP-HA Roy Halladay
SP-HO Trevor Hoffman
SP-IS Ichiro
SP-JB Jason Bay
SP-JD Jermaine Dye
SP-JM Joe Mauer
SP-JP Jake Peavy
SP-JR Jose Reyes
SP-JS Johan Santana
SP-JT Jim Thome
SP-JU Justin Morneau
SP-JV Justin Verlander
SP-KG Ken Griffey, Jr.
SP-KR Kenny Rogers
SP-LB Lance Berkman
SP-MA Matt Cain
SP-MC Miguel Cabrera
SP-MH Matt Holliday
SP-MO Magglio Ordonez
SP-MR Manny Ramirez
SP-MT Mark Teixeira
SP-MY Michael Young
SP-NG Nomar Garciaparra
SP-NS Nick Swisher
SP-PF Prince Fielder
SP-RH Ryan Howard
SP-RO Roy Oswalt
SP-RZ Ryan Zimmerman
SP-SM John Smoltz
SP-TH Travis Hafner
SP-VG Vladimir Guerrero
SP-WR David Wright
Star Rookies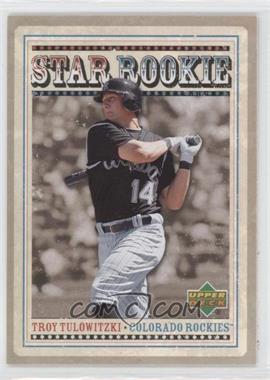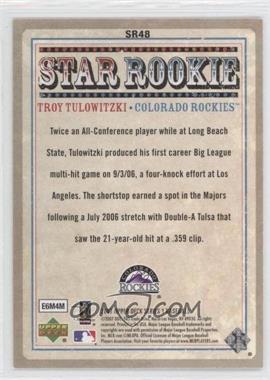 Two cards from this set were inserted into each Series One Rookie Edition Fat Packs.
SR1 Adam Lind
SR2 Akinori Iwamura
SR3 Alexi Casilla
SR4 Alex Gordon
SR5 Matt Chico
SR6 John Danks
SR7 Angel Sanchez
SR8 Elijah Dukes
SR9 Brian Burres
SR10 Gustavo Molina
SR11 Chris Stewart
SR12 Daisuke Matsuzaka
SR13 Joakim Soria
SR14 Delmon Young
SR15 Jay Marshall
SR16 Travis Buck
SR17 Doug Slaten
SR18 Don Kelly
SR19 Kevin Cameron
SR20 Glen Perkins
SR21 Hector Gimenez
SR22 Jeff Baker
SR23 Jared Burton
SR24 Kory Casto
SR25 Joe Smith
SR26 Joaquin Arias
SR27 Dallas Braden
SR28 Jon Knott
SR29 Jose Garcia
SR30 Jamie Burke
SR31 Zack Segovia
SR32 Felix Pie
SR33 Juan Salas
SR34 Kei Igawa
SR35 Philip Hughes
SR36 Kevin Kouzmanoff
SR37 Michael Bourn
SR38 Miguel Montero
SR39 Mike Rabelo
SR40 Josh Hamilton
SR41 Micah Owings
SR42 Alejandro De Aza
SR43 Brian Barden
SR44 Andy Gonzalez
SR45 Chase Wright
SR46 Sean Henn
SR47 Rick Vanden Hurk
SR48 Troy Tulowitzki
SR49 Rocky Cherry
SR50 Jesus Flores
Predictors
Predictors are a 150-card set divided into three subsets: MVP, Postseason, and Rookie of the Year. The 70 MVP and 30 Postseason Predictors were randomly inserted into Series One packs, while the Rookie of the Year cards were in Series Two. If the player/team depicted on the card won the MVP/ROY or qualified for the 2007 MLB Playoffs, the respective Predictor card could then be redeemed for a special Series One (MVP and Postseason) or Series Two (Rookie of the Year) factory set.
There are three different Series One factory sets. Collectors redeeming one of the eight playoff qualifiers (EXCEPT the Red Sox) received a 520-card "Green" factory set. The Red Sox (2007 World Champions) got a special "Blue" factory set. The two MVP winner's cards, Alex Rodriguez and Jimmy Rollins, were good for a "Purple" set.
For the second series, none of the players selected by Upper Deck were named Rookies of the Year (Dustin Pedroia and Ryan Braun). Therefore, the two "Wild Cards" were declared the winners and each was good for a 500-card Series Two "Silver" factory set.
MVP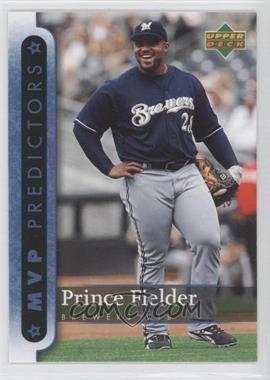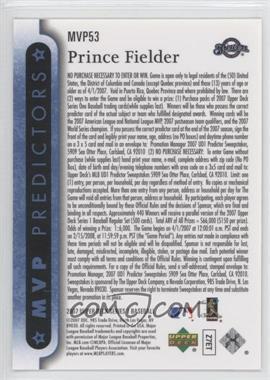 MVP1 Miguel Tejada
MVP2 David Ortiz
MVP3 Manny Ramirez
MVP4 Jermaine Dye
MVP5 Jim Thome
MVP6 Paul Konerko
MVP7 Travis Hafner
MVP8 Grady Sizemore
MVP9 Victor Martinez
MVP10 Magglio Ordonez
MVP11 Justin Verlander
MVP12 Vladimir Guerrero
MVP13 Jered Weaver
MVP14 Justin Morneau
MVP15 Joe Mauer
MVP16 Johan Santana
MVP17 Alex Rodriguez WIN
MVP18 Derek Jeter
MVP19 Jason Giambi
MVP20 Johnny Damon
MVP21 Bobby Abreu
MVP22 American League Field
MVP23 Frank Thomas
MVP24 Eric Chavez
MVP25 Ichiro
MVP26 Adrian Beltre
MVP27 Carl Crawford
MVP28 Scott Kazmir
MVP29 Mark Teixeira
MVP30 Michael Young
MVP31 Carlos Lee
MVP32 Vernon Wells
MVP33 Roy Halladay
MVP34 Troy Glaus
MVP35 Stephen Drew
MVP36 Chipper Jones
MVP37 Andruw Jones
MVP38 Adam LaRoche
MVP39 Derrek Lee
MVP40 Aramis Ramirez
MVP41 Adam Dunn
MVP42 Ken Griffey, Jr.
MVP43 Matt Holliday
MVP44 Garrett Atkins
MVP45 Miguel Cabrera
MVP46 Hanley Ramirez
MVP47 Dan Uggla
MVP48 Lance Berkman
MVP49 Roy Oswalt
MVP50 Nomar Garciaparra
MVP51 JD Drew
MVP52 Rafael Furcal
MVP53 Prince Fielder
MVP54 Bill Hall
MVP55 Jose Reyes
MVP56 Carlos Beltran
MVP57 Carlos Delgado
MVP58 David Wright
MVP59 National League Field
MVP60 Chase Utley
MVP61 Ryan Howard
MVP62 Jimmy Rollins WIN
MVP63 Jason Bay
MVP64 Freddy Sanchez
MVP65 Adrian Gonzalez
MVP66 Albert Pujols
MVP67 Scott Rolen
MVP68 Chris Carpenter
MVP69 Alfonso Soriano
MVP70 Ryan Zimmerman
Postseason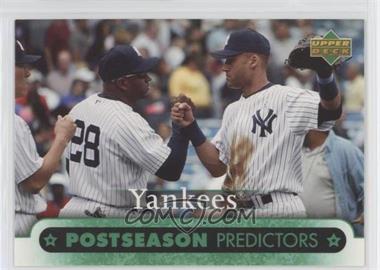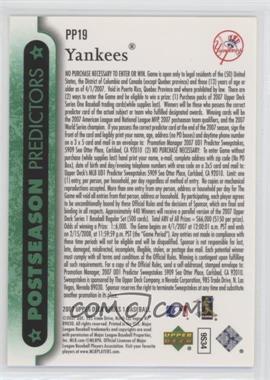 PP1 Arizona Diamondbacks WIN
PP2 Atlanta Braves
PP3 Baltimore Orioles
PP4 Boston Red Sox WS WIN
PP5 Chicago Cubs WIN
PP6 Chicago White Sox
PP7 Cincinnati Reds
PP8 Cleveland Indians WIN
PP9 Colorado Rockies WIN
PP10 Detroit Tigers
PP11 Florida Marlins
PP12 Houston Astros
PP13 Kansas City Royals
PP14 Los Angeles Angels WIN
PP15 Los Angeles Dodgers
PP16 Milwaukee Brewers
PP17 Minnesota Twins
PP18 New York Mets
PP19 New York Yankees WIN
PP20 Oakland Athletics
PP21 Philadelphia Phillies WIN
PP22 Pittsburgh Pirates
PP23 San Diego Padres
PP24 San Francisco Giants
PP25 Seattle Mariners
PP26 St. Louis Cardinals
PP27 Tampa Bay Rays
PP28 Texas Rangers
PP29 Toronto Blue Jays
PP30 Washington Nationals
Rookie of the Year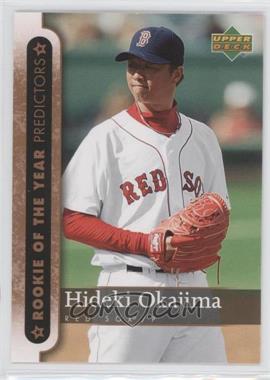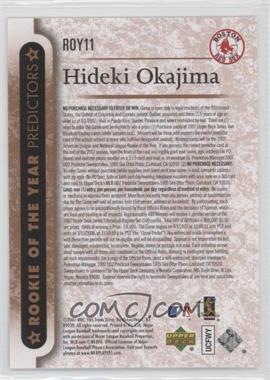 ROY1 Doug Slaten
ROY2 Miguel Montero
ROY3 Joseph Bisenius
ROY4 Kory Casto
ROY5 Jesus Flores
ROY6 John Danks
ROY7 Daisuke Matsuzaka
ROY8 Matt Lindstrom
ROY9 Chris Stewart
ROY10 Kevin Cameron
ROY11 Hideki Okajima
ROY12 Levale Speigner
ROY13 Kevin Kouzmanoff
ROY14 Jeff Baker
ROY15 Don Kelly
ROY16 Troy Tulowitzki
ROY17 Felix Pie
ROY18 Cesar Jimenez
ROY19 Alejandro De Aza
ROY20 Jose Garcia
ROY21 Micah Owings
ROY22 Josh Hamilton
ROY23 Brian Barden
ROY24 Jamie Burke
ROY25 Mike Rabelo
ROY26 Elijah Dukes
ROY27 Travis Buck
ROY28 Kei Igawa
ROY29 Sean Henn
ROY30 American League Field WIN
ROY31 National League Field WIN
ROY32 Michael Bourn
ROY33 Alex Gordon
ROY34 Chase Wright
ROY35 Matt Chico
ROY36 Joe Smith
ROY37 Lee Gardner
ROY38 Gustavo Molina
ROY39 Jared Burton
ROY40 Jay Marshall
ROY41 Brandon Morrow
ROY42 Akinori Iwamura
ROY43 Delmon Young
ROY44 Juan Salas
ROY45 Zack Segovia
ROY46 Brian Stokes
ROY47 Joaquin Arias
ROY48 Hector Gimenez
ROY49 Ryan Z. Braun
ROY50 Juan Perez
Cooperstown Calling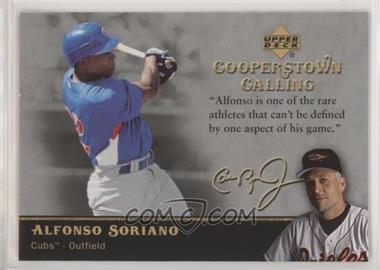 This set was exclusive to Series Two packs sold at Wal-Mart. A set of four Printing Plates are also available.
CC-AJ Andruw Jones
CC-AP Albert Pujols
CC-AR Alex Rodriguez
CC-AS Alfonso Soriano
CC-BI Craig Biggio
CC-BW Billy Wagner
CC-CA Chris Carpenter
CC-CB Carlos Beltran
CC-CC Carl Crawford
CC-CD Carlos Delgado
CC-CJ Chipper Jones
CC-CR Cal Ripken, Jr.
CC-CS Curt Schilling
CC-DJ Derek Jeter
CC-DO David Ortiz
CC-FT Frank Thomas
CC-GM Greg Maddux
CC-GS Gary Sheffield
CC-HA Travis Hafner
CC-HE Todd Helton
CC-HO Ryan Howard
CC-IR Ivan Rodriguez
CC-IS Ichiro
CC-JD Johnny Damon
CC-JG Jason Giambi
CC-JK Jeff Kent
CC-JM Justin Morneau
CC-JS Johan Santana
CC-JT Jim Thome
CC-KG Ken Griffey, Jr.
CC-MC Miguel Cabrera
CC-MM Mike Mussina
CC-MP Mike Piazza
CC-MR Manny Ramirez
CC-MT Mark Teixeira
CC-OV Omar Vizquel
CC-PE Andy Pettitte
CC-PM Pedro Martinez
CC-RH Roy Halladay
CC-RI Mariano Rivera
CC-RJ Randy Johnson
CC-RO Roy Oswalt
CC-SI Grady Sizemore
CC-SM John Smoltz
CC-SR Scott Rolen
CC-SS Sammy Sosa
CC-TE Miguel Tejada
CC-TG Tom Glavine
CC-TH Trevor Hoffman
CC-VG Vladimir Guerrero
Ticket to Stardom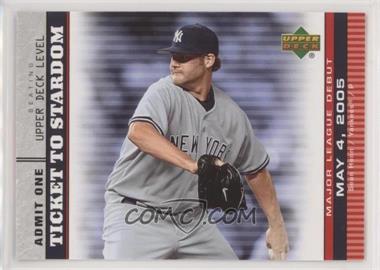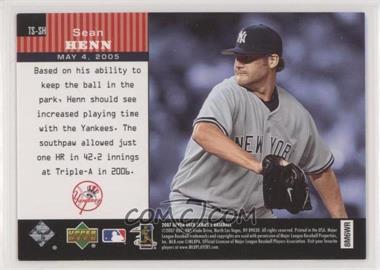 This set was exclusive to Series Two packs sold at Target. A set of four Printing Plates are also available.
TS-AD Alejandro De Aza
TS-AG Alex Gordon
TS-AI Akinori Iwamura
TS-AS Angel Sanchez
TS-BB Brian Barden
TS-BI Joseph Bisenius
TS-BM Brandon Morrow
TS-BN Jared Burton
TS-BU Jamie Burke
TS-CH Matt Chico
TS-CJ Cesar Jimenez
TS-CS Chris Stewart
TS-CW Chase Wright
TS-DA John Danks
TS-DK Don Kelly
TS-DM Daisuke Matsuzaka
TS-DS Doug Slaten
TS-DY Delmon Young
TS-ED Elijah Dukes
TS-FP Felix Pie
TS-GM Gustavo Molina
TS-HG Hector Gimenez
TS-HO Hideki Okajima
TS-JA Joaquin Arias
TS-JB Jeff Baker
TS-JF Jesus Flores
TS-JG Jose Garcia
TS-JH Josh Hamilton
TS-JM Jay Marshall
TS-JO Joe Smith
TS-JP Juan Perez
TS-KC Kevin Cameron
TS-KI Kei Igawa
TS-KK Kevin Kouzmanoff
TS-KO Kory Casto
TS-LG Lee Gardner
TS-LS Levale Speigner
TS-MB Michael Bourn
TS-ML Matt Lindstrom
TS-MM Miguel Montero
TS-MO Micah Owings
TS-MR Mike Rabelo
TS-RB Ryan Z. Braun
TS-SA Juan Salas
TS-SH Sean Henn
TS-SO Joakim Soria
TS-ST Brian Stokes
TS-TB Travis Buck
TS-TT Troy Tulowitzki
TS-ZS Zack Segovia
MVP Potential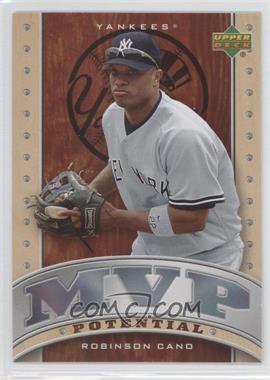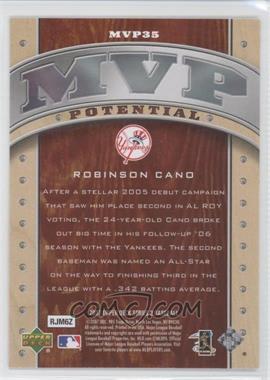 Two cards from this set were inserted into each Series Two Fat Packs.
MVP1 Stephen Drew
MVP2 Brian McCann
MVP3 Adam LaRoche
MVP4 Brian Roberts
MVP5 Manny Ramirez
MVP6 David Ortiz
MVP7 JD Drew
MVP8 Alfonso Soriano
MVP9 Aramis Ramirez
MVP10 Derrek Lee
MVP11 Jermaine Dye
MVP12 Paul Konerko
MVP13 Jim Thome
MVP14 Adam Dunn
MVP15 Travis Hafner
MVP16 Victor Martinez
MVP17 Grady Sizemore
MVP18 Garrett Atkins
MVP19 Matt Holliday
MVP20 Magglio Ordonez
MVP21 Miguel Cabrera
MVP22 Hanley Ramirez
MVP23 Dan Uggla
MVP24 Lance Berkman
MVP25 Carlos Lee
MVP26 Jered Weaver
MVP27 Nomar Garciaparra
MVP28 Rafael Furcal
MVP29 Prince Fielder
MVP30 Joe Mauer
MVP31 Johan Santana
MVP32 David Wright
MVP33 Jose Reyes
MVP34 Carlos Beltran
MVP35 Robinson Cano
MVP36 Derek Jeter
MVP37 Bobby Abreu
MVP38 Johnny Damon
MVP39 Nick Swisher
MVP40 Chase Utley
MVP41 Jason Bay
MVP42 Adrian Gonzalez
MVP43 Adrian Beltre
MVP44 Scott Rolen
MVP45 Carl Crawford
MVP46 Mark Teixeira
MVP47 Michael Young
MVP48 Vernon Wells
MVP49 Roy Halladay
MVP50 Ryan Zimmerman
Triple Play Performers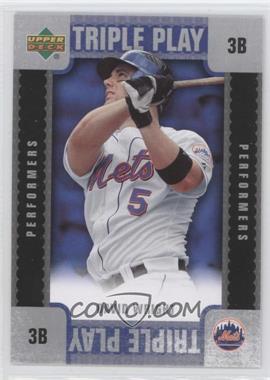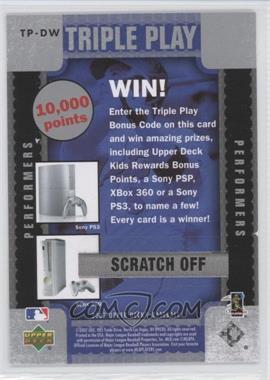 Two cards from this set were inserted into each Series One & Two Combo Fat Packs. The back of each card has a scratch-off bar that, when removed, reveals a code. When entered on a special website, collectors can win video game systems, cards, and other prizes.
TP-AP Albert Pujols
TP-AR Alex Rodriguez
TP-AS Alfonso Soriano
TP-CC Carl Crawford
TP-CJ Chipper Jones
TP-DJ Derek Jeter
TP-DL Derrek Lee
TP-DM Daisuke Matsuzaka
TP-DO David Ortiz
TP-DW David Wright
TP-GS Grady Sizemore
TP-HA Travis Hafner
TP-IS Ichiro
TP-JM Justin Morneau
TP-JP Jake Peavy
TP-JR Jose Reyes
TP-JS Johan Santana
TP-JT Jim Thome
TP-JV Justin Verlander
TP-KG Ken Griffey, Jr.
TP-LB Lance Berkman
TP-MC Miguel Cabrera
TP-MO Magglio Ordonez
TP-MT Mark Teixeira
TP-PF Prince Fielder
TP-RH Ryan Howard
TP-RJ Randy Johnson
TP-TE Miguel Tejada
TP-TH Todd Helton
TP-VG Vladimir Guerrero
MLB Rookie Card of the Month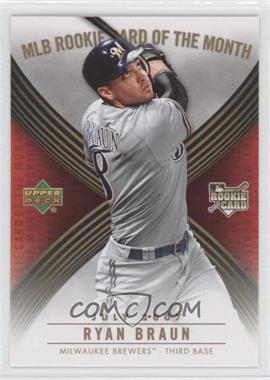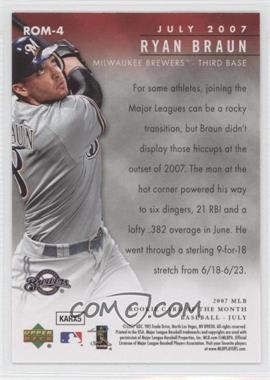 One card from this nine-card set was given away each month through out the 2007 season at participating Hobby shops. A different card was available each month with two cards of the eventual AL and NL Rookies of the Year given away at season's end.
ROM-1 Daisuke Matsuzaka
ROM-2 Fred Lewis
ROM-3 Hunter Pence
ROM-4 Ryan Braun
ROM-5 Tim Lincecum
ROM-6 Joba Chamberlain
ROM-7 Troy Tulowitzki
ROY-AL Dustin Pedroia
ROY-NL Ryan Braun
Autographs & Game-Used
UD Game Materials
Series One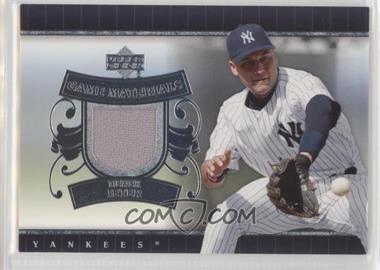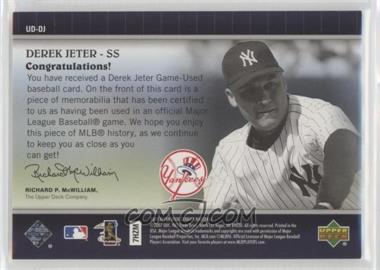 UD-AJ Andruw Jones
UD-AP Albert Pujols
UD-BE Josh Beckett
UD-BR Brian Roberts
UD-BS Ben Sheets
UD-CA Chris Carpenter
UD-CB Carlos Beltran
UD-CC Carl Crawford
UD-CD Carlos Delgado
UD-CL Carlos Lee
UD-CP Corey Patterson
UD-CS CC Sabathia
UD-DJ Derek Jeter
UD-DO David Ortiz
UD-DW Dontrelle Willis
UD-EC Eric Chavez
UD-FH Felix Hernandez
UD-HU Torii Hunter
UD-IR Ivan Rodriguez
UD-JB Jason Bay
UD-JG Jason Giambi
UD-JM Joe Mauer
UD-JR Jose Reyes
UD-JS Johan Santana
UD-JU Juan Uribe
UD-JV Justin Verlander
UD-KG Ken Griffey, Jr.
UD-MC Miguel Cabrera
UD-MH Matt Holliday
UD-MM Melvin Mora
UD-MO Justin Morneau
UD-MR Manny Ramirez
UD-MS Mike Sweeney
UD-MT Miguel Tejada
UD-MU Mike Mussina
UD-OR Magglio Ordonez
UD-PF Prince Fielder
UD-RH Roy Halladay
UD-RZ Ryan Zimmerman
UD-SR Scott Rolen
UD-TH Tim Hudson
UD-VM Victor Martinez
Series Two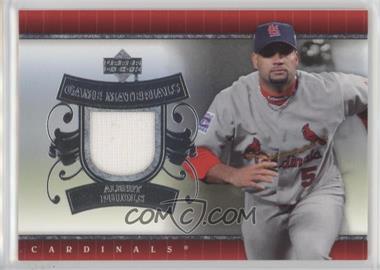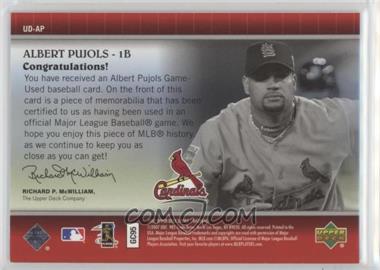 UD-AB AJ Burnett
UD-AP Albert Pujols
UD-AR Alex Rios
UD-BA Bobby Abreu
UD-BC Bartolo Colon
UD-BJ Bobby Jenks
UD-CC Carl Crawford
UD-CJ Chipper Jones
UD-CS Curt Schilling
UD-CU Chase Utley
UD-DJ Derek Jeter
UD-EB Erik Bedard
UD-EN Juan Encarnacion
UD-FR Jeff Francoeur SP
UD-GS Gary Sheffield
UD-HB Hank Blalock
UD-HO Trevor Hoffman
UD-JD Johnny Damon
UD-JE Jim Edmonds
UD-JF Jeff Francis
UD-JS John Smoltz
UD-JT Jim Thome
UD-JV Jose Vidro
UD-KG Ken Griffey, Jr.
UD-LB Lance Berkman
UD-LG Luis Gonzalez
UD-MR Manny Ramirez
UD-MT Mark Teixeira
UD-RB Rocco Baldelli
UD-RJ Randy Johnson
UD-RN Ricky Nolasco
UD-RO Roy Oswalt
UD-RW Rickie Weeks
UD-SD Stephen Drew
UD-SK Scott Kazmir
UD-SR Scott Rolen
UD-TG Tom Glavine
UD-TH Todd Helton
UD-TN Trot Nixon
UD-VG Vladimir Guerrero
UD-ZD Zach Duke
UD Game Patch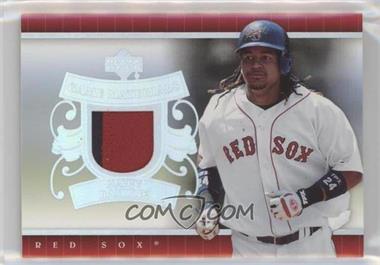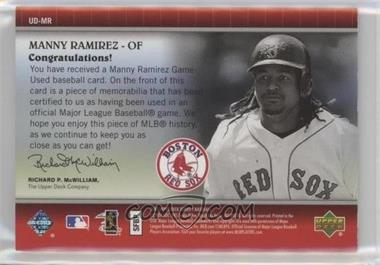 NOTE: This set was ONLY available in Series One packs.
UD-AJ Andruw Jones
UD-AP Albert Pujols
UD-BE Josh Beckett
UD-BR Brian Roberts
UD-BS Ben Sheets
UD-CA Chris Carpenter
UD-CB Carlos Beltran
UD-CC Carl Crawford
UD-CD Carlos Delgado
UD-CL Carlos Lee
UD-CP Corey Patterson
UD-CS CC Sabathia
UD-DJ Derek Jeter
UD-DO David Ortiz
UD-DW Dontrelle Willis
UD-EC Eric Chavez
UD-FH Felix Hernandez
UD-HU Torii Hunter
UD-IR Ivan Rodriguez
UD-JB Jason Bay
UD-JG Jason Giambi
UD-JM Joe Mauer
UD-JR Jose Reyes
UD-JS Johan Santana
UD-JU Juan Uribe
UD-KG Ken Griffey, Jr.
UD-MC Miguel Cabrera
UD-MH Matt Holliday
UD-MM Melvin Mora
UD-MO Justin Morneau
UD-MR Manny Ramirez
UD-MS Mike Sweeney
UD-MT Miguel Tejada
UD-MU Mike Mussina
UD-OR Magglio Ordonez
UD-PF Prince Fielder
UD-RH Roy Halladay
UD-RZ Ryan Zimmerman
UD-SR Scott Rolen
UD-TH Tim Hudson
UD-VM Victor Martinez
Daisuke Matsuzaka Game-Used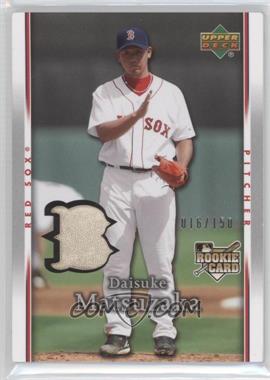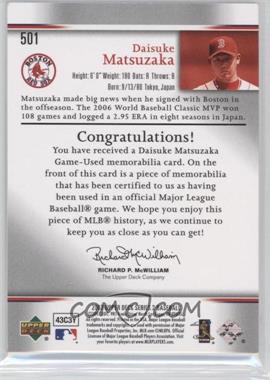 This card was a late addition to Series Two packs and is serial-numbered to 150 copies. It is a reprint of base card #501b with a piece of a game-used jersey.
Star Signings
Series One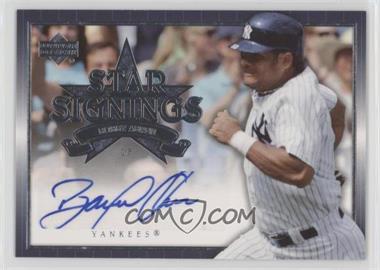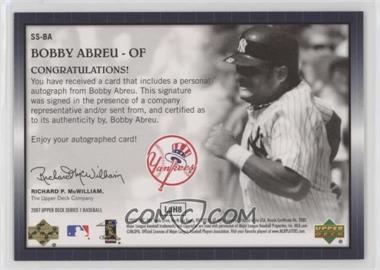 SS-AB Ambiorix Burgos
SS-AC Aaron Cook
SS-AH Aubrey Huff SP
SS-AP Albert Pujols SP
SS-AR Alex Rios
SS-BA Bobby Abreu
SS-BL Joe Blanton
SS-BO Jeremy Bonderman
SS-BR Brandon Backe
SS-CJ Conor Jackson
SS-CO Chad Cordero
SS-CP Corey Patterson
SS-CR Coco Crisp SP
SS-CS Chris Shelton
SS-CY Chris Young SP
SS-DC Daniel Cabrera SP
SS-DH Dan Haren
SS-DJ Derek Jeter
SS-DL Derrek Lee SP
SS-DU Chris Duffy
SS-GA Garrett Atkins
SS-GC Gustavo Chacin
SS-HS Huston Street
SS-HU Torii Hunter
SS-IS Ian Snell SP
SS-JA Jeremy Accardo
SS-JB Jason Bergmann SP
SS-JD Joey Devine
SS-JG Jonny Gomes
SS-JJ Jorge Julio
SS-JK Jason Kubel
SS-JM Justin Morneau
SS-JN Joe Nathan
SS-JS Jason Bay
SS-JW Jake Westbrook
SS-KF Keith Foulke
SS-KG Ken Griffey, Jr.
SS-KM Kevin Mench
SS-KS Kirk Saarloos
SS-KY Kevin Youkilis
SS-LN Laynce Nix SP
SS-LO Lyle Overbay
SS-MA Matt Cain SP
SS-MH Matt Holliday
SS-MK Mark Kotsay
SS-MM Melvin Mora
SS-MT Mark Teahen SP
SS-NM Nate McLouth SP
SS-RC Ryan Church
SS-RF Rafael Furcal SP
SS-RG Ryan Garko
SS-RI Juan Rivera SP
SS-RJ Reed Johnson
SS-RO Aaron Rowand SP
SS-RU Carlos Ruiz
SS-SC Sean Casey SP
SS-SD Stephen Drew
SS-SP Scott Podsednik SP
SS-TI Tadahito Iguchi
SS-VE Justin Verlander
SS-WM Wily Mo Pena
SS-XN Xavier Nady
SS-YB Yuniesky Betancourt
Series Two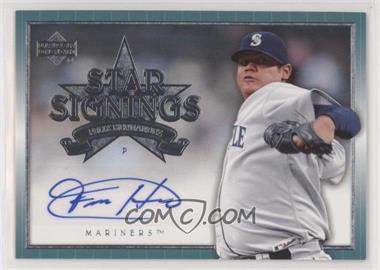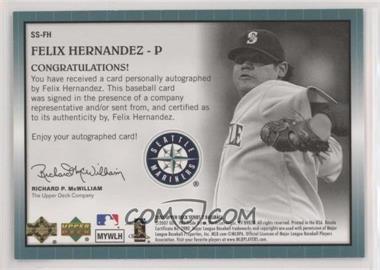 SS-AB Adrian Beltre SP
SS-AC Alberto Callaspo
SS-AG Alex Gordon
SS-AI Akinori Iwamura SP
SS-AS Angel Sanchez
SS-BA Jeff Baker
SS-BB Brian Burres
SS-BC Bobby Crosby SP
SS-BE Josh Beckett SP
SS-BO Ben Broussard
SS-BU BJ Upton SP
SS-CB Craig Biggio SP
SS-CC Carl Crawford SP
SS-CR Cal Ripken, Jr. SP
SS-DJ Derek Jeter
SS-DY Delmon Young SP
SS-ED Elijah Dukes
SS-FH Felix Hernandez
SS-IK Ian Kinsler SP
SS-IS Ian Snell
SS-JD JD Drew SP
SS-JT Jim Thome SP
SS-KG Ken Griffey, Jr. SP
SS-KI Kei Igawa SP
SS-KJ Kelly Johnson
SS-NC Nelson Cruz
SS-OP Oliver Perez SP
SS-RA Chris Ray
SS-RC Roger Clemens SP
SS-SA Juan Salas
SS-SH Sean Henn
SS-YO Chris Young
SS-ZS Zack Segovia
Iron Man Autograph
Each card is autographed by Cal Ripken, Jr. and is a one-of-one.
IM1 Cal Ripken, Jr. / Lou Gehrig
IM2 Cal Ripken, Jr. / Lou Gehrig
IM3 Cal Ripken, Jr. / Lou Gehrig
IM4 Cal Ripken, Jr. / Lou Gehrig
1989 Reprints Signatures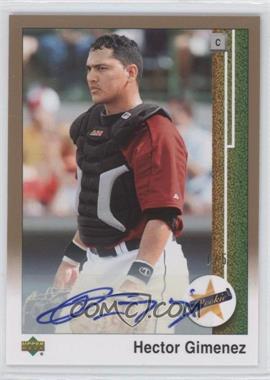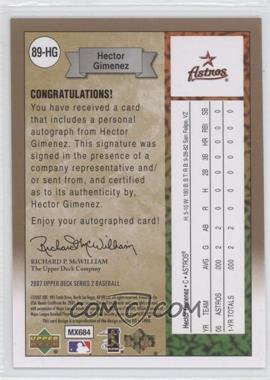 Each card is serial-numbered to five copies.
89-AG Alex Gordon
89-AI Akinori Iwamura
89-AS Angel Sanchez
89-BN Jared Burton
89-CJ Cesar Jimenez
89-CS Chris Stewart
89-CW Chase Wright
89-DY Delmon Young
89-HG Hector Gimenez
89-JA Joaquin Arias
89-JB Jeff Baker
89-JD John Danks
89-JH Josh Hamilton
89-KI Kei Igawa
89-KK Kevin Kouzmanoff
89-LS Levale Speigner
89-MB Michael Bourn
89-MC Matt Chico
89-MM Miguel Montero
89-SA Juan Salas
89-SH Sean Henn
89-ST Brian Stokes
89-TT Troy Tulowitzki
89-ZS Zack Segovia
Cooperstown Calling Autograph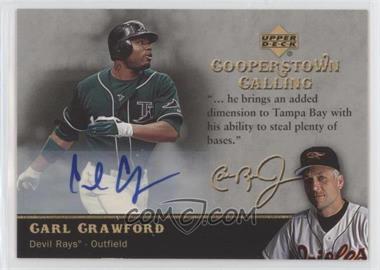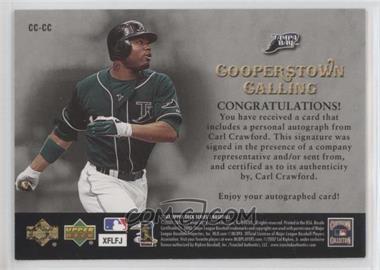 CC-AS Alfonso Soriano
CC-CA Chris Carpenter
CC-CC Carl Crawford
CC-CR Cal Ripken, Jr.
CC-DJ Derek Jeter
CC-JS Johan Santana
CC-JT Jim Thome
CC-SR Scott Rolen
CC-TE Miguel Tejada
CC-VG Vladimir Guerrero
Ticket to Stardom Autograph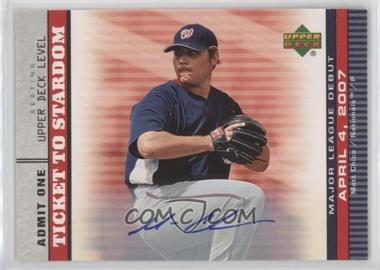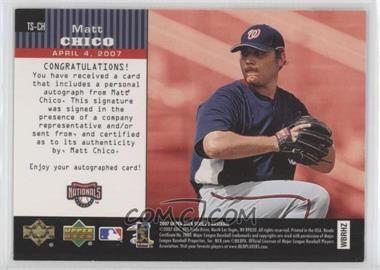 TS-CH Matt Chico
TS-CJ Cesar Jimenez
TS-CS Chris Stewart
TS-DA John Danks
TS-HG Hector Gimenez
TS-KK Kevin Kouzmanoff
TS-SA Juan Salas
TS-ST Brian Stokes
TS-TT Troy Tulowitzki
TS-ZS Zack Segovia