1989 Upper Deck
Description
The landmark 1989 Upper Deck Baseball is a 800-card set released in two series. The first series (also known as the "Low-Numbers") consists of the first 700 cards, and was released to The Hobby in April 1989. The High-Number Series, which has both the 700 Low-Number cards, plus an additional 100 cards, was released in October.
The cards feature slick paper stock, full color on both the front and the back and carry a hologram on the reverse to protect against counterfeiting.
Subsets include Rookie Stars (#1-#27), 1988 Award Winners (#658-#663), 1988 Postseason Highlights (#664-#667), and Team Checklists (#668-#693) which were painted by Vernon Wells, Sr., the father of future Major League outfielder Vernon Wells.
1989 Upper Deck is notable, of course, for card #1: The Star Rookie of Ken Griffey, Jr. Other rookies included Gary Sheffield, John Smoltz, Randy Johnson (all, like Griffey, included in the "Star Rookie" subset) Craig Biggio. Among the Hi-Series rookies are Tom Gordon, Steve Findley, Jim Abbott and Omar Vizquel.
Collectors should also note that many dealers consider that Upper Deck's "planned" production of 1,000,000 cards of each player was increased (perhaps even doubled) later in the year due to the explosion in popularity of the product.
The more significant variations involving changed photos or changed type are listed below. According to the company, the Dale Murphy RevNeg and Pat Sheridan "no position" cards were corrected very early, after only two percent of the cards had been produced. Similarly, the Gary Sheffield "upside-down SS" was corrected after 15 percent had been printed; Gary Varsho, Mike Gallego, and Bill Schroeder were corrected after 20 percent; and Brian Holton, Fred Manrique, and Herm Winningham were corrected 30 percent of the way through.
Cards with missing or duplicate holograms appear to be relatively common and are generally considered to be flawed copies that sell for substantial discounts.
Legacy of 1989 Upper Deck and the Ken Griffey, Jr. Star Rookie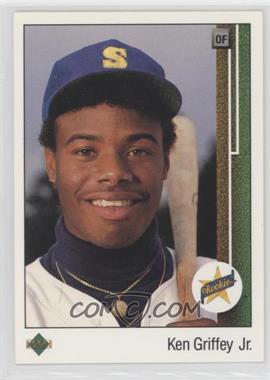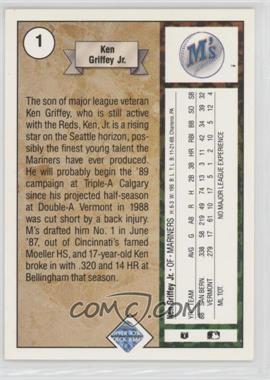 In the 1989 Upper Deck Baseball set, Ken Griffey, Jr. was selected to be card #1. The decision to make Griffey, Jr. the first card in the set was reached in late 1988.
Upper Deck employee Tom Geideman, still a teenager at the time and who later went on to found football draft-pick card producer SA-GE, was the one who suggested the use of Griffey as card #1. Traditionally, Topps had a system for reserving various numbers in their sets (such as #1 and multiples of 100) for the biggest stars in the game. Geideman decided that a top prospect should be honored with the first card in the inaugural 1989 set. After reviewing Baseball America, Geideman narrowed the list of candidates to four: Gregg Jefferies, Gary Sheffield, Sandy Alomar, Jr., and Griffey. Since Geideman was a Mariners fan, Ken Griffey, Jr. was chosen.
At press time, Griffey had not yet played a major league game, so Upper Deck used an image of Griffey in a San Bernardino Spirit uniform and used computers to make him appear as though he was in a Seattle uniform.
Make no mistake, the '89 Upper Deck Griffey is one of the most significant baseball cards ever produced. It is the "'52 Mantle" of the post-vintage era. Unfortunately, unlike the '52 Mantle, it is not all that scarce. The card was situated in the top left hand corner of the uncut sheets and was more liable to be cut poorly or have its corners dinged. Company policy was that if a customer found a damaged card in its package, the company would replace it. Many Griffey cards were returned and the result was that Upper Deck printed many uncut sheets (sheets consisting of 100 cards) of just Ken Griffey, Jr.
According to Professional Sports Authenticator (PSA), the 1989 Upper Deck Ken Griffey, Jr. is the most graded card of all time. Between PSA and Beckett Grading Services (BGS), over 100,000 copies have been slabbed.
Distribution
Both series were issued in 15-card, 36-pack boxes with a suggested retail price of $0.99/pack -- although market forced prices to the $2, $3, and even $4 mark, shortly after release. Each High-Series pack contained two cards from the 100-card High Series (cards 701-800) and the rest from the Low Series (1-700). A 2" diameter team-logo hologram sticker was included in each pack.
Two different factory sets were also issued. One with all 800 cards, and the other with just the 100 High-Number Series cards.
1989 Upper Deck, both packs and sets, were issued exclusive to Hobby outlets.
NOTE: Wax boxes and sets were NOT sealed in shrink-wrap right out of the factory however, some distributors/dealers shrink-wrapped wax boxes, sets and cases to sell these as unsearched while increasing the price. Factory sets were sealed closed using a clear round sticker on the flap. The practice of using shrink-wrap with logos of the issuing company did not begin until the early-1990s.
Reviews
Checklist
Promos
Base Set
Low Series
Star Rookies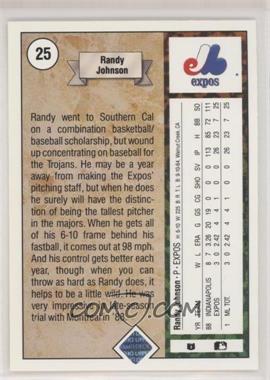 1 Ken Griffey, Jr. SR RC
2 Luis Medina SR RC
3 Tony Chance SR RC
4 Dave Otto SR
5 Sandy Alomar, Jr. SR RC UER (incorrect birthdate)
6 Rolando Roomes SR RC
7 Dave West SR RC
8 Cris Carpenter SR RC
9 Gregg Jefferies SR
10 Doug Dascenzo SR RC
11 Ron Jones SR RC
12 Luis de los Santos SR RC
13 Gary Sheffield SR ERR (SS upside down)
13 Gary Sheffield SR RC COR
14 Mike Harkey SR RC
15 Lance Blankenship SR RC
16 William Brennan SR RC
17 John Smoltz SR RC
18 Ramon Martinez SR RC
19 Mark Lemke SR RC
20 Juan Bell SR RC
21 Rey Palacios SR RC
22 Felix Jose SR RC
23 Van Snider SR RC
24 Dante Bichette SR RC
25 Randy Johnson SR RC
26 Carlos Quintana SR RC
27 Star Rookie Checklist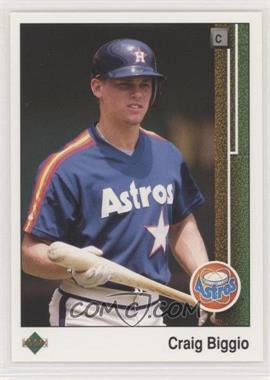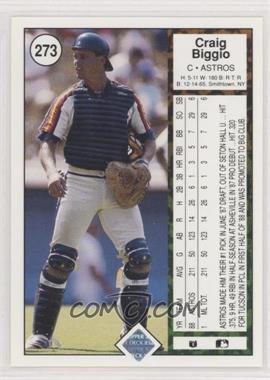 28 Mike Schooler
29 Randy St. Claire
30 Jerald Clark RC
31 Kevin Gross
32 Dan Firova
33 Jeff Calhoun
34 Tommy Hinzo
35 Ricky Jordan RC
36 Larry Parrish
37 Bret Saberhagen UER (Hits should be 1031)
38 Mike Smithson
39 Dave Dravecky
40 Ed Romero
41 Jeff Musselman
42 Ed Hearn
43 Rance Mulliniks
44 Jim Eisenreich
45 Sil Campusano
46 Mike Krukow
47 Paul Gibson
48 Mike LaCoss
49 Larry Herndon
50 Scott Garrelts
51 Dwayne Henry
52 Jim Acker
53 Steve Sax
54 Pete O'Brien
55 Paul Runge
56 Rick Rhoden
57 John Dopson
58 Casey Candaele UER (no stats for '88)
59 Dave Righetti
60 Joe Hesketh
61 Frank DiPino
62 Tim Laudner
63 Jamie Moyer
64 Fred Toliver egas
65 Mitch Webster
66 John Tudor
67 John Cangelosi
68 Mike Devereaux
69 Brian Fisher
70 Mike Marshall
71 Zane Smith
72 Brian Holton ERR (photo is of Shawn Hill)
72 Brian Holton COR
73 Jose Guzman
74 Rick Mahler
75 John Shelby
76 Jim Deshaies
77 Bobby Meacham
78 Bryn Smith
79 Joaquin Andujar
80 Rich Dotson
81 Charlie Lea
82 Calvin Schiraldi
83 Les Straker
84 Les Lancaster
85 Allan Anderson
86 Junior Ortiz
87 Jesse Orosco
88 Felix Fermin
89 Dave Anderson
90 Rafael Belliard UER (incorrect birthyear)
91 Franklin Stubbs
92 Cecil Espy
93 Albert Hall
94 Tim Leary
95 Mitch Williams
96 Tracy Jones
97 Danny Darwin
98 Gary Ward
99 Neal Heaton
100 Jim Pankowits
101 Bill Doran
102 Tim Wallach
103 Joe Magrane
104 Ozzie Virgil
105 Alvin Davis
106 Tom Brookens
107 Shawon Dunston
108 Tracy Woodson
109 Nelson Liriano
110 Devon White UER (2B total should be 56)
111 Steve Balboni
112 Buddy Bell
113 German Jimenez
114 Ken Dayley
115 Andres Galarraga
116 Mike Scioscia
117 Gary Pettis
118 Ernie Whitt
119 Bob Boone
120 Ryne Sandberg
121 Bruce Benedict
122 Hubie Brooks
123 Mike Moore
124 Wallace Johnson
125 Bob Horner
126 Chili Davis
127 Manny Trillo
128 Chet Lemon
129 John Cerutti
130 Orel Hershiser
131 Terry Pendleton
132 Jeff Blauser
133 Mike Fitzgerald
134 Henry Cotto
135 Gerald Young
136 Luis Salazar
137 Alejandro Pena
138 Jack Howell
139 Tony Fernandez
140 Mark Grace
141 Ken Caminiti
142 Mike Jackson
143 Larry McWilliams
144 Andres Thomas
145 Nolan Ryan 3X
146 Mike Davis
147 DeWayne Buice
148 Jody Davis
149 Jesse Barfield
150 Matt Nokes
151 Jerry Reuss
152 Rick Cerone
153 Storm Davis
154 Marvell Wynne
155 Will Clark
156 Luis Aguayo
157 Willie Upshaw
158 Randy Bush
159 Ron Darling
160 Kal Daniels
161 Spike Owen
162 Luis Polonia
163 Kevin Mitchell UER (1988/Career HRs should be 19/53)
164 Dave Gallagher
165 Benito Santiago
166 Greg Gagne
167 Ken Phelps
168 Sid Fernandez
169 Bo Diaz
170 Cory Snyder
171 Eric Show
172 Robby Thompson
173 Marty Barrett
174 Dave Henderson
175 Ozzie Guillen
176 Barry Lyons
177 Kelvin Torve
178 Don Slaught
179 Steve Lombardozzi
180 Chris Sabo RC
181 Jose Uribe
182 Shane Mack
183 Ron Karkovice
184 Todd Benzinger
185 Dave Stewart
186 Julio Franco
187 Ron Robinson
188 Wally Backman
189 Randy Velarde
190 Joe Carter
191 Bob Welch
192 Kelly Paris
193 Chris Brown
194 Rick Reuschel
195 Roger Clemens
196 Dave Concepcion
197 Al Newman
198 Brook Jacoby
199 Mookie Wilson
200 Don Mattingly
201 Dick Schofield
202 Mark Gubicza
203 Gary Gaetti
204 Dan Pasqua
205 Andre Dawson
206 Chris Speier
207 Kent Tekulve
208 Rod Scurry
209 Scott Bailes
210 Rickey Henderson UER (listed as throwing righty)
211 Harold Baines
212 Tony Armas
213 Kent Hrbek
214 Darrin Jackson RC
215 George Brett
216 Rafael Santana
217 Andy Allanson
218 Brett Butler
219 Steve Jeltz
220 Jay Buhner
221 Bo Jackson
222 Angel Salazar
223 Kirk McCaskill
224 Steve Lyons
225 Bert Blyleven
226 Scott Bradley
227 Bob Melvin
228 Ron Kittle
229 Phil Bradley
230 Tommy John
231 Greg Walker
232 Juan Berenguer
233 Pat Tabler
234 Terry Clark
235 Rafael Palmeiro
236 Paul Zuvella
237 Willie Randolph
238 Bruce Fields
239 Mike Aldrete
240 Lance Parrish
241 Greg Maddux
242 John Moses
243 Melido Perez
244 Willie Wilson
245 Mark McLemore
246 Von Hayes
247 Matt Williams
248 John Candelaria UER (Played for Mets in '87 not Yankees)
249 Harold Reynolds
250 Greg Swindell
251 Juan Agosto
252 Mike Felder
253 Vince Coleman
254 Larry Sheets
255 George Bell
256 Terry Steinbach
257 Jack Armstrong RC
258 Dickie Thon
259 Ray Knight
260 Darryl Strawberry
261 Doug Sisk
262 Alex Trevino
263 Jeffrey Leonard
264 Tom Henke
265 Ozzie Smith
266 Dave Bergman
267 Tony Phillips
268 Mark Davis
269 Kevin Elster
270 Barry Larkin
271 Manny Lee
272 Tom Brunansky
273 Craig Biggio RC
274 Jim Gantner
275 Eddie Murray
276 Jeff Reed
277 Tim Teufel
278 Rick Honeycutt
279 Guillermo Hernandez
280 John Kruk
281 Luis Alicea RC
282 Jim Clancy
283 Billy Ripken
284 Craig Reynolds
285 Robin Yount
286 Jimmy Jones
287 Ron Oester
288 Terry Leach
289 Dennis Eckersley
290 Alan Trammell
291 Jimmy Key
292 Chris Bosio
293 Jose DeLeon
294 Jim Traber
295 Mike Scott
296 Roger McDowell
297 Garry Templeton
298 Doyle Alexander
299 Nick Esasky
300 Mark McGwire UER (2B total should be 51)
301 Darryl Hamilton RC
302 Dave Smith
303 Rick Sutcliffe
304 Dave Stapleton
305 Alan Ashby
306 Pedro Guerrero
307 Ron Guidry
308 Steve Farr
309 Curt Ford
310 Claudell Washington
311 Tom Prince
312 Chad Kreuter RC
313 Ken Oberkfell
314 Jerry Browne
315 R.J. Reynolds
316 Scott Bankhead
317 Milt Thompson
318 Mario Diaz
319 Bruce Ruffin
320 Dave Valle
321 Gary Varsho COR (Away uniform)
321 Gary Varsho ERR (photo is Mike Bielecki)
322 Paul Mirabella
323 Chuck Jackson
324 Drew Hall
325 Don August
326 Israel Sanchez
327 Denny Walling
328 Joel Skinner
329 Danny Tartabull
330 Tony Pena
331 Jim Sundberg
332 Jeff D. Robinson
333 Oddibe McDowell
334 Jose Lind
335 Paul Kilgus
336 Juan Samuel
337 Mike Campbell
338 Mike Maddux
339 Darnell Coles
340 Bob Dernier
341 Rafael Ramirez
342 Scott Sanderson
343 B.J. Surhoff
344 Billy Hatcher
345 Pat Perry
346 Jack Clark
347 Gary Thurman
348 Tim Jones
349 Dave Winfield
350 Frank White
351 Dave Collins
352 Jack Morris
353 Eric Plunk
354 Leon Durham
355 Ivan DeJesus
356 Brian Holman RC
357 Dale Murphy COR
357 Dale Murphy ERR RevNeg
358 Mark Portugal
359 Andy McGaffigan
360 Tom Glavine
361 Keith Moreland
362 Todd Stottlemyre RC
363 Dave Leiper
364 Cecil Fielder
365 Carmelo Martinez
366 Dwight Evans
367 Kevin McReynolds
368 Rich Gedman
369 Lenny Dykstra
370 Jody Reed
371 Jose Canseco UER (strikeout total listed as 391, should be 491)
372 Rob Murphy
373 Mike Henneman
374 Walt Weiss
375 Rob Dibble RC
376 Kirby Puckett
377 Dennis Martinez
378 Ron Gant
379 Brian Harper
380 Nelson Santovenia
381 Lloyd Moseby
382 Lance McCullers
383 Dave Stieb
384 Tony Gwynn
385 Mike Flanagan
386 Bob Ojeda
387 Bruce Hurst
388 Dave Magadan
389 Wade Boggs
390 Gary Carter
391 Frank Tanana
392 Curt Young
393 Jeff Treadway
394 Darrell Evans
395 Glenn Hubbard
396 Chuck Cary
397 Frank Viola
398 Jeff Parrett
399 Terry Blocker
400 Dan Gladden
401 Louie Meadows RC
402 Tim Raines
403 Joey Meyer
404 Larry Andersen
405 Rex Hudler
406 Mike Schmidt
407 John Franco
408 Brady Anderson RC
409 Don Carman
410 Eric Davis
411 Bob Stanley
412 Pete Smith
413 Jim Rice
414 Bruce Sutter
415 Dennis Boyd
416 Ruben Sierra
417 Mike LaValliere
418 Steve Buechele
419 Gary Redus
420 Scott Fletcher
421 Dale Sveum
422 Bob Knepper
423 Luis Rivera
424 Ted Higuera
425 Kevin Bass
426 Ken Gerhart
427 Shane Rawley
428 Paul O'Neill
429 Joe Orsulak
430 Jackie Gutierrez
431 Gerald Perry
432 Mike Greenwell
433 Jerry Royster
434 Ellis Burks
435 Ed Olwine
436 Dave Rucker
437 Charlie Hough
438 Bob Walk
439 Bob Brower
440 Barry Bonds
441 Tom Foley
442 Rob Deer
443 Glenn Davis
444 Dave Martinez
445 Bill Wegman
446 Lloyd McClendon
447 Dave Schmidt
448 Darren Daulton
449 Frank Williams
450 Don Aase
451 Lou Whitaker
452 Rich Gossage
453 Ed Whitson
454 Jim Walewander
455 Damon Berryhill RC
456 Tim Burke
457 Barry Jones
458 Joel Youngblood
459 Floyd Youmans
460 Mark Salas
461 Jeff Russell
462 Darrell Miller
463 Jeff Kunkel
464 Sherman Corbett RC
465 Curt Wilkerson
466 Bud Black
467 Cal Ripken, Jr.
468 John Farrell
469 Terry Kennedy
470 Tom Candiotti
471 Roberto Alomar
472 Jeff M. Robinson
473 Vance Law
474 Randy Ready UER (strikeout total listed as 136, should be 115)
475 Walt Terrell
476 Kelly Downs
477 Johnny Paredes
478 Shawn Hillegas
479 Bob Brenly
480 Otis Nixon
481 Johnny Ray
482 Geno Petralli
483 Stu Cliburn
484 Pete Incaviglia
485 Brian Downing
486 Jeff Stone
487 Carmen Castillo
488 Tom Niedenfuer
489 Jay Bell
490 Rick Schu
491 Jeff Pico
492 Mark Parent RC
493 Eric King
494 Al Nipper
495 Andy Hawkins
496 Daryl Boston
497 Ernie Riles
498 Pascual Perez
499 Bill Long UER (GS listed as 70, should be 44)
500 Kirt Manwaring
501 Chuck Crim
502 Candy Maldonado
503 Dennis Lamp
504 Glenn Braggs
505 Joe Price
506 Ken Williams
507 Bill Pecota
508 Rey Quinones
509 Jeff Bittiger
510 Kevin Seitzer
511 Steve Bedrosian
512 Todd Worrell
513 Chris James
514 Jose Oquendo
515 David Palmer
516 John Smiley
517 Dave Clark
518 Mike Dunne
519 Ron Washington
520 Bob Kipper
521 Lee Smith
522 Juan Castillo
523 Don Robinson
524 Kevin Romine
525 Paul Molitor
526 Mark Langston
527 Donnie Hill
528 Larry Owen
529 Jerry Reed
530 Jack McDowell
531 Greg Mathews
532 John Russell
533 Dan Quisenberry
534 Greg Gross
535 Danny Cox
536 Terry Francona
537 Andy Van Slyke
538 Mel Hall
539 Jim Gott
540 Doug Jones
541 Craig Lefferts
542 Mike Boddicker
543 Greg Brock
544 Charlie Haag
545 Tom Bolton
546 Mike Macfarlane RC
547 Rich Renteria
548 John Davis
549 Floyd Bannister
550 Mickey Brantley
551 Duane Ward
552 Dan Petry
553 Mickey Tettleton UER (Walks total listed as 175, should be 136)
554 Rick Leach
555 Mike Witt
556 Sid Bream
557 Bobby Witt
558 Tommy Herr
559 Randy Milligan
560 Jose Cecena
561 Mackey Sasser
562 Carney Lansford
563 Rick Aguilera
564 Ron Hassey
565 Dwight Gooden
566 Paul Assenmacher
567 Neil Allen
568 Jim Morrison
569 Mike Pagliarulo
570 Ted Simmons
571 Mark Thurmond
572 Fred McGriff
573 Wally Joyner
574 Jose Bautista RC
575 Kelly Gruber
576 Cecilio Guante
577 Mark Davidson
578 Bobby Bonilla UER (1987 SB listed as 2, should be 3)
579 Mike Stanley
580 Gene Larkin
581 Stan Javier
582 Howard Johnson
583 Mike Gallego ERR RevNeg on back
583 Mike Gallego COR
584 David Cone
585 Doug Jennings RC
586 Charles Hudson
587 Dion James
588 Al Leiter
589 Charlie Puleo
590 Roberto Kelly
591 Thad Bosley
592 Pete Stanicek
593 Pat Borders RC
594 Bryan Harvey RC
595 Jeff Ballard
596 Jeff Reardon
597 Doug Drabek
598 Edwin Correa
599 Keith Atherton
600 Dave LaPoint
601 Don Baylor
602 Tom Pagnozzi
603 Tim Flannery
604 Gene Walter
605 Dave Parker
606 Mike Diaz
607 Chris Gwynn
608 Odell Jones
609 Carlton Fisk
610 Jay Howell
611 Tim Crews
612 Keith Hernandez
613 Willie Fraser
614 Jim Eppard
615 Jeff Hamilton
616 Kurt Stillwell
617 Tom Browning
618 Jeff Montgomery
619 Jose Rijo
620 Jamie Quirk
621 Willie McGee
622 Mark Grant UER (glove on wrong hand)
623 Bill Swift
624 Orlando Mercado
625 John Costello RC
626 Jose Gonzalez
627 Bill Schroeder COR (Photo on back with arms crossed)
627 Bill Schroeder ERR (Photo on back is Ronn Reynolds)
628 Fred Manrique ERR (Photo on back is Ozzie Guillen)
628 Fred Manrique COR (Photo on back batting)
629 Ricky Horton
630 Dan Plesac
631 Alfredo Griffin
632 Chuck Finley
633 Kirk Gibson
634 Randy Myers
635 Greg Minton
636 Herm Winningham ERR (Spelled "W1nningham" on back)
636 Herm Winningham COR
637 Charlie Leibrandt
638 Tim Birtsas
639 Bill Buckner
640 Danny Jackson
641 Greg Booker
642 Jim Presley
643 Gene Nelson
644 Rod Booker
645 Dennis Rasmussen
646 Juan Nieves
647 Bobby Thigpen
648 Tim Belcher
649 Mike Young
650 Ivan Calderon
651 Oswald Peraza
652 Pat Sheridan COR
652 Pat Sheridan ERR NPOF
653 Mike Morgan
654 Mike Heath
655 Jay Tibbs
656 Fernando Valenzuela
657 Lee Mazzilli
1988 Award Winners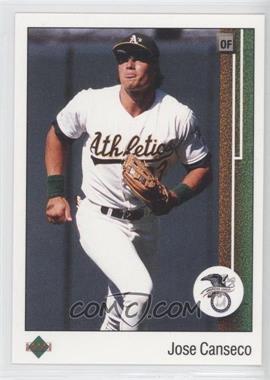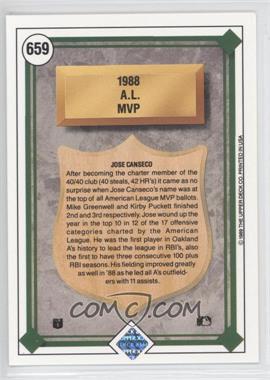 658 Frank Viola AL CY
659 Jose Canseco AL MVP ERR (Black AL Logo)
659 Jose Canseco AL MVP COR (Blue AL Logo)
660 Walt Weiss AL ROY
661 Orel Hershiser NL CY
662 Kirk Gibson NL MVP
663 Chris Sabo NL ROY
1988 Postseason Highlights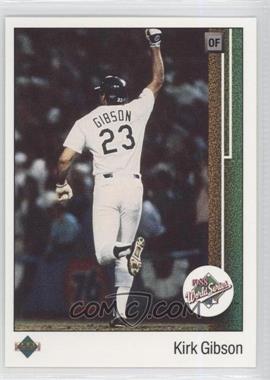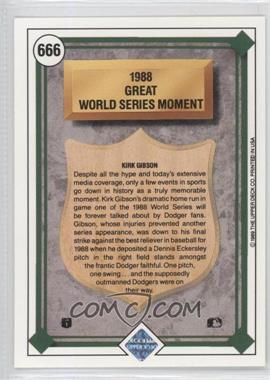 664 Dennis Eckersley ALCS
665 Orel Hershiser NLCS
666 Kirk Gibson WS
667 Orel Hershiser WS
Team Checklists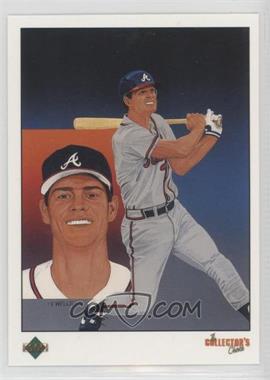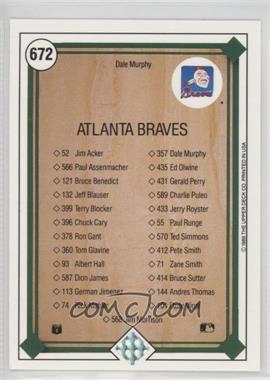 668 Wally Joyner
669 Nolan Ryan
670 Jose Canseco
671 Fred McGriff
672 Dale Murphy
673 Paul Molitor
674 Ozzie Smith
675 Ryne Sandberg
676 Kirk Gibson
677 Andres Galarraga
678 Will Clark
679 Cory Snyder
680 Alvin Davis
681 Darryl Strawberry
682 Cal Ripken, Jr.
683 Tony Gwynn
684 Mike Schmidt
685 Andy Van Slyke
686 Ruben Sierra
687 Wade Boggs
688 Eric Davis
689 George Brett
690 Alan Trammell
691 Frank Viola
692 Harold Baines
693 Don Mattingly
Checklists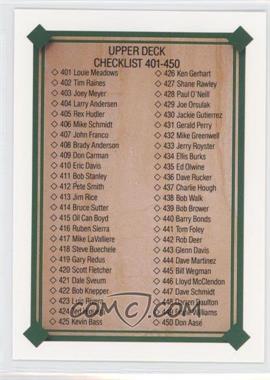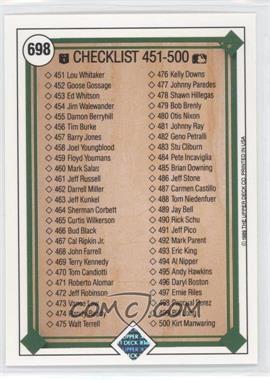 694 Checklist 1-100
695 Checklist 101-200
696 Checklist 201-300
697 Checklist 301-400
698 Checklist 401-500
699 Checklist 501-600
700 Checklist 601-700
High Series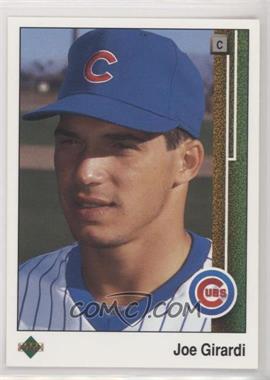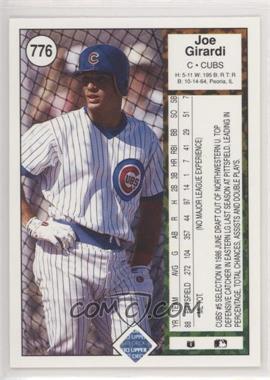 701 Checklist 701-800
702 Jesse Barfield
703 Walt Terrell
704 Dickie Thon
705 Al Leiter
706 Dave LaPoint
707 Charlie Hayes RC
708 Andy Hawkins
709 Mickey Hatcher
710 Lance McCullers
711 Ron Kittle
712 Bert Blyleven
713 Rick Dempsey
714 Ken Williams
715 Steve Rosenberg
716 Joe Skalski
717 Spike Owen
718 Todd Burns
719 Kevin Gross
720 Tommy Herr
721 Rob Ducey
722 Gary Green
723 Gregg Olson RC
724 Greg W. Harris RC
725 Craig Worthington
726 Thomas Howard RC
727 Dale Mohorcic
728 Rich Yett
729 Mel Hall
730 Floyd Youmans
731 Lonnie Smith
732 Wally Backman
733 Trevor Wilson RC
734 Jose Alvarez RC
735 Bob Milacki
736 Tom Gordon RC
737 Wally Whitehurst RC
738 Mike Aldrete
739 Keith Miller
740 Randy Milligan
741 Jeff Parrett
742 Steve Finley RC
743 Junior Felix RC
744 Pete Harnisch RC
745 Billy Spiers RC
746 Hensley Meulens RC
747 Juan Bell RC
748 Steve Sax
749 Phil Bradley
750 Rey Quinones
751 Tommy Gregg
752 Kevin Brown
753 Derek Lilliquist RC
754 Todd Zeile RC
755 Jim Abbott RC 3X
756 Ozzie Canseco
757 Nick Esasky
758 Mike Moore
759 Rob Murphy
760 Rick Mahler
761 Fred Lynn
762 Kevin Blankenship
763 Eddie Murray
764 Steve Searcy
765 Jerome Walton RC
766 Erik Hanson RC
767 Bob Boone
768 Edgar Martinez
769 Jose DeJesus
770 Greg Briley
771 Steve Peters
772 Rafael Palmeiro
773 Jack Clark
774 Nolan Ryan (w/Football)
775 Lance Parrish
776 Joe Girardi RC
777 Willie Randolph
778 Mitch Williams
779 Dennis Cook RC
780 Dwight Smith RC
781 Lenny Harris RC
782 Torey Lovullo RC
783 Norm Charlton RC
784 Chris Brown
785 Todd Benzinger
786 Shane Rawley
787 Omar Vizquel RC
788 LaVel Freeman
789 Jeffrey Leonard
790 Eddie Williams
791 Jamie Moyer
792 Bruce Hurst UER ("Workd Series")
793 Julio Franco
794 Claudell Washington
795 Jody Davis
796 Oddibe McDowell
797 Paul Kilgus
798 Tracy Jones
799 Steve Wilson RC
800 Pete O'Brien