2009 Upper Deck Update
Description
2009 Upper Deck Update is a 50-card extension of the 2009 Upper Deck set that was released in late-August 2009. This was the last Upper Deck flagship baseball set released with MLB Properties licensing.
The Update cards were released as part of the 2009 Upper Deck Combo Fat Packs. Combo Fat packs were exclusive to mass-market retail stores and contained 15 cards from Series One and Series Two, two Update cards, two Generation Now inserts, and two 20th Anniversary inserts. They also were distributed in Blasters. Each Blaster had 10 clear cellophane-wrapped packs that contain 18 cards each, which included two Update cards and two Generation Now cards, a 20th Anniversary, and 13 cards from the base set.
This product contains the only non-autographed, non-serial-numbered, rookie card of Matt Wieters.
Checklist
Base Set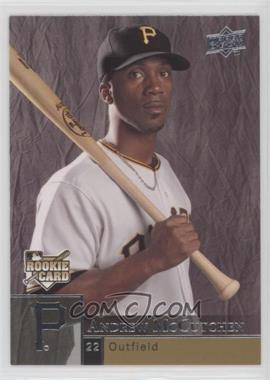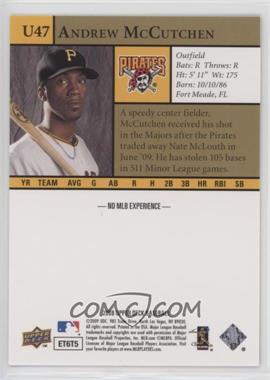 U1 Barack Obama (w/ Albert Pujols)
U2 Garret Anderson
U3 Nate McLouth
U4 Wilkin Ramirez RC
U5 Kyle Banks RC
U6 Aaron Poreda RC
U7 Bartolo Colon
U8 Lou Marson (RC)
U9 Julio Borbon RC
U10 Pedro Martinez
U11 Ivan Rodriguez
U12 Gerardo Parra RC
U13 Brad Ausmus
U14 Brad Mills RC
U15 Gary Sheffield
U16 Nomar Garciaparra
U17 Miguel Cairo
U18 Sean O'Sullivan RC
U19 Eric Hinske
U20 Sean West (RC)
U21 Mat Latos RC
U22 Daniel Bard RC
U23 David Huff RC
U24 Tony Gwynn, Jr.
U25 Vin Mazzaro RC
U26 Russell Branyan
U27 Gabe Kapler
U28 Andruw Jones
U29 Marc Rzepczynski RC
U30 Jhoulys Chacin RC
U31 Daniel Schlereth RC
U32 Tommy Hanson RC
U33 Brad Bergesen (RC)
U34 Nolan Reimold (RC)
U35 Matt Wieters RC
U36 Gordon Beckham RC
U37 Matt LaPorta RC
U38 Anthony Swarzak (RC)
U39 Fu-Te Ni RC
U40 Fernando Martinez RC
U41 Francisco Cervelli RC
U42 Ramiro Pena RC
U43 Mark Melancon RC
U44 Andrew Bailey RC
U45 Drew Carpenter RC
U46 Antonio Bastardo RC
U47 Andrew McCutchen (RC)
U48 Derek Holland RC
U49 Brett Cecil RC
U50 Jordan Zimmermann RC
Parallels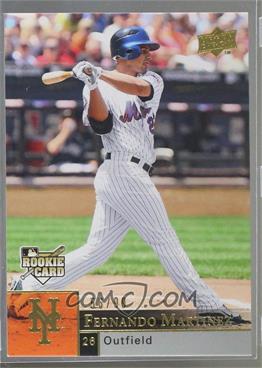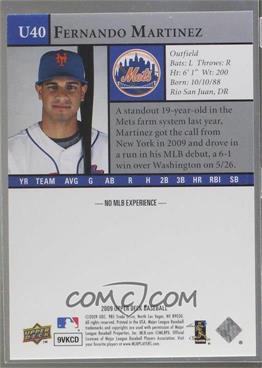 Each base card is available as a Gold card (numbered to 99).
Inserts
Generation NOW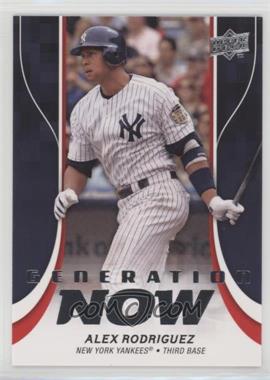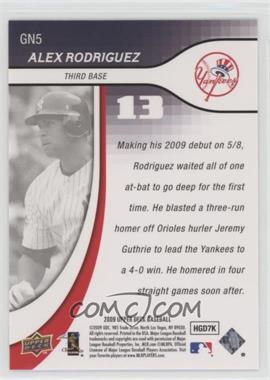 Each Generation NOW is available as a Gold card (numbered to 99).
GN1 A.J. Burnett
GN2 Adam Dunn
GN3 Adrian Gonzalez
GN4 Albert Pujols
GN5 Alex Rodriguez
GN6 Alfonso Soriano
GN7 Aramis Ramirez
GN8 B.J. Upton
GN9 Brian McCann
GN10 Carlos Beltran
GN11 Carlos Quentin
GN12 CC Sabathia
GN13 Chase Utley
GN14 Chipper Jones
GN15 Chris Iannetta
GN16 Cole Hamels
GN17 David Wright
GN18 Derek Jeter
GN19 Dustin Pedroia
GN20 Evan Longoria
GN21 Grady Sizemore
GN22 Hanley Ramirez
GN23 Hunter Pence
GN24 Ian Kinsler
GN25 Jay Bruce
GN26 Jimmy Rollins
GN27 Joba Chamberlain
GN28 Joe Mauer
GN29 Joey Votto
GN30 Johan Santana
GN31 Jon Lester
GN32 Jose Reyes
GN33 Josh Beckett
GN34 Josh Hamilton
GN35 Justin Upton
GN36 Ken Griffey, Jr.
GN37 Lance Berkman
GN38 Manny Ramirez
GN39 Mark Teixeira
GN40 Matt Holliday
GN41 Miguel Cabrera
GN42 Nick Markakis
GN43 Prince Fielder
GN44 Russell Martin
GN45 Ryan Braun
GN46 Ryan Howard
GN47 Ryan Zimmerman
GN48 Stephen Drew
GN49 Tim Lincecum
GN50 Zack Greinke