1985 Donruss Highlights
Description
1985 Donruss Highlights is a 56-card boxed set released in November, 1985. Highlights was Donruss's first attempt at a post-season update set. Rather than focus on rookies and traded players, Highlights paid tribute to the players and pitchers of the month for each league as well as the notable achievements of the 1985 season. The design is identical to the 1985 Donruss set, with exception of yellow stripes running along the borders of each card, and a glossy coating applied to the front. The set came packaged in an attractive red box that resembles a deck of playing cards. All 56 cards were shrink-wrapped and came packaged with a 2 1/2" X 3 1/2" Lou Gehrig puzzle.
The last two cards are of Donruss's picks for the 1985 Rookies of the Year. (The announcement of the BBWAA's Rookies of the Year was issued after the Highlights checklist was set. Donruss's picks of Ozzie Guillen and Vince Coleman did match the baseball writer's ROY selections.)
This set proved to be more popular than Donruss had predicted, as the print run sold out before all initial orders were filled. Despite the lack of rookies, the set has maintained it's value
Distribution
Factory Set: 56 cards plus one Lou Gehrig mini puzzle per set. Hobby only. 15 sets per case.
Reviews
Checklist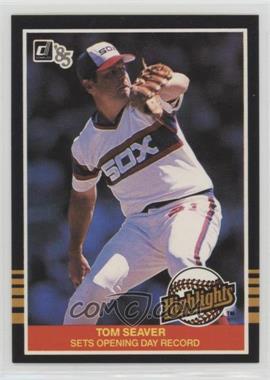 NNO Checklist Card
1 Tom Seaver
2 Rollie Fingers
3 Mike Davis
4 Charlie Leibrandt
5 Dale Murphy
6 Fernando Valenzuela
7 Larry Bowa
8 Dave Concepcion
9 Tony Perez
10 Pete Rose
11 George Brett
12 Dave Stieb
13 Dave Parker
14 Andy Hawkins
15 Andy Hawkins
16 Von Hayes
17 Rickey Henderson
18 Jay Howell
19 Pedro Guerrero
20 John Tudor
21 Keith Hernandez / Gary Carter
22 Nolan Ryan
23 LaMarr Hoyt
24 Oddibe McDowell
25 George Brett
26 Bret Saberhagen
27 Keith Hernandez
28 Fernando Valenzuela
29 Willie McGee / Vince Coleman
30 Tom Seaver
31 Rod Carew
32 Dwight Gooden
33 Dwight Gooden
34 Eddie Murray
35 Don Baylor
36 Don Mattingly
37 Dave Righetti
38 Willie McGee
39 Shane Rawley
40 Pete Rose
41 Andre Dawson
42 Rickey Henderson
43 Tom Browning XRC
44 Don Mattingly
45 Don Mattingly
46 Charlie Leibrandt
47 Gary Carter
48 Dwight Gooden
49 Wade Boggs
50 Phil Niekro
51 Darrell Evans
52 Willie McGee
53 Dave Winfield
54 Vince Coleman XRC
55 Ozzie Guillen XRC
Donruss
Triopoly Era:
Junk Wax Era:
Post Junk Wax Era:
Pinnacle Brands Era:
Donruss-Playoff Era:
Panini America Era:
---
Parallel Brands:
---
All-Stars:
Highlights:
The Rookies:
Baseball's Best:
---
Other Donruss Brands: