1991 Donruss The Rookies
Description
1991 Donruss The Rookies is a 56-card, Hobby-exclusive, factory set. The design is similar to that of the 1991 Donruss flagship, but with red borders.
This would be the final year Donruss distributed their post-season The Rookies product in factory set form.
Distribution
Factory sets only. Hobby exclusive. 72 sets per case.
Reviews
Insertion Ratios
| Cards | Total Cards | Numbered To | Hobby Odds |
| --- | --- | --- | --- |
| Base | 56 | - | 56:1 |
Checklist
Base Set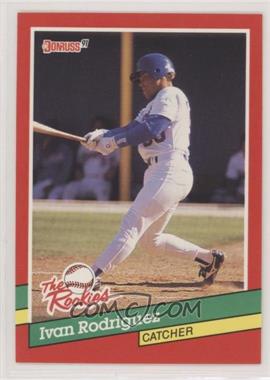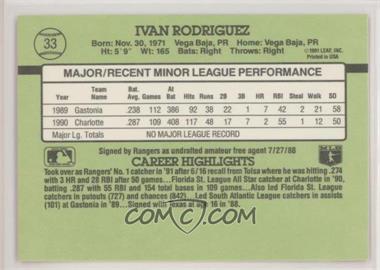 1 Pat Kelly RC
2 Rich DeLucia
3 Wes Chamberlain
4 Scott Leius
5 Darryl Kile
6 Milt Cuyler
7 Todd Van Poppel
8 Ray Lankford
9 Brian R. Hunter
10 Tony Perezchica
11 Ced Landrum
12 Dave Burba
13 Ramon Garcia
14 Ed Sprague
15 Warren Newson
16 Paul Faries RC
17 Luis Gonzalez
18 Charles Nagy
19 Chris Hammond
20 Frank Castillo
21 Pedro Munoz RC
22 Orlando Merced RC
23 Jose Melendez
24 Kirk Dressendorfer RC
25 Heathcliff Slocumb
26 Doug Simons RC
27 Mike Timlin RC
28 Jeff Fassero RC
29 Mark Leiter
30 Jeff Bagwell RC
31 Brian McRae
32 Mark Whiten
33 Ivan Rodriguez RC
34 Wade Taylor RC
35 Darren Lewis
36 Mo Vaughn
37 Mike Remlinger
38 Rick Wilkins
39 Chuck Knoblauch
40 Kevin Morton
41 Carlos Rodriguez
42 Mark Lewis
43 Brent Mayne
44 Chris Haney
45 Denis Boucher
46 Mike Gardiner
47 Jeff Johnson RC
48 Dean Palmer
49 Chuck McElroy
50 Chris Jones RC
51 Scott Kamieniecki RC
52 Al Osuna
53 Rusty Meacham
54 Chito Martinez
55 Reggie Jefferson
56 Checklist 1-56
Donruss
Triopoly Era:
Junk Wax Era:
Post Junk Wax Era:
Pinnacle Brands Era:
Donruss-Playoff Era:
Panini America Era:
---
Parallel Brands:
---
All-Stars:
Highlights:
The Rookies:
Baseball's Best:
---
Other Donruss Brands: