1986 Topps Traded
Description
1986 Topps Traded is a 132-card extended set distributed exclusively in factory set form. The cards are identical in style to regular-issue 1986 Topps cards except for whiter stock and t-suffixed numbering. The key XRCs in this set are Barry Bonds, Bobby Bonilla, Jose Canseco, Will Clark, Andres Galarraga, Bo Jackson, Wally Joyner, John Kruk, and Kevin Mitchell.
Distribution
Factory Sets (Hobby only) Tiffany Factory Sets (5000 sets; Hobby only)
Reviews
Checklist
Base Set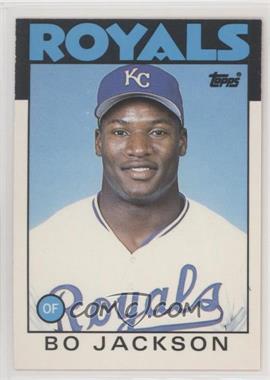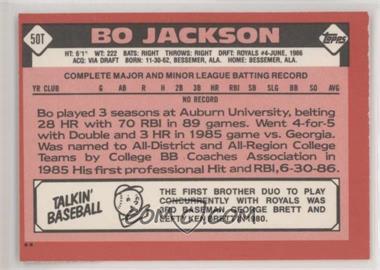 1T Andy Allanson XRC
2T Neil Allen
3T Joaquin Andujar
4T Paul Assenmacher
5T Scott Bailes
6T Don Baylor
7T Steve Bedrosian
8T Juan Beniquez
9T Juan Berenguer
10T Mike Bielecki
11T Barry Bonds XRC
12T Bobby Bonilla XRC
13T Juan Bonilla
14T Rich Bordi
15T Steve Boros MGR
16T Rick Burleson
17T Bill Campbell
18T Tom Candiotti
19T John Cangelosi
20T Jose Canseco XRC
21T Carmen Castillo
22T Rick Cerone
23T John Cerutti
24T Will Clark XRC
25T Mark Clear
26T Darnell Coles
27T Dave Collins
28T Tim Conroy
29T Joe Cowley
30T Joel Davis
31T Rob Deer
32T John Denny
33T Mike Easler
34T Mark Eichhorn
35T Steve Farr
36T Scott Fletcher
37T Terry Forster
38T Terry Francona
39T Jim Fregosi MGR
40T Andres Galarraga XRC
41T Ken Griffey, Sr.
42T Bill Gullickson
43T Jose Guzman XRC
44T Moose Haas
45T Billy Hatcher
46T Mike Heath
47T Tom Hume
48T Pete Incaviglia XRC
49T Dane Iorg
50T Bo Jackson XRC
51T Wally Joyner XRC
52T Charlie Kerfeld
53T Eric King
54T Bob Kipper
55T Wayne Krenchicki
56T John Kruk XRC
57T Mike LaCoss
58T Pete Ladd
59T Mike Laga
60T Hal Lanier MGR
61T Dave LaPoint
62T Rudy Law
63T Rick Leach
64T Tim Leary
65T Dennis Leonard
66T Jim Leyland XRC MGR
67T Steve Lyons
68T Mickey Mahler
69T Candy Maldonado
70T Roger Mason XRC
71T Bob McClure
72T Andy McGaffigan
73T Gene Michael MGR
74T Kevin Mitchell XRC
75T Omar Moreno
76T Jerry Mumphrey
77T Phil Niekro
78T Randy Niemann
79T Juan Nieves
80T Otis Nixon XRC
81T Bob Ojeda
82T Jose Oquendo
83T Tom Paciorek
84T David Palmer
85T Frank Pastore
86T Lou Piniella MGR
87T Dan Plesac
88T Darrell Porter
89T Rey Quinones
90T Gary Redus
91T Bip Roberts XRC
92T Billy Jo Robidoux XRC
93T Jeff D. Robinson
94T Gary Roenicke
95T Ed Romero
96T Angel Salazar
97T Joe Sambito
98T Billy Sample
99T Dave Schmidt
100T Ken Schrom
101T Tom Seaver
102T Ted Simmons
103T Sammy Stewart
104T Kurt Stillwell
105T Franklin Stubbs
106T Dale Sveum
107T Chuck Tanner MGR
108T Danny Tartabull
109T Tim Teufel
110T Bob Tewksbury XRC
111T Andres Thomas
112T Milt Thompson
113T Robby Thompson XRC
114T Jay Tibbs
115T Wayne Tolleson
116T Alex Trevino
117T Manny Trillo
118T Ed Vande Berg
119T Ozzie Virgil
120T Bob Walk
121T Gene Walter
122T Claudell Washington
123T Bill Wegman XRC
124T Dick Williams MGR
125T Mitch Williams XRC
126T Bobby Witt XRC
127T Todd Worrell XRC
128T George Wright
129T Ricky Wright
130T Steve Yeager
131T Paul Zuvella
132T Checklist 1T-132T
Parallels
Tiffany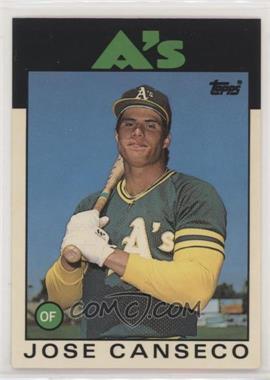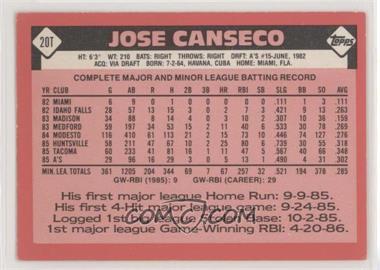 For the third consecutive season, Topps issued a Tiffany edition of their Traded set, with each card having a "glossy" front and an easier-to-read back. These cards, released through Topps hobby dealers, were sent out only if the dealer ordered the regular Tiffany set. These cards were printed in Topps' Ireland plant, the same facility that produced the regular Topps Traded set. Again, similar to the regular set, it is believed that 5000 of these sets were produced -- although cards and sets were not serial-numbered.