2008 Topps
Description
2008 Topps is a 660-card set released in two series of 330. Series One was released in February, 2008, with the second series in late May.
Distribution
Hobby/Retail: 36 packs per box, 11 cards per pack (MSRP: $1.59). 12 boxes per case.
HTA Jumbos: 10 packs per box, 46 cards per pack (MSRP: $10). Six boxes per case. Exclusive to HTA Hobby stores.
Reviews
Campaign 2008 Insert Set Review: http://sanjosefuji.blogspot.com/2012/11/every-four-years.html
Insertion Ratios
Series One
| Cards | Total Cards | Numbered To | Hobby Odds | Retail Odds | Jumbo Odds |
| --- | --- | --- | --- | --- | --- |
| Base | 330 | - | ? | ? | ? |
| Gold Foil | 331 | - | 1:2 | 1:2 | ? |
| Gold | 331 | 2008 | 1:9 | 1:13 | 1:3 |
| Black | 330 | 57 | 1:95 | N/A | ? |
| Platinum | 330 | one-of-one | ? | N/A | ? |
| Printing Plates | 330 | four-for-each | ? | N/A | ? |
| 50th Anniversary All-Rookie Team | 55 | - | 1:5 | 1:5 | ? |
| 50th Anniversary All-Rookie Team Gold | 55 | 99 | 1:1290 | 1:1290 | 1:1100 |
| Own The Game | 25 | - | 1:6 | 1:6 | ? |
| Year in Review | 60 | - | 1:6 | 1:6 | ? |
| Campaign 2008 | 12 | - | 1:9 | 1:9 | 1:2 |
| Campaign 2008 Gold | 12 | - | ? | ? | 1:5 |
| Dick Perez | 10 | - | N/A | ? | N/A |
| K-Mart Gold Cards | 10 | - | N/A | ? | N/A |
| Trading Card History | 25 | - | 1:12 | 1:12 | ? |
| Mickey Mantle Home Run History | 35 | - | ? | ? | ? |
| The Mickey Mantle Story | 10 | - | ? | ? | ? |
| Presidential Stamp Collection | 30 | 90 | ? | ? | ? |
| Replica Mini Jerseys | 35 | varies | 1:412 | 1:8300 | 1:19 |
| 2007 Highlight Relics | 20 | - | ? | ? | ? |
| 50th Anniversary All-Rookie Team Relics | 20 | 50 | 1:7178 | 1:50,700 | 1:366 |
| In the Name Relics | 52 | varies | ? | ? | ? |
| Mickey Mantle Home Run History Relics | 35 | 7 | ? | ? | ? |
| Mickey Mantle Reprint Relic | 1 | 55 | ? | ? | ? |
| 2007 Highlight Autographs | 54 | - | ? | ? | ? |
| 50th Anniversary All-Rookie Team Autographs | 40 | 50 | ? | ? | ? |
| World Champion Relics | 15 | 100 | 1:4792 | 1:33,333 | 1:244 |
| World Champion Relics Autographs | 10 | varies | 1:14,417 | 1:99,000 | 1:732 |
| Campaign 2008 Cut Signatures | 5 | 15 | ? | ? | ? |
Series Two
| Cards | Total Cards | Numbered To | Hobby Odds | Retail Odds | Jumbo Odds |
| --- | --- | --- | --- | --- | --- |
| Base | 330 | - | ? | ? | ? |
| Gold Foil | 330 | - | 1:2 | 1:2 | ? |
| Gold | 330 | 2008 | 1:5 | 1:12 | 1:2 |
| Black | 330 | 57 | 1:63 | N/A | ? |
| Platinum | 330 | one-of-one | ? | N/A | ? |
| Printing Plates | 330 | four-for-each | ? | N/A | ? |
| Silk | 100 | 50 | 1:300 | 1:139 | ? |
| 50th Anniversary All-Rookie Team | 55 | - | 1:5 | 1:5 | one-per-pack |
| 50th Anniversary All-Rookie Team Gold | 55 | 99 | 1:740 | 1:1100 | 1:505 |
| Topps Stars | 25 | - | 1:6 | 1:6 | one-per-pack |
| Year in Review | 60 | - | 1:6 | 1:6 | one-per-pack |
| Historical Campaign Match-Ups | 55 | - | 1:6 | 1:6 | one-per-pack |
| Trading Card History | 25 | - | 1:6 | 1:6 | one-per-pack |
| Red Hot Rookie Redemptions | 20 | - | ? | ? | 1:10 |
| Home Run Derby Contest | 50 | 999 | ? | ? | ? |
| Dick Perez | 10 | - | N/A | ? | N/A |
| K-Mart Gold Cards | 10 | - | N/A | ? | N/A |
| The Mickey Mantle Story | 10 | - | ? | ? | ? |
| Presidential Stamp Collection | 30 | 90 | ? | ? | ? |
| Commemorative Patch Relics | ? | 100 | 1:792 | N/A | 1:97 |
| Campaign 2008 Letter Patches | 3 | varies | 1:2642 | N/A | 1:322 |
| 2007 Highlight Relics | 20 | - | ? | ? | ? |
| 2007 Highlight Dual Relics | 20 | 25 | ? | ? | ? |
| 50th Anniversary All-Rookie Team Relics | 20 | 50 | 1:2378 | ? | 1:290 |
| Mickey Mantle Reprint Relic | 1 | 56 | ? | ? | ? |
| 2007 Highlight Autographs | 54 | - | ? | ? | ? |
| 2007 Highlight Autographed Relics | ? | - | ? | ? | ? |
| Historical Campaign Match-Ups Cut Signatures | ? | one-of-one | ? | ? | ? |
Checklist
Base Set
Series One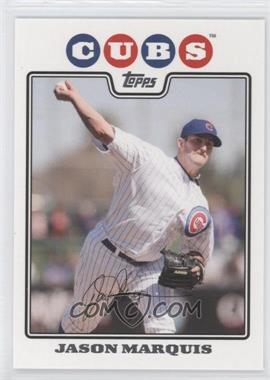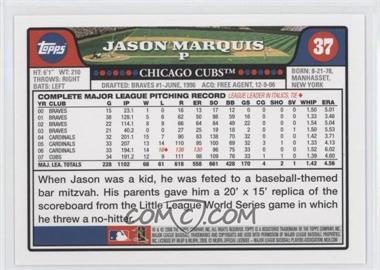 1 Alex Rodriguez
2 Barry Zito
3 Jeff Suppan
4 Rick Ankiel
5 Scott Kazmir
6 Felix Pie
7 Mickey Mantle
8 Stephen Drew
9 Randy Wolf
10 Miguel Cabrera
11 Yorvit Torrealba
12 Jason Bartlett
13 Kendry Morales
14 Lenny DiNardo
15 Magglio Ordonez / Ichiro / Placido Polanco LL
16 Kevin Gregg
17 Cristian Guzman
18 J.D. Durbin
19 Robinson Tejeda
20 Daisuke Matsuzaka
21 Edwin Encarnacion
22 Ron Washington MGR
23 Chin-Lung Hu (RC)
24 Alex Rodriguez / Magglio Ordonez / Vladimir Guerre LL
25 Kaz Matsui
26 Manny Ramirez
27 Bob Melvin MGR
28 Kyle Kendrick
29 Anibal Sanchez
30 Jimmy Rollins
31 Ronny Paulino
32 Howie Kendrick
33 Joe Mauer
34 Aaron Cook
35 Cole Hamels
36 Brendan Harris
37 Jason Marquis
38 Preston Wilson
39 Yovani Gallardo
40 Miguel Tejada
41 Rich Aurilia
42 Corey Hart
43 Ryan Dempster
44 Jonathan Broxton
45 Dontrelle Willis
46 Zack Greinke
47 Orlando Cabrera
48 Zach Duke
49 Orlando Hernandez
50 Jake Peavy
51 Erik Bedard
52 Trevor Hoffman
53 Hank Blalock
54 Victor Martinez
55 Chris Young
56 Seth Smith (RC)
57 Wladimir Balentien (RC)
58 Matt Holliday / Ryan Howard / Miguel Cabrera LL
59 Grady Sizemore
60 Jose Reyes
61 Alex Rodriguez / Carlos Pena / David Ortiz LL
62 Rich Thompson RC
63 Jason Michaels
64 Mike Lowell
65 Billy Wagner
66 Brad Wilkerson
67 Wes Helms
68 Kevin Millar
69 Bobby Cox MGR
70 Dan Uggla
71 Jarrod Washburn
72 Mike Piazza
73 Mike Napoli
74 Garrett Atkins
75 Felix Hernandez
76 Ivan Rodriguez
77 Angel Guzman
78 Radhames Liz RC
79 Omar Vizquel
80 Alex Rios
81 Ray Durham
82 So Taguchi
83 Mark Reynolds
84 Brian Fuentes
85 Jason Bay
86 Scott Podsednik
87 Maicer Izturis
88 Jack Cust
89 Josh Willingham
90 Vladimir Guerrero
91 Marcus Giles
92 Ross Detwiler RC
93 Kenny Lofton
94 Bud Black MGR
95 John Lackey
96 Sam Fuld RC
97 Clint Sammons (RC)
98 Ryan Howard / Chase Utley CC
99 David Ortiz / Manny Ramirez CC
100 Ryan Howard
101 Ryan Braun NL ROY
102 Ross Ohlendorf RC
103 Jonathan Albaladejo RC
104 Kevin Youkilis
105 Roger Clemens
106 Josh Bard
107 Shawn Green
108 B.J. Ryan
109 Joe Nathan
110 Justin Morneau
111 Ubaldo Jimenez
112 Jacque Jones
113 Kevin Frandsen
114 Mike Fontenot
115 Johan Santana
116 Chuck James
117 Boof Bonser
118 Marco Scutaro
119 Jeremy Hermida
120 Andruw Jones
121 Mike Cameron
122 Jason Varitek
123 Terry Francona MGR
124 Bob Geren MGR
125 Tim Hudson
126 Brandon Jones RC
127 Steve Pearce RC
128 Kenny Lofton
129 Kevin Hart (RC)
130 Justin Upton
131 Norris Hopper
132 Ramon Vazquez
133 Mike Bacsik
134 Matt Stairs
135 Brad Penny
136 Robinson Cano
137 Jamey Carroll
138 Dan Wheeler
139 Johnny Estrada
140 Brandon Webb
141 Ryan Klesko
142 Chris Duncan
143 Willie Harris
144 Jerry Owens
145 Magglio Ordonez
146 Aaron Hill
147 Marlon Anderson
148 Gerald Laird
149 Luke Hochevar RC
150 Alfonso Soriano
151 Adam Loewen
152 Bronson Arroyo
153 Luis Mendoza (RC)
154 David Ross
155 Carlos Zambrano
156 Brandon McCarthy
157 Tim Redding
158 Jose Bautista UER (wrong photo)
159 Luke Scott
160 Ben Sheets
161 Matt Garza
162 Andy LaRoche
163 Doug Davis
164 Nate Schierholtz
165 Tim Lincecum
166 Andy Sonnanstine
167 Jason Hirsh
168 Phil Hughes
169 Adam Lind
170 Scott Rolen
171 John Maine
172 Chris Ray
173 Jamie Moyer
174 Julian Tavarez
175 Delmon Young
176 Troy Patton (RC)
177 Josh Anderson (RC)
178 Dustin Pedroia AL ROY
179 Chris Young
180 Jose Valverde
181 Joe Borowski / Bobby Jenks / J.J. Putz LL
182 Billy Buckner (RC)
183 Paul Byrd
184 Tadahito Iguchi
185 Yunel Escobar
186 Lastings Milledge
187 Dustin McGowan
188 Kei Igawa
189 Esteban German
190 Russell Martin
191 Orlando Hudson
192 Jim Edmonds
193 J.J. Hardy
194 Chad Billingsley
195 Todd Helton
196 Ross Gload
197 Melky Cabrera
198 Shannon Stewart
199 Adrian Beltre
200 Manny Ramirez
201 Matt Capps
202 Mike Lamb
203 Jason Tyner
204 Rafael Furcal
205 Gil Meche
206 Geoff Jenkins
207 Jeff Kent
208 David DeJesus
209 Andy Phillips
210 Mark Teahen
211 Lyle Overbay
212 Moises Alou
213 Michael Barrett
214 C.J. Wilson
215 Bobby Jenks
216 Ryan Garko
217 Josh Beckett
218 Clint Hurdle MGR
219 Kevin Kouzmanoff
220 Roy Oswalt
221 Ian Snell
222 Mark Grudzielanek
223 Odalis Perez
224 Mark Buehrle
225 Hunter Pence
226 Kurt Suzuki
227 Alfredo Amezaga
228 Geoff Blum
229 Dustin Pedroia
230 Roy Halladay
231 Casey Blake
232 Clay Buchholz (RC)
233 Jimmy Rollins NL MVP
234 Boston Red Sox WS
235 Rich Harden
236 Joe Koshansky (RC)
237 Eric Wedge MGR
238 Shane Victorino
239 Richie Sexson
240 Jim Thome
241 Ervin Santana
242 Manny Acta
243 Akinori Iwamura
244 Adam Wainwright
245 Dan Haren
246 Jason Isringhausen
247 Edgar Gonzalez
248 Jose Contreras
249 Chris Sampson
250 Jonathan Papelbon
251 Dan Johnson
252 Dmitri Young
253 Bronson Sardinha (RC)
254 David Murphy
255 Brandon Phillips
256 Alex Rodriguez AL MVP
257 Austin Kearns / Dmitri Young CC
258 Manny Ramirez / Kevin Youkilis CC
259 Emilio Bonifacio RC
260 Chad Cordero
261 Josh Barfield
262 Brett Myers
263 Nook Logan
264 Byung-Hyun Kim
265 Fredi Gonzalez
266 Ryan Doumit
267 Chris Burke
268 Daric Barton (RC)
269 James Loney
270 C.C. Sabathia
271 Chad Tracy
272 Anthony Reyes
273 Rafael Soriano
274 Jermaine Dye
275 C.C. Sabathia
276 Brad Ausmus
277 Aubrey Huff
278 Xavier Nady
279 Damion Easley
280 Willie Randolph MGR
281 Carlos Ruiz
282 Jon Lester
283 Jorge Sosa
284 Lance Broadway (RC)
285 Tony LaRussa MGR
286 Jeff Clement (RC)
287 Justin Morneau / Johan Santana / Joe Mauer LL
288 Ivan Rodriguez / Justin Verlander CC
289 Justin Ruggiano RC
290 Edgar Renteria
291 Eugenio Velez RC
292 Mark Loretta
293 Gavin Floyd
294 Brian McCann
295 Tim Wakefield
296 Paul Konerko
297 Jorge Posada
298 Prince Fielder / Ryan Howard / Adam Dunn LL
299 Cesar Izturis
300 Chien-Ming Wang
301 Chris Duffy
302 Horacio Ramirez
303 Jose Lopez
304 Jose Vidro
305 Carlos Delgado
306 Scott Olsen
307 Shawn Hill
308 Felipe Lopez
309 Ryan Church
310 Kelvim Escobar
311 Jeremy Guthrie
312 Ramon Hernandez
313 Kameron Loe
314 Ian Kinsler
315 David Weathers
316 Scott Hatteberg
317 Cliff Lee
318 Ned Yost MGR
319 Joey Votto (RC)
320 Ichiro Suzuki
321 J.R. Towles RC
322 Scott Kazmir / Johan Santana / Erik Bedard LL
323 Jose Valverde / Francisco Cordero / Trevor Hoffman LL
324 Jake Peavy
325 Jim Leyland MGR
326 Matt Holliday / Chipper Jones / Hanley Ramirez LL
327 Jake Peavy / Aaron Harang / John Smoltz LL
328 Nyjer Morgan (RC)
329 Lou Piniella MGR
330 Curtis Granderson
Series Two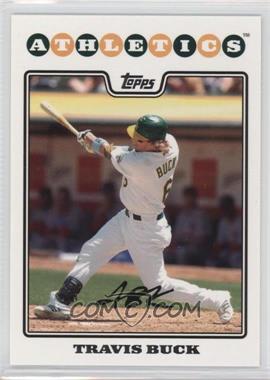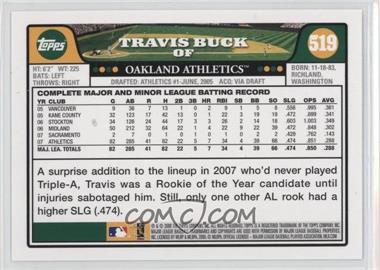 331 Dave Roberts
332 Grady Sizemore / Jhonny Peralta CC
333 Jayson Nix (RC)
334 Oliver Perez
335 Eric Byrnes
336 Jhonny Peralta
337 Livan Hernandez
338 Matt Diaz
339 Troy Percival
340 David Wright
341 Daniel Cabrera
342 Matt Belisle
343 Kason Gabbard
344 Mike Rabelo
345 Carl Crawford
346 Adam Everett
347 Chris Capuano
348 Craig Monroe
349 Mike Mussina
350 Mark Teixeira
351 Bobby Crosby
352 Miguel Batista
353 Brendan Ryan
354 Edwin Jackson
355 Brian Roberts
356 Manny Corpas
357 Jeremy Accardo
358 John Patterson
359 Evan Meek RC
360 David Ortiz
361 Wesley Wright RC
362 Fernando Hernandez RC
363 Brian Barton RC
364 Al Reyes
365 Derrek Lee
366 Jeff Weaver
367 Khalil Greene
368 Michael Bourn
369 Luis Castillo
370 Adam Dunn
371 Rickie Weeks
372 Matt Kemp
373 Casey Kotchman
374 Jason Jennings
375 Fausto Carmona
376 Willy Taveras
377 Jake Westbrook
378 Ozzie Guillen
379 Hideki Okajima
380 Grady Sizemore
381 Jeff Francoeur
382 Micah Owings
383 Jered Weaver
384 Carlos Quentin
385 Troy Tulowitzki
386 Julio Lugo
387 Sean Marshall
388 Jorge Cantu
389 Callix Crabbe (RC)
390 Troy Glaus
391 Nick Markakis
392 Joey Gathright
393 Michael Cuddyer
394 Mark Ellis
395 Lance Berkman
396 Randy Johnson
397 Brian Wilson
398 Kenji Johjima
399 Jarrod Saltalamacchia
400 Matt Holliday
401 Scott Hairston
402 Taylor Buchholz
403 Nate Robertson
404 Cecil Cooper
405 Travis Hafner
406 Takashi Saito
407 Johnny Damon
408 Edinson Volquez
409 Jason Giambi
410 Alex Gordon
411 Jason Kubel
412 Joel Zumaya
413 Wandy Rodriguez
414 Andrew Miller
415 Derek Lowe
416 Elijah Dukes
417 Brian Bass (RC)
418 Dioner Navarro
419 Bengie Molina
420 Nick Swisher
421 Brandon Backe
422 Erick Aybar
423 Mike Scioscia MGR
424 Aaron Harang
425 Hanley Ramirez
426 Franklin Gutierrez
427 Carlos Guillen
428 Jair Jurrjens
429 Billy Butler
430 Ryan Braun
431 Delwyn Young
432 Jason Kendall
433 Carlos Silva
434 Ron Gardenhire MGR
435 Torii Hunter
436 Joe Blanton
437 Brandon Wood
438 Jay Payton
439 Josh Hamilton
440 Pedro Martinez
441 Miguel Olivo
442 Luis Gonzalez
443 Greg Dobbs
444 Jack Wilson
445 Hideki Matsui
446 Randor Bierd RC
447 Chipper Jones / Mark Teixeira CC
448 Cameron Maybin
449 Braden Looper
450 Prince Fielder
451 Brian Giles
452 Kevin Slowey
453 Josh Fogg
454 Mike Hampton
455 Derek Jeter
456 Chone Figgins
457 Josh Fields
458 Brad Hawpe
459 Mike Sweeney
460 Chase Utley
461 Jacoby Ellsbury
462 Freddy Sanchez
463 John McLaren
464 Rocco Baldelli
465 Huston Street
466 Miguel Cabrera / Ivan Rodriguez CC
467 Nick Blackburn RC
468 Gregor Blanco (RC)
469 Brian Bocock RC
470 Tom Gorzelanny
471 Brian Schneider
472 Shaun Marcum
473 Joe Maddon
474 Yuniesky Betancourt
475 Adrian Gonzalez
476 Johnny Cueto RC
477 Ben Broussard
478 Geovany Soto
479 Bobby Abreu
480 Matt Cain
481 Manny Parra
482 Kazuo Fukumori RC
483 Mike Jacobs
484 Todd Jones
485 J.J. Putz
486 Javier Vazquez
487 Corey Patterson
488 Mike Gonzalez
489 Joakim Soria
490 Albert Pujols
491 Cliff Floyd
492 Harvey Garcia (RC)
493 Steve Holm RC
494 Paul Maholm
495 James Shields
496 Brad Lidge
497 Cla Meredith
498 Matt Chico
499 Milton Bradley
500 Chipper Jones
501 Elliot Johnson (RC)
502 Alex Cora
503 Jeremy Bonderman
504 Conor Jackson
505 B.J. Upton
506 Jay Gibbons
507 Mark DeRosa
508 John Danks
509 Alex Gonzalez
510 Justin Verlander
511 Jeff Francis
512 Placido Polanco
513 Rick VandenHurk
514 Tony Pena
515 A.J. Burnett
516 Jason Schmidt
517 Bill Hall
518 Ian Stewart
519 Travis Buck
520 Vernon Wells
521 Jayson Werth
522 Nate McLouth
523 Noah Lowry
524 Raul Ibanez
525 Gary Matthews, Jr.
526 Juan Encarnacion
527 Marlon Byrd
528 Paul Lo Duca
529 Masahide Kobayashi RC
530 Ryan Zimmerman
531 Hiroki Kuroda RC
532 Tim Lahey RC
533 Kyle McClellan RC
534 Matt Tupman RC
535 Francisco Rodriguez
536 Albert Pujols / Prince Fielder CC
537 Scott Moore
538 Alex Romero (RC)
539 Clete Thomas RC
540 John Smoltz
541 Adam Jones
542 Adam Kennedy
543 Carlos Lee
544 Chad Gaudin
545 Chris Young
546 Francisco Liriano
547 Fred Lewis
548 Garrett Olson
549 Gregg Zaun
550 Curt Schilling
551 Erick Threets (RC)
552 J.D. Drew
553 Jo-Jo Reyes
554 Joe Borowski
555 Josh Beckett
556 John Gibbons
557 John McDonald
558 John Russell
559 Jonny Gomes
560 Aramis Ramirez
561 Matt Tolbert RC
562 Ronnie Belliard
563 Ramon Troncoso RC
564 Frank Catalanotto
565 A.J. Pierzynski
566 Kevin Millwood
567 David Eckstein
568 Jose Guillen
569 Brad Hennessey
570 Homer Bailey
571 Eric Gagne
572 Adam Eaton
573 Tom Gordon
574 Scott Baker
575 Ty Wigginton
576 Dave Bush
577 John Buck
578 Ricky Nolasco
579 Jesse Litsch
580 Ken Griffey, Jr.
581 Kazuo Matsui
582 Dusty Baker
583 Nick Punto
584 Ryan Theriot
585 Brian Bannister
586 Coco Crisp
587 Chris Snyder
588 Tony Gwynn
589 Dave Trembley
590 Mariano Rivera
591 Rico Washington (RC)
592 Matt Morris
593 Randy Wells RC
594 Mike Morse
595 Francisco Cordero
596 Joba Chamberlain
597 Kyle Davies
598 Bruce Bochy
599 Austin Kearns
600 Tom Glavine
601 Felipe Paulino RC
602 Lyle Overbay / Vernon Wells CC
603 Blake DeWitt (RC)
604 Wily Mo Pena
605 Andre Ethier
606 Jason Bergmann
607 Ryan Spilborghs
608 Brian Burres
609 Ted Lilly
610 Carlos Beltran
611 Garret Anderson
612 Kelly Johnson
613 Melvin Mora
614 Rich Hill
615 Pat Burrell
616 Jon Garland
617 Asdrubal Cabrera
618 Pat Neshek
619 Sergio Mitre
620 Gary Sheffield
621 Denard Span
622 Jorge De La Rosa
623 Trey Hillman MGR
624 Joe Torre MGR
625 Greg Maddux
626 Mike Redmond
627 Mike Pelfrey
628 Andy Pettitte
629 Eric Chavez
630 Chris Carpenter
631 Joe Girardi MGR
632 Charlie Manuel MGR
633 Adam LaRoche
634 Kenny Rogers
635 Michael Young
636 Rafael Betancourt
637 Jose Castillo
638 Juan Pierre
639 Juan Uribe
640 Carlos Pena
641 Marcus Thames
642 Mark Kotsay
643 Matt Murton
644 Reggie Willits
645 Andy Marte
646 Rajai Davis
647 Randy Winn
648 Ryan Freel
649 Joe Crede
650 Frank Thomas
651 Martin Prado
652 Rod Barajas
653 Endy Chavez
654 Willy Aybar
655 Aaron Rowand
656 Darin Erstad
657 Jeff Keppinger
658 Kerry Wood
659 Vicente Padilla
660 Yadier Molina
Gimmicks
Series One
Topps created two unannounced gimmick cards for the first series.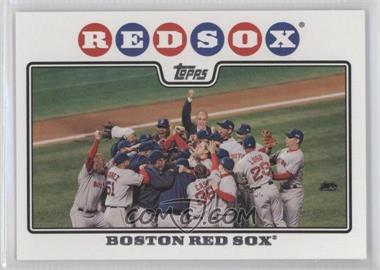 Card #234 is a variation of the Boston Red Sox World Series card from the base set, but with former New York City mayor Rudy Guiliani Photoshopped in. At the time, Guiliani was running for President and had stated to a crowd in New Hampshire that the Red Sox were his favorite baseball team. This card was seeded at the rate of roughly 1:70 packs.
A red-bordered version of this card also exists, similar in looks to the design of the 2008 Topps Opening Day base set; however, it was inserted into Series One packs.
The other gimmick card is one of the most infamous cards Topps ever produced. It was seeded into packs at the rate of 1:72 and features a fictional teenage Japanese baseball player that, it was said, could throw 104MPH. For more information please see our Kazuo Uzuki article.
Series Two
There were six gimmick cards inserted into Series Two packs.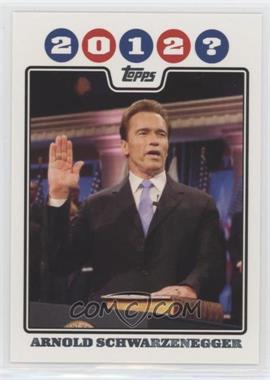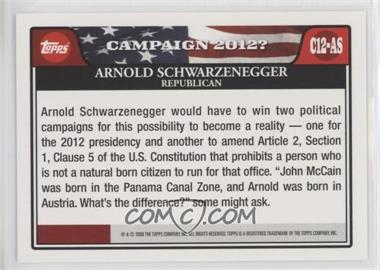 Two of the cards are unannounced extensions of the Series One Campaign 2008 insert: Al Gore and Arnold Schwarzenegger. Both of these cards are noticeably tougher to find than the Series One cards. Also, both have "2012?" on the front.
A card sequentially-numbered "661" of New York Mets pitcher Johan Santana was also stealthly inserted. The card describes a no-hitter he, allegedly, threw during the last ever Mets game at Shea Stadium. Series Two was released some four months BEFORE the last Mets game at Shea was actually played.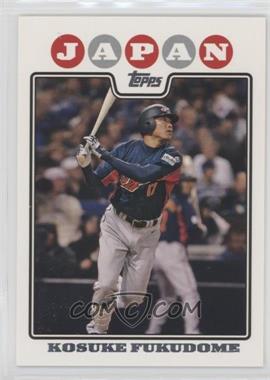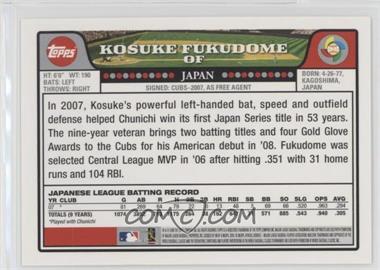 The final three cards are of players who appeared in the 2006 World Baseball Classic. Shortly after the release of Series Two, Topps announced that it had acquired the license to produce cards for the 2009 WBC. One of the three players in the set, Kosuke Fukudome, was on the original checklist issued by Topps as a base card. Unbeknownst to collectors, what was supposed to have been his Topps rookie card was pulled from the base set in favor of a gimmicked WBC card.
661 Johan Santana
NNO Alexi Ramirez
NNO Kosuke Fukudome
NNO Yasuhiko Yabuta
AG Al Gore
AS Arnold Schwarzenegger
Parallels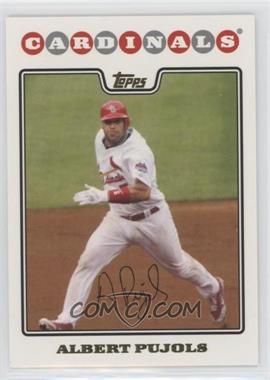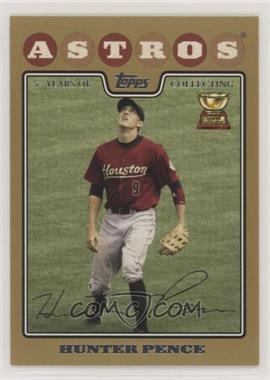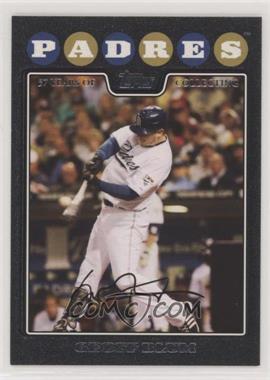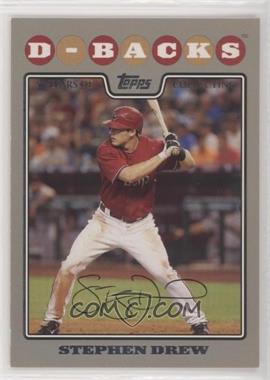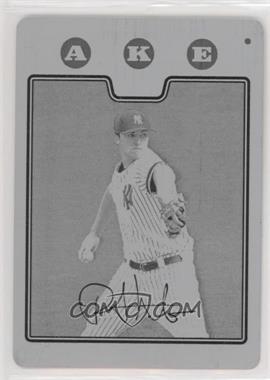 All 660 base cards are available in the following parallels.
Gold Foil
Gold (serial-numbered to 2008 copies)
Black (serial-numbered to 57 copies)
Platinum (one-of-one)
Printing Plates (four-for-each)
In addition the Rudy Guiliani gimmick card is also available in Gold Foil and Gold versions.
Silk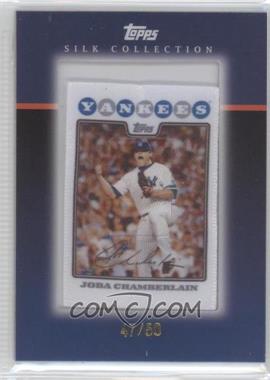 This partial parallel features 100 silk renditions of Series Two Topps cards. Each silk "card" is encased in an Allen & Ginter-like frame and serial-numbered to 50 copies. A second batch of Silk cards were inserted into Update packs.
Alex Rodriguez
Scott Kazmir
Ivan Rodriguez
Joe Mauer
Ken Griffey, Jr.
Nick Markakis
Mickey Mantle
Erik Bedard
Derrek Lee
Miguel Cabrera
Yovanni Gallardo
Victor Martinez
Curtis Granderson
Chris Young
Jimmy Rollins
Dan Uggla
Felix Hernandez
Alex Rios
Jason Bay
Jose Reyes
Mike Lowell
Carl Crawford
Chipper Jones
Troy Glaus
Cole Hamels
Chris Young
Torii Hunter
Hideki Matsui
Freddy Sanchez
Josh Beckett
Mark Buehrle
Brian Bannister
Carlos Beltran
Dontrelle Willis
Vladimir Guerrero
Matt Holliday
Adam Dunn
Gary Matthews, Jr.
Travis Hafner
Chase Utley
Vernon Wells
Lance Berkman
Jeff Francis
Curt Schilling
Alfonso Soriano
Jarrod Saltalamacchia
Hideki Okajima
Pedro Martinez
Jorge Posada
Justin Upton
Tom Gorzelanny
Carlos Delgado
Edgar Renteria
Chien-Ming Wang
C.C. Sabathia
B.J. Upton
Delmon Young
Tim Lincecum
Carlos Zambrano
Magglio Ordonez
Brandon Webb
Ben Sheets
Brad Penny
John Lackey
Hanley Ramirez
Gary Sheffield
Ubaldo Jimenez
Barry Zito
Daisuke Matsuzaka
Justin Morneau
Jacoby Ellsbury
John Smoltz
Chris Carpenter
Ryan Braun
Prince Fielder
Carlos Lee
Ryan Zimmerman
Troy Tulowitzki
Michael Young
Johan Santana
Hunter Pence
Adrian Gonzalez
Jake Peavy
Derek Jeter
Ichiro
Miguel Tejada
Trevor Hoffman
Kevin Youkilis
David Wright
Albert Pujols
Todd Helton
Rich Harden
Fausto Carmona
Mark Teixeira
Justin Verlander
Tim Hudson
Jeff Francoeur
Manny Ramirez
David Ortiz
Ryan Howard
Inserts
50th Anniversary All-Rookie Team
This 110-card set features a who's who of players who've all been members of the Topps All-Rookie Team. There is also a Gold parallel, serial-numbered to 99 copies, available.
It should be noted that, since 1959 marked the debut of the Topps All-Rookie Team, 2008 was NOT its 50th Anniversary.
Series One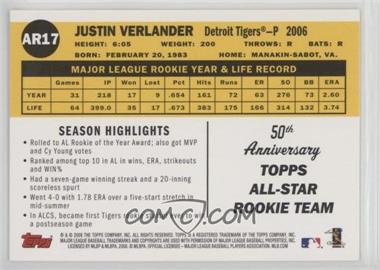 AR1 Darryl Strawberry
AR2 Gary Sheffield
AR3 Dwight Gooden
AR4 Melky Cabrera
AR5 Gary Carter
AR6 Lou Piniella
AR7 Dave Justice
AR8 Andre Dawson
AR9 Mark Ellis
AR10 Dave Johnson
AR11 Jermaine Dye
AR12 Dan Johnson
AR13 Alfonso Soriano
AR14 Prince Fielder
AR15 Hanley Ramirez
AR16 Matt Holliday
AR17 Justin Verlander
AR18 Mark Teixeira
AR19 Julio Franco
AR20 Ivan Rodriguez
AR21 Jason Bay
AR22 Brandon Webb
AR23 Dontrelle Willis
AR24 Brad Wilkerson
AR25 Dan Uggla
AR26 Ozzie Smith
AR27 Andruw Jones
AR28 Garret Anderson
AR29 Jimmy Rollins
AR30 Brian McCann
AR31 Scott Podsednik
AR32 Garrett Atkins
AR33 Billy Wagner
AR34 Chipper Jones
AR35 Roger McDowell
AR36 Austin Kearns
AR37 Boog Powell
AR38 Ron Swoboda
AR39 Roy Oswalt
AR40 Mike Piazza
AR41 Albert Pujols
AR42 Ichiro Suzuki
AR43 C.C. Sabathia
AR44 Todd Helton
AR45 Scott Rolen
AR46 Derek Jeter
AR47 Shawn Green
AR48 Manny Ramirez
AR49 Tom Seaver
AR50 Kenny Lofton
AR51 Francisco Liriano
AR52 Ryan Zimmerman
AR53 Jeff Francoeur
AR54 Joe Mauer
AR55 Magglio Ordonez
Series Two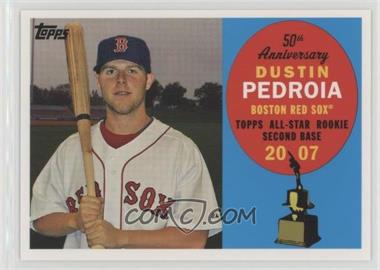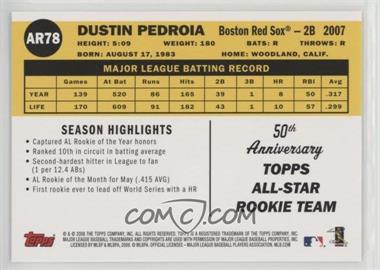 AR56 Carlos Beltran
AR57 Andre Ethier
AR58 Brian Bannister
AR59 Chris Young
AR60 Troy Tulowitzki
AR61 Hideki Okajima
AR62 Delmon Young
AR63 Craig Wilson
AR64 Hunter Pence
AR65 Tadahito Iguchi
AR66 Mark Kotsay
AR67 Nick Markakis
AR68 Russ Adams
AR69 Russ Martin
AR70 James Loney
AR71 Ryan Braun
AR72 Jonny Gomes
AR73 Carlos Ruiz
AR74 Willy Taveras
AR75 Joe Torre
AR76 Jeff Kent
AR77 Huston Street
AR78 Dustin Pedroia
AR79 Gustavo Chacin
AR80 Adam Dunn
AR81 Pat Burrell
AR82 Rocco Baldelli
AR83 Chad Tracy
AR84 Adam LaRoche
AR85 Aaron Miles
AR86 Khalil Greene
AR87 Daniel Cabrera
AR88 Mike Gonzalez
AR89 Ty Wigginton
AR90 Angel Berroa
AR91 Moises Alou
AR92 Miguel Olivo
AR93 Nick Johnson
AR94 Eric Hinske
AR95 Ramon Santiago
AR96 Jason Jennings
AR97 Adam Kennedy
AR98 Mike Lamb
AR99 Rafael Furcal
AR100 Jay Payton
AR101 Bengie Molina
AR102 Mark Redman
AR103 Alex Gonzalez
AR104 Ray Durham
AR105 Miguel Cairo
AR106 Kerry Wood
AR107 Dmitri Young
AR108 Jose Cruz
AR109 Jose Guillen
AR110 Scott Hatteberg
Year in Review
This massive 178-card set takes a look back at every single day of the 2007 MLB season. The first 60 and next 60 cards were in Series One and Two, respectively, while the final 58 cards were inserted into packs of 2008 Topps Updates & Highlights.
Series One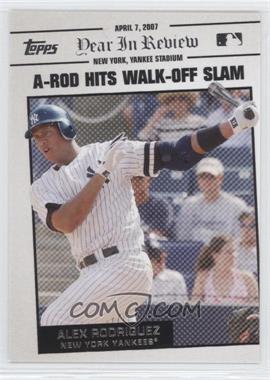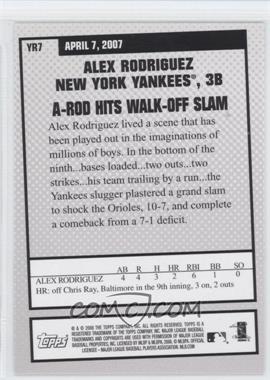 YR1 Paul Lo Duca
YR2 Felix Hernandez
YR3 Ian Snell
YR4 Carlos Beltran
YR5 Daisuke Matsuzaka
YR6 Jose Reyes
YR7 Alex Rodriguez
YR8 Scott Kazmir
YR9 Adam Everett
YR10 Josh Beckett
YR11 Craig Monroe
YR12 Justin Morneau
YR13 Roy Halladay
YR14 Jeff Suppan
YR15 Marco Scutaro
YR16 Ivan Rodriguez
YR17 Dmtri Young
YR18 Mark Buehrle
YR19 Alex Rodriguez
YR20 Joe Saunders
YR21 Russell Martin
YR22 Manny Ramirez
YR23 Chase Utley
YR24 Travis Hafner
YR25 Jake Peavy
YR26 Shawn Hill
YR27 Daisuke Matsuzaka
YR28 Matt Belisle
YR29 Troy Tulowitzki
YR30 Andruw Jones
YR31 Phil Hughes
YR32 Derrek Lee
YR33 Ichiro Suzuki
YR34 Julio Franco
YR35 Chien-Ming Wang
YR36 Hideki Matsui
YR37 Brad Penny
YR38 Jack Wilson
YR39 Francisco Cordero
YR40 Omar Vizquel
YR41 Tim Lincecum
YR42 Bartolo Colon
YR43 Fred Lewis
YR44 Jeff Kent
YR45 Randy Johnson
YR46 Rafael Furcal
YR47 Delmon Young
YR48 Andrew Miller
YR49 David Ortiz / Mike Lowell
YR50 Justin Verlander
YR51 C.C. Sabathia
YR52 Felipe Lopez
YR53 Oliver Perez
YR54 John Smoltz
YR55 Mark Reynolds
YR56 Jeremy Accardo
YR57 Todd Helton
YR58 Adrian Beltre
YR59 Carlos Delgado
YR60 Chris Young
Series Two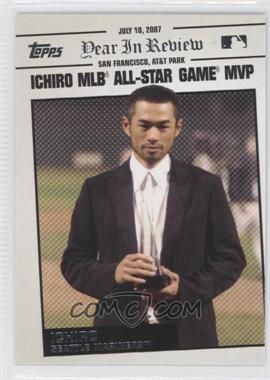 YR61 Roy Halladay
YR62 Kevin Youkilis
YR63 Joe Blanton
YR64 Chad Gaudin
YR65 Derek Lowe
YR66 C.C. Sabathia
YR67 Luis Castillo
YR68 Curt Schilling
YR69 Pedro Feliz
YR70 James Shields
YR71 Masumi Kuwata
YR72 Raul Ibanez
YR73 Justin Verlander
YR74 Tim Lincecum
YR75 Hideki Matsui
YR76 Julio Franco
YR77 Russell Branyan
YR78 Chipper Jones
YR79 Chone Figgins
YR80 Chris Young
YR81 Sammy Sosa
YR82 Miguel Tejada
YR83 Wil Ledezma
YR84 Victor Martinez
YR85 Dustin McGowan
YR86 Mike Fontenot
YR87 Mark Ellis
YR88 Ryan Howard
YR89 Frank Thomas
YR90 Aubrey Huff
YR91 Jake Peavy
YR92 Dan Haren
YR93 Damian Miller
YR94 Billy Butler
YR95 Dmitri Young
YR96 Chipper Jones
YR97 Justin Morneau
YR98 Erik Bedard
YR99 Scott Hatteberg
YR100 Vladimir Guerrero
YR101 Ichiro Suzuki
YR102 Jose Reyes
YR103 Ryan Garko
YR104 Jeff Francoeur
YR105 Joe Mauer
YR106 Manny Ramirez
YR107 Chase Utley
YR108 Magglio Ordonez
YR109 Chris Young
YR110 B.J. Upton
YR111 Willie Harris
YR112 Shelley Duncan
YR113 Jon Lester
YR114 Travis Buck
YR115 Ryan Raburn
YR116 Eric Byrnes
YR117 Kenny Lofton
YR118 Jason Isringhausen
YR119 Todd Helton
YR120 Carl Crawford
Trading Card History
This 75-card set features current players done in the style of classic Topps and pre-War baseball cards. Cards 1-25 were in Series One and cards 51-75 in Series Two. The middle 25 cards were available exclusively at participating Topps HTA stores.
Series One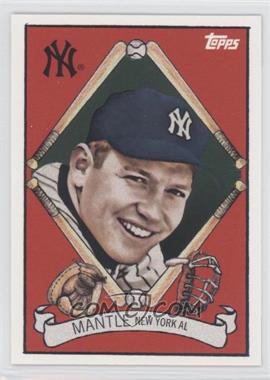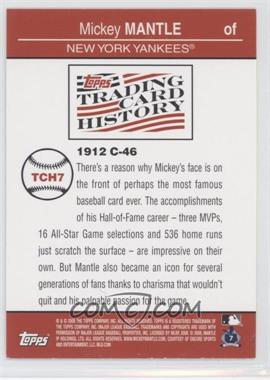 TCH1 Jacoby Ellsbury
TCH2 Joba Chamberlain
TCH3 Daisuke Matsuzaka
TCH4 Prince Fielder
TCH5 Clay Buchholz
TCH6 Alex Rodriguez
TCH7 Mickey Mantle
TCH8 Ryan Braun
TCH9 Albert Pujols
TCH10 Joe Mauer
TCH11 Jose Reyes
TCH12 Joey Votto
TCH13 Johan Santana
TCH14 Hunter Pence
TCH15 Hideki Okajima
TCH16 Cameron Maybin
TCH17 Roger Clemens
TCH18 Tim Lincecum
TCH19 Mark Teixeira / Jeff Francoeur
TCH20 Justin Upton
TCH21 Alfonso Soriano
TCH22 Pedro Martinez
TCH23 Chien-Ming Wang
TCH24 Ichiro Suzuki
TCH25 Grady Sizemore
HTA Exclusive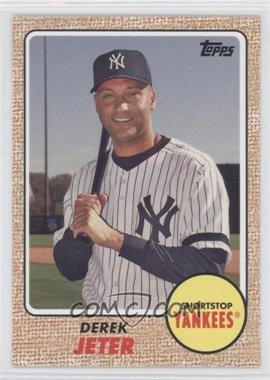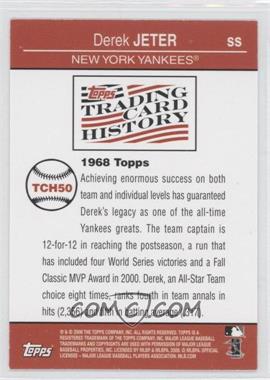 These 25 cards were unavailable in packs, but rather were distributed exclusively through Topps' Home Team Advantage dealer network.
Starting the week of February 7th, 2008 (around the same time 2008 Topps Series One Baseball was released), collectors could purchase a special five-card pack of Trading Card History cards for $0.05. These five-card packs contained the same five cards: TCH26-TCH30, and do not contain any inserts or parallels.
Beginning the week of February 14th, 2008, and continuing each week for the next 20 weeks, a new card from this set would become available, beginning with card #TCH31. All collectors had to do to acquire that week's Trading Card History card, was to buy a pack of any 2008 Topps baseball product.
TCH26 Ryan Howard
TCH27 David Wright
TCH28 Chin-Lung Hu
TCH29 Justin Morneau
TCH30 Ken Griffey, Jr.
TCH31 Chipper Jones
TCH32 Justin Verlander
TCH33 Manny Ramirez
TCH34 Chase Utley
TCH35 Ivan Rodriguez
TCH36 Josh Beckett
TCH37 Tom Glavine
TCH38 Vladimir Guerrero
TCH39 Lance Berkman
TCH40 Gary Sheffield
TCH41 Luke Hochevar
TCH42 David Ortiz
TCH43 Miguel Cabrera
TCH44 Andruw Jones
TCH45 Hideki Matsui
TCH46 C.C. Sabathia
TCH47 Magglio Ordonez
TCH48 Pedro Martinez
TCH49 Curtis Granderson
TCH50 Derek Jeter
Series Two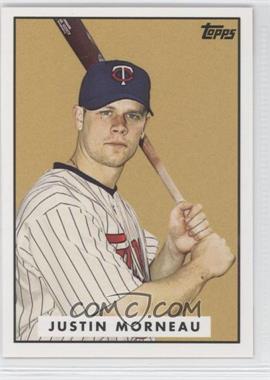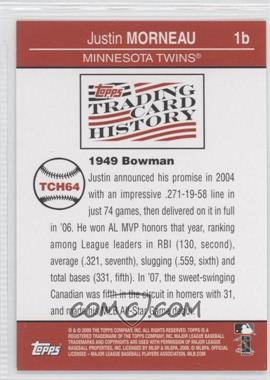 TCH51 Victor Martinez
TCH52 Hanley Ramirez
TCH53 Jake Peavy
TCH54 Brandon Webb
TCH55 Matt Holliday
TCH56 Hiroki Kuroda
TCH57 Mike Lowell
TCH58 Carlos Lee
TCH59 Nick Markakis
TCH60 Carlos Beltran
TCH61 Francisco Rodriguez
TCH62 Troy Tulowitzki
TCH63 Russ Martin
TCH64 Justin Morneau
TCH65 Phil Hughes
TCH66 Torii Hunter
TCH67 Adam Dunn
TCH68 Raul Ibanez
TCH69 Robinson Cano
TCH70 Brad Hawpe
TCH71 Michael Young
TCH72 Jim Thome
TCH73 Chris Young
TCH74 Carlos Zambrano
TCH75 Felix Hernandez
Own The Game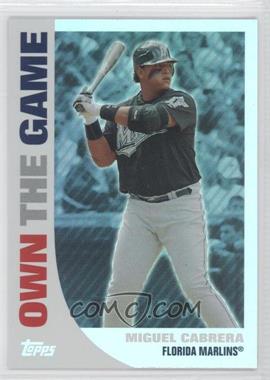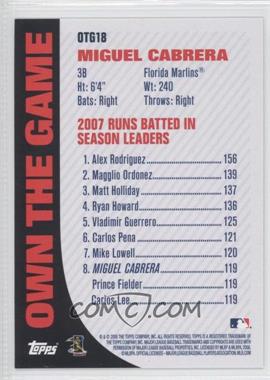 OTG1 Alex Rodriguez
OTG2 Prince Fielder
OTG3 Ryan Howard
OTG4 Carlos Pena
OTG5 Adam Dunn
OTG6 Matt Holliday
OTG7 David Ortiz
OTG8 Jim Thome
OTG9 Lance Berkman
OTG10 Miguel Cabrera
OTG11 Alex Rodriguez
OTG12 Magglio Ordonez
OTG13 Matt Holliday
OTG14 Ryan Howard
OTG15 Vladimir Guerrero
OTG16 Carlos Pena
OTG17 Mike Lowell
OTG18 Miguel Cabrera
OTG19 Prince Fielder
OTG20 Carlos Lee
OTG21 Jake Peavy
OTG22 John Lackey
OTG23 Brandon Webb
OTG24 Brad Penny
OTG25 Fausto Carmona
Campaign 2008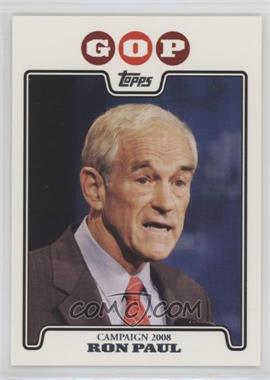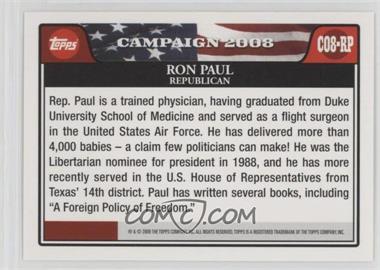 The Campaign 2008 set features all the top candidates running for President in 2008 ... and Dennis Kucinich. A Gold parallel, exclusive to Series One HTA packs, is also available.
Two additional cards of Arnold Schwarzenegger (who, as of 2008, was Constitutionally-ineligible from becoming President) and former Vice President Al Gore were included in Series Two packs. Two cards of 2008 GOP Vice Presidential candidate Sarah Palin were made in time for 2008 Topps Updates & Highlights.
BO Barack Obama
BR Bill Richardson
DK Dennis Kucinich
FT Fred Thompson
HC Hillary Clinton
JB Joseph Biden
JE John Edwards
JM John McCain
MH Mike Huckabee
MR Mitt Romney
RG Rudy Giuliani
RP Ron Paul
Topps Stars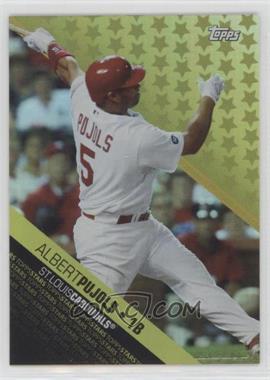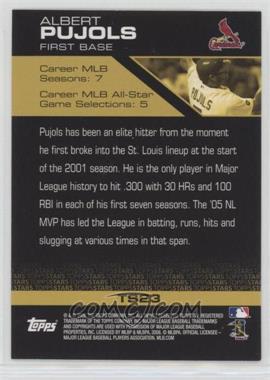 TS1 Alex Rodriguez
TS2 Magglio Ordonez
TS3 Justin Morneau
TS4 Josh Beckett
TS5 David Wright
TS6 Jimmy Rollins
TS7 Ichiro
TS8 Chipper Jones
TS9 Brandon Webb
TS10 Ryan Howard
TS11 Derek Jeter
TS12 Vladimir Guerrero
TS13 Manny Ramirez
TS14 Jake Peavy
TS15 David Ortiz
TS16 Jose Reyes
TS17 Miguel Cabrera
TS18 Victor Martinez
TS19 C.C. Sabathia
TS20 Prince Fielder
TS21 Alfonso Soriano
TS22 Grady Sizemore
TS23 Albert Pujols
TS24 Pedro Martinez
TS25 Matt Holliday
Historical Campaign Match-Ups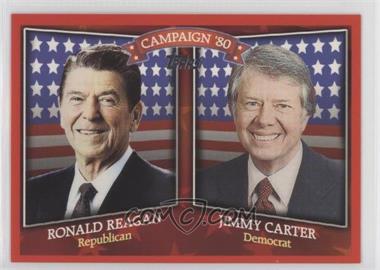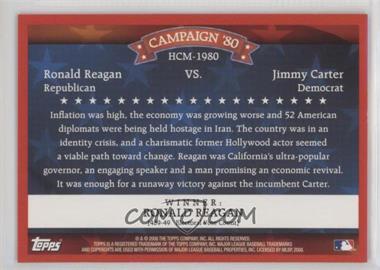 1792 George Washington/John Adams
1796 John Adams/Thomas Jefferson
1800 Thomas Jefferson/Aaron Burr
1804 Thomas Jefferson/Charles Pinckney
1808 James Madison/Charles Pinckney
1812 James Madison/DeWitt Clinton
1816 James Monroe/Rufus King
1820 James Monroe/John Quincy Adams
1824 John Quincy Adams/Andrew Jackson
1828 Andrew Jackson/John Quincy Adams
1832 Andrew Jackson/Henry Clay
1836 Martin Van Buren/William Henry Harrison
1840 William Henry Harrison/Martin Van Buren
1844 James K. Polk/Henry Clay
1848 Zachary Taylor/Lewis Cass
1852 Franklin Pierce/Winfield Scott
1856 James Buchanan/John C. Fremont
1860 Abraham Lincoln/John Breckinridge
1864 Abraham Lincoln/George McClellan
1868 Ulysses S. Grant/Horatio Seymour
1872 Ulysses S. Grant/Horace Greeley
1876 Rutherford B. Hayes/Samuel J. Tilden
1880 James Garfield/Winfield Scott Hancock
1884 Grover Cleveland/James G. Blaine
1888 Benjamin Harrison/Grover Cleveland
1892 Grover Cleveland/Benjamin Harrison
1896 William McKinley/William Jennings Bryan
1900 William McKinley/William Jennings Bryan
1904 Theodore Roosevelt/Alton B. Parker
1908 William H. Taft/William Jennings Bryan
1912 Woodrow Wilson/Theodore Roosevelt
1916 Woodrow Wilson/Charles Evans Hughes
1920 Warren G. Harding/James M. Cox
1924 Calvin Coolidge/John W. Davis
1928 Herbert Hoover/Al Smith
1932 Franklin D. Roosevelt/Herbert Hoover
1936 Franklin D. Roosevelt/Alf Landon
1940 Franklin D. Roosevelt/Wendell Willkie
1944 Franklin D. Roosevelt/Thomas E. Dewey
1948 Harry S Truman/Thomas E. Dewey
1952 Dwight D. Eisenhower/Adlai Stevenson
1956 Dwight D. Eisenhower/Adlai Stevenson
1960 John Kennedy/Richard Nixon
1964 Lyndon B. Johnson/Barry Goldwater
1968 Richard Nixon/Hubert H. Humphrey
1972 Richard Nixon/George McGovern
1976 Jimmy Carter/Gerald Ford
1980 Ronald Reagan/Jimmy Carter
1984 Ronald Reagan/Walter Mondale
1988 George Bush/Michael Dukakis
1992 Bill Clinton/George Bush
1996 Bill Clinton/Bob Dole
2000 George Bush/Al Gore
2004 George Bush/John Kerry
2008D Hillary Clinton/Barack Obama
Home Run Derby Contest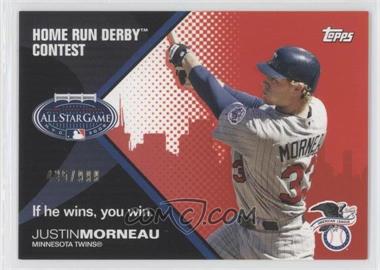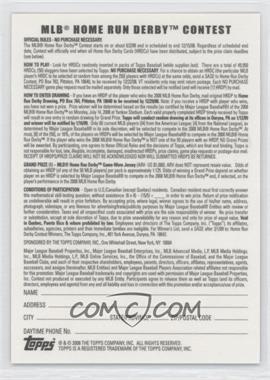 Exclusive to Series Two packs, if the player depicted won the 2008 All-Star Game Home Run Derby, it could then be redeemed and be entered into a drawing for a chance to win the jersey worn by the winner. Each card is serial-numbered to 999 copies.
Alex Rodriguez
Ryan Braun
Carlos Beltran
Alfonso Soriano
Prince Fielder
Carlos Lee
Albert Pujols
Chris Young
Justin Morneau
Ryan Howard
Dan Uggla
Pat Burrell
Adrian Gonzalez
Ken Griffey, Jr.
Carlos Pena
Brandon Phillips
Jimmy Rollins
David Wright
Jim Thome
Adam Dunn
Chipper Jones
Hanley Ramirez
Brad Hawpe
Jermaine Dye
Matt Holliday
Magglio Ordonez
Aaron Rowand
Andruw Jones
Khalil Greene
David Ortiz
Frank Thomas
Victor Martinez
Russell Martin
Gary Sheffield
Vladimir Guerrero
Carlos Delgado
Travis Hafner
Alex Rios
Grady Sizemore
Miguel Cabrera
Ryan Zimmerman
Nick Markakis
Jason Bay
Delmon Young
Lance Berkman
Manny Ramirez
Jorge Posada
Derrek Lee
B.J. Upton
Chase Utley
Red Hot Rookies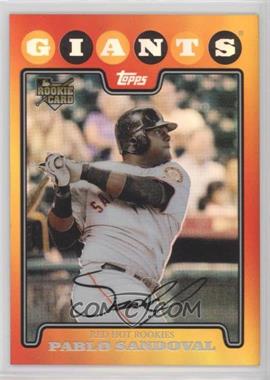 Randomly inserted into Series Two packs were 20 exchange cards (each numbered on the front from 1 to 20). During the course of the second-half of the 2008 MLB season, Topps would announce which 2008 MLB rookie each exchange card would be good for. Collectors holding the specific redemption card would receive a reddish-orange Chrome Refractor.
Jay Bruce and Evan Longoria's RHR cards all come with a sticker autograph.
1 Jay Bruce AU
2 Justin Masterson
3 John Bowker
4 Kosuke Fukudome
5 Mike Aviles
6 Chris Davis
7 Chris Volstad
8 Jeff Samardzija
9 Brad Ziegler
10 Gio Gonzalez
11 Clayton Kershaw
12 Daniel Murphy
13 Chris Dickerson
14 Pablo Sandoval
15 Nick Evans
16 Clayton Richard
17 Evan Longoria AU
18 Taylor Teagarden
19 Collin Balester
20 Lou Montanez
Dick Perez
This 30-card set, featuring the art of Dick Perez, was exclusive to packs sold at Wal-Mart. 10 cards were inserted into each series (Series One, Series Two, and Update)
Series One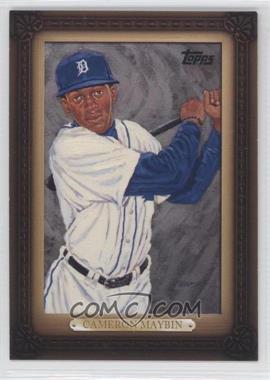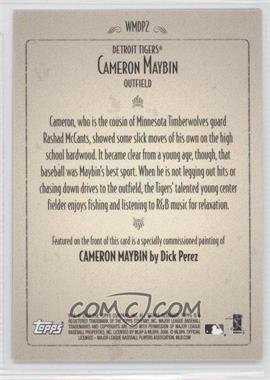 WMDP1 Manny Ramirez
WMDP2 Cameron Maybin
WMDP3 Ryan Howard
WMDP4 David Ortiz
WMDP5 Tim Lincecum
WMDP6 David Wright
WMDP7 Mickey Mantle
WMDP8 Joba Chamberlain
WMDP9 Ichiro
WMDP10 Prince Fielder
Series Two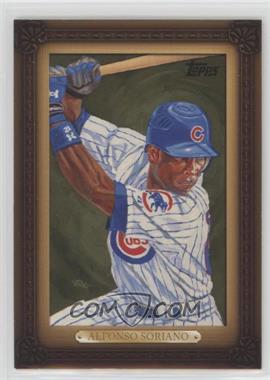 WMDP11 Jacoby Ellsbury
WMDP12 Jake Peavy
WMDP13 Miguel Cabrera
WMDP14 Josh Beckett
WMDP15 Jimmy Rollins
WMDP16 Torii Hunter
WMDP17 Alfonso Soriano
WMDP18 Jose Reyes
WMDP19 C.C. Sabathia
WMDP20 Alex Rodriguez
K-Mart Yellow Rookies
This 30-card set of rookies was exclusive to packs sold at K-Mart. These cards are more yellow than "gold," so as not to confuse these cards with the Gold parallels. Ten cards were inserted into each series (Series One, Series Two, and Update)
Series One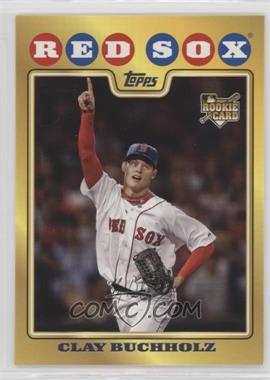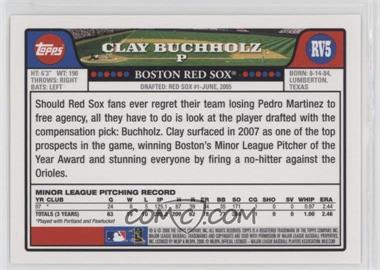 RV1 Chin Lung Hu
RV2 Steve Pearce
RV3 Luke Hochevar
RV4 Joey Votto
RV5 Clay Buchholz
RV6 Emilio Bonifacio
RV7 Daric Barton
RV8 Eugenio Velez
RV9 J.R. Towles
RV10 Wladimir Balentien
Series Two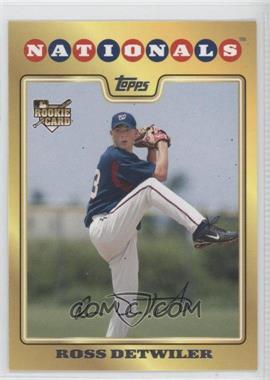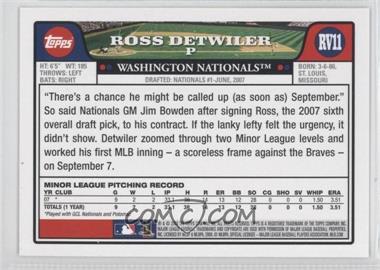 RV11 Ross Detwiler
RV12 Troy Patton
RV13 Brandon Jones
RV14 Billy Buckner
RV15 Ross Ohlendorf
RV16 Nick Blackburn
RV17 Masahide Kobayashi
RV18 Jayson Nix
RV19 Blake DeWitt
RV20 Hiroki Kuroda
T-205
This 45-card set was exclusive to packs sold at Target. Fifteen cards were inserted into each series (Series One, Series Two, and Update)
Series One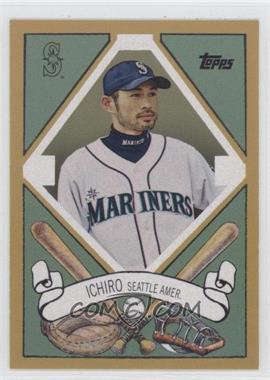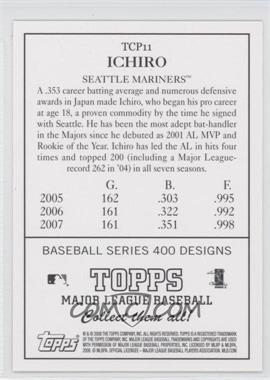 TCP1 Albert Pujols
TCP2 Clay Buchholz
TCP3 Matt Holliday
TCP4 Luke Hochevar
TCP5 Alex Rodriguez
TCP6 Joey Votto
TCP7 Chin-Lung Hu
TCP8 Ryan Braun
TCP9 Joba Chamberlain
TCP10 Ryan Howard
TCP11 Ichiro
TCP12 Steve Pearce
TCP13 Vladimir Guerrero
TCP14 Wladimir Balentien
TCP15 David Ortiz
Series Two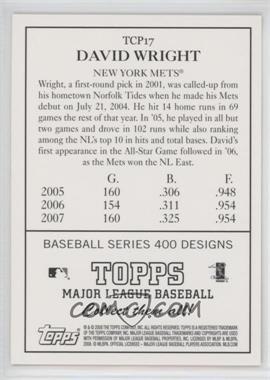 TCP16 Jacoby Ellsbury
TCP17 David Wright
TCP18 Chase Utley
TCP19 Manny Ramirez
TCP20 Dan Haren
TCP21 Nick Markakis
TCP22 Grady Sizemore
TCP23 Hanley Ramirez
TCP24 Daisuke Matsuzaka
TCP25 Troy Tulowitzki
TCP26 Jose Reyes
TCP27 Tim Lincecum
TCP28 Prince Fielder
TCP29 Alfonso Soriano
TCP30 Andrew Miller
Back to School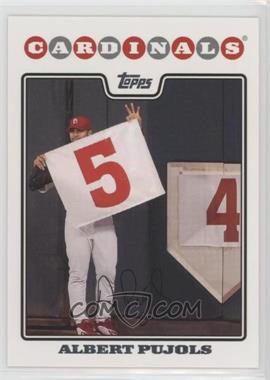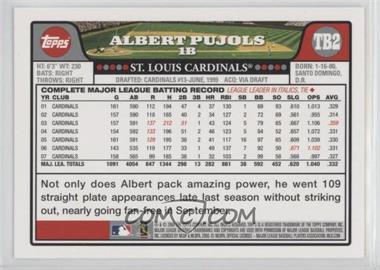 These eight cards were distributed in specially-marked back-to-school retail packages produced by Fairfield which were sold at Target. Two of these cards were packaged with two packs of Series One and two packs of Series Two for $7.99.
TB1 Miguel Cabrera
TB2 Albert Pujols
TB3 Grady Sizemore
TB4 Ken Griffey, Jr.
TB5 David Wright
TB6 Ichiro
TB7 Alex Rodriguez
TB8 Chipper Jones
Mickey Mantle Home Run History
See 2006 Topps Mickey Mantle Home Run History.
The Mickey Mantle Story
See 2007 Topps The Mickey Mantle Story.
Factory Set Bonus Cards
Rookie Bonus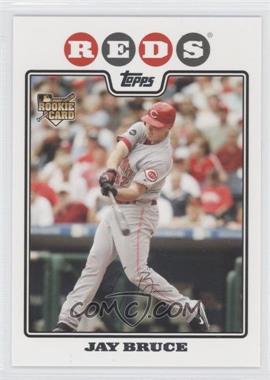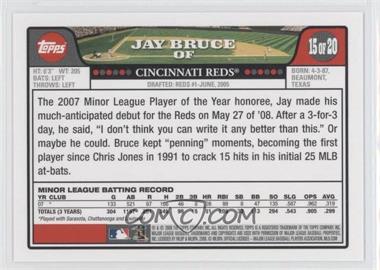 Cards #1-#10 were exclusive to HTA Factory sets (Green box), while #11-#20 were in Hobby sets (Gold box).
NOTE: Each HTA/Hobby Factory set also includes a card of Kosuke Fukudome which is sequentially-numbered "UH1" -- the same as his 2008 Topps Updates & Highlights base card. The factory set version has a different pose (following through on swing).
1 Chin-Lung Hu
2 Justin Ruggiano
3 Luke Hochevar
4 J.R. Towels
5 Nyjer Morgan
6 Hiroki Kuroda
7 Matt Tolbert
8 Brian Barton
9 Masahide Kobayashi
10 Blake DeWitt
11 Max Scherzer
12 Clay Buchholz
13 Daric Barton
14 Joey Votto
15 Jay Bruce
16 Johnny Cueto
17 Evan Longoria
18 Clete Thomas
19 Kosuke Fukudome
20 John Bowker
UH1 Kosuke Fukudome
Dick Perez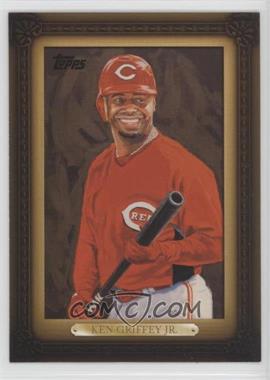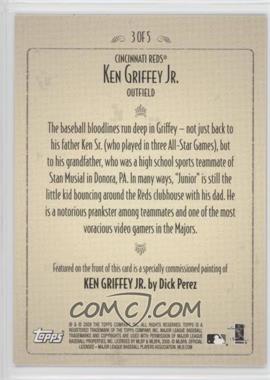 This five-card set was exclusive to retail factory sets.
NOTE: These cards look identical to the Wal-Mart exclusive Dick Perez inserts. These cards are all sequentially-numbered "X of 5".
1 Chase Utley
2 Derek Jeter
3 Ken Griffey, Jr.
4 Albert Pujols
5 Vladimir Guerrero
All-Star Game Yankees Legends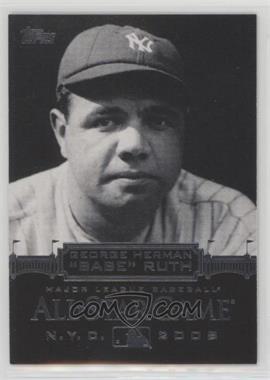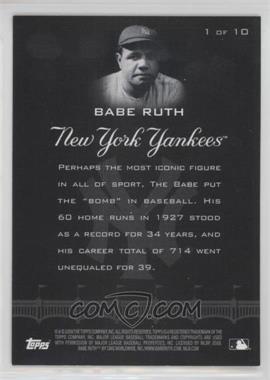 The first five cards in this set were included inside each All-Star edition factory set. Those who purchased the All-Star factory set from Topps at the 2008 All-Star FanFest would receive cards #6-10.
1 Babe Ruth
2 Joe DiMaggio
3 Mickey Mantle
4 Lou Gehrig
5 Thurman Munson
6 Joba Chamberlain
7 Chien-Ming Wang
8 Mariano Rivera
9 Jorge Posada
10 Alex Rodriguez
Team Bonus
Team Bonus cards were exclusive to special team-branded factory sets. These sets were distributed in each team's region at mass-market retail outlets, and at team-operated stadium souvenir shops. Each card is sequentially-numbered "X of 5," which is the only way to distinguish them from base cards.
Cubs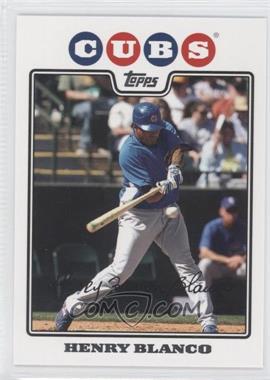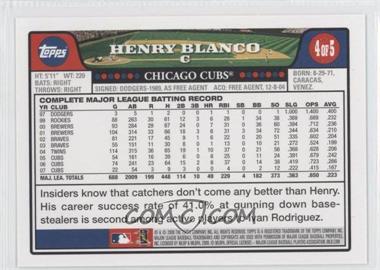 1 Reed Johnson
2 Daryle Ward
3 Ronny Cedeno
4 Henry Blanco
5 Carlos Marmol
Dodgers
1 Gary Bennett
2 Esteban Loaiza
3 Scott Proctor
4 Chan Ho Park
5 Mark Sweeney
Mets
1 Raul Casanova
2 Angel Pagan
3 Nelson Figueroa
4 Carlos Muniz
5 Joe Smith
Red Sox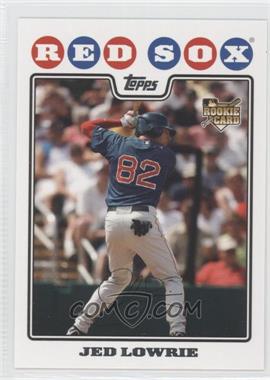 1 David Aardsma
2 Kevin Cash
3 Manny Delcarmen
4 Sean Casey
5 Jed Lowrie
Tigers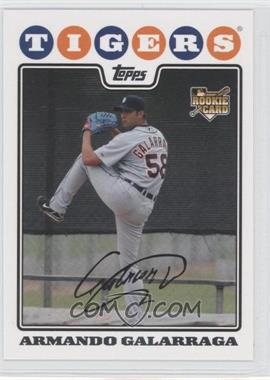 1 Brandon Inge
2 Ramon Satiago
3 Denny Bautista
4 Ryan Raburn
5 Armando Galarraga
Yankees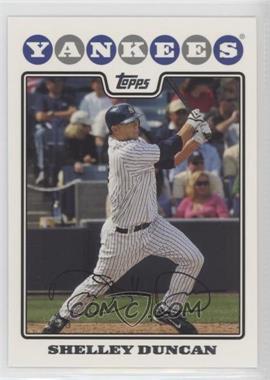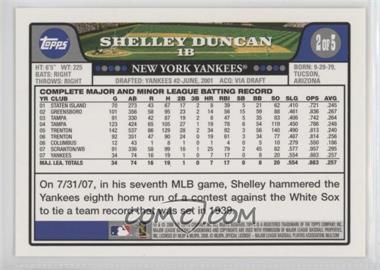 1 Jose Molina
2 Shelley Duncan
3 Dan Giese
4 Alberto Gonzalez
5 Billy Traber
Mickey Mantle Blue/Gold Refractor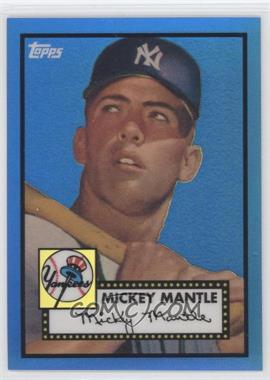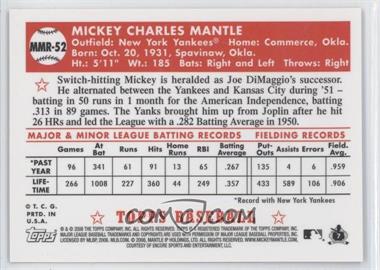 A Blue or Gold Refractor reprint of Mickey Mantle's 1952, 53, or 54 Topps cards were randomly inserted into specially-marked retail factory sets. These sets were packaged so that collectors could see the Mantle card inside.
Each set also included the five-card Dick Perez bonus set (see above).
MMR52 Mickey Mantle 52T
MMR53 Mickey Mantle 53T
MMR54 Mickey Mantle 54T
Babe Ruth Cards that Never Were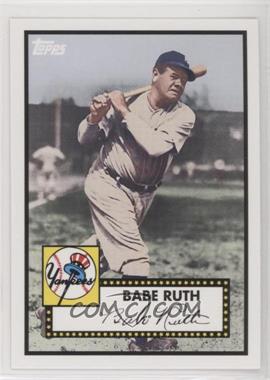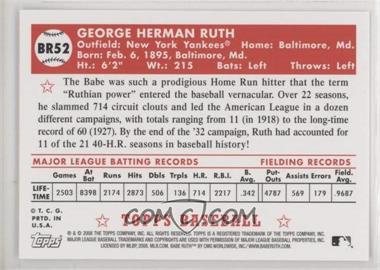 One card from this three-card set (all done in the style of the 1952, 1953, and 1954 Topps set) was included in specially-marked factory sets sold at Target stores. These sets were packaged so that collectors could see the Ruth card inside.
Each set also included the five-card Dick Perez bonus set (see above).
BR52 Babe Ruth 52T
BR53 Babe Ruth 53T
BR54 Babe Ruth 54T
Manufactured Relics
Presidential Stamp Collection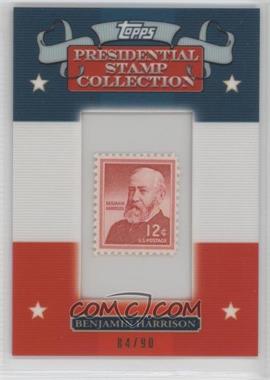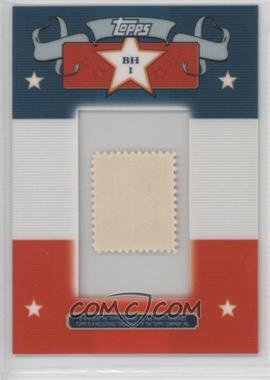 Each card features an authentic US Postage Stamp (cancelled) of the respective President, mounted in a frame. Only 90 serial-numbered copies of each framed stamp were produced.
Series One
AJ1 Andrew Jackson
AL1 Abraham Lincoln
AL2 Abraham Lincoln
AL3 Abraham Lincoln
BH1 Benjamin Harrison
DDE1 Dwight D. Eisenhower
FDR1 Franklin Delano Roosevelt
GW1 George Washington
GW2 George Washington
GW3 George Washington
GW4 George Washington
GW5 George Washington
GW6 George Washington
HH1 Herbert Hoover
JB1 James Buchanan
JFK1 John F. Kennedy
JFK2 John F. Kennedy
JG1 James Garfield
JM1 James Monroe
JQA1 John Quincy Adams
JT1 John Tyler
TJ1 Thomas Jefferson
TJ2 Thomas Jefferson
TJ3 Thomas Jefferson
TJ4 Thomas Jefferson
TR1 Teddy Roosevelt
WW1 Woodrow Wilson
ZT1 Zachary Taylor
Series Two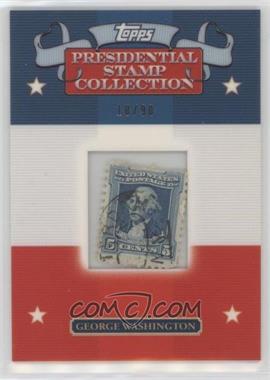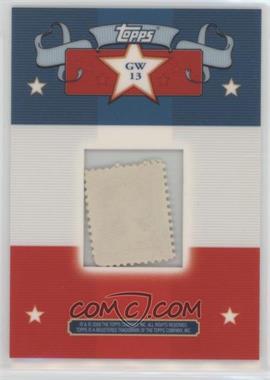 GW7 George Washington
GW8 George Washington
GW9 George Washington
GW10 George Washington
GW11 George Washington
GW12 George Washington
GW13 George Washington
JM2 James Monroe
AL4 Abraham Lincoln
JG2 James Garfield
TR2 Theodore Roosevelt
TR3 Theodore Roosevelt
WW2 Woodrow Wilson
WGH2 Warren G. Harding
RBH1 Rutherford B. Hayes
RBH2 Rutherford B. Hayes
WM1 William McKinley
LBJ1 Lyndon B. Johnson
USG1 Ulysses S. Grant
USG2 Ulysses S. Grant
WHT1 William Howard Taft
RN1 Richard Nixon
RR1 Ronald Reagan
CAA1 Chester A. Arthur
AJO1 Andrew Johnson
HST1 Harry S. Truman
JMA1 James Madison
JKP1 James K. Polk
GC1 Grover Cleveland
MF1 Millard Fillmore
MVB1 Martin Van Buren
FP1 Franklin Pierce
Replica Mini Jerseys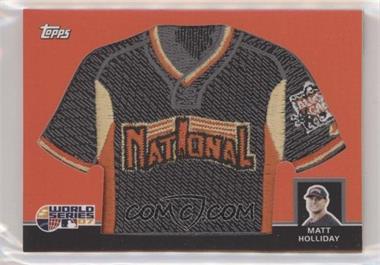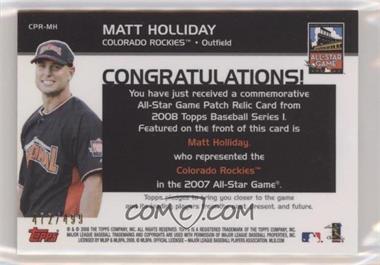 Each card, exclusive to Series One packs, features an embroidered mock-up of the warm-up jersey the player wore at the 2007 MLB All-Star game. Each is serial-numbered to the figures below.
AIR Alex Rios 539
AP Albert Pujols 499
AR Alex Rodriguez 539
BW Brandon Webb 499
CC Carl Crawford 539
CH Cole Hamels 499
CMS Curt Schilling 499
CS C.C. Sabathia 539
CU Chase Utley 499
DAO David Ortiz 499
DO David Ortiz 499
DP Dustin Pedroia 499
DW David Wright 499
GS Grady Sizemore 539
HO Hideki Okajima 499
IS Ichiro 499
JAV Jason Varitek 499
JB Josh Beckett 499
JCL Julio Lugo 499
JDD J.D. Drew 499
JE Jacoby Ellsbury 499
JL Jon Lester 499
JM Justin Mourneau 539
JP Jake Peavy 499
JR Jose Reyes 499
JRP Jonathan Papelbon 499
JV Justin Verlander 539
KY Kevin Youkilis 499
MH Matt Holliday 499
ML Mike Lowell 499
MR Manny Ramirez 499
MT Mike Timlin 499
PF Prince Fielder 499
RH Ryan Howard 379
RM Russell Martin 499
Commemorative Patch Relics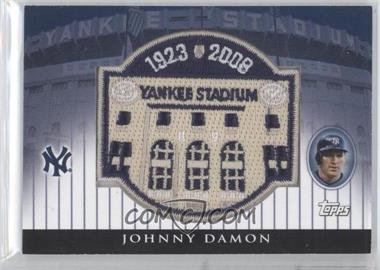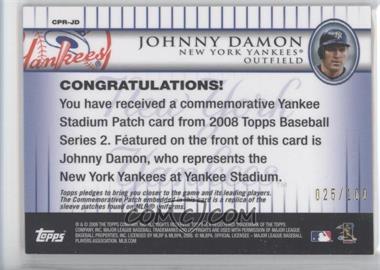 30 players are showcased with a patch commemorating the final seasons of Yankee and Shea stadiums. Each is serial-numbered 100 copies.
CPR-AIR Alex Rios
CPR-AP Albert Pujols
CPR-AP Andy Pettitte
CPR-AR Alex Rodriguez
CPR-AR Alex Rodriguez
CPR-BA Bobby Abreu
CPR-BS Brian Schneider
CPR-BW Brandon Webb
CPR-BW Billy Wagner
CPR-CB Carlos Beltran
CPR-CC Carl Crawford
CPR-CD Carlos Delgado
CPR-CH Cole Hamels
CPR-CMS Curt Schilling
CPR-CMW Chien-Ming Wang
CPR-CS C.C. Sabathia
CPR-CU Chase Utley
CPR-DAO David Ortiz
CPR-DJ Derek Jeter
CPR-DO David Ortiz
CPR-DP Dustin Pedroia
CPR-DW David Wright
CPR-DW David Wright
CPR-EC Endy Chavez
CPR-GS Grady Sizemore
CPR-HM Hideki Matsui
CPR-HO Hideki Okajima
CPR-IS Ichiro
CPR-JAV Jason Varitek
CPR-JB Josh Beckett
CPR-JC Joba Chamberlain
CPR-JCL Julio Lugo
CPR-JD Johnny Damon
CPR-JDD J.D. Drew
CPR-JE Jacoby Ellsbury
CPR-JG Jason Giambi
CPR-JL Jon Lester
CPR-JM Justin Morneau
CPR-JM John Maine
CPR-JP Jake Peavy
CPR-JP Jorge Posada
CPR-JR Jose Reyes
CPR-JR Jose Reyes
CPR-JRP Jonathan Papelbon
CPR-JV Justin Verlander
CPR-KY Kevin Youkilis
CPR-LC Luis Castillo
CPR-MA Moises Alou
CPR-MC Melky Cabrera
CPR-MH Matt Holliday
CPR-ML Mike Lowell
CPR-MM Mike Mussina
CPR-MP Mike Pelfrey
CPR-MR Manny Ramirez
CPR-MR Mariano Rivera
CPR-MT Mike Timlin
CPR-OH Orlando Hernandez
CPR-OP Oliver Perez
CPR-PF Prince Fielder
CPR-PH Phil Hughes
CPR-PM Pedro Martinez
CPR-RC Robinson Cano
CPR-RH Ryan Howard
CPR-RM Russell Martin
CPR-RMC Ryan Church
Campaign 2008 Letter Patches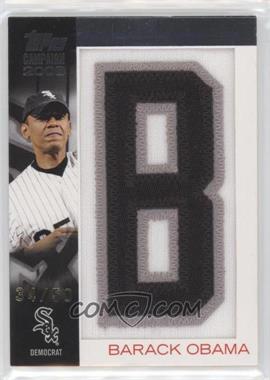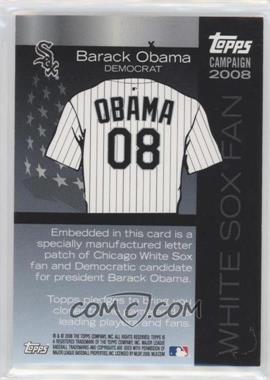 These cards feature one manufactured letter patch for each letter in the respective candidate's last name. 50 copies of each patch were produced and were inserted into Series Two packs.
CLP-BO Barack Obama
CLP-HC Hillary Clinton
CLP-JM John McCain
Target Mantle Memorabilia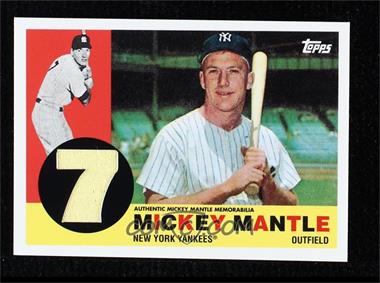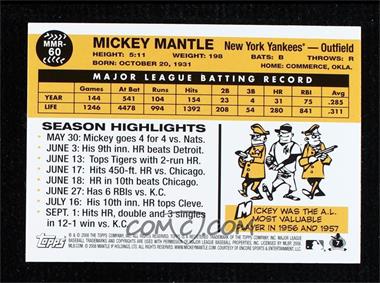 A "memorabilia" card done in the style of Mickey Mantle's 1958, 59, or 60 Topps cards were randomly inserted into specially-marked factory sets sold exclusively at Target stores. Like the Blue/Gold Refractors (see above) collectors could see which card they would receive.
It should be noted that the "memorabilia" swatch attached to each card is not from a Yankees jersey -- or any other piece of game-used equipment. Rather, each is from Mantle's personal wardrobe.
Each set also included the five-card Dick Perez bonus set (see above).
MMR58 Mickey Mantle 58T
MMR59 Mickey Mantle 59T
MMR60 Mickey Mantle 60T
Autographs and Game Used
2007 Highlight Relics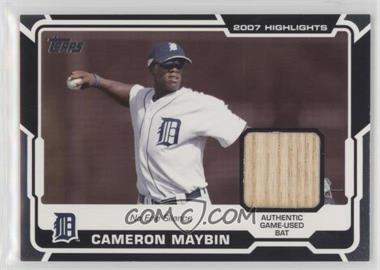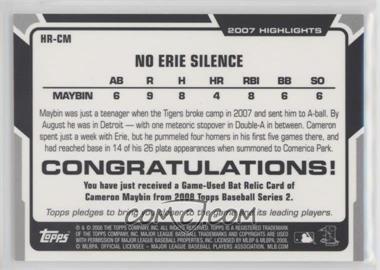 Series One
AP Albert Pujols
CB Carlos Beltran
CC Carl Crawford
CM Cameron Maybin
CS Curt Schilling
DO David Ortiz
DW David Wright
DWW Dontrelle Willis
EC Eric Chavez
IR Ivan Rodriguez
IS Ichiro Suzuki
JR Jose Reyes
JV Justin Verlander
LB Lance Berkman
MH Matt Holliday
MR Manny Ramirez
MT Miguel Tejada
PF Prince Fielder
TH Todd Helton
VG Vladimir Guerrero
Series Two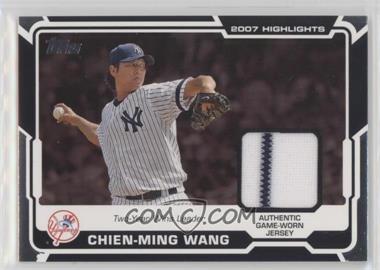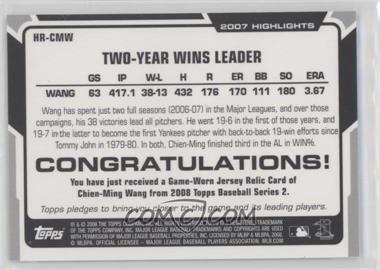 HR-AG Alex Gordon
HR-AP Albert Pujols
HR-AR Aramis Ramirez
HR-BP Brandon Phillips
HR-BU B.J. Upton
HR-BW Brandon Webb
HR-CC Carl Crawford
HR-CM Cameron Maybin
HR-CMW Chien-Ming Wang
HR-CU Chase Utley
HR-DL Derrek Lee
HR-DO1 David Ortiz
HR-DO2 David Ortiz
HR-DU Dan Uggla
HR-DW David Wright
HR-DY Delmon Young
HR-HR Hanley Ramirez
HR-IS Ichiro
HR-JB Jeremy Bonderman
HR-JL James Loney
HR-JP Jake Peavy
HR-JR Jose Reyes
HR-JT Jim Thome
HR-PF Prince Fielder
HR-RB Ryan Braun
HR-RF Rafael Furcal
HR-RH Ryan Howard
HR-RO Roy Oswalt
HR-RZ Ryan Zimmerman
HR-ST Scott Thorman
HR-VG Vladimir Guerrero
2007 Highlight Dual Relics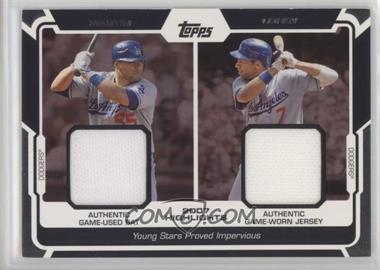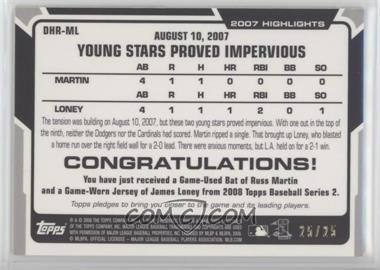 Each Highlight Dual Relic is serial-numbered to 25 copies.
DHR-CW Melky Cabrera / Chien-Ming Wang
DHR-CY Carl Crawford / Delmon Young
DHR-FB Prince Fielder / Ryan Braun
DHR-HR Ryan Howard / Jimmy Rollins
DHR-ML Russ Martin / James Loney
DHR-MM Justin Morneau / Joe Mauer
DHR-OR David Ortiz / Manny Ramirez
DHR-RL Aramis Ramirez / Derrek Lee
DHR-RM Brian Roberts / Nick Markakis
DHR-RU Jimmy Rollins / Chase Utley
DHR-SJ Ichiro / Kenji Johjima
DHR-TD Jim Thome / Jermaine Dye
DHR-UR Dan Uggla / Hanley Ramirez
DHR-WB David Wright / Carlos Beltran
DHR-WR David Wright / Jose Reyes
2007 Highlight Autographs
Series One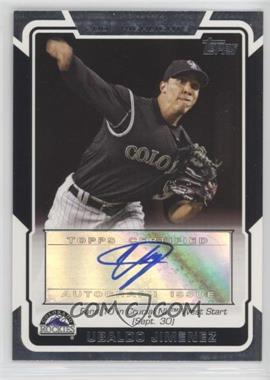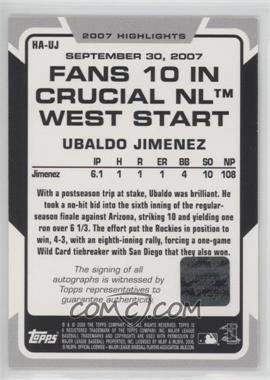 AL Adam Lind
AP Albert Pujols
AS Alfonso Soriano
BP Brad Penny
CB Clay Buchholz
CMW Chien-Ming Wang
CP Carlos Pena
CV Carlos Villanueva
DB Daric Barton
DH Dan Haren
DM Dustin Moseley
DW David Wright
ED Eulogio De La Cruz
ES Ervin Santana
FC Fausto Carmona
FS Freddy Sanchez
GS Gary Sheffield
HK Howie Kendrick
HR Hanley Ramirez
JA Josh Anderson
JB John Buck
JBR Jose Reyes
JD Johnny Damon
JEM Justin Morneau
JF Josh Fields
JL John Lackey
JM Jose Molina
JP Jake Peavy
JR Jimmy Rollins
JTD Jermaine Dye
JV Jason Varitek
LB Lance Broadway
LC Luis Castillo
MB Mike Bacsik
ME Mark Ellis
MG Matt Garza
MR Manny Ramirez
MY Michael Young
NJM Nyjer Morgan
NM Nick Markakis
PF Prince Fielder
RC Ramon Castro
RH Rich Hill
RJC Robinson Cano
RJM Randy Messenger
RM Russell Martin
SF Sam Fuld
SM Scott Moore
SS Seth Smith
TG Tom Gorzelanny
UJ Ubaldo Jimenez
VG Vladimir Guerrero
WN Wil Nieves
YG Yovani Gallardo
Series Two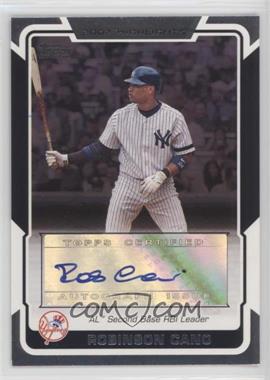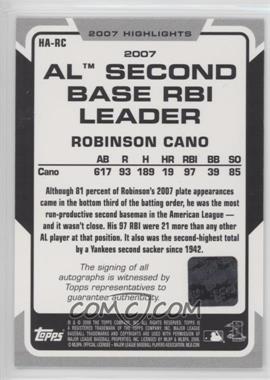 HA-AH Aaron Heilman
HA-AK Austin Kearns
HA-BC Bobby Crosby
HA-CC Carl Crawford
HA-CD Carlos Delgado
HA-CF Chone Figgins
HA-CM Craig Monroe
HA-CMW Chien-Ming Wang
HA-CV Claudio Vargas
HA-CW Chase Wright
HA-DB Dallas Braden
HA-DE Darin Erstad
HA-DO David Ortiz
HA-DW David Wright
HA-DY Delwyn Young
HA-EC Eric Chavez
HA-ES Ervin Santana
HA-FC Fausto Carmona
HA-FL Francisco Liriano
HA-HCK Hong-Chih Kuo
HA-JAB Jason Bartlett
HA-JAR Jo-Jo Reyes
HA-JB Jeremy Bonderman
HA-JC Joba Chamberlain
HA-JD Johnny Damon
HA-JKM John Maine
HA-JLC Jorge Cantu
HA-JM Justin Morneau
HA-JR Jimmy Rollins
HA-JTD Jermaine Dye
HA-JW Josh Willingham
HA-JZ Joel Zumaya
HA-KM Kendry Morales
HA-MC Melky Cabrera
HA-MG Matt Garza
HA-MMT Marcus Thames
HA-MT Mark Teixeira
HA-NM Nick Markakis
HA-NR Nate Robertson
HA-PF Prince Fielder
HA-PH Phillip Humber
HA-PJF Pedro Feliciano
HA-RB Ryan Braun
HA-RC Robinson Cano
HA-RM Russ Martin
HA-RN Ricky Nolasco
HA-RP Ronny Paulino
HA-RR Ryan Roberts
HA-SV Shane Victorino
HA-TG Tom Gorzelanny
HA-TT Taylor Tankersley
HA-VG Vladimir Guerrero
HA-ZG Zack Greinke
2007 Highlight Autographed Relics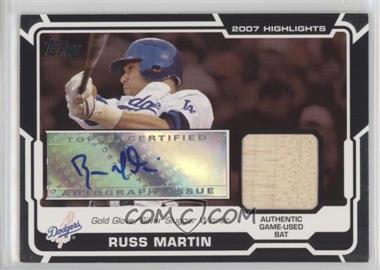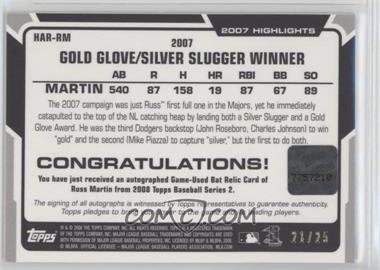 Each 2007 Highlight Autographed Relic is serial-numbered to 25 copies.
HAR-AP Albert Pujols
HAR-CC Carl Crawford
HAR-DW David Wright
HAR-JC Joba Chamberlain
HAR-JD Jermaine Dye
HAR-JM Justin Morneau
HAR-MC Melky Cabrera
HAR-MR Manny Ramirez
HAR-NM Nick Markakis
HAR-PF Prince Fielder
HAR-RB Ryan Braun
HAR-RH Ryan Howard
HAR-RM Russ Martin
HAR-VG Vladimir Guerrero
HAR-YG Yovani Gallardo
50th Anniversary All-Rookie Team Relics
Each All-Rookie Team Relic is serial-numbered to 50 copies.
Series One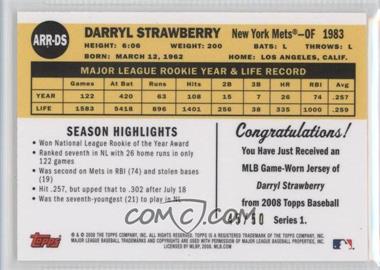 ARR-AD Andre Dawson
ARR-AJ Andruw Jones
ARR-AS Alfonso Soriano
ARR-BW Brandon Webb
ARR-CJ Chipper Jones
ARR-DG Dwight Gooden
ARR-DJ Dave Justice
ARR-DS Darryl Strawberry
ARR-DW Dontrelle Willis
ARR-GC Gary Carter
ARR-IR Ivan Rodriguez
ARR-IS Ichiro
ARR-JR Jimmy Rollins
ARR-JV Justin Verlander
ARR-MH Matt Holliday
ARR-MP Mike Piazza
ARR-OS Ozzie Smith
ARR-PF Prince Fielder
ARR-RO Roy Oswalt
ARR-TS Tom Seaver
Series Two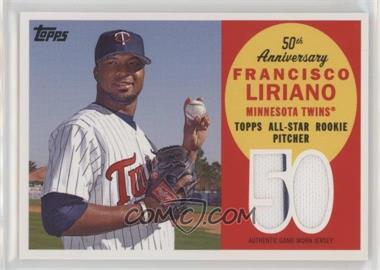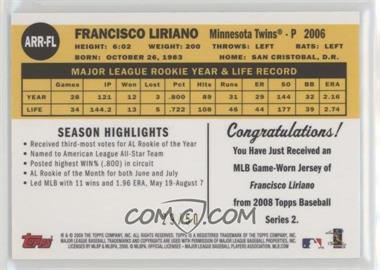 ARR-AD Adam Dunn
ARR-AE Andre Ethier
ARR-AP Albert Pujols
ARR-BM Brian McCann
ARR-CS C.C. Sabathia
ARR-DU Dan Uggla
ARR-FL Francisco Liriano
ARR-GA Garret Anderson
ARR-GS Gary Sheffield
ARR-HR Hanley Ramirez
ARR-JB Jason Bay
ARR-JM Joe Mauer
ARR-MO Magglio Ordonez
ARR-MT Mark Teixeira
ARR-NJ Nick Johnson
ARR-NM Nick Markakis
ARR-PB Pat Burrell
ARR-RB Rocco Baldelli
ARR-SP Scott Podsednik
ARR-TH Todd Helton
50th Anniversary All-Rookie Team Autographs
Each All-Rookie Team Autograph is serial-numbered to 25 copies.
Series One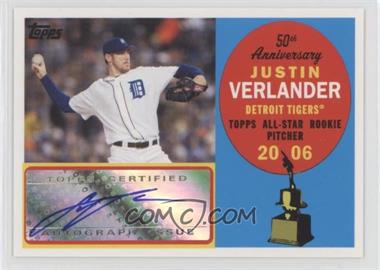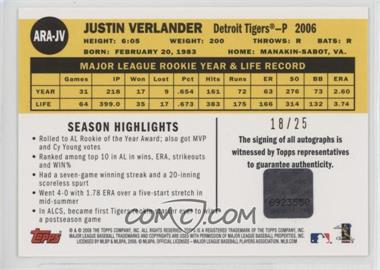 AD Andre Dawson
AJ Andruw Jones
AK Austin Kearns
AS Alfonso Soriano
BM Brian McCann
BP Boog Powell
BTW Brandon Webb
BW Billy Wagner
CJ Chipper Jones
DCJ Dave Justice
DG Dwight Gooden
DJ Dave Johnson
DS Darryl Strawberry
DU Dan Uggla
DW Dontrelle Willis
GA Garret Anderson
GBA Garrett Atkins
GC Gary Carter
GS Gary Sheffield
HR Hanley Ramirez
IR Ivan Rodriguez
JB Jason Bay
JD Jermaine Dye
JF Julio Franco
JR Jimmy Rollins
JV Justin Verlander
LP Lou Piniella
MC Melky Cabrera
ME Mark Ellis
MH Matt Holliday
MT Mark Teixeira
OS Ozzie Smith
PF Prince Fielder
RM Roger McDowell
RO Roy Oswalt
RS Ron Swoboda
SBW Brad Wilkerson
SP Scott Podsednik
TS Tom Seaver
Series Two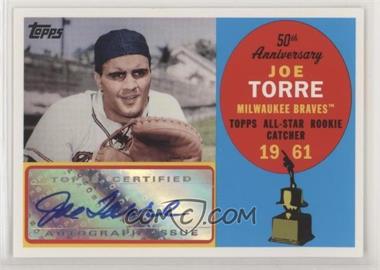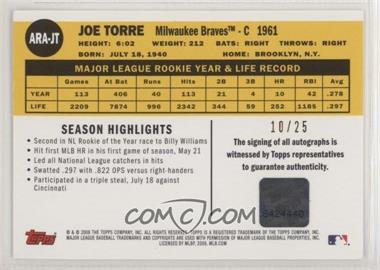 ARA-AE Andre Ethier
ARA-AP Albert Pujols
ARA-BB Brian Bannister
ARA-CB Carlos Beltran
ARA-CR Carlos Ruiz
ARA-CW Craig Wilson
ARA-CY Chris Young
ARA-FL Francisco Liriano
ARA-HO Hideki Okajima
ARA-HP Hunter Pence
ARA-JL James Loney
ARA-JT Joe Torre
ARA-MH Matt Holliday
ARA-MK Mark Kotsay
ARA-NM Nick Markakis
ARA-RB Ryan Braun
ARA-RM Russ Martin
ARA-RO Roy Oswalt
ARA-RZ Ryan Zimmerman
ARA-SG Shawn Green
In The Name Relics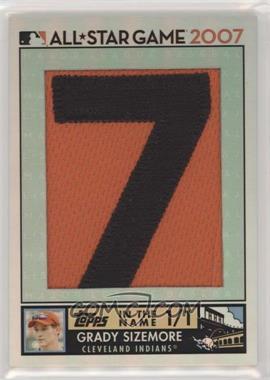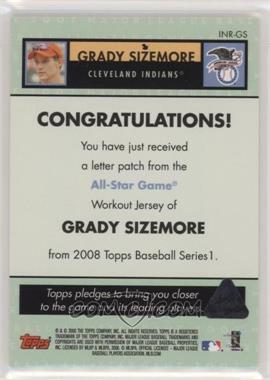 Each In The Name Relic features the letters taken from the back of the respective player's 2007 MLB All-Star Game warm-up jersey. There is one card for each letter in the player's last name.
AIR Alex Rios
AP Albert Pujols
AR Alex Rodriguez
ARR Aaron Rowand
BF Brian Fuentes
BJ Bobby Jenks
BM Brian McCann
BR Brian Roberts
BS Ben Sheets
BW Brandon Webb
CB Carlos Beltran
CC Carl Crawford
CH Cole Hamels
CL Carlos Lee
CS C.C. Sabathia
CU Chase Utley
CY Chris Young
DO David Ortiz
DW David Wright
DY Dmitri Young
FC Francisco Cordero
FR Francisco Rodriguez
FS Freddy Sanchez
GM Gil Meche
GS Grady Sizemore
HO Hideki Okajima
IR Ivan Rodriguez
IS Ichiro Suzuki
JB Josh Beckett
JEP Jake Peavy
JL John Lackey
JM Justin Morneau
JP J.J. Putz
JR J.J. Hardy
JR Jose Reyes
JRP Jorge Posada
JRV Jose Valverde
JS Johan Santana
JV Justin Verlander
MH Matt Holliday
ML Mike Lowell
MR Manny Ramirez
MY Michael Young
OH Orlando Hudson
PF Prince Fielder
RH Ryan Howard
RM Russell Martin
Mickey Mantle Home Run History Relics
See 2006 Topps Mickey Mantle Home Run History.
Mickey Mantle Reprint Relic
MMR-55 Mickey Mantle BAT 55
MMR-56 Mickey Mantle BAT 56
World Champion Relics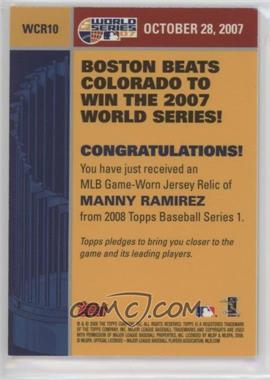 Each World Champion Relic is serial-numbered to 100 copies.
WCR1 Josh Beckett
WCR2 Hideki Okajima
WCR3 Curt Schilling
WCR4 Jason Varitek
WCR5 Mike Lowell
WCR6 Jacoby Ellsbury
WCR7 Dustin Pedroia
WCR8 Jonathan Papelbon
WCR9 Julio Lugo
WCR10 Manny Ramirez
WCR11 David Ortiz
WCR12 Eric Gagne
WCR13 Jon Lester
WCR14 J.D. Drew
WCR15 Kevin Youkilis
World Champion Relics Autographs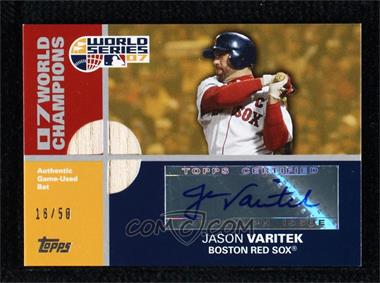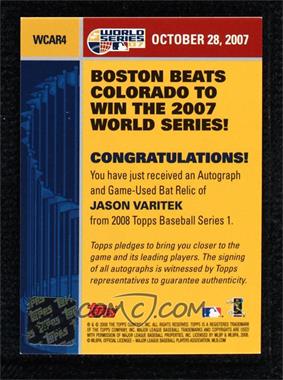 Each card is serial-numbered to the production figures listed below.
WCAR1 Josh Beckett 50
WCAR2 Hideki Okajima 50
WCAR3 Curt Schilling 50
WCAR4 Jason Varitek 50
WCAR5 Mike Lowell 50
WCAR6 Jacoby Ellsbury 25
WCAR7 Dustin Pedroia 25
WCAR8 Jonathan Papelbon 50
WCAR9 Julio Lugo 50
WCAR10 Manny Ramirez 50
T-205 Relics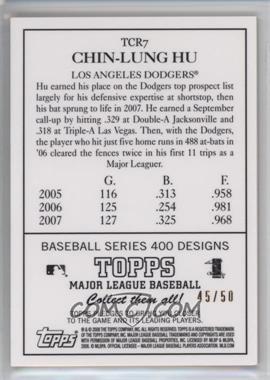 This 30-card set, exclusive to packs sold at Target stores, is a game-used parallel of the Target-exclusive T-205 set (see above). Each card is serial-numbered to 50 copies.
TCR1 Albert Pujols
TCR2 Clay Buchholz
TCR3 Matt Holliday
TCR4 Luke Hochevar
TCR5 Alex Rodriguez
TCR6 Joey Votto
TCR7 Chin-Lung Hu
TCR8 Ryan Braun
TCR9 Joba Chamberlain
TCR10 Ryan Howard
TCR11 Ichiro
TCR12 Steve Pearce
TCR13 Vladimir Guerrero
TCR14 Wladimir Balentien
TCR15 David Ortiz
TCR16 Jacoby Ellsbury
TCR17 David Wright
TCR18 Chase Utley
TCR19 Manny Ramirez
TCR20 Dan Haren
TCR21 Nick Markakis
TCR22 Grady Sizemore
TCR23 Hanley Ramirez
TCR24 Daisuke Matsuzaka
TCR25 Troy Tulowitzki
TCR26 Jose Reyes
TCR27 Tim Lincecum
TCR28 Prince Fielder
TCR29 Alfonso Soriano
TCR30 Andrew Miller
Retail Relics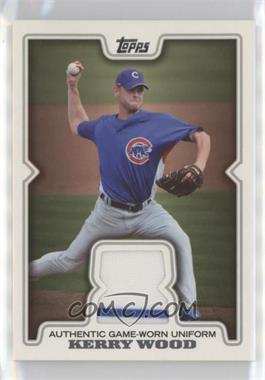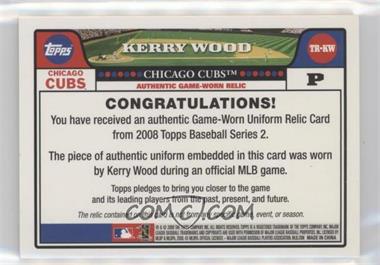 These cards were randomly inserted (at the rate of one per box) in Series Two Blaster boxes.
AD Adam Dunn
AH Aaron Harang
AL Adam LaRoche
AR Aaron Rowand
BA Bronson Arroyo
BC Bobby Crosby
BG Brian Giles
BH Brad Hawpe
BJ Bobby Jenks
BKA Bobby Abreu
BP Brad Penny
BS Ben Sheets
BW Brandon Webb
CB Carlos Beltran
CC Chris Capuano
CD Carlos Delgado
CDC Carl Crawford
CJC Chris Carpenter
CK Casey Kotchman
DE Darin Erstad
EC Eric Chavez
EE Edwin Encarnacion
FL Fred Lewis
FR Francisco Rodriguez
GA Garrett Atkins
HB Hank Blalock
IR Ivan Rodriguez
IS Ian Snell
JB Jason Bay
JD Jermaine Dye
JE Jim Edmonds
JL Jon Lester
JP Jake Peavy
JR Jimmy Rollins
JRH Rich Harden
KG Khalil Greene
KM Kendry Morales
KW Kerry Wood
LB Lance Berkman
LB1 Lance Broadway
LH Livan Hernandez
MB Mark Buehrle
MH Mike Hampton
MM Melvin Mora
MMM Mike Mussina
MS Mike Sweeney
MT Mark Teahen
MY Michael Young
OG Ozzie Guillen
PB Pat Burrell
PM Pedro Martinez
RF Rafael Furcal
RH Roy Halladay
RW Rickie Weeks
SK Scott Kazmir
TG Troy Glaus
TH Todd Helton
TP Tony Pena, Jr.
VW Vernon Wells
ZG Zack Greinke
Campaign '08 Cut Signatures
Each Campaign '08 Cut Signature is serial-numbered to 15 copies.
CCS-BO Barack Obama
CCS-FT Fred Thompson
CCS-HC Hillary Clinton
CCS-JE John Edwards
CCS-JM John McCain
Historical Campaign Match-Ups Cut Signatures
Each is a one-of-one.
HCCS-AE Spiro Agnew / Thomas Eagleton
HCCS-BB James G. Blaine / Benjamin Butler
HCCS-BE John Bell / Edward Everett
HCCS-BF George Bush / Geraldine Ferraro
HCCS-BG George W. Bush / Al Gore
HCCS-CD Calvin Coolidge / John W. Davis
HCCS-CE Dick Cheney / John Edwards
HCCS-CF Henry Clay / Theodore Frelinghuysen
HCCS-CHC John C. Calhoun / Henry Clay
HCCS-CL George Clinton / John Langdon
HCCS-CO Hillary Clinton / Barack Obama
HCCS-CR Charles Curtis / Joseph T. Robinson
HCCS-CWC John C. Calhoun / William H. Crawford
HCCS-DD Charles G. Dawes / John W. Davis
HCCS-DK Bob Dole / Jack Kemp
HCCS-ES Dwight D. Eisenhower / Adlai Stevenson
HCCS-FP Charles W. Fairbanks / Alton Parker
HCCS-GB Horace Greeley / B. Gratz Brown
HCCS-GC Elbridge Gerry / DeWitt Clinton
HCCS-GD Al Gore / Dan Quayle
HCCS-GH Ulysses S. Grant / Thomas A. Hendricks
HCCS-GL John N. Garner / Alf Landon
HCCS-HB Garret A. Hobart / Simon Bolivar Buckner
HCCS-HE Winfield Scott Hancock / William H. English
HCCS-HG Hubert H. Humphrey / Barry Goldwater
HCCS-HL Hannibal Hamlin / Joseph Lane
HCCS-HM Hubert H. Humphrey / Edmund Muskie
HCCS-HR Benjamin Harrison / Whitelaw Reid
HCCS-HS Herbert Hoover / Alfred E. Smith
HCCS-JFG Richard M. Johnson / Francis Granger
HCCS-JG Lyndon B. Johnson / Barry Goldwater
HCCS-KG William R. King / William A. Graham
HCCS-KN John F. Kennedy / Richard Nixon
HCCS-LM Abraham Lincoln / George McClellan
HCCS-LW Robert M. LaFollette / Burtin K. Wheeler
HCCS-MB William McKinley / William Jennings Bryan
HCCS-MS George McGovern / Sargent Shriver
HCCS-NL Ralph Nader / Joe Lieberman
HCCS-PS Ross Perot / James Stockdale
HCCS-QB Dan Quayle / Lloyd Bentsen
HCCS-RB Ronald Reagan / George Bush
HCCS-RC Ronald Reagan / Jimmy Carter
HCCS-RG Franklin D. Roosevelt / John N. Garner
HCCS-SB Horatio Seymour / Francis P. Blair, Jr.
HCCS-SK Adlai Stevenson / Estes Kefauver
HCCS-SW John Sergeant / William Wilkins
HCCS-TC Zachary Taylor / Lewis Cass
HCCS-TD Harry S. Truman / Thomas E. Dewey
HCCS-TPC Samuel J. Tilden / Peter Cooper
HCCS-TW Strom Thurmond / Fielding L. Wright
HCCS-WH Henry Wilson / Thomas A. Hendricks
HCCS-WL George Wallace / Curtis LeMay
HCCS-WM Daniel Webster / W.P. Mangum
HCCS-WT Earl Warren / Glen Taylor
HCCS-WW Henry A. Wallace / Wendell Willkie