1988 Topps Traded
Description
1988 Topps Traded is a 132-card boxed set. As usual, it features players who were traded during the season as well as rookies who debuted. New for 1988 was the inclusion of the Gold Medal winning 1988 USA Olympic baseball team.
For the fifth consecutive year, a Tiffany parallel set was also produced.
NOTE: 1988 was the last year for the XRC tag.
Distribution
Factory set only.
Reviews
Insertion Ratios
| Cards | Total Cards | Numbered To | Hobby Odds | Retail Odds |
| --- | --- | --- | --- | --- |
| Base | 132 | - | ? | ? |
Checklist
Base Set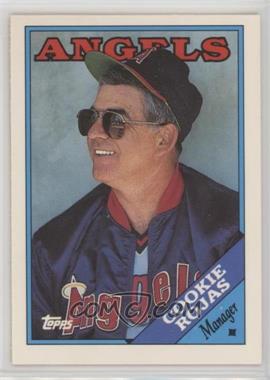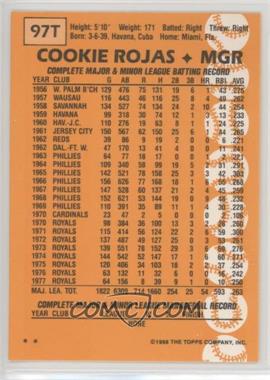 1T Jim Abbott OLY XRC
2T Juan Agosto
3T Luis Alicea XRC
4T Roberto Alomar XRC
5T Brady Anderson XRC
6T Jack Armstrong XRC
7T Don August
8T Floyd Bannister
9T Bret Barberie OLY XRC
10T Jose Bautista XRC
11T Don Baylor
12T Tim Belcher
13T Buddy Bell
14T Andy Benes OLY XRC
15T Damon Berryhill XRC
16T Bud Black
17T Pat Borders XRC
18T Phil Bradley
19T Jeff Branson OLY XRC
20T Tom Brunansky
21T Jay Buhner XRC
22T Brett Butler
23T Jim Campanis OLY XRC*
24T Sil Campusano
25T John Candelaria
26T Jose Cecena
27T Rick Cerone
28T Jack Clark
29T Kevin Coffman
30T Pat Combs OLY XRC
31T Henry Cotto
32T Chili Davis
33T Mike Davis
34T Jose DeLeon
35T Rich Dotson
36T Cecil Espy XRC
37T Tom Filer
38T Mike Fiore OLY
39T Ron Gant XRC
40T Kirk Gibson
41T Rich Gossage
42T Mark Grace XRC
43T Alfredo Griffin
44T Ty Griffin OLY
45T Bryan Harvey XRC
46T Ron Hassey
47T Ray Hayward
48T Dave Henderson
49T Tom Herr
50T Bob Horner
51T Ricky Horton
52T Jay Howell
53T Glenn Hubbard
54T Jeff Innis
55T Danny Jackson
56T Darrin Jackson XRC
57T Roberto Kelly XRC
58T Ron Kittle
59T Ray Knight
60T Vance Law
61T Jeffrey Leonard
62T Mike Macfarlane XRC
63T Scotti Madison
64T Kirt Manwaring
65T Mark Marquess OLY CO XRC*
66T Tino Martinez OLY XRC
67T Billy Masse OLY XRC*
68T Jack McDowell XRC
69T Jack McKeon MGR
70T Larry McWilliams
71T Mickey Morandini OLY XRC
72T Keith Moreland
73T Mike Morgan
74T Charles Nagy OLY XRC
75T Al Nipper
76T Russ Nixon MGR
77T Jesse Orosco
78T Joe Orsulak
79T Dave Palmer
80T Mark Parent XRC
81T Dave Parker
82T Dan Pasqua
83T Melido Perez XRC
84T Steve Peters
85T Dan Petry
86T Gary Pettis
87T Jeff Pico
88T Jim Poole OLY XRC
89T Ted Power
90T Rafael Ramirez
91T Dennis Rasmussen
92T Jose Rijo
93T Ernie Riles
94T Luis Rivera
95T Doug Robbins OLY XRC*
96T Frank Robinson MGR
97T Cookie Rojas MGR
98T Chris Sabo XRC
99T Mark Salas
100T Luis Salazar
101T Rafael Santana
102T Nelson Santovenia
103T Mackey Sasser XRC
104T Calvin Schiraldi
105T Mike Schooler
106T Scott Servais OLY XRC
107T Dave Silvestri OLY XRC
108T Don Slaught
109T Joe Slusarski OLY XRC
110T Lee Smith
111T Pete Smith XRC
112T Jim Snyder MGR
113T Ed Sprague OLY XRC
114T Pete Stanicek XRC
115T Kurt Stillwell
116T Todd Stottlemyre XRC
117T Bill Swift
118T Pat Tabler
119T Scott Terry
120T Mickey Tettleton
121T Dickie Thon
122T Jeff Treadway XRC
123T Willie Upshaw
124T Robin Ventura OLY XRC
125T Ron Washington
126T Walt Weiss XRC
127T Bob Welch
128T David Wells XRC
129T Glenn Wilson
130T Ted Wood OLY XRC
131T Don Zimmer MGR
132T Checklist 1T-132T
Parallels
Topps Traded Tiffany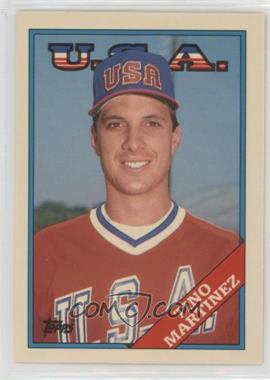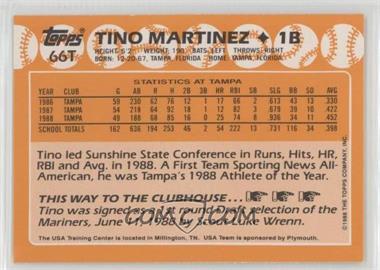 For the fifth consecutive year, Topps released a Tiffany edition of Traded. Like other Tiffany sets of the era, it was produced at Topps' plant in Ireland (the same facility as the regular Traded sets) and was printed on a premium glossy cardstock.
For the first time, Topps did not release production figures for the 1988 Traded Tiffany set. It is considered to be slightly tougher to find than the 1987 Traded set (which had an announced production run of 30,000 sets), but easier than the 1989 Traded set (15,000 sets).