2011 Topps
Description
2011 Topps is a 660-card set released in two equal series of 330 cards. Series One was released the week of February 2nd while Series Two came out June 6th.
2011 Topps marked the company's 60th anniversary in baseball cards, and a number of "Diamond Anniversary" themed inserts and promotions were added. Similar to the Million Card Giveaway promotion of a year before, 2011 Topps featured a Topps 60th Anniversary Diamond Card Giveaway. Randomly inserted into packs at the rate of 1:6 are code cards that, when entered, could unlock special one-of-one parallels embedded with a real diamond; a of over 150 Diamond Die-Cut inserts, or a buy-back. Added to the Topps 60th Anniversary Diamond Card Giveaway, will be redemption cards good for a diamond ring.
Each 36-pack Hobby box should yield either an autograph or Relic card and each HTA jumbo box one autograph and two Relics.
Like 2009 and 2010 Topps, 2011 Topps contains two different parallels that are retail only. "Throwback" cards, which have a retro looking Topps logo (with a longer curved T) and a darker card stock can be found in Blasters sold exclusively at Target stores. "All-Black" cards can be found exclusively in Blasters sold at Wal-Mart. Each are inserted in 2 full packs in each Blaster.
Distribution
Hobby = 12 cards per pack, 36 packs per box (MSRP: $2/pack)
Hobby Jumbo = 50 cards per pack, 10 packs per box (MSRP: $10/pack)
Retail = 12 cards per pack (MSRP: $1.99/pack)
Retail Rack = 36 cards per pack
Blasters = 8 cards per pack, 10 packs plus one manufactured patch card per box (MSRP: $19.99)
Target Blasters = 8 cards per pack, 8 packs plus one manufactured patch card and 2 packs of Retro parallels per box (MSRP: $19.99)
Wal-Mart Blasters = 8 cards per pack, 8 packs plus one manufactured patch card and 2 packs of All-Black parallels per box (MSRP $19.99)
Hangerpacks = 72 cards per pack (MSRP: $9.99)
Hobby factory set (red box) = 660 base cards and a pack of five red parallel cards numbered to 245 each.
All-Star Game factory set (brown box) = 660 base cards and a pack of five All-Star inserts.
Retail factory set (blue box) = 660 base card and a pack of five variations.
HTA factory set (green box) = 660 base cards and a pack of five foilboard parallel cards numbered to 75 each.
Target sets (blue oversized box) = In addition to the normal 660 card set, Target factory sets includes all five of the variations included in every retail factory set plus a bonus Chrome card of Babe Ruth. There are three different Babe Ruth cards total, and a customer would have to buy three sets to get all three cards. Target also has three additional holiday factory sets that include a Mickey Mantle card with a manufactured World Series "medallion" pin attached to the card. Again, a customer would have to buy three sets to get all three cards (1953, 1956, and 1961 "medallion" cards).
Wal-Mart sets (gold oversized box): In addition to the normal 660 card set and the five variations, Wal-Mart factory sets includes a bonus Chrome card of Mickey Mantle. There are three different Mickey Mantle cards total, and a customer would have to buy three sets to get all three cards.
Diamond Anniversary factory set (white box): Topps produced a special "Diamond Anniversary" factory set as part of the Diamond Giveaway program. To win this set, collectors had to find 45 virtual "rings" on the Topps Diamond Giveaway website. Like the HTA factory set, each card has the phrase "Factory Set Limited Edition" stamped on the front. To differentiate, the Diamond Anniversary logo replaces the regular Topps logo on each card.
Reviews
Prime 9 Insert Set Review: http://sanjosefuji.blogspot.com/2012/01/set-showcase-18-2011-topps-prime-9.html
Insertion Ratios
| Cards | Total Cards | Numbered To | Hobby Odds | Retail Odds | HTA Odds | Retail Rack |
| --- | --- | --- | --- | --- | --- | --- |
| Base | 660 | - | 8:1 | 8:1 | 1:41 | 1:28 |
| Legends Variations | 49 | - | ? | ? | 1:80 | ? |
| Diamond Sparkle Variations | 120 | - | ? | ? | ? | ? |
| Gold | 660 | 2011 | 1:8 | 1:17 | 1:2 | 1:5 |
| Black | 660 | 60 | 1:100 | N/A | 1:20 | N/A |
| Platinum | 660 | one-of-one | 1:33,000 | 1:27,000 | 1:6500 | 1:9200 |
| Diamond Anniversary Platinum | 660 | - | 1:4 | 1:4 | 1:1 | 1:1 |
| Diamond Anniversary Canary | 660 | one-of-one | 1:33,000 | 1:27,000 | 1:6500 | 1:9200 |
| Printing Plates | 660 | four-for-each | 1:1500 | N/A | 1:299 | N/A |
| Silk | 200 | 50 | 1:396 | N/A | 1:79 | N/A |
| Ticket to Toppstown.com | 100 | - | 1:1 | 1:1 | 1:1 | 1:1 |
| Diamond Duos | 60 | - | 1:4 | 1:4 | 1:1 | 1:1 |
| Diamond Stars (S2) | 25 | - | 1:6 | 1:6 | 1:2 | 1:2 |
| Prime 9 Redemption (S2) | 9 | - | 1:18 | N/A | 1:5 | N/A |
| Kimball Champions | 100 | - | 1:4 | 1:4 | 1:1 | 1:1 |
| Topps 60 | 100 | - | 1:4 | 1:4 | 1:1 | 1:1 |
| CMG Reprints | 30 | - | 1:8 | 1:8 | 1:2 | 1:2 |
| History of Topps (S1) | 10 | - | 1:18 | 1:18 | 1:4 | 1:6 |
| Before There Was Topps (S2) | 7 | - | 1:18 | 1:18 | 1:4 | 1:6 |
| 60 Years of Topps Reprints | 118 | - | 1:3 | 1:3 | 1:1 | 1:2 |
| 60 Years of Topps Original Backs | 118 | - | 1:36 | 1:36 | 1:10 | 1:12 |
| 60 Years of Topps: The Lost Cards | 10 | - | 1:12 | 1:12 | 1:2 | 1:4 |
| 60 Years of Topps: The Lost Cards Original Backs | 10 | - | 1:108 | 1:108 | 1:30 | 1:36 |
| Red Diamond ! | 30 | - | N/A | 1:4 | N/A | N/A |
| Blue Diamond ! | 30 | - | N/A | 1:4 | N/A | N/A |
| Purple Diamond ! | 10 | - | N/A | ? | N/A | N/A |
| Ruby Red ? | 30 | - | N/A | N/A | N/A | N/A |
| Blue Sapphire ? | 15 | - | N/A | N/A | N/A | N/A |
| Manufactured Glove Leather Nameplate | 50 | - | 1:461 | N/A | 1:14 | N/A |
| Manufactured Glove Leather Nameplate Black | 50 | 99 | 1:11,815 | N/A | 1:43 | N/A |
| Manufactured Glove Leather Nameplate Nickname | 50 | one-of-one | 1:200,000 | NA | 1:4168 | N/A |
| Throwback Commemorative Patches $ | 50 | - | N/A | N/A | N/A | N/A |
| World Series Champion Relics | 15 | 100 | 1:6250 | 1:5200 | 1:1247 | 1:1735 |
| World Series Champion Autographed Relics | 5 | 50 | 1:7941 | N/A | 1:1579 | ? |
| World Series Champion Autographs | 5 | 50 | 1:33,000 | 1:32,000 | ? | 1:10,500 |
| Topps 60 Relics | 88 | - | 1:47 | 1:96 | 1:11 | 1:36 |
| Topps 60 Autographs | 68 | - | 1:342 | 1:725 | 1:11 | 1:278 |
| Topps 60 Autographed Relics | 20 | 50 | 1:3970 | N/A | 1:790 | N/A |
| Topps 60 Jumbo Relics | 20 | 20 | 1:4953 | N/A | 1:988 | N/A |
| 60th Anniversary Reprint Relics | 20 | 60 | 1:7817 | 1:6500 | 1:1565 | 1:2175 |
| 60th Anniversary Reprint Autographs | 10 | 60 | 1:14,750 | 1:13,200 | ? | 1:4350 |
| 60th Anniversary Reprint Autographed Relics | 10 | 6 | 1:33,350 | ? | 1:6524 | N/A |
| 60th Anniversary On-Card Autographs | 5 | 60 | ? | 1:13,200 | ? | N/A |
| Diamond Duos Relics | 15 | 50 | 1:12,500 | 1:10,500 | 1:2400 | 1:3460 |
| 1964 Mickey Mantle Relic | 1 | 64 | 1:115,000 | 1:140,000 | 1:20,350 | 1:40,000 |
| Baseball Legends Cut Signature | 15 | one-of-one | 1:500,000 | ? | ? | 1:195,000 |
| In the Name Relics | 76 | one for each letter | 1:4,067 | N/A | 1:811 | N/A |
| Sketch Cards | 100 | one-of-one | 1:20,000 | N/A | 1:3900 | N/A |
| Hall of Fame Buybacks | ? | - | ? | ? | ? | N/A |
| Topps 60 for 60 Redemption | ? | - | 1:167,000 | 1:150,000 | 1:36,000 | 1:51,000 |
| Diamond Die-Cuts + | 152 | - | ? | ? | ? | N/A |
| Black Diamond Die-Cuts + | 152 | 60 | ? | ? | ? | N/A |
| Diamond Collection + | 660 | one-of-one | ? | ? | ? | N/A |
+ These cards are available exclusively through the Diamond Giveaway program. Diamond Giveaway code cards are randomly inserted into packs.
$ Throwback Commemorative Patches are randomly inserted into Blaster boxes.
! Red Diamond cards are exclusive to packs sold at Target stores, Blue Diamonds to Wal-Mart, and Purple Diamonds to Toys 'Я' Us.
? Red and Blue Sapphire cards are exclusive to 72-card "hanger" packs, sold only at Target and Wal-Mart, respectively.
Checklist
Base Set
NOTE: Adrian Gonzalez is card #425 in the set; however, a card sequentially-numbered #350 of Gonzalez also exists. The "350" Gonzalez was an unannounced gimmick card inserted into Series One packs (see below).
Series One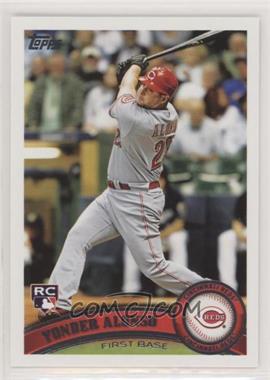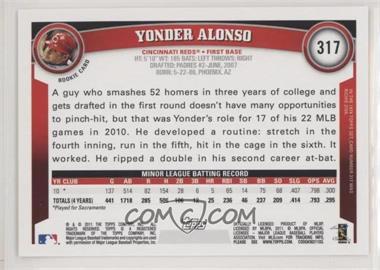 1 Ryan Braun
2 Jake Westbrook
3 Jon Lester
4 Jason Kubel
5 Joey Votto
6 Neftali Feliz
7 Mickey Mantle
8 Julio Borbon
9 Gil Meche
10 Stephen Strasburg
11 Roy Halladay / Adam Wainwright / Ubaldo Jimenez LL
12 Carlos Marmol
13 Billy Wagner
14 Randy Wolf
15 David Wright
16 Aramis Ramirez
17 Mark Ellis
18 Kevin Millwood
19 Derek Lowe
20 Hanley Ramirez
21 Michael Cuddyer
22 Barry Zito
23 Jaime Garcia
24 Neil Walker RCup
25 Carl Crawford
26 Neftali Feliz ROY
27 Ben Zobrist
28 Carlos Carrasco
29 Josh Hamilton MVP
30 Gio Gonzalez
31 Erick Aybar
32 Chris Johnson
33 Max Scherzer
34 Rick Ankiel
35 Shin-Soo Choo
36 Ted Lilly
37 Vincente Padilla
38 Ryan Dempster
39 Ian Kennedy
40 Justin Upton
41 Freddy Garcia
42 Mariano Rivera
43 Brendan Ryan
44 Martin Prado
45 Hunter Pence
46 Hong-Chih Kuo
47 Kevin Correia
48 Andrew Cashner
49 Los Angeles Angels TC
50 Alex Rodriguez
51 David Eckstein
52 Tampa Bay Rays TC
53 Arizona Diamondbacks TC
54 Brian Fuentes
55 Matt Joyce
56 Johan Santana
57 Mark Trumbo (RC)
58 Edgar Renteria
59 Gaby Sanchez RCup
60 Andrew McCutchen
61 David Price
62 Jonathan Papelbon
63 Edinson Volquez
64 Yorvit Torrealba
65 Chris Sale RC
66 R.A. Dickey
67 Vladimir Guererro
68 Cleveland Indians TC
69 Brett Gardner
70 Kyle Drabek RC
71 Trevor Hoffman RB
72 Jair Jurrjens
73 James McDonald
74 Tyler Clippard
75 Jered Weaver
76 Tom Gorzelanny
77 Tim Hudson
78 Mike Stanton
79 Kurt Suzuki
80 Desmond Jennings RC
81 Omar Infante
82 Josh Johnson / Adam Wainwright / Roy Halladay LL
83 Greg Halman RC
84 Roger Bernadina
85 Jack Wilson
86 Carlos Silva
87 Daniel Descalso RC
88 Brian Bogusevic (RC)
89 Placido Polanco
90 Yadier Molina
91 Lucas May RC
92 Chris Narveson
93 Paul Konerko
94 Ryan Raburn
95 Pedro Alvarez RC
96 Zach Duke
97 Carlos Gomez
98 Bronson Arroyo
99 Ben Revere RC
100 Albert Pujols
101 Gregor Blanco
102 CC Sabathia
103 Cliff Lee
104 Ian Stewart
105 Jonathan Lucroy
106 Felix Pie
107 Aubrey Huff
108 Zack Greinke
109 Josh Hamilton / Miguel Cabrera / Joe Mauer LL
110 Aroldis Chapman RC
111 Kevin Gregg
112 Jorge Cantu
113 Arthur Rhodes
114 Russell Martin
115 Jason Varitek
116 Russell Branyan
117 Brett Sinkbeil RC
118 Howie Kendrick
119 Jason Bay
120 Mat Latos
121 Brandon Inge
122 Bobby Jenks
123 Mike Lowell
124 CC Sabathia / Jon Lester / David Price LL
125 Evan Meek
126 San Diego Padres TC
127 Chris Volstad
128 Manny Ramirez
129 Lucas Duda RC
130 Robinson Cano
131 Kevin Kouzmanoff
132 Brian Duensing
133 Miguel Tejada
134 Carlos Gonzalez / Joey Votto / Omar Infante LL
135 Mike Stanton R Cup
136 Jason Marquis
137 Xavier Nady
138 Albert Pujols / Carlos Gonzalez / Joey Votto LL
139 Eric Young, Jr.
140 Brett Anderson
141 Ubaldo Jimenez RB CL
142 Johnny Cueto
143 Jeremy Jeffress RC
144 Lance Berkman
145 Freddie Freeman RC
146 Roy Halladay CY
147 Jon Niese
148 Ricky Romero
149 David Aardsma
150 Miguel Cabrera
151 Fausto Carmona
152 Baltimore Orioles TC
153 A.J. Pierzynski
154 Marlon Byrd
155 Alex Rodriguez RB CL
156 Josh Thole
157 New York Mets TC
158 Casey Blake
159 Chris Perez
160 Josh Tomlin
161 Chicago White Sox TC
162 Ronny Cedeno
163 Carlos Pena
164 Koji Uehara
165 Jeremy Hellickson RC
166 Josh Johnson
167 Clay Hensley
168 Felix Hernandez CY
169 Chipper Jones
170 David DeJesus
171 Garrett Jones
172 Lyle Overbay
173 Jose Lopez
174 Roy Oswalt
175 Brennan Boesch
176 Daniel Hudson
177 Brian Matusz
178 Heath Bell
179 Armando Galarraga
180 Paul Maholm
181 Magglio Ordonez
182 Jeremy Bonderman
183 Stephen Strasburg RCup
184 Brandon Morrow
185 Peter Bourjos
186 Carl Pavano
187 Milwaukee Brewers TC
188 Pablo Sandoval
189 Kerry Wood
190 Coco Crisp
191 Jay Bruce
192 Cincinnati Reds TC
193 Cory Luebke RC
194 Andres Torres
195 Nick Markakis
196 Jose Ceda RC
197 Aaron Hill
198 Buster Posey RCup
199 Jimmy Rollins
200 Ichiro
201 Mike Napoli
202 Jose Bautista / Paul Konerko / Miguel Cabrera LL
203 Dillon Gee RC
204 Oakland Athletics TC
205 Ty Wigginton
206 Chase Headley
207 Angel Pagan
208 Clay Buchholz
209 Carlos Santana
210 Brian Wilson
211 Joey Votto MVP
212 Pedro Feliz
213 Brandon Snyder (RC)
214 Chase Utley
215 Edwin Encarnacion
216 Jose Bautista
217 Yunel Escobar
218 Victor Martinez
219 Carlos Ruiz
220 Todd Helton
221 Scott Hairston
222 Matt Lindstrom
223 Gregory Infante RC
224 Milton Bradley
225 Josh Willingham
226 Jose Guillen
227 Nate McLouth
228 Scott Rolen
229 Jonathan Sanchez
230 Aaron Cook
231 Mark Buerhle
232 Jamie Moyer
233 Ramon Hernandez
234 Miguel Montero
235 Felix Hernandez / Clay Buchholz / David Price LL
236 Nelson Cruz
237 Jason Vargas
238 Pedro Ciriaco RC
239 Jhoulys Chacin
240 Andre Ethier
241 Wandy Rodriguez
242 Brad Lidge
243 Omar Vizquel
244 Mike Aviles
245 Neil Walker
246 John Lannan
247 Starlin Castro
248 Wade LeBlanc
249 Aaron Harang
250 Carlos Gonzalez
251 Alcides Escobar
252 Michael Saunders
253 Jim Thome
254 Lars Anderson RC
255 Torii Hunter
256 Tyler Colvin
257 Travis Hafner
258 Rafael Soriano
259 Kyle Davies
260 Freddy Sanchez
261 Alexei Ramirez
262 Alex Gordon
263 Joel Pineiro
264 Ryan Perry
265 John Danks
266 Rickie Weeks
267 Jose Contreras
268 Jake McGee (RC)
269 Stephen Drew
270 Ubaldo Jimenez
271 Adam Dunn
272 J.J. Hardy
273 Derrek Lee
274 Michael Brantley
275 Clayton Kershaw
276 Miguel Olivo
277 Trevor Hoffman
278 Marco Scutaro
279 Nick Swisher
280 Andrew Bailey
281 Kevin Slowey
282 Buster Posey ROY
283 Colorado Rockies TC
284 Reid Brignac
285 Hank Conger RC
286 Melvin Mora
287 Scott Cousins RC
288 Matt Capps
289 Yuniesky Betancourt
290 Ike Davis
291 Juan Gutierrez
292 Darren Ford RC
293 Justin Morneau
294 Luke Scott
295 Jon Jay
296 John Buck
297 Jason Jaramillo
298 Jeff Keppinger
299 Chris Carpenter
300 Roy Halladay
301 Seth Smith
302 Adrian Beltre
303 Emilio Bonifacio
304 Jim Thome RB
305 James Loney
306 Miguel Cabrera / Alex Rodriguez / Jose Bautista LL
307 Alex Rios
308 Ian Desmond
309 Chicago Cubs TC
310 Alex Gonzalez
311 James Shields
312 Gaby Sanchez
313 Chris Coghlan
314 Ryan Kalish
315 David Ortiz
316 Chris Young
317 Yonder Alonso RC, UER (was 1st-round pick)
318 Albert Pujols / Adam Dunn / Joey Votto LL
319 Atlanta Braves TC
320 Michael Young
321 Jeremy Guthrie
322 Brent Morel RC
323 C.J. Wilson
324 Boston Red Sox TC
325 Jayson Werth
326 Ozzie Martinez RC
327 Christian Guzman
328 David Price RB
329 Brett Wallace
330 Derek Jeter
Series Two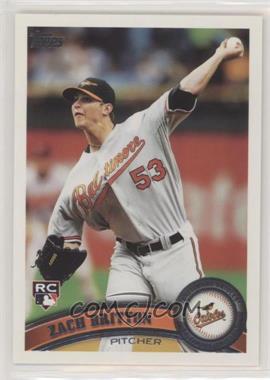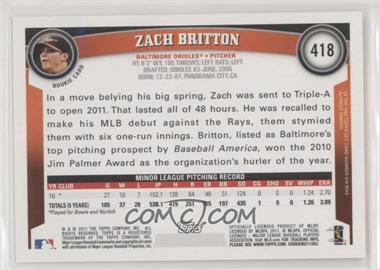 331 Carlos Guillen
332 Melky Cabrera
333 Tom Wilhelmsen RC
334 St. Louis Cardinals TC
335 Buster Posey
336 Chris Heisey
337 Jordan Walden
338 Jason Hammel
339 Alexi Casilla
340 Evan Longoria
341 Kyle Kendrick
342 Jorge De La Rosa
343 Mason Tobin RC
344 Michael Kohn RC
345 Austin Jackson
346 Jose Bautista CL
347 Darwin Barney RC
348 Landon Powell
349 Drew Stubbs
350 Francisco Liriano
351 Jacoby Ellsbury
352 Colby Lewis
353 Cliff Pennington
354 Scott Baker
355 Justin Verlander
356 Alfonso Soriano
357 Mike Cameron
358 Paul Janish
359 Roy Halladay CL
360 Ivan Rodriguez
361 Florida Marlins TC
362 Doug Fister
363 Aaron Rowand
364 Tim Wakefield
365 Adam Lind
366 Joe Nathan
367 Hiroki Kuroda
368 Brian Broderick RC
369 Wilson Betemit
370 Matt Garza
371 Taylor Teagarden
372 Jarrod Saltalamacchia
373 Trever Miller
374 Washington Nationals TC
375 Matt Kemp
376 Clayton Richard
377 Esmil Rogers
378 Mark Reynolds
379 Ben Francisco
380 Jose Reyes
381 Michael Gonzalez
382 Travis Snider
383 Ryan Ludwick
384 Nick Hundley
385 Ichiro
386 Barry Enright
387 Danny Valencia RCup
388 Kenley Jansen
389 Carlos Quentin
390 Danny Valencia
391 Phil Coke
392 Kris Medlen
393 Jake Arrieta
394 Austin Jackson RCup
395 Tyler Flowers
396 Adam Jones
397 Sean Rodriguez
398 Pittsburgh Pirates TC
399 Adam Moore
400 Troy Tulowitzki
401 Michael Crotta RC
402 Jack Cust
403 Felix Hernandez CL
404 Chris Capuano
405 Ian Kinsler
406 John Lackey
407 Jonathan Broxton
408 Denard Span
409 Vin Mazzaro
410 Prince Fielder
411 Josh Bell
412 Samuel Deduno RC
413 Derek Holland
414 Jose Molina
415 Brian McCann
416 Everth Cabrera
417 Miguel Cairo
418 Zach Britton RC
419 Kelly Johnson
420 Ryan Howard
421 Domonic Brown
422 Juan Pierre
423 Hideki Okajima
424 New York Yankees TC
425 Adrian Gonzalez
426 Travis Buck
427 Brad Emaus RC
428 Brett Myers
429 Skip Schumaker
430 Trevor Crowe
431 Marcos Mateo RC
432 Matt Harrison
433 Curtis Granderson
434 Mark DeRosa
435 Elvis Andrus
436 Trevor Cahill
437 Jordan Schafer
438 Ryan Theriot
439 Ervin Santana
440 Grady Sizemore
441 Rafael Furcal
442 Brad Bergesen
443 Brian Roberts
444 Brett Cecil
445 Mitch Talbot
446 Brandon Beachy RC
447 Toronto Blue Jays TC
448 Colby Rasmus
449 Austin Kearns
450 Mark Teixeira
451 Livan Hernandez
452 David Freese
453 Joe Saunders
454 Alberto Callaspo
455 Logan Morrison
456 Ryan Doumit
457 Brandon Allen
458 Javier Vazquez
459 Frank Francisco
460 Cole Hamels
461 Eric Sogard RC
462 Daric Barton
463 Will Venable
464 Daniel Bard
465 Yovani Gallardo
466 Johnny Damon
467 Wade Davis
468 Chone Figgins
469 Joe Blanton
470 Billy Butler
471 Tim Collins RC
472 Jason Kendall
473 Chad Billingsley
474 Jeff Mathis
475 Phil Hughes
476 Matt LaPorta
477 Franklin Gutierrez
478 Mike Minor
479 Justin Duchscherer
480 Dustin Pedroia
481 Randy Wells
482 Eric Hinske
483 Justin Smoak RC
484 Gerardo Parra
485 Delmon Young
486 Francisco Rodriguez
487 Chris Snyder
488 Brayan Villarreal RC
489 Marc Rzepczynski
490 Matt Holliday
491 Fernando Abad RC
492 A.J. Burnett
493 Ryan Sweeney
494 Drew Storen
495 Shane Victorino
496 Gavin Floyd
497 Alex Avila
498 Scott Feldman
499 J.A. Happ
500 Kevin Youkilis
501 Tsuyoshi Nishioka RC
502 Jeff Baker
503 Nathan Adcock RC
504 Jhonny Peralta
505 Tommy Hanson
506 Aneury Rodriguez RC
507 Huston Street
508 Homer Bailey
509 Michael Bourn
510 Jason Heyward
511 Philadelphia Phillies TC
512 Octavio Dotel
513 Adam LaRoche
514 Kelly Shoppach
515 Carlos Beltran
516 Mike Leake
517 Fred Lewis
518 Michael Morse
519 Corey Hart
520 Jorge Posada
521 Joaquin Benoit
522 Asdrubal Cabrera
523 Mike Nickeas (RC)
524 Michael Martinez RC
525 Vernon Wells
526 Jason Donald
527 Kila Ka'aihue
528 Bobby Abreu
529 Maicer Izturis
530 Felix Hernandez
531 Juan Rivera
532 Erik Bedard
533 Lorenzo Cain
534 Bud Norris
535 Rich Harden
536 Tony Sipp RC
537 Jake Peavy
538 Jason Motte
539 Brandon Lyon
540 Joakim Soria
541 John Jaso
542 Mike Pelfrey
543 Texas Rangers TC
544 Justin Masterson
545 Jose Tabata
546 Pat Burrell
547 Albert Pujols CL
548 Ryan Franklin
549 Jayson Nix
550 Joe Mauer
551 Marcus Thames
552 San Francisco Giants TC
553 Kyle Lohse
554 Cedric Hunter RC
555 Madison Bumgarner
556 B.J. Upton
557 Wes Helms
558 Carlos Zambrano
559 Reggie Willits
560 Chris Iannetta
561 Luke Gregerson
562 Gordon Beckham
563 Josh Rodriguez RC
564 Jeff Samardzija
565 Mark Teahen
566 Jordan Zimmermann
567 Dallas Braden
568 Kansas City Royals TC
569 Cameron Maybin
570 Matt Cain
571 Jeremy Affeldt
572 Brad Hawpe
573 Nyjer Morgan
574 Brandon Kintzler RC
575 Rod Barajas
576 Jed Lowrie
577 Mike Fontenot
578 Willy Aybar
579 Jeff Niemann
580 Chris Young
581 Fernando Rodney
582 Kosuke Fukudome
583 Ryan Spilborghs
584 Jason Bartlett
585 Dan Johnson
586 Carlos Lee
587 J.P. Arencibia
588 Rajai Davis
589 Seattle Mariners TC
590 Tim Lincecum
591 John Axford
592 Dayan Viciedo
593 Francisco Cordero
594 Jose Valverde
595 Michael Pineda RC
596 Anibal Sanchez
597 Rick Porcello
598 Jonny Gomes
599 Travis Ishikawa
600 Neftali Feliz RCup
601 J.J. Putz
602 Ivan DeJesus RC
603 David Murphy
604 Joe Paterson RC
605 Brandon Belt RC
606 Juan Miranda
607 Daniel Murphy
608 Casey McGehee
609 Juan Francisco
610 Josh Beckett
611 Geovany Soto
612 Detroit Tigers TC
613 Dexter Fowler
614 Minnesota Twins TC
615 Shaun Marcum
616 Ross Ohlendorf
617 Joel Zumaya
618 Josh Lueke RC
619 Jonny Venters
620 Luke Hochevar
621 Omar Beltre
622 Matt Thornton
623 Leo Nunez
624 Luke French
625 Ruben Tejada
626 Dan Haren
627 Kyle Blanks
628 Blake DeWitt
629 Ivan Nova
630 Brandon Phillips
631 Houston Astros TC
632 Scott Kazmir
633 Aaron Crow RC
634 Mitch Moreland
635 Jason Heyward RCup
636 Chris Tillman
637 Ricky Nolasco
638 Ryan Madson
639 Pedro Beato RC
640 Dan Uggla
641 Travis Wood
642 Jason Hammel
643 Jaime Garcia RCup
644 Joel Hanrahan
645 Adam Wainwright
646 Los Angeles Dodgers TC
647 Jeanmar Gomez
648 Cody Ross
649 Joba Chamberlain
650 Josh Hamilton
651 Kendrys Morales
652 Edwin Jackson
653 J.D. Drew
654 Chris Getz
655 Starlin Castro RCup
656 Raul Ibanez
657 Nick Blackburn
658 Mitch Maier
659 Clint Barmes
660 Ryan Zimmerman
Variations, Gimmicks, and Errors
Legends Variations
24 cards in Series One and 25 cards in Series Two are legends that share a base card with a current player.
Series One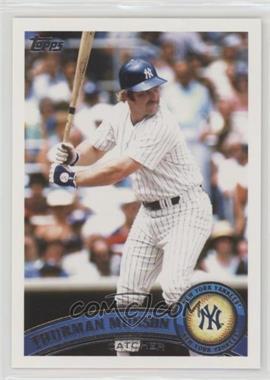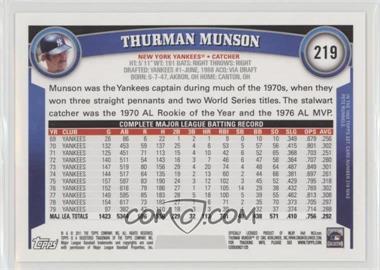 5 Lou Gehrig
20 Honus Wagner
25 Carl Yastrzemski
44 Rogers Hornsby
50 Mike Schmidt
80 Jackie Robinson
90 Yogi Berra
93 Frank Thomas
100 Stan Musial
102 Christy Mathewson
135 Dale Murphy
150 Hank Greenberg
198 Johnny Bench
199 Ozzie Smith
200 Ty Cobb
209 Roy Campanella
219 Thurman Munson
247 Ernie Banks
250 Mel Ott
271 Babe Ruth
293 Harmon Killebrew
300 Walter Johnson
315 Jimmie Foxx
330 Phil Rizzuto
Series Two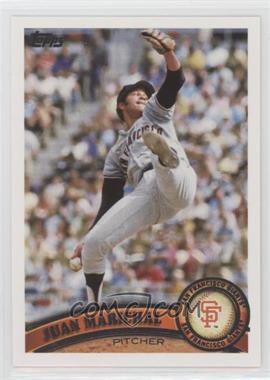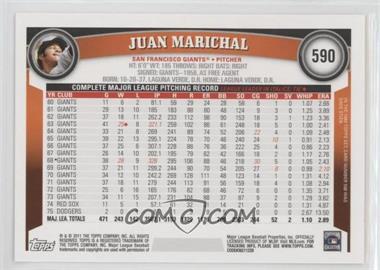 355 Bob Feller
375 Andre Dawson
393 Jim Palmer
405 Ryne Sandberg
410 Reggie Jackson
425 Johnny Mize
435 Pee Wee Reese
450 Mickey Mantle
460 Robin Roberts
480 Roberto Alomar
490 Duke Snider
505 Greg Maddux
510 Hank Aaron
516 Tom Seaver
530 Sandy Koufax
570 Bert Blyleven
590 Juan Marichal
600 John Smoltz
626 Nolan Ryan
630 Joe Morgan
640 Eddie Mathews
645 Bob Gibson
650 Frank Robinson
651 Eddie Murray
660 Brooks Robinson
Photoshopped Gimmicks
Both of these cards feature the players with airbrushed Red Sox uniforms and were inserted into Series One packs.
25 Carl Crawford
350 Adrian Gonzalez
Diamond Sparkle Gimmicks (Twinks)
NOTES
The website mytoppscards.com has compiled a visual guide to identifying all 120 Diamond Sparkle cards.
What appears to be a "sparkle" on the brim of Domonic Brown's helmet (card #421), is a naturally-occurring light reflection. Some on eBay have been advertising Brown's base card as a Twink, BUT IT IS NOT.
Series One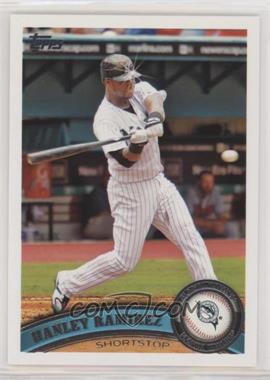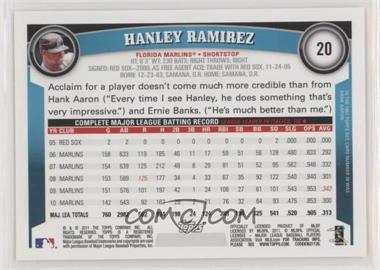 1 Ryan Braun WAIST
3 Jon Lester GLOVE
5 Joey Votto HEAD
15 David Wright CHEST
20 Hanley Ramirez HEAD
23 Jaime Garcia BELT
25 Carl Crawford CHEST
35 Shin-Soo Choo BELT
40 Justin Upton CHEST
42 Mariano Rivera GLOVE
44 Martin Prado ARM
50 Alex Rodriguez WAIST
60 Andrew McCutchen HEAD
61 David Price NECK
67 Vladimir Guerrero LEG
70 Kyle Drabek CHEST
75 Jered Weaver CHEST
78 Mike Stanton CHEST
80 Desmond Jennings GLOVE
100 Albert Pujols HAND
102 CC Sabathia CHEST
108 Zack Greinke CHEST
110 Aroldis Chapman CHEST
120 Mat Latos BALL
128 Manny Ramirez HAND
140 Brett Anderson WAIST
150 Miguel Cabrera HEAD
165 Jeremy Hellickson CHEST
166 Josh Johnson WAIST
169 Chipper Jones CHEST
174 Roy Oswalt ARM
177 Brian Matusz CHEST
195 Nick Markakis FOOT
200 Ichiro ARM
208 Clay Buchholz NECK
209 Carlos Santana CHEST
210 Brian Wilson HEAD
214 Chase Utley GLOVE
216 Jose Bautista NECK
218 Victor Martinez CHEST
236 Nelson Cruz CHEST
240 Andre Ethier HEAD
241 Wandy Rodriguez WAIST
247 Starlin Castro POCKET
250 Carlos Gonzalez CHEST
255 Torii Hunter EAR
269 Stephen Drew NECK
270 Ubaldo Jimenez GLOVE
271 Adam Dunn NECK
275 Clayton Kershaw CHEST
290 Ike Davis CHEST
293 Justin Morneau CHEST
294 Luke Scott HEAD
299 Chris Carpenter HEAD
300 Roy Halladay BALL
307 Alex Rios WAIST
315 David Ortiz HEAD
320 Michael Young WAIST
322 Brent Morel EAR
330 Derek Jeter ARM
Series Two
335 Buster Posey sleeve
340 Evan Longoria belt
345 Austin Jackson chest
350 Francisco Liriano glove
351 Jacoby Ellsbury collar
355 Justin Verlander chest
356 Alfonso Soriano batting glove
375 Matt Kemp necklace
378 Mark Reynolds butt
380 Jose Reyes hand
389 Carlos Quentin chest
396 Adam Jones chest
400 Troy Tulowitzki wristband
405 Ian Kinsler BAT
407 Jonathan Broxton chest
410 Prince Fielder belt
415 Brian McCann knee
419 Kelly Johnson chest
420 Ryan Howard wrist
425 Adrian Gonzalez wrist
435 Elvis Andrus glove
436 Trevor Cahill ball
441 Rafael Furcal crotch
450 Mark Teixeira helmet
455 Logan Morrison hand
460 Cole Hamels glove
465 Yovani Gallardo chest
470 Billy Butler hip
473 Chad Billingsley chest
478 Mike Minor chest
480 Dustin Pedroia belt
485 Delmon Young chest
490 Matt Holliday collar
500 Kevin Youkilis chest
505 Tommy Hanson glove
510 Jason Heyward belt
519 Corey Hart chest
520 Jorge Posada chest protector
525 Vernon Wells top shirt button
530 Felix Hernandez ear
545 Jose Tabata chest
550 Joe Mauer hip
555 Madison Bumgarner belt
560 Chris Iannetta chest protector
562 Gordon Beckham wristband
567 Dallas Braden hat
570 Matt Cain glove
586 Carlos Lee belt
590 Tim Lincecum glove
610 Josh Beckett chest
613 Dexter Fowler chest
626 Dan Haren belt
627 Kyle Blanks bat
630 Brandon Phillips helmet
640 Dan Uggla collar
645 Adam Wainwright chest
650 Josh Hamilton elbow
651 Kendrys Morales ear flap
652 Edwin Jackson belt
660 Ryan Zimmerman collar
Double Sparkle Bounty
Randomly inserted into packs of Series Two are three "Double Sparkle" cards. The "Double Sparkle" features two Photoshopped sparkles on each card and those sparkles are not all that subtle. The first person to find all three cards can redeem them for an autographed Rawlings baseball bat signed by Robinson Cano, Andre Ethier, Curtis Granderson, Russell Martin, Justin Morneau, Hanley Ramirez, B.J. Upton, Justin Verlander, David Wright, and Ryan Zimmmerman.
Mega case-breaker's Brent & Becca opened over 25 Hobby cases of Topps Series Two and found only one Double Sparkle -- a Tim Lincecum, which they sold on eBay for $225.
340 Evan Longoria belt
590 Tim Lincecum armpit
635 Jason Heyward belt
Factory Set Variation
On cards emerging from factory sets, it appears Topps tweaked the image of Kevin Gregg's card (#111) to make the pitcher's mound slightly darker.
111 Kevin Gregg (light/dark-colored mound)
Factory Set Limited Edition Variation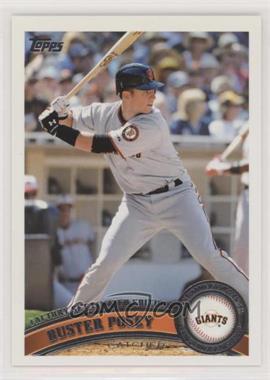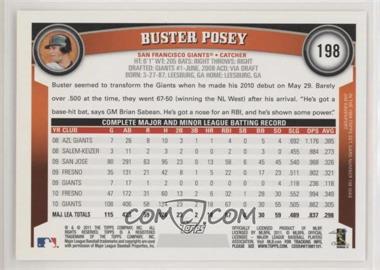 Specially-marked factory sets included a five-card set of variations. Each card is foil-stamped "FACTORY SET LIMITED EDITION" on the front. Unlike the 65th Anniversary factory set base cards (see below), these cards all have the standard Topps logo.
50 Alex Rodriguez
100 Albert Pujols
198 Buster Posey
200 Ichiro
650 Josh Hamilton
Parallels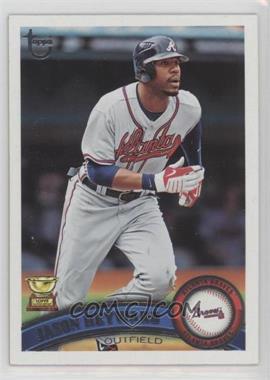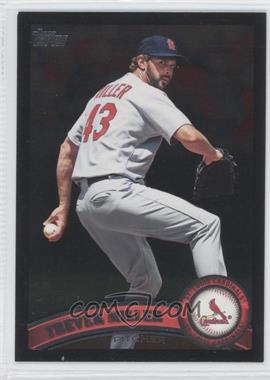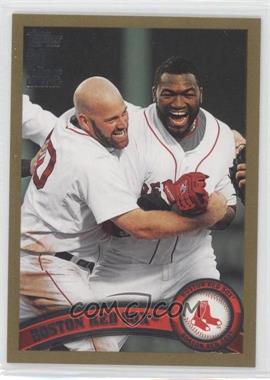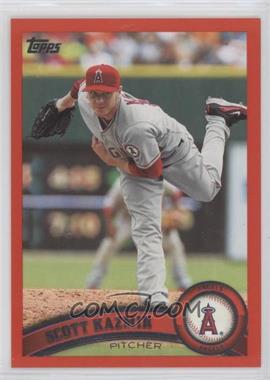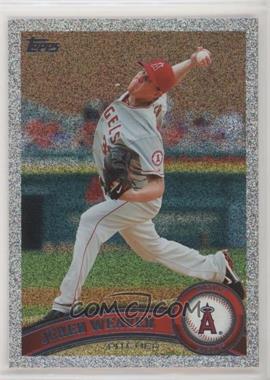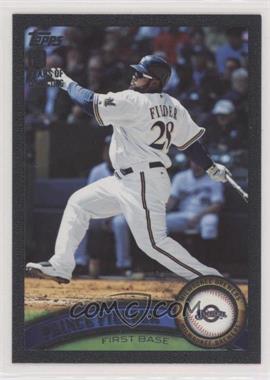 All 660 base cards are available in the following parallels.
Throwback (Target Blasters only)
All-Black (Wal-Mart Blasters only)
Gold (serial-numbered to 2011)
Red (serial-numbered to 245; five per Hobby factory set)
Foil (serial-numbered to 75; five per HTA factory set)
Black (serial-numbered to 60; Hobby and HTA packs only)
Platinum (one-of-one)
Printing Plates (four-for-each; Hobby and HTA packs only)
Diamond Anniversary Parallels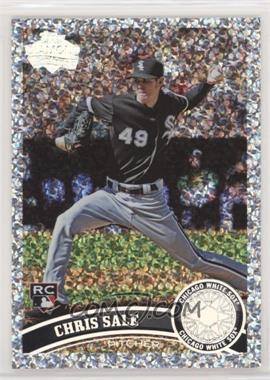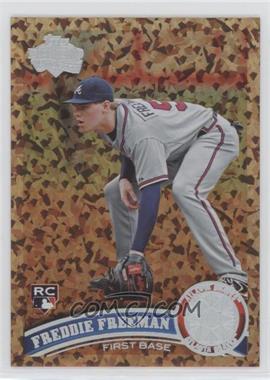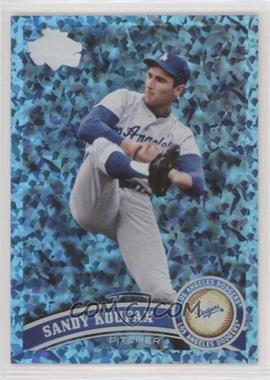 For their 60th Anniversary, Topps included these one-time-only "Diamond" parallels. All 660 base cards and all 49 Legends variations are available.
Platinum Diamond Anniversary
Cognac Diamond (exclusive to 2011 Topps Update)
Hope Diamond (serial-numbered to 60; exclusive to 2011 Topps Update)
Canary Diamond Anniversary (one-of-one)
Diamond Collection (one-of-one, available exclusive via Diamond Giveaway Code Cards, features a real diamond on card)
David Letterman Diamond Collection
On the February 23, 2011 edition of The Late Show, Hank Aaron presented host David Letterman with his own Diamond Collection card. It is unclear if any other Letterman cards were included in 2011 Topps Baseball.
Silk Collection
This 200-card set features selected base set cards printed on silk and framed. The first 100 cards were inserted into Series One; while the next 100 appeared in Series Two. Each card is serial-numbered to 50 copies.
NOTE: Silk Collection cards are NOT sequentially-numbered.
Series One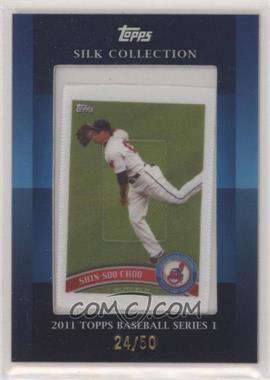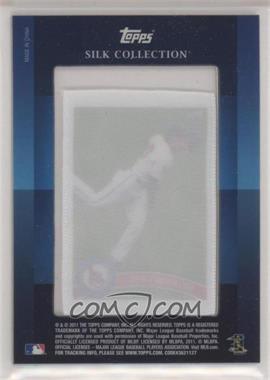 Aaron Hill
Adam Dunn
Adrian Beltre
Albert Pujols
Alex Gordon
Alex Rios
Alex Rodriguez
Alexei Ramirez
Andre Ethier
Andrew Bailey
Andrew McCutchen
Aramis Ramirez
Billy Wagner
Brandon Morrow
Brennan Boesch
Brett Anderson
Brett Wallace
Brian Matusz
C.J. Wilson
Carl Crawford
Carlos Gonzalez
Carlos Marmol
Carlos Pena
Carlos Santana
CC Sabathia
Chase Utley
Chipper Jones
Chris Carpenter
Chris Young
Clay Buchholz
Clayton Kershaw
Cliff Lee
Daisuke Matsuzaka
David Ortiz
David Price
David Wright
Derek Jeter
Derrek Lee
Fausto Carmona
Hanley Ramirez
Heath Bell
Howie Kendrick
Hunter Pence
Ian Desmond
Ichiro
Ike Davis
Jaime Garcia
James Shields
Jason Kubel
Jered Weaver
Jeremy Hellickson
Jimmy Rollins
Joey Votto
Johan Santana
John Danks
Johnny Cueto
Jon Jay
Jon Lester
Jose Bautista
Josh Johnson
Justin Morneau
Justin Upton
Kevin Kouzmanoff
Kurt Suzuki
Magglio Ordonez
Mariano Rivera
Mark Buerhle
Marlon Byrd
Martin Prado
Mat Latos
Max Scherzer
Michael Cuddyer
Michael Young
Miguel Cabrera
Miguel Montero
Mike Stanton
Nelson Cruz
Nick Markakis
Nick Swisher
Paul Konerko
Peter Bourjos
Rickie Weeks
Ricky Romero
Roy Halladay
Roy Oswalt
Ryan Braun
Ryan Kalish
Scott Rolen
Shin-Soo Choo
Starlin Castro
Stephen Drew
Stephen Strasburg
Tim Hudson
Todd Helton
Torii Hunter
Ubaldo Jimenez
Victor Martinez
Vladimir Guerrero
Wandy Rodriguez
Zack Greinke
Series Two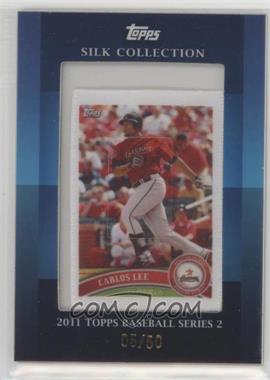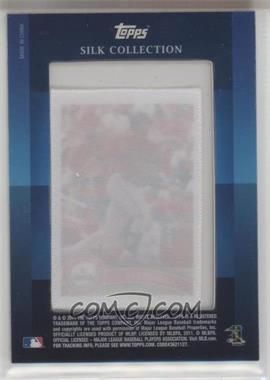 Adam Jones
Adam Lind
Adam Wainwright
Adrian Gonzalez
Alfonso Soriano
Austin Jackson
B.J. Upton
Billy Butler
Brandon Phillips
Brett Myers
Brian McCann
Brian Roberts
Buster Posey
Carlos Beltran
Carlos Lee
Carlos Quentin
Casey McGehee
Chad Billingsley
Chris Iannetta
Chris Tillman
Cody Ross
Colby Rasmus
Cole Hamels
Corey Hart
Curtis Granderson
Dallas Braden
Dan Haren
Dan Uggla
Danny Valencia
Daric Barton
Delmon Young
Denard Span
Dexter Fowler
Domonic Brown
Drew Storen
Drew Stubbs
Dustin Pedroia
Edwin Jackson
Elvis Andrus
Evan Longoria
Felix Hernandez
Francisco Liriano
Franklin Gutierrez
Geovany Soto
Gordon Beckham
Grady Sizemore
Huston Street
Ian Kinsler
Ivan Rodriguez
J.P. Arencibia
Jacoby Ellsbury
Jake Arrieta
Jason Bartlett
Jason Heyward
Jeff Niemann
Joakim Soria
Joba Chamberlain
Joe Mauer
John Lackey
Jonathan Broxton
Jorge Posada
Jose Reyes
Jose Tabata
Jose Valverde
Josh Beckett
Josh Hamilton
Justin Verlander
Kelly Johnson
Kendry Morales
Kevin Youkilis
Kila Ka'aihue
Kosuke Fukudome
Kyle Blanks
Logan Morrison
Madison Bumgarner
Mark Reynolds
Mark Teixeira
Matt Cain
Matt Garza
Matt Holliday
Matt Kemp
Michael Bourn
Mike Minor
Phil Hughes
Prince Fielder
Rick Porcello
Ryan Doumit
Ryan Ludwick
Ryan Zimmerman
Shane Victorino
Shaun Marcum
Tim Lincecum
Tommy Hanson
Travis Snider
Trevor Cahill
Troy Tulowitzki
Vernon Wells
Wade Davis
Will Venable
Yovani Gallardo
Diamond Anniversary Factory Set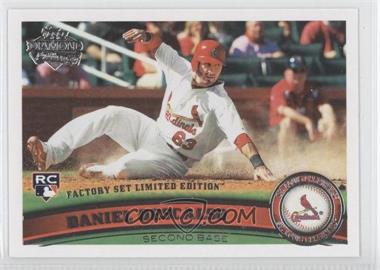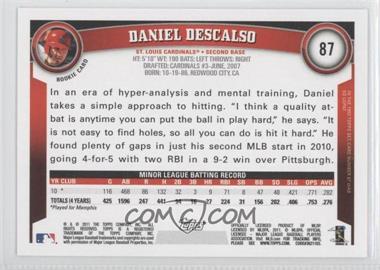 One of the prizes in the 60th Anniversary Diamond Giveaway was a special "Limited Edition Diamond Anniversary" factory set. The set included all 660 base cards, but unlike other factory sets, no other inserts.
Each card has the phrase "FACTORY SET LIMITED EDITION" foil-stamped above the player's name. In addition, the regular Topps logo is replaced on each card with the special Topps Diamond Anniversary logo.
Inserts
60 Years of Topps
Similar to "The Cards Your Mother Threw Out" and "Through The Years" sets of 2010 and 2001, respectively; the 60-year history of Topps chronicled with a reprint of two cards from every year, one card for year in each series. Each card back narrates the story of that year's design as well as other interesting minutiae. Cards 1-59 appeared in Series One, while 60-118 appeared in Series Two. An additional 59 cards appeared in 2011 Topps Update.
As with The Cards Your Mother Threw Out, all cards are also available in an Original Back parallel.
Series One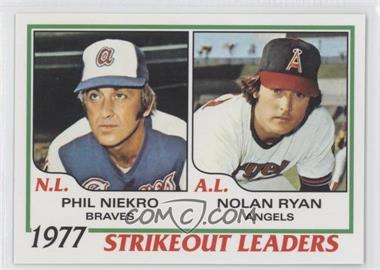 60YOT-01 Jackie Robinson 1952
60YOT-02 Roy Campanella 1953
60YOT-03 Monte Irvin 1954
60YOT-04 Ernie Banks 1955
60YOT-05 Phil Rizzuto 1956
60YOT-06 Mickey Mantle 1957
60YOT-07 Pee Wee Reese 1958
60YOT-08 Roger Maris 1959
60YOT-09 Stan Musial 1960
60YOT-10 Juan Marichal 1961
60YOT-11 Gaylord Perry 1962
60YOT-12 Frank Robinson 1963
60YOT-13 Bob Gibson 1964
60YOT-14 Lou Brock 1965
60YOT-15 Al Kaline 1966
60YOT-16 Tony Perez 1967
60YOT-17 Frank Robinson / Brooks Robinson 1968
60YOT-18 Tom Seaver 1969
60YOT-19 Reggie Jackson 1970
60YOT-20 Nolan Ryan 1971
60YOT-21 Rod Carew 1972
60YOT-22 Carlton Fisk 1973
60YOT-23 Mike Schmidt 1974
60YOT-24 Carl Yastrzemski 1975
60YOT-25 Robin Yount 1976
60YOT-26 Bruce Sutter 1977
60YOT-27 Phil Niekro / Nolan Ryan 1978
60YOT-28 Eddie Murray 1979
60YOT-29 Paul Molitor 1980
60YOT-30 Andre Dawson 1981
60YOT-31 Jim Palmer 1982
60YOT-32 Ozzie Smith 1983
60YOT-33 Tony Gwynn 1984
60YOT-34 Steve Garvey 1985
60YOT-35 Dave Winfield 1986
60YOT-36 Dennis Eckersley 1987
60YOT-37 Greg Maddux 1988
60YOT-38 Bo Jackson 1989
60YOT-39 Bernie Williams 1990
60YOT-40 Roberto Alomar 1991
60YOT-41 Frank Thomas 1992
60YOT-42 Jim Edmonds 1993
60YOT-43 Mike Piazza 1994
60YOT-44 Barry Larkin 1995
60YOT-45 Mickey Mantle 1996
60YOT-46 Mariano Rivera 1997
60YOT-47 Bob Abreu 1998
60YOT-48 M. Piazza/I. Rodriguez/J. Kendall 1999
60YOT-49 Alex Rodriguez 2000
60YOT-50 Manny Ramirez 2001
60YOT-51 Vladimir Guerrero 2002
60YOT-52 Cliff Lee 2003
60YOT-53 Mark Teixeira 2004
60YOT-54 Justin Verlander 2005
60YOT-55 Ryan Howard 2006
60YOT-56 Troy Tulowitzki 2007
60YOT-57 Johnny Cueto 2008
60YOT-58 Joe Mauer 2009
60YOT-59 Albert Pujols 2010
Series Two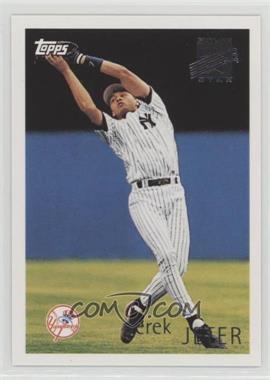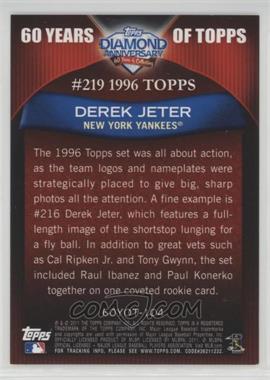 60YOT-60 Yogi Berra 1952
60YOT-61 Warren Spahn 1953
60YOT-62 Jackie Robinson 1954
60YOT-63 Ed Mathews 1955
60YOT-64 Mickey Mantle 1956
60YOT-65 Brooks Robinson
60YOT-66 Luis Aparicio
60YOT-67 Richie Ashburn
60YOT-68 Harmon Killebrew
60YOT-69 Stan Musial
60YOT-70 Orlando Cepeda
60YOT-71 Duke Snider
60YOT-72 Carl Yastrzemski
60YOT-73 Frank Robinson
60YOT-74 Roger Maris
60YOT-75 Steve Carlton
60YOT-76 Ernie Banks
60YOT-77 Johnny Bench
60YOT-78 Tom Seaver
60YOT-79 Gaylord Perry
60YOT-80 Nolan Ryan
60YOT-81 Rich Gossage
60YOT-82 Dave Parker
60YOT-83 Reggie Jackson
60YOT-84 Dave Winfield
60YOT-85 Don Sutton
60YOT-86 Gary Carter
60YOT-87 Eddie Murray
60YOT-88 Ron Guidry
60YOT-89 Jim Palmer
60YOT-90 Steve Garvey
60YOT-91 Cal Ripken, Jr.
60YOT-92 Rickey Henderson
60YOT-93 Andre Dawson
60YOT-94 Don Mattingly
60YOT-95 Ozzie Smith
60YOT-96 Dale Murphy
60YOT-97 Paul Molitor
60YOT-98 Curt Schilling
60YOT-99 Larry Walker
60YOT-100 Wade Boggs
60YOT-101 Craig Biggio
60YOT-102 Manny Ramirez
60YOT-103 Frank Thomas
60YOT-104 Derek Jeter
60YOT-105 Tony Gwynn
60YOT-106 Mariano Rivera
60YOT-107 Roy Halladay
60YOT-108 Chris Carpenter
60YOT-109 David Ortiz
60YOT-110 Josh Beckett
60YOT-111 Albert Pujols
60YOT-112 Alex Rodriguez / Derek Jeter
60YOT-113 Billy Butler
60YOT-114 Hanley Ramirez
60YOT-115 Josh Hamilton
60YOT-116 Ryan Braun
60YOT-117 Evan Longoria / David Price
60YOT-118 Buster Posey
The Lost Cards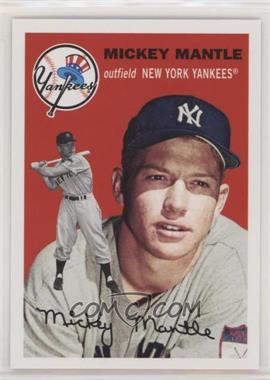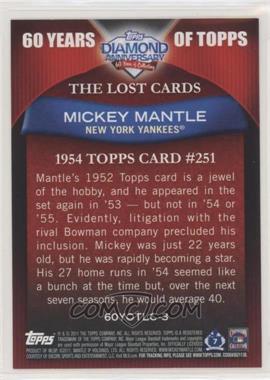 These ten cards, which are exclusive to Series One, fill in famous card numbering gaps found throughout the Topps annals. The card back recounts the anecdote surrounding each card's history. Also available in an Original Back parallel.
60YOTLC-1 Stan Musial 1953
60YOTLC-2 Duke Snider 1953
60YOTLC-3 Mickey Mantle
60YOTLC-4 Roy Campanella 1954
60YOTLC-5 Stan Musial
60YOTLC-6 Whitey Ford
60YOTLC-7 Bob Feller 1955
60YOTLC-8 Mickey Mantle
60YOTLC-9 Stan Musial 1956
60YOTLC-10 Stan Musial 1957
Topps 60
A 100-card set of legends and current stars noting the statistical category in which each places in the top 60 all-time or among active leaders. Cards 1-50 appeared in Series One, while 51-100 appeared in Series Two. An additional 50 cards appeared in 2011 Topps Update
Series One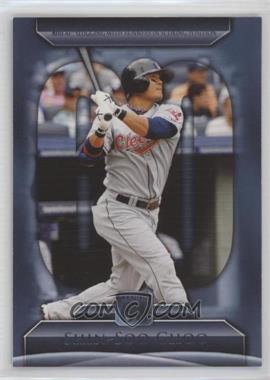 T60-1 Ryan Howard
T60-2 Andre Dawson
T60-3 Babe Ruth
T60-4 Gary Carter
T60-5 Lou Gehrig
T60-6 Robinson Cano
T60-7 Mickey Mantle
T60-8 Felix Hernandez
T60-9 Ian Kinsler
T60-10 Alex Rodriguez
T60-11 Troy Tulowitzki
T60-12 Prince Fielder
T60-13 Jon Papelbon
T60-14 Barry Larkin
T60-15 Jason Heyward
T60-16 Carl Crawford
T60-17 Dale Murphy
T60-18 Keith Hernandez
T60-19 Andre Ethier
T60-20 Manny Ramirez
T60-21 Tommy Hanson
T60-22 Clay Buchholz
T60-23 Neftali Feliz
T60-24 Josh Johnson
T60-25 Orlando Cepeda
T60-26 Derek Jeter
T60-27 David Wright UER (Strawberry's TBs listed as 2,088; correct total 2,028)
T60-28 Billy Butler
T60-29 Ryan Zimmerman
T60-30 Nick Markakis
T60-31 Justin Upton
T60-32 Adam Dunn
T60-33 Johan Santana
T60-34 Mark Reynolds
T60-35 Frank Thomas
T60-36 Adam Jones
T60-37 Stephen Strasburg
T60-38 Ryan Braun
T60-39 Adam Wainwright
T60-40 Michael Young
T60-41 Shin-Soo Choo
T60-42 Mat Latos
T60-43 Chipper Jones
T60-44 Duke Snider
T60-45 Hanley Ramirez
T60-46 Ike Davis
T60-47 Nolan Ryan
T60-48 Buster Posey
T60-49 Josh Hamilton
T60-50 Miguel Cabrera
Series Two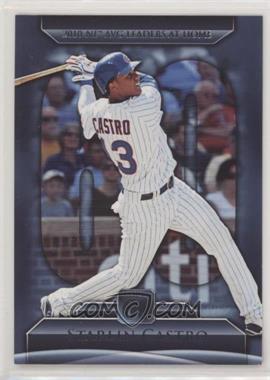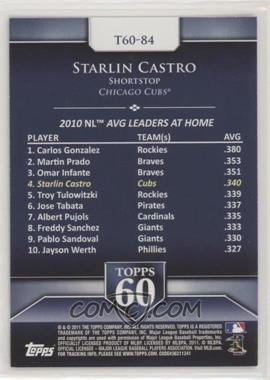 T60-51 Walter Johnson
T60-52 Felix Hernandez
T60-53 Jose Bautista
T60-54 Ryan Zimmerman
T60-55 Mariano Rivera
T60-56 Roberto Alomar
T60-57 Sandy Koufax
T60-58 Hank Aaron
T60-59 Roy Campanella
T60-60 Mel Ott
T60-61 Tom Seaver
T60-62 Mike Stanton
T60-63 Evan Longoria
T60-64 Jorge Posada
T60-65 Don Mattingly
T60-66 Paul Molitor
T60-67 Andrew McCutchen
T60-68 Joey Votto
T60-69 David Price
T60-70 Chris Carpenter
T60-71 Willie Stargell
T60-72 Eddie Mathews
T60-73 Nelson Cruz
T60-74 Chase Utley
T60-75 CC Sabathia
T60-76 Joe Mauer
T60-77 Dave Winfield
T60-78 Francisco Liriano
T60-79 Rickey Henderson
T60-80 Thurman Munson
T60-81 Brian McCann
T60-82 Shane Victorino
T60-83 Hunter Pence
T60-84 Starlin Castro
T60-85 Johnny Bench
T60-86 Dustin Pedroia
T60-87 Clayton Kershaw
T60-88 Mark Teixeira
T60-89 Jered Weaver
T60-90 Greg Maddux
T60-91 David Ortiz
T60-92 Alfonso Soriano
T60-93 Carlos Gonzalez
T60-94 Torii Hunter
T60-95 Jon Lester
T60-96 Tim Lincecum
T60-97 Jackie Robinson
T60-98 Marlon Byrd
T60-99 Jacoby Ellsbury
T60-100 Albert Pujols
Kimball Champions
Re-creating the 1888 Kimball Champion cards (ACC Catalog: N-184), these mini-sized (1 15/32" X 2 11/16") cards will span all three series of 2011 Topps baseball. The first 50 cards highlighted legends of the game and current stars and appeared in Series One. The next 50, which are only cards of retired players and Hall of Famers, appeared in Series Two. The final 50 cards appeared in 2011 Topps Update.
Series One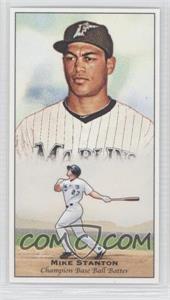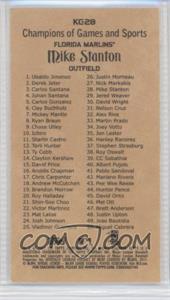 KC-1 Ubaldo Jimenez
KC-2 Derek Jeter
KC-3 Carlos Santana
KC-4 Johan Santana
KC-5 Carlos Gonzalez
KC-6 Clay Buchholz
KC-7 Mickey Mantle
KC-8 Ryan Braun
KC-9 Chase Utley
KC-10 Ichiro
KC-11 Starlin Castro
KC-12 Torii Hunter
KC-13 Ty Cobb
KC-14 Clayton Kershaw
KC-15 David Price
KC-16 Aroldis Chapman
KC-17 Chris Carpenter
KC-18 Andrew McCutchen
KC-19 Brandon Morrow
KC-20 Roy Halladay
KC-21 Shin-Soo Choo
KC-22 Victor Martinez
KC-23 Mat Latos
KC-24 Josh Johnson
KC-25 Vladimir Guererro
KC-26 Justin Morneau
KC-27 Nick Markakis
KC-28 Mike Stanton
KC-29 Jered Weaver
KC-30 David Wright
KC-31 Nelson Cruz
KC-32 Alex Rios
KC-33 Martin Prado
KC-34 Joey Votto
KC-35 Jon Lester
KC-36 Hanley Ramirez
KC-37 Stephen Strasburg
KC-38 Roy Oswalt
KC-39 CC Sabathia
KC-40 Albert Pujols
KC-41 Pablo Sandoval
KC-42 Mariano Rivera
KC-43 Pee Wee Reese
KC-44 Hunter Pence
KC-45 David Ortiz
KC-46 Mel Ott
KC-47 Brett Anderson
KC-48 Justin Upton
KC-49 Jose Bautista
KC-50 Miguel Cabrera
Series Two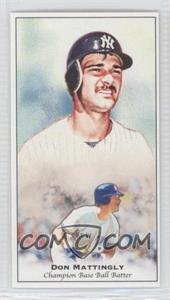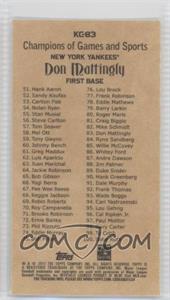 KC-51 Hank Aaron UER (Depicted in a Milwaukee Brewers uniform on front; "MILWAUKEE BRAVES" o
KC-52 Sandy Koufax
KC-53 Carlton Fisk
KC-54 Nolan Ryan
KC-55 Stan Musial
KC-56 Steve Carlton
KC-57 Tom Seaver
KC-57 Tom Seaver
KC-58 Mel Ott
KC-59 Tony Gwynn
KC-60 Johnny Bench
KC-61 Greg Maddux
KC-62 Luis Aparicio
KC-63 Juan Marichal
KC-64 Jackie Robinson
KC-65 Bob Gibson
KC-66 Yogi Berra
KC-67 Pee Wee Reese
KC-68 Reggie Jackson
KC-69 Robin Roberts
KC-70 Roy Campanella
KC-71 Brooks Robinson
KC-71 Brooks Robinson
KC-72 Ernie Banks
KC-73 Phil Rizzuto
KC-74 Eddie Murray
KC-75 Bob Feller
KC-76 Lou Brock
KC-77 Frank Robinson
KC-78 Eddie Mathews
KC-79 Barry Larkin
KC-80 Roger Maris
KC-81 Craig Biggio
KC-82 Mike Schmidt
KC-83 Don Mattingly
KC-84 Ryne Sandberg
KC-85 Willie McCovey
KC-86 Whitey Ford
KC-87 Andre Dawson
KC-88 Jim Palmer
KC-89 Duke Snider
KC-90 Hank Greenberg
KC-91 Dale Murphy
KC-92 Frank Thomas
KC-93 Wade Boggs
KC-94 Carl Yastrzemski
KC-95 Lou Gehrig
KC-96 Cal Ripken
KC-97 Paul Molitor
KC-98 Gary Carter
KC-99 Ty Cobb
KC-100 Babe Ruth
Diamond Duos
Series One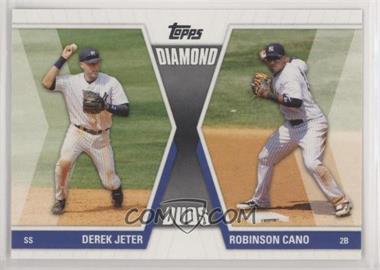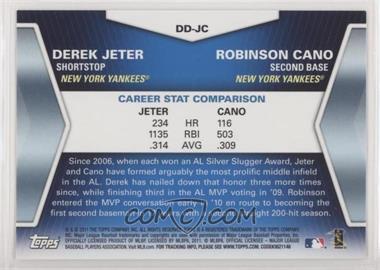 DD-BD Ryan Braun / Ike Davis
DD-BW Lance Berkman / Brett Wallace
DD-BY Wade Boggs / Kevin Youkilis
DD-CC Ty Cobb / Miguel Cabrera
DD-CS Steve Carlton / CC Sabathia
DD-GT Carlos Gonzalez / Troy Tulowitzki
DD-HF Jason Heyward / Freddie Freeman
DD-HG Josh Hamilton / Vladimir Guerrero
DD-HH Ryan Howard / Jason Heyward
DD-HHO Rogers Hornsby / Matt Holliday
DD-HJ Rickey Henderson / Desmond Jennings
DD-HM Tommy Hanson / Mike Minor
DD-JC Derek Jeter / Robinson Cano
DD-JJ Reggie Jackson / Adam Jones
DD-KA Ian Kinsler / Elvis Andrus
DD-KL Clayton Kershaw / Mat Latos
DD-KT Harmon Killebrew / Jim Thome
DD-LJ Barry Larkin / Derek Jeter
DD-LZ Evan Longoria / Ryan Zimmerman
DD-MH Greg Maddux / Jeremy Hellickson
DD-MP Joe Mauer / Buster Posey
DD-PC Albert Pujols / Miguel Cabrera
DD-PG David Price / Matt Garza
DD-RS Hanley Ramirez / Mike Stanton
DD-SC Tom Seaver / Aroldis Chapman
DD-TR Frank Thomas / Manny Ramirez
DD-TU Hisanori Takahashi / Koji Uehara
DD-UR Chase Utley / Jimmy Rollins
DD-US Justin Upton / Mike Stanton
DD-VG Joey Votto / Adrian Gonzalez
Series Two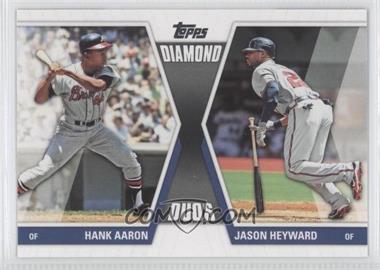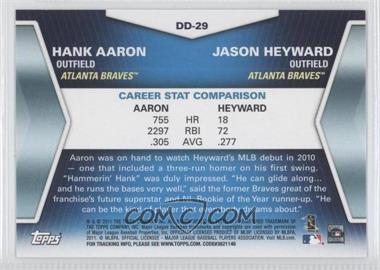 NOTE: The 30 Diamond Duos inserted into Update Series packs were erroneously sequentially-numbered DD-1 to DD-30, the same as the cards in Series Two. The only way to differentiate between the Series Two and Update Series cards is to turn the card over to the reverse. In the lower-right corner of the reverse, Series Two cards should have a production code of #3621146.
DD-1 Roy Halladay / Roy Oswalt
DD-2 Chase Utley / Robinson Cano
DD-3 Cliff Lee / Zack Greinke
DD-4 Adrian Gonzalez / Carl Crawford
DD-5 Dan Uggla / Jason Heyward
DD-6 Ryan Braun / Carlos Gonzalez
DD-7 Frank Thomas / Adam Dunn
DD-8 Zack Greinke / Yovani Gallardo
DD-9 Adrian Beltre / Elvis Andrus
DD-10 Adrian Gonzalez / Kevin Youkilis
DD-11 Carl Crawford / Jacoby Ellsbury
DD-12 Troy Tulowitzki / Hanley Ramirez
DD-13 Aroldis Chapman / Chris Sale
DD-14 Ryan Zimmerman / Jayson Werth
DD-15 Tim Lincecum / Brian Wilson
DD-16 Josh Hamilton / Joey Votto
DD-17 Buster Posey / Neftali Feliz
DD-18 Roy Halladay / Felix Hernandez
DD-19 Miguel Cabrera / Victor Martinez
DD-20 Clayton Kershaw / Madison Bumgarner
DD-21 David Price / Jon Lester
DD-22 Troy Tulowitzki / Ubaldo Jimenez
DD-23 Cliff Lee / CC Sabathia
DD-24 Andrew McCutchen / Pedro Alvarez
DD-25 Mark Teixeira / Adrian Gonzalez
DD-26 Alex Rodriguez / Evan Longoria
DD-27 Josh Johnson / Justin Verlander
DD-28 Albert Pujols / Matt Holliday
DD-29 Hank Aaron / Jason Heyward
DD-30 Sandy Koufax / Clayton Kershaw
Ticket to Toppstown
Cards that have the TT prefix are found in series one, while TT2 are from series two. The toppstown.com website has long expired.
Series One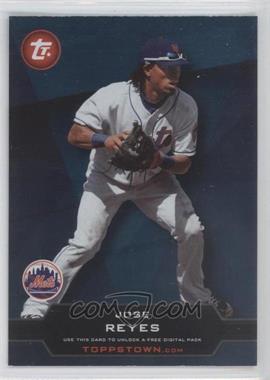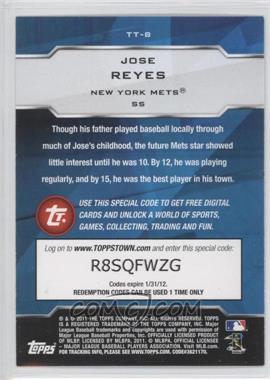 TT-1 Miguel Cabrera
TT-2 Dan Haren
TT-3 Brett Wallace
TT-4 Brett Anderson
TT-5 Roy Halladay
TT-6 Vernon Wells
TT-7 Joe Mauer
TT-8 Jose Reyes
TT-9 Adam Jones
TT-10 Josh Hamilton
TT-11 Chris Young
TT-12 Mat Latos
TT-13 Chase Utley
TT-14 Shin-Soo Choo
TT-15 David Wright
TT-16 Nick Markakis
TT-17 Aroldis Chapman
TT-18 Ryan Zimmerman
TT-19 Andrew McCutchen
TT-20 Ichiro
TT-21 Starlin Castro
TT-22 Jason Heyward
TT-23 Evan Longoria
TT-24 Josh Johnson
TT-25 Ryan Howard
TT-26 Matt Garza
TT-27 Andre Ethier
TT-28 David Ortiz
TT-29 Carlos Gonzalez
TT-30 Ryan Braun
TT-31 Manny Ramirez
TT-32 Mike Stanton
TT-33 Victor Martinez
TT-34 Felix Hernandez
TT-35 David Price
TT-36 Robinson Cano
TT-37 Billy Butler
TT-38 Justin Verlander
TT-39 Adrian Gonzalez
TT-40 Buster Posey
TT-41 Carlos Santana
TT-42 Kevin Youkilis
TT-43 Vladimir Guerrero
TT-44 Ubaldo Jimenez
TT-45 Hanley Ramirez
TT-46 Joey Votto
TT-47 Dustin Pedroia
TT-48 Troy Tulowitzki
TT-49 CC Sabathia
TT-50 Albert Pujols
Series Two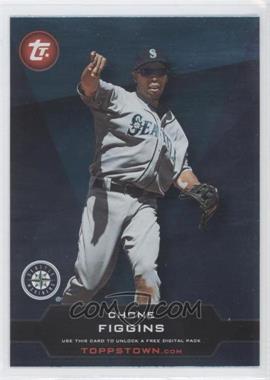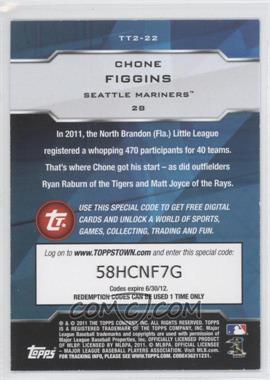 TT2-1 Tim Lincecum
TT2-2 Mark Reynolds
TT2-3 Cliff Lee
TT2-4 Logan Morrison
TT2-5 Grady Sizemore
TT2-6 Todd Helton
TT2-7 Adrian Gonzalez
TT2-8 Ryan Ludwick
TT2-9 Dan Uggla
TT2-10 Justin Upton
TT2-11 Kendry Morales
TT2-12 Justin Morneau
TT2-13 Zack Greinke
TT2-14 Derek Jeter
TT2-15 Jose Bautista
TT2-16 Adam Wainwright
TT2-17 Nelson Cruz
TT2-18 Brandon Phillips
TT2-19 Victor Martinez
TT2-20 Clayton Kershaw
TT2-21 Adam Dunn
TT2-22 Chone Figgins
TT2-23 Matt Holliday
TT2-24 Neftali Feliz
TT2-25 Pedro Alvarez
TT2-26 Trevor Cahill
TT2-27 Mark Teixeira
TT2-28 Aramis Ramirez
TT2-29 Chris Coghlan
TT2-30 Carl Crawford
TT2-31 Jon Lester
TT2-32 Cole Hamels
TT2-33 Austin Jackson
TT2-34 Ike Davis
TT2-35 Ian Kinsler
TT2-36 Hunter Pence
TT2-37 Jeremy Hellickson
TT2-38 Brian Matusz
TT2-39 Clay Buchholz
TT2-40 Lance Berkman
TT2-41 Angel Pagan
TT2-42 Torii Hunter
TT2-43 Chris Carpenter
TT2-44 B.J. Upton
TT2-45 Martin Prado
TT2-46 Roy Oswalt
TT2-47 Jay Bruce
TT2-48 Joakim Soria
TT2-49 Jayson Werth
TT2-50 Phil Hughes
CMG Reprints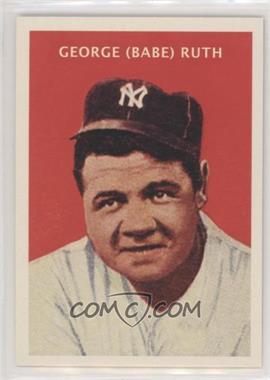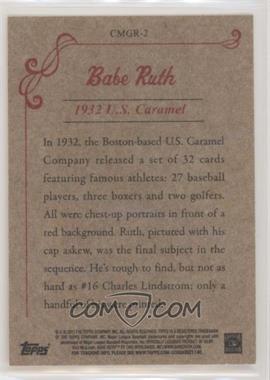 This Series One set is a retrospective showcasing the world of pre-Topps vintage baseball cards. It is so named for CMG Worldwide, the marketing firm which owns the licensing rights to these players and other various dead celebrities.
It should be noted that the "Goudey" and "Sport Kings" trademarks are currently held by other trading card companies.
CMGR-1 Babe Ruth 1914 Baltimore News
CMGR-2 Babe Ruth 1932 U.S. Caramel
CMGR-3 Hank Greensburg 1934 Goudey
CMGR-4 Babe Ruth 1916 Sporting News
CMGR-5 Babe Ruth 1934 Sport Kings
CMGR-6 Christy Mathewson 1911 T205
CMGR-7 Christy Mathewson 1914 Cracker Jack
CMGR-8 Cy Young 1911 T205
CMGR-9 George Sisler 1921 National Caramel
CMGR-10 Honus Wagner 1909 T206
CMGR-11 Honus Wagner 1910 Tip Top Bread
CMGR-12 Honus Wagner 1910 Standard Caramel
CMGR-13 Honus Wagner 1903 Breisch-Williams
CMGR-14 Jackie Robinson 1941 Bowman
CMGR-15 Jimmie Foxx 1934 Goudey
CMGR-16 Jimmie Foxx 1933 DeLong
CMGR-17 Jimmie Foxx 1934 Diamond Stars
CMGR-18 Johnny Mize/Enos Slaughter 1941 Double Play
CMGR-19 Lou Gehrig 1933 Goudey
CMGR-20 Lou Gehrig 1932 U.S. Caramel
CMGR-21 Lou Gehrig 1933 DeLong
CMGR-22 Mel Ott 1933 Goudey
CMGR-23 Rogers Hornsby 1932 U.S. Caramel
CMGR-24 Tris Speaker 1914 Cracker Jack
CMGR-25 Ty Cobb 1914 Cracker Jack
CMGR-26 Ty Cobb 1932 U.S. Caramel
CMGR-27 Ty Cobb 1911 General Baking Co.
CMGR-28 Ty Cobb 1916 Sporting News
CMGR-29 Ty Cobb 1911 T205
CMGR-30 Walter Johnson 1909 T204
History of Topps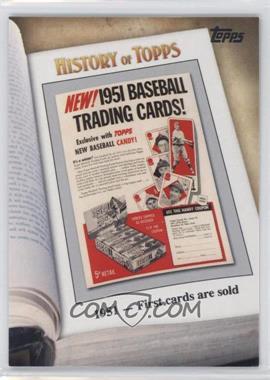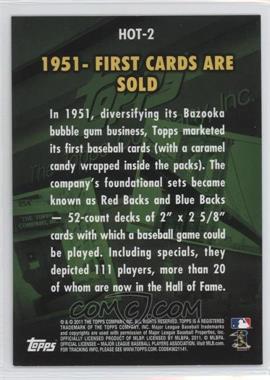 Exclusive to Series One, these cards contain an overview of Topps from its nascence, and the milestones and events that complete its history.
HOT-1 Topps is founded by the Shorin family
HOT-2 First cards are sold 1951
HOT-3 Sy Berger creates the first complete set 1952
HOT-4 Topps sets the card size standard 1957
HOT-5 Topps goes public 1972
HOT-6 First Topps Traded set 1974
HOT-7 Topps re-introduce Bowman 1989
HOT-8 Topps moves from Brooklyn to NYC 1994
HOT-9 Eisner & Co. buy into Topps 2007
HOT-10 Topps receives MLB exclusive 2009
Before There Was Topps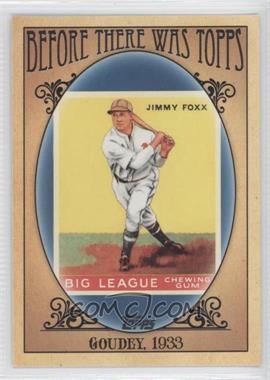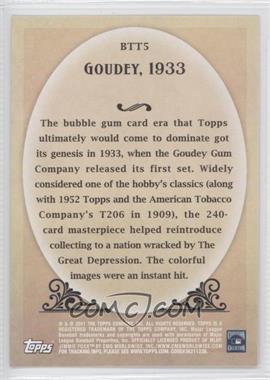 Exclusive to Series Two, this seven-card set showcases the world of vintage baseball culminating with the founding of Topps.
BTT1 Honus Wagner T-206
BTT2 Christy Mathewson T-206
BTT3 Walter Johnson T-201
BTT4 Babe Ruth 1921 Exhibit
BTT5 Jimmie Foxx 1933 Goudey
BTT6 Mel Ott 1939 Play Ball
BTT7 Stan Musial 1948 Bowman
Diamond Stars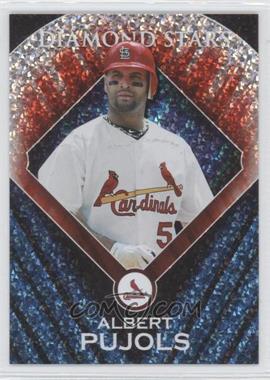 DS-1 Evan Longoria
DS-2 Troy Tulowitzki
DS-3 Joe Mauer
DS-4 Adrian Gonzalez
DS-5 Joey Votto
DS-6 Buster Posey
DS-7 Chase Utley
DS-8 David Wright
DS-9 Hanley Ramirez
DS-10 Albert Pujols
DS-11 Roy Halladay
DS-12 Alex Rodriguez
DS-13 Jason Heyward
DS-14 Miguel Cabrera
DS-15 Cliff Lee
DS-16 Felix Hernandez
DS-17 Matt Holliday
DS-18 Robinson Cano
DS-19 Josh Hamilton
DS-20 Ichiro
DS-21 Carl Crawford
DS-22 Ryan Howard
DS-23 Josh Johnson
DS-24 Ryan Braun
DS-25 Carlos Gonzalez
Blue Diamond
Blue Diamonds are exclusive to loose packs sold exclusively at Wal-Mart stores.
Series One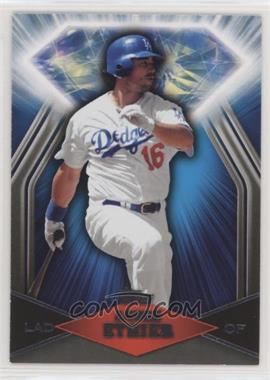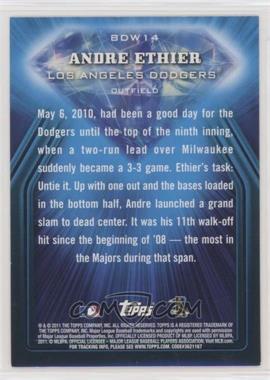 BDW1 Albert Pujols
BDW2 Derek Jeter
BDW3 Mat Latos
BDW4 Hanley Ramirez
BDW5 Miguel Cabrera
BDW6 Aroldis Chapman
BDW7 Chase Utley
BDW8 Ryan Braun
BDW9 David Price
BDW10 Joey Votto
BDW11 David Wright
BDW12 Carlos Gonzalez
BDW13 David Ortiz
BDW14 Andre Either
BDW15 Roy Halladay
Series Two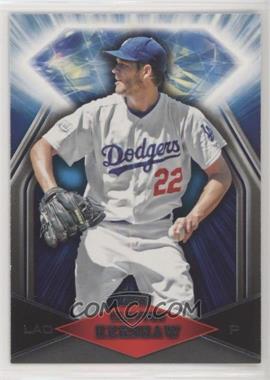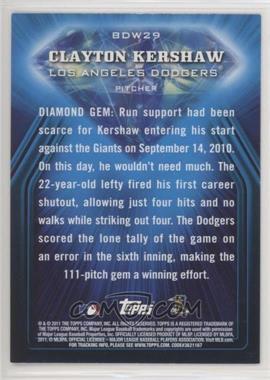 BDW16 Cliff Lee
BDW17 Dan Uggla
BDW18 Mark Teixeira
BDW19 Felix Hernandez
BDW20 Buster Posey
BDW21 Ryan Zimmerman
BDW22 Ian Kinsler
BDW23 Mike Stanton
BDW24 Troy Tulowitzki
BDW25 Zack Greinke
BDW26 Pedro Alvarez
BDW27 Jon Lester
BDW28 Justin Upton
BDW29 Clayton Kershaw
BDW30 Carl Crawford
Red Diamond
Red Diamonds are exclusive to loose packs sold at Target stores.
Series One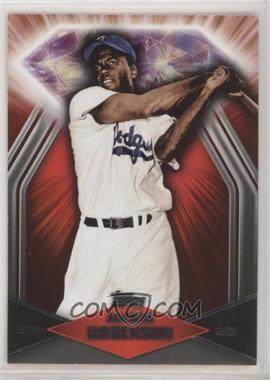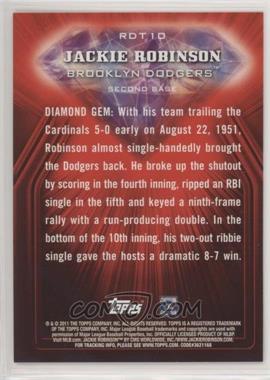 RDT1 Babe Ruth
RDT2 Derek Jeter
RDT3 Ty Cobb
RDT4 Josh Hamilton
RDT5 Albert Pujols
RDT6 Jason Heyward
RDT7 Mickey Mantle
RDT8 Ryan Braun
RDT9 Honus Wagner
RDT10 Jackie Robinson
RDT11 Roy Halladay
RDT12 Carlos Gonzalez
RDT13 Ichiro
RDT14 Roy Campanella
RDT15 Miguel Cabrera
Series Two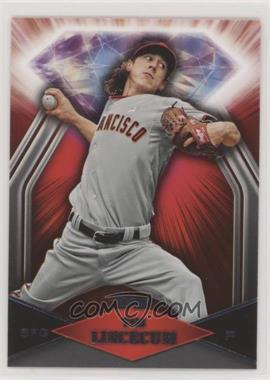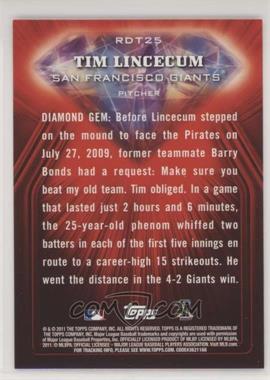 RDT16 Adrian Gonzalez
RDT17 CC Sabathia
RDT18 Ryan Howard
RDT19 Adrian Beltre
RDT20 Sandy Koufax
RDT21 Evan Longoria
RDT22 Robinson Cano
RDT23 Adam Dunn
RDT24 Joe Mauer
RDT25 Tim Lincecum
RDT26 Victor Martinez
RDT27 Ubaldo Jimenez
RDT28 Matt Holliday
RDT29 Josh Johnson
RDT30 Hank Aaron
Purple Diamond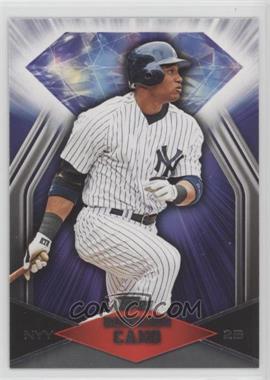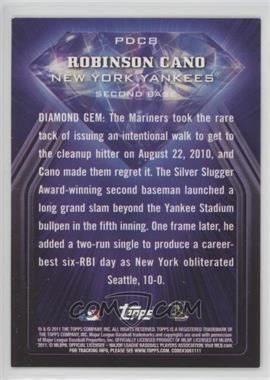 This ten-card set is exclusive to series one blister packs sold at Toys 'Я' Us.
PDC1 Buster Posey
PDC2 Troy Tulowitzki
PDC3 Evan Longoria
PDC4 Tim Lincecum
PDC5 Alex Rodriguez
PDC6 CC Sabathia
PDC7 Joe Mauer
PDC8 Robinson Cano
PDC9 Starlin Castro
PDC10 Ryan Howard
Sapphire Blue
This 30-card set is exclusive to special-marked "Hanger" packs sold at Wal-Mart stores. The checklist is identical to the Target-exclusive Red Diamond inserts.
Series One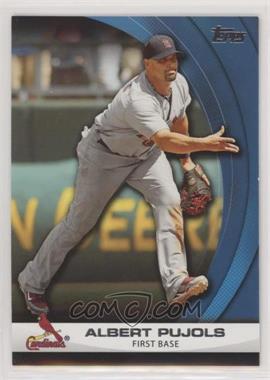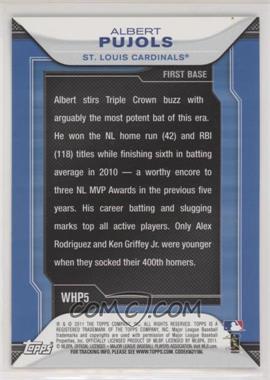 WHP1 Babe Ruth
WHP2 Derek Jeter
WHP3 Ty Cobb
WHP4 Josh Hamilton
WHP5 Albert Pujols
WHP6 Jason Heyward
WHP7 Mickey Mantle
WHP8 Ryan Braun
WHP9 Honus Wagner
WHP10 Jackie Robinson
WHP11 Roy Halladay
WHP12 Carlos Gonzalez
WHP13 Ichiro
WHP14 Roy Campanella
WHP15 Miguel Cabrera
Series Two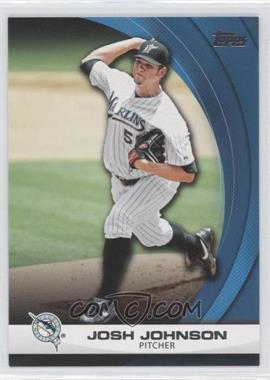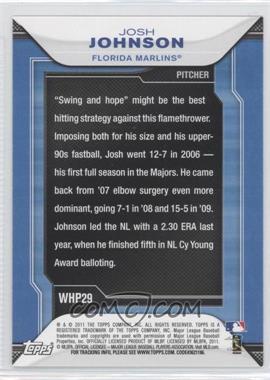 WHP16 Adrian Gonzalez
WHP17 CC Sabathia
WHP18 Ryan Howard
WHP19 Adrian Beltre
WHP20 Sandy Koufax
WHP21 Evan Longoria
WHP22 Robinson Cano
WHP23 Adam Dunn
WHP24 Joe Mauer
WHP25 Tim Lincecum
WHP26 Victor Martinez
WHP27 Ubaldo Jimenez
WHP28 Matt Holliday
WHP29 Josh Johnson
WHP30 Hank Aaron
Ruby Red
This 30-card set is exclusive to special-marked "Hanger" pack sold at Target stores. The checklist is identical to the Wal-Mart-exclusive Blue Diamond inserts.
Series One
THP1 Albert Pujols
THP2 Derek Jeter
THP3 Mat Latos
THP4 Hanley Ramirez
THP5 Miguel Cabrera
THP6 Aroldis Chapman
THP7 Chase Utley
THP8 Ryan Braun
THP9 David Price
THP10 Joey Votto
THP11 David Wright
THP12 Carlos Gonzalez
THP13 David Ortiz
THP14 Andre Either
THP15 Roy Halladay
Series Two
THP16 Cliff Lee
THP17 Dan Uggla
THP18 Mark Teixeira
THP19 Felix Hernandez
THP20 Buster Posey
THP21 Ryan Zimmerman
THP22 Ian Kinsler
THP23 Mike Stanton
THP24 Troy Tulowitzki
THP25 Zack Greinke
THP26 Pedro Alvarez
THP27 Jon Lester
THP28 Justin Upton
THP29 Clayton Kershaw
THP30 Carl Crawford
Diamond Giveaway Code Cards
Series One
TDG-1 Mickey Mantle
TDG-2 Jackie Robinson
TDG-3 Reggie Jackson
TDG-4 Albert Pujols
TDG-5 Derek Jeter
TDG-6 Roy Halladay
TDG-7 Derek Jeter
TDG-8 Albert Pujols
TDG-9 Ryan Howard
TDG-10 Tim Lincecum
Series Two
TDG-11 Tony Gwynn
TDG-12 Mike Schmidt
TDG-13 Nolan Ryan
TDG-14 Jason Heyward
TDG-15 Troy Tulowitzki
TDG-16 Buster Posey
TDG-17 Ryan Braun
TDG-18 Evan Longoria
TDG-19 Joe Mauer
TDG-20 Kevin Youkilis
Chrome Legends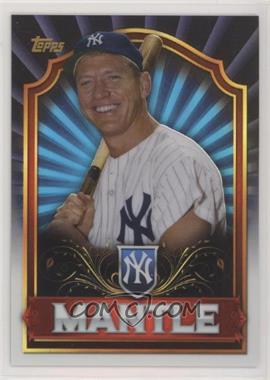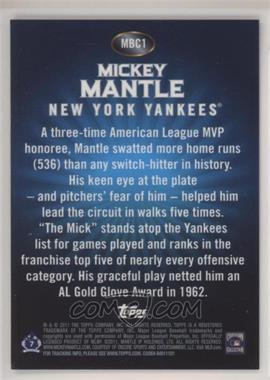 Cards are seeded one per specially marked Wal-Mart value boxes. Each value box contains five packs of 2011 Topps Series One, two packs of 2011 Topps Heritage, a Diamond Giveaway code card, and a book on collecting baseball cards.
MBC1 Babe Ruth
MBC2 Jackie Robinson
MBC3 Mickey Mantle
Prime 9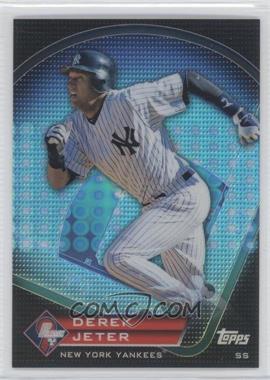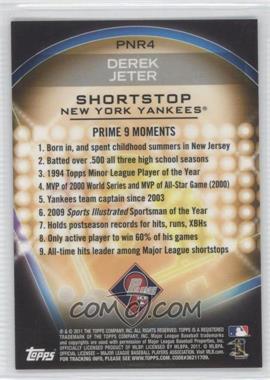 Randomly inserted into Series Two Hobby and HTA Jumbo packs are nine redemption cards each numbered 1-9. Beginning July 18th, and each Monday thereafter, will announce a "Prime 9 Player of the Week" on their Facebook page. Collectors holding the Prime 9 card for their respective week can redeem it at a participating Topps Home Team Advantage (HTA) Hobby shop for a special chromium-stock Refractor card.
Each redeemed card will enroll the collector into a sweepstakes. Among the prizes being offered include a trip to the 2012 World Series and a tour of the MLB Network studios in New Jersey.
It should be noted that packs containing all nine cards were shipped to dealers in early-July, and almost immediately complete sets and singles began showing up on eBay.
PNR1 Johnny Bench
PNR2 Albert Pujols
PNR3 Jackie Robinson
PNR4 Derek Jeter
PNR5 Mike Schmidt
PNR6 Hank Aaron
PNR7 Mickey Mantle
PNR8 Ichiro
PNR9 Sandy Koufax
Diamond Die-Cuts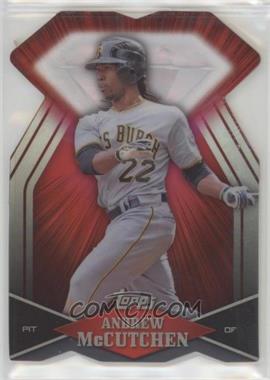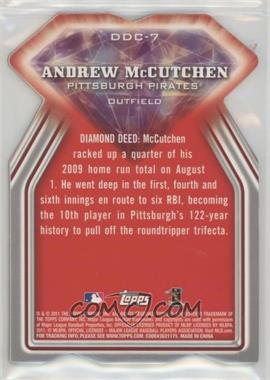 This massive 155-card insert set features a current or legendary star on an alluring holographic design enhanced by a die-cut emulating a diamond. These cards are can only be unlocked via code cards randomly inserted into packs as part of the Topps 60th Anniversary Diamond Giveaway promotion.
As part of an on-line promotion announced in June 2011, three additional cards (a 2011 rookie, an active player and a retired legend) were added to the set. Collectors could vote to select the three new players on Topps' Facebook page. It appears that, instead of three, five cards (#DDC-151-#DDC-155) were added to the set.
Each card is also available in a Black Diamond parallel, which was serial-numbered to 60 copies.
DDC1 Ryan Braun
DDC-2 Mickey Mantle
DDC3 Aaron Hill
DDC4 Tim Hudson
DDC-5 CC Sabathia
DDC6 Shin-Soo Choo
DDC7 Andrew McCutchen
DDC-8 Hank Aaron
DDC-9 Max Scherzer
DDC10 Miguel Cabrera
DDC-11 Brian Matusz
DDC12 Jackie Robinson
DDC13 Chipper Jones
DDC14 Johan Santana
DDC15 Andre Ethier
DDC-16 Justin Upton
DDC-17 Johnny Cueto
DDC-18 Gordon Beckham
DDC-19 Alex Rios
DDC20 Nolan Ryan
DDC21 Rickey Henderson
DDC22 Carlos Marmol
DDC23 Matt Cain
DDC-24 Adam Wainwright
DDC25 Vladimir Guerrero
DDC-26 Mike Minor
DDC-27 Ricky Romero
DDC28 Delmon Young
DDC29 Brett Anderson
DDC30 Evan Longoria
DDC-31 Brett Wallace
DDC32 Cal Ripken
DDC33 Tommy Hanson
DDC34 Mark Buehrle
DDC35 Mariano Rivera
DDC-36 Stephen Drew
DDC-37 Ubaldo Jimenez
DDC-38 Alexei Ramirez
DDC39 Thurman Munson
DDC40 Felix Hernandez
DDC-41 Adrian Beltre
DDC42 Ian Kinsler
DDC-43 Billy Butler
DDC-44 Carlos Ruiz
DDC45 Stephen Strasburg
DDC46 Vernon Wells
DDC47 Ian Desmond
DDC-48 Matt Holliday
DDC-49 Ike Davis
DDC-50 Ryan Howard
DDC-51 Andrew Bailey
DDC52 David Ortiz
DDC-53 Jimmy Rollins
DDC54 Ernie Banks
DDC55 Ryan Zimmerman
DDC56 Alex Rodriguez
DDC57 Brian McCann
DDC58 Tim Lincecum
DDC59 Fredie Freeman
DDC60 David Wright
DDC61 Carlos Quentin
DDC62 Adam Jones
DDC-63 Brandon Morrow
DDC-64 Chris Sale
DDC-65 Reggie Jackson
DDC66 Carl Yastrzemski
DDC-67 Sandy Koufax
DDC68 Nick Markakis
DDC69 Jair Jurrjens
DDC-70 Josh Hamilton
DDC71 Prince Fielder
DDC72 Cole Hamels
DDC-73 Kelly Johnson
DDC74 Colby Rasmus
DDC75 Tony Gwynn
DDC76 Hank Greenberg
DDC77 Tom Seaver
DDC78 Bob Gibson
DDC-79 Fausto Carmona
DDC-80 Joe Mauer
DDC81 Jose Bautista
DDC82 Yunel Escobar
DDC-83 Jeremy Hellickson
DDC-84 Josh Beckett
DDC-85 Hanley Ramirez
DDC-86 Yadier Molina
DDC-87 Corey Hart
DDC-88 Hunter Pence
DDC89 Roger Maris
DDC90 Ichiro Suzuki
DDC91 Martin Prado
DDC-92 Starlin Castro
DDC-93 Kendry Morales
DDC-94 Marlon Byrd
DDC-95 Domonic Brown
DDC-96 Dave Winfield
DDC97 Wade Boggs
DDC-98 Heath Bell
DDC99 Dan Haren
DDC100 Albert Pujols
DDC-101 Nelson Cruz
DDC-102 Yovani Gallardo
DDC-103 Howie Kendrick
DDC-104 Desmond Jennings
DDC105 Troy Tulowitzki
DDC-106 Gaby Sanchez
DDC-107 Joakim Soria
DDC108 Clayton Kershaw
DDC109 Mike Schmidt
DDC-110 Roy Halladay
DDC111 Jered Weaver
DDC-112 Babe Ruth
DDC-113 Wandy Rodriguez
DDC-114 Torii Hunter
DDC115 Josh Johnson
DDC116 Justin Verlander
DDC117 Clay Buchholz
DDC118 Danny Valencia
DDC119 Kurt Suzuki
DDC120 David Price
DDC-121 Daniel Hudson
DDC-122 Neftali Feliz
DDC-123 Michael Young
DDC124 Jose Reyes
DDC125 Robinson Cano
DDC-126 Billy Wagner
DDC-127 Miguel Montero
DDC-128 Kevin Youkilis
DDC-129 Austin Jackson
DDC-130 Chase Utley
DDC-131 Rickie Weeks
DDC-132 Manny Ramirez
DDC133 Carlos Santana
DDC-134 Aramis Ramirez
DDC-135 Jason Heyward
DDC-136 Chris Young
DDC-137 Tyler Colvin
DDC138 Jon Jay
DDC139 Nick Swisher
DDC140 Mark Teixeira
DDC-141 Jose Tabata
DDC-142 Francisco Liriano
DDC-143 Mike Stanton
DDC144 Grady Sizemore
DDC-145 Justin Morneau
DDC146 Jon Lester
DDC147 Chris Carpenter
DDC-148 Mark Reynolds
DDC149 Scott Rolen
DDC-150 Carlos Gonzalez
DDC-151 Derek Jeter
DDC-152 Lou Gehrig
DDC-153 Ryne Sandberg
DDC-154 Jay Bruce
DDC-155 Eric Hosmer
Black Diamond Wrapper Redemptions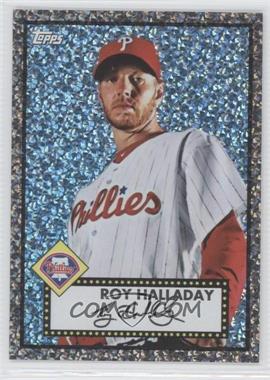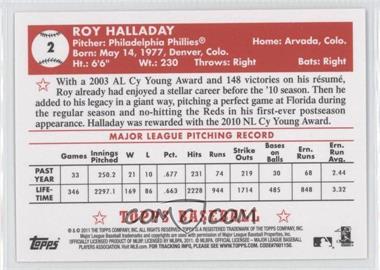 As part of a wrapper redemption program, collectors who send in a full Hobby (36) or HTA box (10) full of 2011 Topps Series One wrappers, will receive a pack of five Black Diamond redemption cards. Each card in the 60-card set is done in the style of 1952 Topps and have a "Black Diamond" background. Randomly inserted into these packs, will be 34 on-card autographs of players who appeared in the 1952 Topps set (see below for checklist).
Hobby and Jumbo wrappers need to be mailed separately, by August 8th, 2011.
1 Cliff Lee
2 Roy Halladay
3 Zack Greinke
4 David Wright
5 Justin Upton
6 Joey Votto
7 CC Sabathia
8 Ichiro
9 Jered Weaver
10 Adrian Gonzalez
11 Albert Pujols
12 Joe Mauer
13 Adam Dunn
14 Ryan Zimmerman
15 Adam Jones
16 Tim Lincecum
17 Carlos Gonzalez
18 Mark Teixeira
19 Mat Latos
20 Ubaldo Jimenez
21 Prince Fielder
22 Victor Martinez
23 Ian Kinsler
24 Dan Uggla
25 Justin Morneau
26 Brian McCann
27 Josh Johnson
28 Roy Oswalt
29 Chase Utley
30 Jose Reyes
31 Felix Hernandez
32 Alex Rodriguez
33 Troy Tulowitzki
34 Dustin Pedroia
35 Adam Wainwright
36 David Price
37 Jon Lester
38 Josh Hamilton
39 Aroldis Chapman
40 Jason Heyward
41 Ryan Braun
42 Matt Holliday
43 Buster Posey
44 Nick Markakis
45 Kevin Youkilis
46 Clayton Kershaw
47 Evan Longoria
48 Andre Ethier
49 Hanley Ramirez
50 Robinson Cano
51 Andrew McCutchen
52 Martin Prado
53 Carl Crawford
54 Derek Jeter
55 Torii Hunter
56 Mark Reynolds
57 Miguel Cabrera
58 Mike Stanton
59 Starlin Castro
60 Ryan Howard
Factory Set All-Star Bonus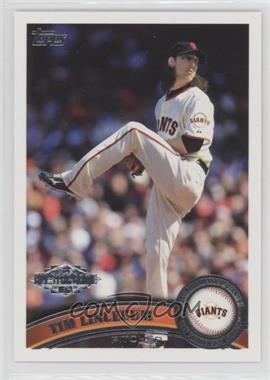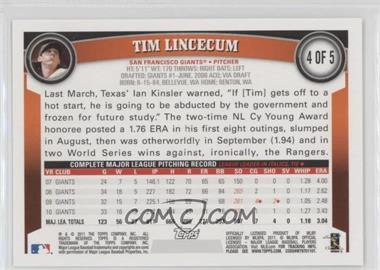 This five-card set was included in special All-Star Game edition factory sets. Each card is foil-stamped with the 2011 All-Star Game logo on the front and sequentially-numbered "X of 5" on the back.
1 Albert Pujols
2 Ichiro
3 Roy Halladay
4 Tim Lincecum
5 Adrian Gonzalez
Factory Set Babe Ruth Gold Refractor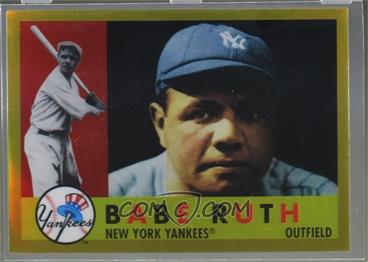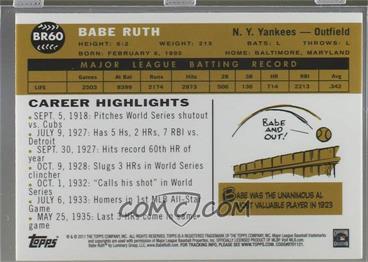 One of these three Gold Refractors was inserted into each specially-marked factory set sold at Target stores.
BR58 Babe Ruth
BR59 Babe Ruth
BR60 Babe Ruth
Factory Set Mickey Mantle Gold Refractor Reprints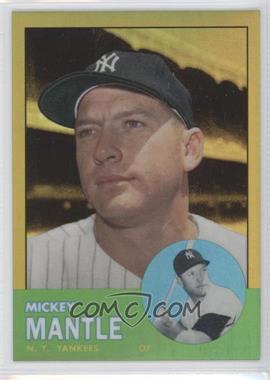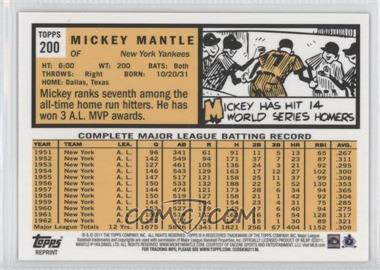 One of these three Gold Refractor Reprints was inserted into each specially-marked factory set sold at Wal-Mart.
Manufactured Relics
Glove Leather
NOTE: Each card features a swatch of baseball glove-style leather. Unlike the Series One cards, all players in Series Two are retired. These manufactured "relics" are NOT game-used, and each is available in the following parallels.
Black (serial-numbered to 99 copies)
Gold (Series 1, one-of-one)
Nickname (Series 2, one-of-one)
Series One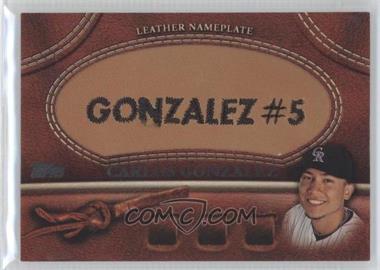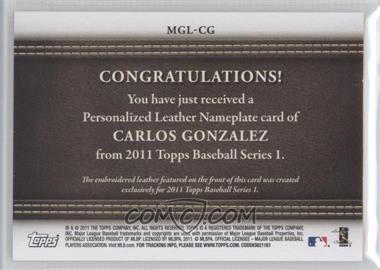 MGL-AE Andre Ethier
MGL-AG Adrian Gonzalez
MGL-AM Andrew McCutchen
MGL-AP Albert Pujols
MGL-AR Alex Rodriguez
MGL-AW Adam Wainwright
MGL-BB Billy Butler
MGL-BP Buster Posey
MGL-CC Carl Crawford
MGL-CCS CC Sabathia
MGL-CG Carlos Gonzalez
MGL-CK Clayton Kershaw
MGL-CU Chase Utley
MGL-DJ Derek Jeter
MGL-DP David Price
MGL-DW David Wright
MGL-EL Evan Longoria
MGL-FH Felix Hernandez
MGL-HP Hunter Pence
MGL-HR Hanley Ramirez
MGL-IS Ichiro
MGL-JH Josh Hamilton
MGL-JHE Jason Heyward
MGL-JJ Josh Johnson
MGL-JL Jon Lester
MGL-JM Joe Mauer
MGL-JU Justin Upton
MGL-JV Joey Votto
MGL-JVE Justin Verlander
MGL-MC Miguel Cabrera
MGL-MH Matt Holliday
MGL-ML Matt Latos
MGL-MP Martin Prado
MGL-MS Mike Stanton
MGL-MT Mark Teixeira
MGL-NC Nelson Cruz
MGL-NM Nick Markakis
MGL-RB Ryan Braun
MGL-RC Robinson Cano
MGL-RH Ryan Howard
MGL-RHA Roy Halladay
MGL-RZ Ryan Zimmerman
MGL-SC Starlin Castro
MGL-SS Stephen Strasburg
MGL-SSC Shin-Soo Choo
MGL-TC Trevor Cahill
MGL-TH Torii Hunter
MGL-TL Tim Lincecum
MGL-UJ Ubaldo Jimenez
MGL-VM Victor Martinez
Series Two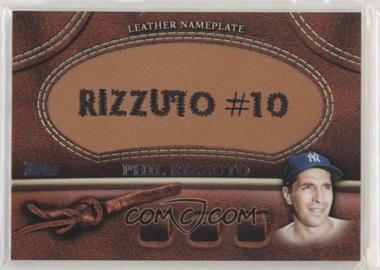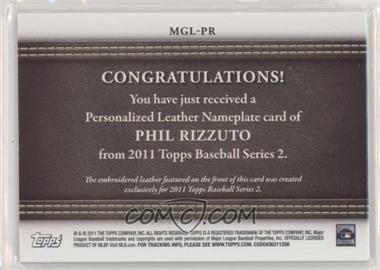 MGL-AD Andre Dawson
MGL-BF Bob Feller
MGL-BG Bob Gibson
MGL-BM Bill Mazeroski
MGL-BR Babe Ruth
MGL-BRO Brooks Robinson
MGL-CF Carlton Fisk
MGL-CR Cal Ripken, Jr.
MGL-CY Carl Yastrzemski
MGL-DM Don Mattingly
MGL-DMU Dale Murphy
MGL-EM Eddie Murray
MGL-FJ Fergie Jenkins
MGL-FR Frank Robinson
MGL-FT Frank Thomas
MGL-GM Greg Maddux
MGL-HA Hank Aaron
MGL-HG Hank Greenberg
MGL-HK Harmon Killebrew
MGL-JB Johnny Bench
MGL-JF Jimmie Foxx
MGL-JH Jim Hunter
MGL-JM Johnny Mize
MGL-JMA Juan Marichal
MGL-JP Jim Palmer
MGL-LA Luis Aparicio
MGL-LG Lou Gehrig
MGL-MI Monte Irvin
MGL-MM Mickey Mantle
MGL-MO Mel Ott
MGL-MS Mike Schmidt
MGL-NR Nolan Ryan
MGL-OC Orlando Cepeda
MGL-OS Ozzie Smith
MGL-PN Phil Niekro
MGL-PR Phil Rizzuto
MGL-RA Richie Ashburn
MGL-RC Roy Campanella
MGL-RH Rogers Hornsby
MGL-RHE Ricky Henderson
MGL-RJ Reggie Jackson
MGL-RS Ryne Sandberg
MGL-SK Sandy Koufax
MGL-SM Stan Musial
MGL-TG Tony Gwynn
MGL-TM Thurman Munson
MGL-TS Tom Seaver
MGL-WF Whitey Ford
MGL-WM Willie McCovey
MGL-WS Willie Stargell
Throwback Commemorative Patches
These manufactured patch cards are exclusive to Blaster boxes and feature an embroidered "Throwback" team logo.
Series One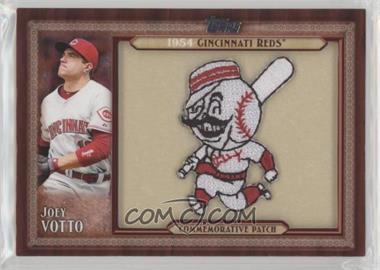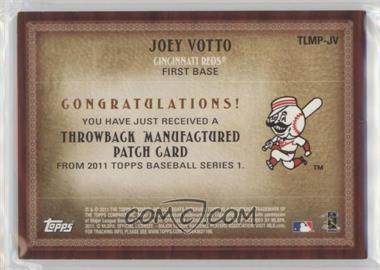 TLMP-AE Andre Either
TLMP-AG Adrian Gonzalez
TLMP-AJ Adam Jones
TLMP-AM Andrew McCutchen
TLMP-AP Albert Pujols
TLMP-AW Adam Wainwright
TLMP-BM Brandon Morrow
TLMP-BMA Brian Matusz
TLMP-BP Buster Posey
TLMP-CH Cole Hamels
TLMP-CK Clayton Kershaw
TLMP-CS Carlos Santana
TLMP-CU Chase Utley
TLMP-DJ Derek Jeter
TLMP-DO David Ortiz
TLMP-DW David Wright
TLMP-EL Evan Longoria
TLMP-FH Felix Hernandez
TLMP-GG Gio Gonzalez
TLMP-HP Hunter Pence
TLMP-ID Ian Desmond
TLMP-IDA Ike Davis
TLMP-ISU Ichiro
TLMP-ISU Ichiro
TLMP-JB Josh Bell
TLMP-JH Jason Heyward
TLMP-JHA Josh Hamilton
TLMP-JM Joe Mauer
TLMP-JR Jose Reyes
TLMP-JU Justin Upton
TLMP-JV Joey Votto
TLMP-KS Kurt Suzuki
TLMP-KU Koji Uehara
TLMP-MC Miguel Cabrera
TLMP-MH Matt Holliday
TLMP-ML Mat Latos
TLMP-MR Manny Ramirez
TLMP-NM Nick Markakis
TLMP-PS Pablo Sandoval
TLMP-RH Roy Halladay
TLMP-RHO Ryan Howard
TLMP-RZ Ryan Zimmerman
TLMP-SC Starlin Castro
TLMP-SS Stephen Strasburg
TLMP-SSC Shin-Soo Choo
TLMP-TC Trevor Cahill
TLMP-TH Torii Hunter
TLMP-THA Tommy Hanson
TLMP-TL Tim Lincecum
TLMP-VW Vernon Wells
Series Two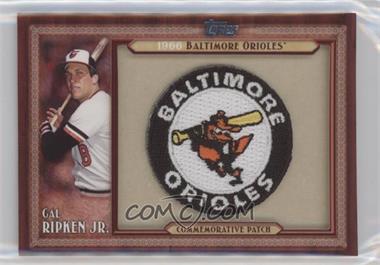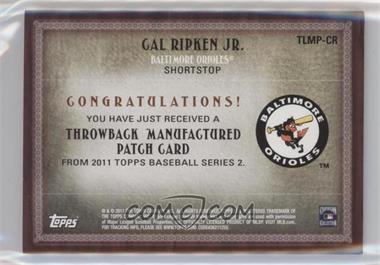 TLMP- AC Aroldis Chapman
TLMP- AG Adrian Gonzalez
TLMP- AM Andrew McCutchen
TLMP- AP Albert Pujols
TLMP- BA Brett Anderson
TLMP- BF Bob Feller
TLMP- BM Brian McCann
TLMP- BP Buster Posey
TLMP- BR Brian Roberts
TLMP- BW Brian Wilson
TLMP- CB Chad Billingsley
TLMP- CL Cliff Lee
TLMP- CLE Carlos Lee
TLMP- CR Cal Ripken, Jr.
TLMP- DL Derrek Lee
TLMP- DW David Wright
TLMP- FH Felix Hernandez
TLMP- GS Grady Sizemore
TLMP- HA Hank Aaron
TLMP- IK Ian Kinsler
TLMP- IS Ichiro
TLMP- ISU Ichiro
TLMP- JB Jose Bautista
TLMP- JP Jim Palmer
TLMP- JR Jose Reyes
TLMP- JW Jered Weaver
TLMP- JWE Jayson Werth
TLMP- JWR Jayson Werth
TLMP- MB Madison Bumgarner
TLMP- MG Matt Garza
TLMP- MK Matt Kemp
TLMP- ML Mat Latos
TLMP- MP Martin Prado
TLMP- MR Mark Reynolds
TLMP- MS Mike Schmidt
TLMP- NR Nolan Ryan
TLMP- NRY Nolan Ryan
TLMP- PA Pedro Alvarez
TLMP- PF Prince Fielder
TLMP- RA Roberto Alomar
TLMP- RAL Roberto Alomar
TLMP- RB Ryan Braun
TLMP- RC Robinson Cano
TLMP- RH Rickey Henderson
TLMP- RJ Reggie Jackson
TLMP- RZ Ryan Zimmerman
TLMP- RZI Ryan Zimmerman
TLMP- SD Stephen Drew
TLMP- TG Tony Gwynn
TLMP- TS Tom Seaver
Factory Set Mickey Mantle World Series Press Pin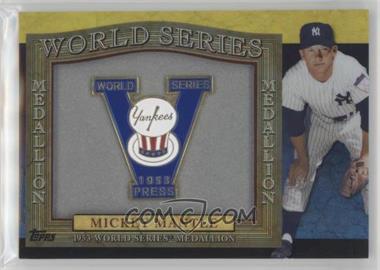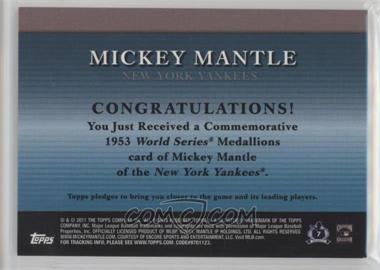 One Mickey Mantle World Series Press Pin card was included in specially-marked factory sets sold at Target stores.
Mickey Mantle 1953
Mickey Mantle 1956
Mickey Mantle 1961
Autographs & Game-Used
Topps 60
Relics
Each Topps 60 Relic is also available in a Platinum Diamond parallel serial-numbered to 99 copies.
Series One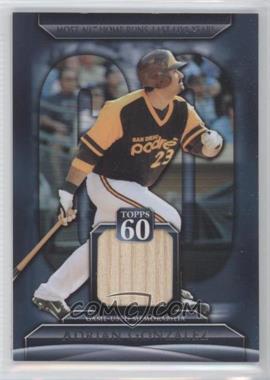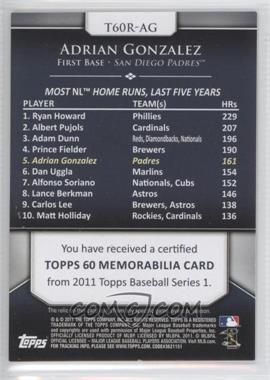 T60R-AD Andre Dawson
T60R-AG Adrian Gonzalez
T60R-AGO Alex Gordon
T60R-AJB A.J. Burnett
T60R-AR Alex Rodriguez
T60R-AR Aramis Ramirez
T60R-BL Barry Larkin
T60R-BR Babe Ruth
T60R-CB Carlos Beltran
T60R-CM Carlos Marmol
T60R-CS Curt Schilling
T60R-CZ Carlos Zambrano
T60R-DJ Derek Jeter
T60R-DM Don Mattingly
T60R-DMC Daniel McCutchen
T60R-DP Dustin Pedroia
T60R-DW Dave Winfield
T60R-DWR David Wright
T60R-EL Evan Longoria
T60R-FC Fausto Carmona
T60R-FH Felix Hernandez
T60R-GC Gary Carter
T60R-GG Goose Gossage
T60R-GS Geovany Soto
T60R-HJ Howard Johnson
T60R-IS Ichiro
T60R-JA Jonathan Albaladejo
T60R-JC Joba Chamberlain
T60R-JE Jacoby Ellsbury
T60R-JH Josh Hamilton
T60R-JM Joe Morgan
T60R-JR Jimmy Rollins
T60R-JU Justin Upton
T60R-JW Jered Weaver
T60R-LB Lew Burdette
T60R-MG Matt Garza
T60R-MH Matt Holliday
T60R-MK Matt Kemp
T60R-MP Mike Piazza
T60R-MR Manny Ramirez
T60R-MRI Mariano Rivera
T60R-MT Mark Teixeira
T60R-NR Nolan Ryan
T60R-OS Ozzie Smith
T60R-PF Prince Fielder
T60R-PWR Pee Wee Reese
T60R-RA Roberto Alomar
T60R-RH Ryan Howard
T60R-RHE Rickey Henderson
T60R-RI Raul Ibanez
T60R-RR Robin Roberts
T60R-SB Sal Bando
T60R-SG Steve Garvey
T60R-SSC Shin-Soo Choo
T60R-TC Tyler Colvin
T60R-TG Tony Gwynn
T60R-TH Torii Hunter
T60R-TT Troy Tulowitzki
T60R-VM Victor Martinez
T60R-VM Victor Martinez
T60R-WB Wade Boggs
T60R-YB Yogi Berra
Series Two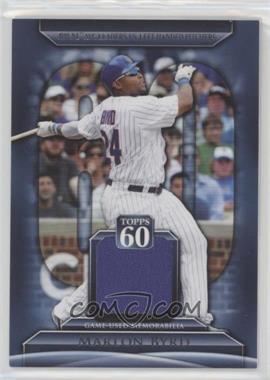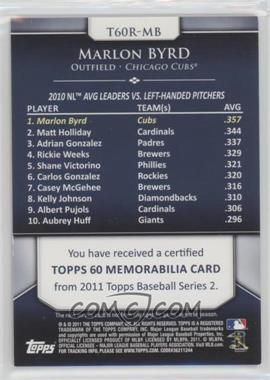 T60R-AE Andre Ethier
T60R-AJ Adam Jones
T60R-AR Aramis Ramirez
T60R-AS Alfonso Soriano
T60R-BB Billy Butler
T60R-BG Bob Gibson
T60R-BGA Brett Gardner
T60R-BP Buster Posey
T60R-BR Brooks Robinson
T60R-CK Clayton Kershaw
T60R-CM Carlos Marmol
T60R-CU Chase Utley
T60R-CY Carl Yastrzemski
T60R-DB Daniel Bard
T60R-DJ Derek Jeter
T60R-DO David Ortiz
T60R-DP Dustin Pedroia
T60R-GO Geovanny Soto
T60R-HA Hank Aaron
T60R-HR Hanley Ramirez
T60R-ID Ike Davis
T60R-IK Ian Kinsler
T60R-JB Josh Beckett
T60R-JC Joba Chamberlin
T60R-JD JD Drew
T60R-JH Jason Heyward
T60R-JL Jed Lowrie
T60R-JL Jon Lester
T60R-JLA John Lackey
T60R-JR Jackie Robinson
T60R-JS Johan Santana
T60R-MB Marlon Byrd
T60R-MG Matt Garza
T60R-ML Mat Latos
T60R-MR Mark Reynolds
T60R-MS Mike Stanton
T60R-MS Marco Scutaro
T60R-MT Mark Teixeira
T60R-MY Michael Young
T60R-NM Nick Markakis
T60R-NS Nick Swisher
T60R-PF Prince Fielder
T60R-PH Phil Hughes
T60R-PS Pablo Sandoval
T60R-RC Roy Campanella
T60R-RCA Robinson Cano
T60R-RD Ryan Dempster
T60R-RH Rickey Henderson
T60R-RW Randy Wells
T60R-RZ Ryan Zimmerman
T60R-SV Shane Victorino
T60R-TC Tyler Colvin
T60R-TH Torii Hunter
T60R-TS Tom Seaver
T60R-TT Troy Tulowitzki
T60R-VG Vladimir Guerrero
Dual Relics
Available only in Series Two, each Topps 60 Dual Relic is serial-numbered to 50 copies.
Jumbo Relics
The highpoint of 40 subjects, 20 from each series, is commemorated with a jumbo relic swatch on cards serial-numbered to 20 copies.
Series One
T60JR-AD Adam Dunn
T60JR-AJ Adam Jones
T60JR-AW Adam Wainwright
T60JR-BB Billy Butler
T60JR-CJ Chipper Jones
T60JR-DJ Derek Jeter
T60JR-DW David Wright
T60JR-ID Ike Davis
T60JR-JJ Josh Johnson
T60JR-JS Johan Santana
T60JR-JU Justin Upton
T60JR-ML Mat Latos
T60JR-MR Mark Reynolds
T60JR-MY Michael Young
T60JR-NM Nick Markakis
T60JR-RB Ryan Braun
T60JR-RZ Ryan Zimmerman
T60JR-SS Stephen Strasburg
T60JR-SSC Shin-Soo Choo
T60JR-SV Shane Victorino
Series Two
T60JR-AP Albert Pujols
T60JR-BA Brett Anderson
T60JR-BM Brandon Morrow
T60JR-CK Clayton Kershaw
T60JR-CS Carlos Santana
T60JR-EL Evan Longoria
T60JR-GB Gordon Beckham
T60JR-HP Hunter Pence
T60JR-JM Joe Mauer
T60JR-JMO Justin Morneau
T60JR-JR Jose Reyes
T60JR-JV Joey Votto
T60JR-KY Kevin Youkilis
T60JR-MC Miguel Cabrera
T60JR-MCA Matt Cain
T60JR-MT Mark Teixeira
T60JR-NF Neftali Feliz
T60JR-RH Ryan Howard
T60JR-TH Tommy Hanson
T60JR-YG Yovani Gallardo
Autographs
Series One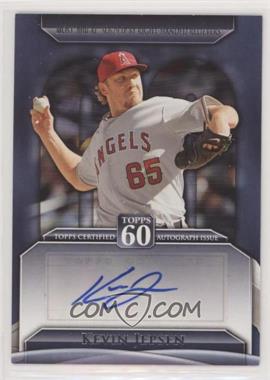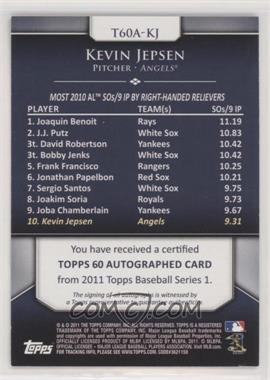 T60A-AD Andre Dawson
T60A-AE Andre Ethier
T60A-AG Alex Gordon
T60A-AJ Adam Jones
T60A-AK Al Kaline
T60A-AM Andrew McCutchen
T60A-AR Alex Rodriguez
T60A-BD Blake DeWitt
T60A-BDU Brian Duensing
T60A-BJU B.J. Upton
T60A-BL Barry Larkin
T60A-BM Brian McCann
T60A-BMA Brian Matuz
T60A-CB Clay Buchholz
T60A-CC Carl Crawford
T60A-CCO Chris Coghlan
T60A-CD Chris Dickerson
T60A-CF Chone Figgins
T60A-CG Chris Getz
T60A-CH Chad Huffman
T60A-CL Cliff Lee
T60A-CT Chris Tillman
T60A-CV Chris Volstad
T60A-DB Domonic Brown
T60A-DBA Daric Barton
T60A-DS Duke Snider
T60A-DSN Drew Storen
T60A-DST Drew Stubbs
T60A-FCA Fausto Carmona
T60A-FD Felix Doubront
T60A-GB Gordon Beckham
T60A-GC Gary Carter
T60A-GP Glen Perkins
T60A-HO Hunter Pence
T60A-HR Hanley Ramirez
T60A-IK Ian Kinsler
T60A-JF Jeff Francis
T60A-JH Jason Heyward
T60A-JJ Josh Johnson
T60A-JP Jonathon Papelbon
T60A-JT Josh Tomlin
T60A-KH Keith Hernandez
T60A-KJ Kevin Jepsen
T60A-KU Koji Uehara
T60A-LM Logan Morrison
T60A-LMA Lou Marson
T60A-MB Marlon Byrd
T60A-MBO Mitchell Boggs
T60A-MF Mark Fidrych
T60A-MH Matt Harrison
T60A-MK Matt Kemp
T60A-MN Mike Napoli
T60A-MR Manny Ramirez
T60A-NW Neil Walker
T60A-OC Orlando Cepeda
T60A-PB Peter Bourjos
T60A-PF Prince Fielder
T60A-RC Robinson Cano
T60A-RH Ryan Howard
T60A-RK Ryan Kalish
T60A-RW Randy Wells
T60A-TC Tyler Colvin
T60A-TH Tommy Hanson
T60A-TT Troy Tulowitzki
T60A-TW Travis Wood
T60A-VM Vin Mazzaro
T60A-WD Wade Davis
T60A-WV Will Venable
Series Two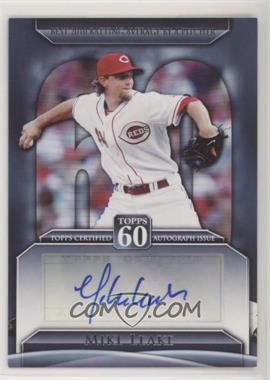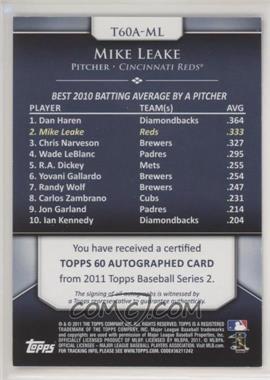 T60A-AC Andrew Cashner
T60A-ACA Asdrubal Cabrera
T60A-AP Albert Pujols
T60A-APA Angel Pagan
T60A-AT Andres Torres
T60A-BP Buster Posey
T60A-CG Gio Gonzalez
T60A-CL Cliff Lee
T60A-CP Carlos Pena
T60A-CU Chase Utley
T60A-DG Dwight Gooden
T60A-DS Darryl Strawberry
T60A-DW David Wright
T60A-FF Freddie Freeman
T60A-FH Felix Hernandez
T60A-GS Gaby Sanchez
T60A-IK Ian Kennedy
T60A-JB Jose Bautista
T60A-JP Jhonny Peralta
T60A-JT Josh Tomlin
T60A-KD Kyle Drabek
T60A-LC Lorenzo Cain
T60A-LM Logan Morrison
T60A-MB Madison Bumgarner
T60A-ML Mike Leake
T60A-MR Mark Reynolds
T60A-RC Robinson Cano
T60A-RK Ralph Kiner
T60A-RP Rick Porcello
T60A-RZ Ryan Zimmerman
T60A-SC Starlin Castro
T60A-SSC Shin-Soo Choo
T60A-SV Shane Victorino
T60A-TB Taylor Buchholz
T60A-TC Trevor Cahill
T60A-TW Travis Wood
T60A-WL Wade LeBlanc
Autograph Relics
40 legends and current stars appear on cards noting the statistical category in which each places in the top 60 all-time or active leaders with their signature and a relic piece. Each Topps 60 Autographed Relic is serial-numbered to 50 copies, with a Platinum Diamond parallel serial-numbered to ten copies.
Series One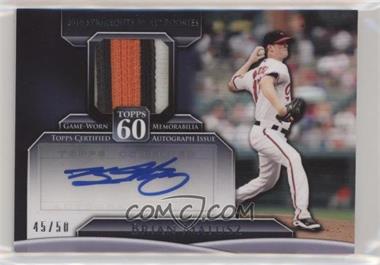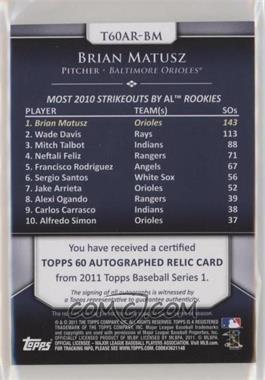 T60AR-AD Andre Dawson
T60AR-AK Al Kaline
T60AR-BM Brian Matuz
T60AR-DS Duke Snider
T60AR-FH Felix Hernandez
T60AR-GC Gary Carter
T60AR-HR Hanley Ramirez
T60AR-IK Ian Kinsler
T60AR-RC Robinson Cano
T60AR-RH Ryan Howard
Series Two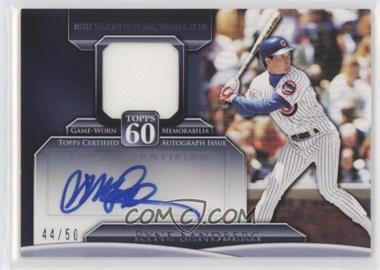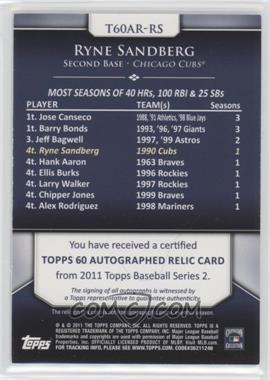 T60AR-AC Aroldis Chapman
T60AR-AG Adrian Gonzalez
T60AR-BW Bernie Williams
T60AR-CF Carlton Fisk
T60AR-DP David Price
T60AR-JH Jason Heyward
T60AR-JV Joey Votto
T60AR-RO Roy Oswalt
T60AR-RS Ryne Sandberg
T60AR-TS Tom Seaver
Diamond Duos Relics
Each Diamond Duo Relic is serial-numbered to 50 copies.
Series One
DDR-1 Derek Jeter/Robinson Cano
DDR-2 Joe Mauer/Buster Posey
DDR-3 Albert Pujols/Miguel Cabrera
DDR-4 Ryan Howard/Jason Heyward
DDR-5 Josh Hamilton/Vladimir Guerrero
DDR-6 Evan Longoria/Ryan Zimmerman
DDR-7 Chase Utley/Jimmy Rollins
DDR-8 Joey Votto/Adrian Gonzalez
DDR-9 Hanley Ramirez/Mike Stanton
DDR-10 Barry Larkin/Derek Jeter
DDR-11 Reggie Jackson/Adam Jones
DDR-12 Ty Cobb/Miguel Cabrera
DDR-13 Wade Boggs/Kevin Youkilis
DDR-14 Clayton Kershaw/Mat Latos
DDR-15 Justin Upton/Mike Stanton
Series Two
DDR-1 Chase Utley / Robinson Cano
DDR-2 Hank Aaron / Jason Heyward
DDR-3 Miguel Cabrera / Victor Martinez
DDR-4 Roy Campanella / Buster Posey
DDR-5 Ryan Braun / Carlos Gonzalez
DDR-6 Jon Lester / Kevin Youkilis
DDR-7 Roberto Alomar / Robinson Cano
DDR-8 Ian Kinsler / Nelson Cruz
DDR-9 Tim Lincecum / Buster Posey
DDR-10 Josh Hamilton / Joey Votto
DDR-11 Buster Posey / Neftali Feliz
DDR-12 Roy Halladay / Felix Hernandez
DDR-13 Alex Rodriguez / Evan Longoria
DDR-14 Josh Johnson / Justin Verlander
DDR-15 Albert Pujols / Matt Holliday
60th Anniversary Reprints
Relic Cards
Each Relic is serial-numbered to 60 copies.
Series One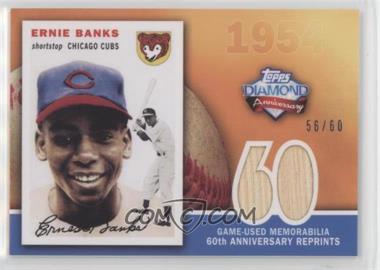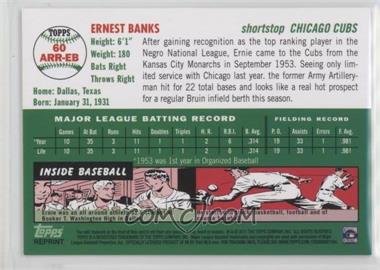 60ARR-AR Alex Rodriguez
60ARR-BG Bob Gibson
60ARR-BR Brooks Robinson
60ARR-CY Carl Yastrzemski
60ARR-DJ Derek Jeter
60ARR-DM Don Mattingly
60ARR-EB Ernie Banks
60ARR-FR Frank Robinson
60ARR-JB Johnny Bench
60ARR-JR Jackie Robinson
60ARR-NR Nolan Ryan
60ARR-RC Roy Campanella
60ARR-RH Rickey Henderson
60ARR-RJ Reggie Jackson
60ARR-RS Ryne Sandberg
60ARR-TM Thurman Munson
60ARR-TS Tom Seaver
60ARR-WM Willie McCovey
60ARR-YB Yogi Berra
Series Two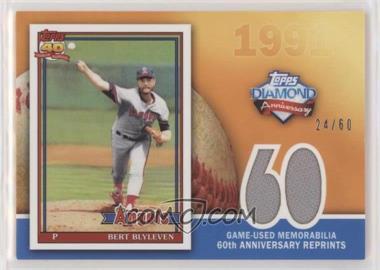 60ARR-AD Andre Dawson
60ARR-AK Al Kaline
60ARR-BB Bert Blyleven
60ARR-CF Carlton Fisk
60ARR-DM Dale Murphy
60ARR-DW Dave Winfield
60ARR-EM Eddie Murray
60ARR-FT Frank Thomas
60ARR-HA Henry Aaron
60ARR-HK Harmon Killebrew
60ARR-JM Joe Morgan
60ARR-LB Lou Brock
60ARR-MS Mike Schmidt
60ARR-NR Nolan Ryan
60ARR-PM Paul Molitor
60ARR-RA Roberto Alomar
60ARR-SK Sandy Koufax
60ARR-SM Stan Musial
60ARR-TG Tony Gwynn
60ARR-WB Wade Boggs
Autograph Cards
Each Autograph is serial-numbered to 60 copies.
Series One
60ARA-BG Bob Gibson
60ARA-BR Brooks Robinson
60ARA-DM Don Mattingly
60ARA-EB Ernie Banks
60ARA-FR Frank Robinson
60ARA-JB Johnny Bench
60ARA-RJ Reggie Jackson
60ARA-RS Ryne Sandberg
60ARA-TS Tom Seaver
60ARA-YB Yogi Berra
Series Two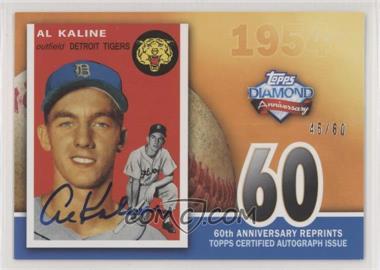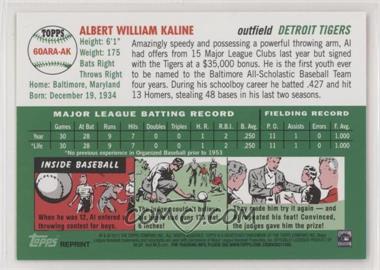 60ARA-AK Al Kaline
60ARA-EM Eddie Murray
60ARA-HA Henry Aaron
60ARA-MS Mike Schmidt
60ARA-NR Nolan Ryan
60ARA-PM Paul Molitor
60ARA-SK Sandy Koufax
60ARA-SM Stan Musial
60ARA-TG Tony Gwynn
60ARA-WB Wade Boggs
Autograph Relic Cards
Each 60th Anniversary Autographed Relic is serial-numbered to six copies.
Series One
60ARAR-BG Bob Gibson
60ARAR-BR Brooks Robinson
60ARAR-DM Don Mattingly
60ARAR-EB Ernie Banks
60ARAR-FR Frank Robinson
60ARAR-JB Johnny Bench
60ARAR-RJ Reggie Jackson
60ARAR-RS Ryne Sandberg
60ARAR-TS Tom Seaver
60ARAR-YB Yogi Berra
Series Two
60ARAR-AK Al Kaline
60ARAR-EM Eddie Murray
60ARAR-HA Henry Aaron
60ARAR-MS Mike Schmidt
60ARAR-NR Nolan Ryan
60ARAR-PM Paul Molitor
60ARAR-SK Sandy Koufax
60ARAR-SM Stan Musial
60ARAR-TG Tony Gwynn
60ARAR-WB Wade Boggs
World Champions
NOTE: Relics were not necessarily World Series used. In fact, one copy of Madison Bumgarner's Autographed Relic has a red fabric swatch, and Mike Fontenot's has a blue pinstripe. All are exclusive to Series One packs.
Relics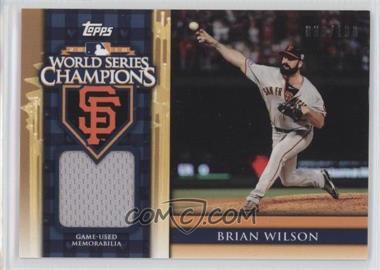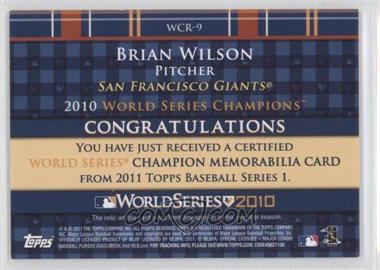 Each Relic is serial-numbered to 100 copies.
WCR-1 Buster Posey JERSEY
WCR-2 Madison Bumgarner JERSEY
WCR-3 Pablo Sandoval JERSEY
WCR-4 Cody Ross
WCR-5 Freddy Sanchez JERSEY
WCR-6 Tim Lincecum JERSEY
WCR-7 Matt Cain JERSEY
WCR-8 Jonathan Sanchez
WCR-9 Brian Wilson JERSEY
WCR-10 Juan Uribe
WCR-11 Aubrey Huff EXCH
WCR-12 Edgar Renteria BAT
WCR-13 Andres Torres EXCH
WCR-14 Pat Burrell BAT
WCR-15 Mike Fontenot JERSEY
Autographs
WCA-1 Buster Posey
WCA-2 Madison Bumgarner
WCA-3 Pablo Sandoval
WCA-4 Cody Ross
WCA-5 Freddy Sanchez
Autographed Relics
Each Autographed Relic card is serial-numbered to 50 copies.
WCAR-BP Buster Posey
WCAR-CR Cody Ross EHCH
WCAR-FS Freddy Sanchez EXCH
WCAR-MB Madison Bumgarner
WCAR-PS Pablo Sandoval
1964 Mickey Mantle Reprint Relic
Each 1964 Mickey Mantle Reprint Relic is serial-numbered to 64 copies, and inserted into Series One packs.
1965 Mickey Mantle Reprint Relic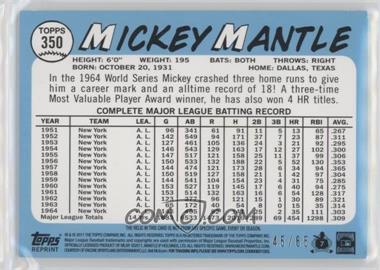 Each 1965 Mickey Mantle Reprint Relic is serial-numbered to 65 copies, and inserted into Series Two packs.
In the Name Relics
Each card features an authentic letter taken from the nameplate of each player's 2010 All-Star Game warm-up jersey. There is one unique relic for each letter of the respective player's last name, although each is mistakenly labelled as a one-of-one. In the Name is exclusive to Series One Hobby and Jumbo packs.
INR1 Ichiro
INR2 Joe Mauer
INR3 Miguel Cabrera
INR4 Robinson Cano
INR5 Evan Longoria
INR6 Derek Jeter
INR7 Josh Hamilton
INR8 Carl Crawford
INR9 Vladimir Guerrero
INR10 Justin Verlander
INR11 Andy Pettitte
INR12 David Price
INR13 Phil Hughes
INR14 Rafael Soriano
INR15 Jon Lester
INR16 Matt Thornton
INR17 Cliff Lee
INR18 Andrew Bailey
INR19 Ty Wigginton
INR20 Adrian Beltre
INR21 David Ortiz
INR22 Paul Konerko
INR23 Torii Hunter
INR24 Alex Rodriguez
INR25 Elvis Andrus
INR26 Ian Kinsler
INR27 Jose Bautista
INR28 John Buck
INR29 Vernon Wells
INR30 Albert Pujols
INR31 Yadier Molina
INR32 David Wright
INR33 Hanley Ramirez
INR34 Ryan Braun
INR35 Corey Hart
INR36 Andre Ethier
INR37 Roy Halladay
INR38 Josh Johnson
INR39 Tim Lincecum
INR40 Jonathan Broxton
INR41 Adam Wainwright
INR42 Brian Wilson
INR43 Ubaldo Jimenez
INR44 Matt Capps
INR45 Chris Young
INR46 Brian McCann
INR47 Martin Prado
INR48 Marlon Byrd
INR49 Brandon Phillips
INR50 Scott Rolen
INR51 Michael Bourn
INR52 Hong-Chih Kuo
INR53 Rafael Furcal
INR54 Ryan Howard
INR55 Matt Holliday
INR56 Adrian Gonzalez
INR57 Joey Votto
INR58 Jason Heyward
INR59 Troy Tulowitzki
INR60 Yovani Gallardo
INR61 Jose Reyes
INR62 Omar Infante
INR63 Heath Bell
INR64 Evan Meek
INR65 Chris Carpenter
INR66 Arthur Rhodes
INR67 Tim Hudson
INR68 Neftali Feliz
INR69 CC Sabathia
INR70 Dustin Pedroia
INR71 Fausto Carmona
INR72 Joakim Soria
INR73 Jered Weaver
INR74 Victor Martinez
INR75 Trevor Cahill
INR76 Clay Buchholz
Baseball Legends Cut Signatures
Each card is a one-of-one.
Series One
BLCS-AS Al Simmons
BLCS-BR Babe Ruth
BLCS-CM Connie Mack
BLCS-DD Dizzy Dean
BLCS-FB Frank Baker
BLCS-GCA Grover Cleveland Alexander
BLCS-HG Hank Greenberg
BLCS-HM Heinie Manush
BLCS-HW Honus Wagner
BLCS-JR Jackie Robinson
BLCS-LG Lou Gehrig
BLCS-PW Paul Waner
BLCS-RC Roy Campanella
BLCS-RM Rabbit Maranville
BLCS-SP Satchel Paige
Series Two
BLCS-CB Clete Boyer
BLCS-CE Carl Erskine
BLCS-CG Charlie Gehringer
BLCS-DD Dizzy Dean
BLCS-HG Hank Greenberg
BLCS-JR Jackie Robinson
BLCS-LG Lefty Gomez
BLCS-MO Mel Ott
BLCS-PWR Pee Wee Reese
BLCS-TM Thurman Munson
60th Anniversary Autographs
See 2011 Topps 60th Anniversary Autographs.
Black Diamond Wrapper Redemption Autographs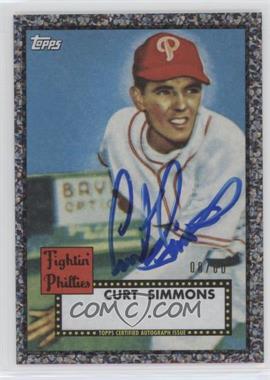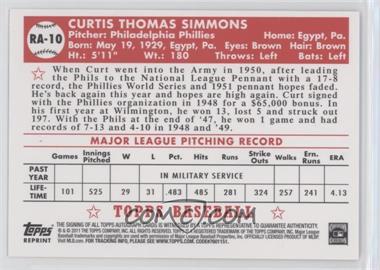 NOTE: Each card is randomly inserted into 1952 Topps Black Diamond packs, and is serial-numbered to 60 copies each. There were originally 34 cards listed on the checklist, however the Yogi Berra, Al Dark, and Harry Perkowski cards were never produced. Instead Topps produced two cards without card numbers but serial numbered to 60 like all the others, Lou Sleater and Dick Gernert for a total of 33 cards.
RA1 Monte Irvin
RA2 Irv Noren
RA3 Roy Sievers
RA4 Vernon Law
RA5 Bill Pierce
RA6 Eddie Yost
RA7 John Antonelli
RA8 Charlie Silvera
RA9 Roy Smalley
RA10 Curt Simmons
RA11 Ned Garver
RA12 Bobby Shantz
RA13 Joe Presko
RA14 Bob Friend
RA15 Jerry Coleman
RA16 Virgil Trucks
RA17 Chuck Diering
RA18 Lou Brissie
RA19 Joe DeMaestri
RA20 Randy Jackson
RA21 Ivan Delock
RA22 Bob DelGreco
RA23 Dick Groat
RA24 Johnny Groth
RA25 Eddie Robinson
RA26 Cloyd Boyer
RA27 Harry Perkowski (never produced but on checklist)
RA28 Al Dark (never produced but on checklist)
RA29 Joe Astroth
RA30 Del Crandall
RA31 Ralph Branca
RA32 Red Schoendienst
RA33 Yogi Berra (never produced but on checklist)
RA34 Joe Garagiola
NNO Lou Sleater
NNO Dick Gernert