1998 Topps Opening Day
Description
1998 Topps Opening Day is a 165-card set released exclusively to retail outlets in April, 1998. This was the debut of the Opening day brand, which would go on to become an annual, early-season, release.
The set is a stripped-down, "no frills," partial-parallel of the 1998 Topps flagship -- the only difference being silver borders and an Opening Day foil-stamped logo on front and the different numbering on back. There are no inserts in the product.
The product was made in response to MLB Properties' request that Topps produce an affordable card set for children.
Distribution
36 packs per box, seven cards per pack (MSRP: $0.99). Retail only.
Reviews
Insertion Ratios
| Cards | Total Cards | Numbered To | Retail Odds |
| --- | --- | --- | --- |
| Base | 165 | - | 7:1 |
Checklist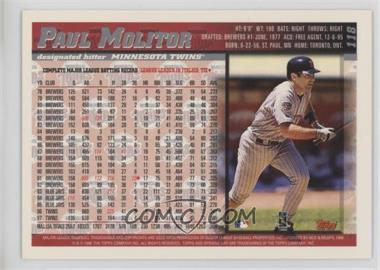 1 Tony Gwynn
2 Larry Walker
3 Billy Wagner
4 Denny Neagle
5 Vladimir Guerrero
6 Kevin Brown
7 Mariano Rivera
8 Tony Clark
9 Deion Sanders
10 Matt Williams
11 Carlos Baerga
12 Mo Vaughn
13 Chan Ho Park
14 Frank Thomas
15 John Jaha
16 Steve Trachsel
17 Jeff Kent
18 Scott Rolen
19 Juan Gonzalez
20 Garret Anderson
21 Roberto Clemente
22 Omar Vizquel
23 Brian Hunter
24 Jeff Bagwell
25 Chili Davis
26 Mike Cameron
27 Pat Hentgen
28 Wilton Guerrero
29 Devon White
30 Rafael Palmeiro
31 Jeff Blauser
32 Dave Hollins
33 Trevor Hoffman
34 Ryan Klesko
35 Butch Huskey
36 Mark Grudzielanek
37 Marquis Grissom
38 Jim Edmonds
39 Greg Vaughn
40 David Wells
41 Charles Nagy
42 B.J. Surhoff
43 Edgardo Alfonzo
44 Jay Buhner
45 Brady Anderson
46 Edgar Renteria
47 Rick Aguilera
48 Henry Rodriguez
49 Mike Piazza
50 Todd Zeile
51 Rey Ordonez
52 Tony Womack
53 Mike Sweeney
54 Jeffrey Hammonds
55 Kevin Orie
56 Alex Gonzalez
57 Jose Canseco
58 Joey Hamilton
59 Brad Radke
60 Kevin Appier
61 Manny Ramirez
62 Jeromy Burnitz
63 Matt Morris
64 Jason Dickson
65 Tom Glavine
66 Wally Joyner
67 Todd Jones
68 Sandy Alomar
69 Mike Lansing
70 Todd Stottlemyre
71 Jay Bell
72 Joey Cora
73 Scott Spiezio
74 Joe Carter
75 Jose Guillen
76 Damion Easley
77 Alex Fernandez
78 Randy Johnson
79 J.T. Snow
80 Bernard Gilkey
81 David Segui
82 Dante Bichette
83 Derek Jeter
84 Mark Wohlers
85 Ricky Bottalico
86 Mike Mussina
87 Gary Sheffield
88 Hideo Nomo
89 Mark Grace
90 Darryl Kile
91 Shawn Estes
92 Vinny Castilla
93 Jose Rosado
94 Kenny Lofton
95 Jason Giambi
96 Ray Lankford
97 Hideki Irabu
98 Javy Lopez
99 Jeff Montgomery
100 Dennis Eckersley
101 Armando Benitez
102 Tim Naehring
103 Luis Gonzalez
104 Todd Hollandsworth
105 Wade Boggs
106 Mickey Morandini
107 Rusty Greer
108 Terry Steinbach
109 Pete Rose
110 Checklist
111 Tino Martinez
112 Roberto Alomar
113 Jeff King
114 Brian Jordan
115 Darin Erstad
116 Ken Caminiti
117 Jim Thome
118 Paul Molitor
119 Ivan Rodriguez
120 Bernie Williams
121 Todd Hundley
122 Andres Galarraga
123 Greg Maddux
124 Edgar Martinez
125 Ron Gant
126 Derek Bell
127 Roger Clemens
128 Rondell White
129 Barry Larkin
130 Robin Ventura
131 Jason Kendall
132 Chipper Jones
133 John Franco
134 Sammy Sosa
135 Chuck Knoblauch
136 Ellis Burks
137 Al Martin
138 Tim Salmon
139 Moises Alou
140 Lance Johnson
141 Justin Thompson
142 Will Clark
143 Barry Bonds
144 Craig Biggio
145 John Smoltz
146 Cal Ripken, Jr.
147 Ken Griffey, Jr.
148 Paul O'Neill
149 Todd Helton
150 John Olerud
151 Mark McGwire
152 Jose Cruz
153 Jeff Cirillo
154 Dean Palmer
155 John Wetteland
156 Eric Karros
157 Steve Finley
158 Albert Belle
159 Curt Schilling
160 Raul Mondesi
161 Andruw Jones
162 Nomar Garciaparra
163 Dave Justice
164 Andy Pettitte
165 Pedro Martinez