1990 Topps Traded
Description
The 1990 Topps Traded was released in late 1990. For the first time, Topps Traded was distributed in both factory set and pack forms. Unlike the factory set cards (which were printed on white cardstock by Topps' plant in Ireland), the wax pack cards were produced domestically and printed on graystock. Both versions are valued equally.
There are no notable rookie cards.
Topps also produced a high-end Tiffany edition, limited to approximately 15,000 factory sets.
Distribution
Factory Sets Wax: 36 packs per box, seven cards per pack Tiffany: Hobby exclusive factory sets, limited to 15,000 sets.
Reviews
Checklist
Base Set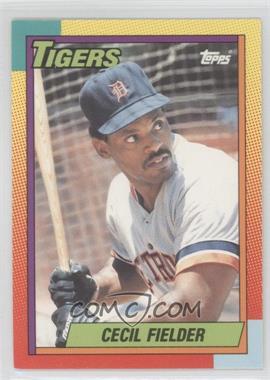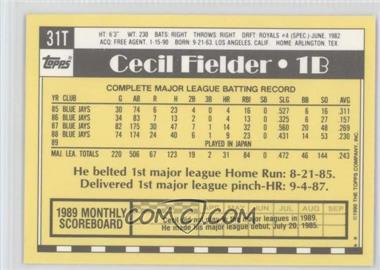 1T Darrel Akerfelds
2T Sandy Alomar, Jr.
3T Brad Arnsberg
4T Steve Avery
5T Wally Backman
6T Carlos Baerga RC
7T Kevin Bass
8T Willie Blair RC
9T Mike Blowers RC
10T Shawn Boskie RC
11T Daryl Boston
12T Dennis Boyd
13T Glenn Braggs
14T Hubie Brooks
15T Tom Brunansky
16T John Burkett
17T Casey Candaele
18T John Candelaria
19T Gary Carter
20T Joe Carter
21T Rick Cerone
22T Scott Coolbaugh RC
23T Bobby Cox MGR
24T Mark Davis
25T Storm Davis
26T Edgar Diaz RC
27T Wayne Edwards RC
28T Mark Eichhorn
29T Scott Erickson RC
30T Nick Esasky
31T Cecil Fielder
32T John Franco
33T Travis Fryman RC
34T Bill Gullickson
35T Darryl Hamilton
36T Mike Harkey
37T Bud Harrelson MGR
38T Billy Hatcher
39T Keith Hernandez
40T Joe Hesketh
41T Dave Hollins RC
42T Sam Horn
43T Steve Howard RC
44T Todd Hundley RC
45T Jeff Huson
46T Chris James
47T Stan Javier
48T David Justice RC
49T Jeff Kaiser
50T Dana Kiecker RC
51T Joe Klink RC
52T Brent Knackert RC
53T Brad Komminsk
54T Mark Langston
55T Tim Layana RC
56T Rick Leach
57T Terry Leach
58T Tim Leary
59T Craig Lefferts
60T Charlie Leibrandt
61T Jim Leyritz RC
62T Fred Lynn
63T Kevin Maas RC
64T Shane Mack
65T Candy Maldonado
66T Fred Manrique
67T Mike Marshall
68T Carmelo Martinez
69T John Marzano
70T Ben McDonald
71T Jack McDowell
72T John McNamara MGR
73T Orlando Mercado
74T Stump Merrill MGR RC
75T Alan Mills RC
76T Hal Morris
77T Lloyd Moseby
78T Randy Myers
79T Tim Naehring RC
80T Junior Noboa
81T Matt Nokes
82T Pete O'Brien
83T John Olerud RC
84T Greg Olson RC
85T Junior Ortiz
86T Dave Parker
87T Rick Parker RC
88T Bob Patterson
89T Alejandro Pena
90T Tony Pena
91T Pascual Perez
92T Gerald Perry
93T Dan Petry
94T Gary Pettis
95T Tony Phillips
96T Lou Piniella MGR
97T Luis Polonia
98T Jim Presley
99T Scott Radinsky RC
100T Willie Randolph
101T Jeff Reardon
102T Greg Riddoch MGR RC
103T Jeff Robinson
104T Ron Robinson
105T Kevin Romine
106T Scott Ruskin RC
107T John Russell
108T Bill Sampen RC
109T Juan Samuel
110T Scott Sanderson
111T Jack Savage
112T Dave Schmidt
113T Red Schoendienst MGR
114T Terry Shumpert RC
115T Matt Sinatro
116T Don Slaught
117T Bryn Smith
118T Lee Smith
119T Paul Sorrento RC
120T Franklin Stubbs UER (1983 listed as "1999")
121T Russ Swan RC
122T Bob Tewksbury
123T Wayne Tolleson
124T John Tudor
125T Randy Veres
126T Hector Villanueva RC
127T Mitch Webster
128T Ernie Whitt
129T Frank Wills
130T Dave Winfield
131T Matt Young
132T Checklist 1T-132T
Parallels
Grey Backs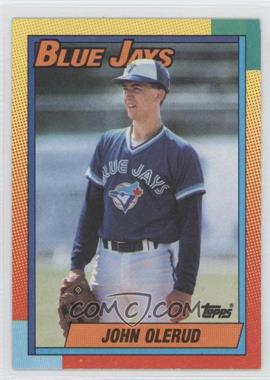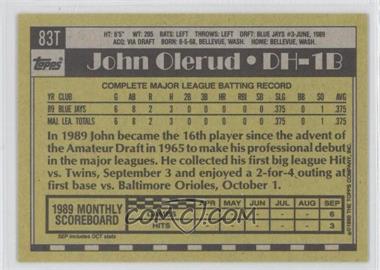 For the first time, Topps Traded was made available in both factory set and pack form. While factory sets were produced by Topps' Irish factory and printed on white cardstock, the pack edition was printed domestically and on the same grey cardstock as the regular Topps flagship set.
Tiffany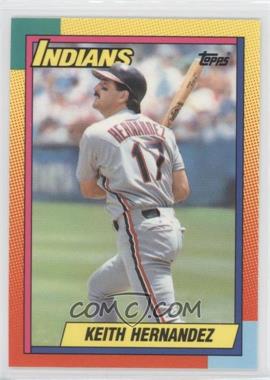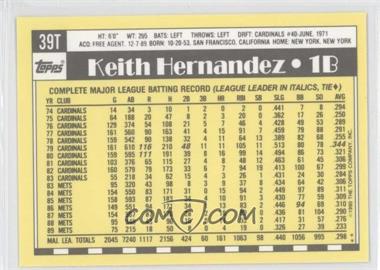 Topps Traded Tiffany is a 132-card Hobby exclusive parallel brand. Each card is printed on white cardstock with a glossy coating. Only 15,000 sets were produced.