2006 Topps Updates & Highlights
Description
2006 Topps Updates & Highlights is a 330-card set released in November, 2006. 2006 marked the first year of the MLB's "ROOKIE CARD" icon program, where a player actually had to appear in a Major League game before he could appear in a Major League trading card set. This severely impacted the Updates & Highlights brand as, previous to 2006, it was the only Topps-branded product (not including Bowman) allowed to feature non-40 man roster players (e.g. draft picks and low-Minors prospects).
The first 132 cards in this set feature players who were either traded, free agent signings, or veterans who were otherwise not included in the first two Topps series. Cards numbered 133-170 feature 2006 Rookies while cards numbered 171-181 are 2006 Season Highlights. Cards 182-201 are a Postseason Highlights subset, cards 202-217 are the 2006 League Leaders. 218-282 feature the complete rosters of the 2006 All-Star Game while 283-290 have the contestants in the Home Run Derby, cards 291-320 were Team Leader cards and the set concluded with ten Classic Duos (321-330).
For the first time since Traded/Updates revival in 1999, a Chrome edition was not issued.
Cory Lidle In Memoriam
Cory Lidle, who was traded from the Phillies to the Yankees in mid-season, perished in a plane crash about a month before the release of Updates & Highlights. Topps was able to include an "In Memoriam" notation on his card (#UH73).
Distribution
Hobby boxes: 36 packs plus one Topps Chrome rookie box topper per box, 12 cards per pack (MSRP $2).
HTA boxes: 12 packs plus one Topps Chrome rookie box topper per box, 35 cards per pack (MSRP $5).
Factory Sets: complete 330-base set along with three Limited Edition parallels
Retail Blasters: 11 packs (MSRP $9.99), six cards per pack.
Retail boxes: 24 packs, 12 cards per pack (MSRP $2).
Reviews
Insertion Ratios
| Cards | Total Cards | Numbered To | Hobby Odds | Retail Odds | HTA |
| --- | --- | --- | --- | --- | --- |
| Base | 330 | - | ? | ? | ? |
| Gold | 330 | 2006 | 1:4 | 1:8 | 1:2 |
| Black | 330 | 55 | N/A | N/A | 1:7 |
| Platinum | 330 | 1 | 1:12,000 | 1:12,000 | 1:8,800 |
| First Edition | 330 | - | 1:36 | N/A | 1:12 |
| Printing Plates | 330 | for for each | N/A | N/A | 1:85 |
| Chrome Rookie | 50 | 599 | box topper | N/A | box topper |
| Chrome Rookie Refractor | 50 | 59 | box topper | N/A | box topper |
| Rookie Debut | 45 | - | 1:4 | 1:4 | one-per-pack |
| Mickey Mantle Home Run History | 101 | - | 1:4 | 1:4 | 1:1 |
| Barry Bonds Home Run History | 26 | - | 1:6 | 1:6 | 1:2 |
| Barry Bonds 715 | 1 | - | 1:36 | 1:36 | 1:12 |
| All-Star Stitches | 63 | - | 1:43 | 1:53 | 1:15 |
| All-Star Stitches Dual | 10 | 50 | 1:2550 | N/A | 1:752 |
| All Star Patches | 63 | 10 | 1:2300 | N/A | 1:377 |
| Touch 'Em All Base Relics | 10 | - | 1:610 | N/A | 1:90 |
| Derby Digs Jerseys | 8 | - | 1:4200 | 1:5700 | 1:1631 |
| Midsummer Covers Ball Relics | 10 | 10 | 1:7750 | N/A | ? |
| Barry Bonds 715 Relic | 1 | 715 | 1:5000 | 1:5950 | 1:1827 |
| Rookie Debut Autographs | 14 | - | varies | varies | varies |
| Signature Moves | 6 | - | varies | varies | varies |
| All-Star Autographs | 3 | 25 | 1:48,000 | ? | 1:16,000 |
| Barry Bonds Home Run History Autographs | 17 | 5 | 1:42,400 | 1:55,000 | 1:15,141 |
Checklist
Base Set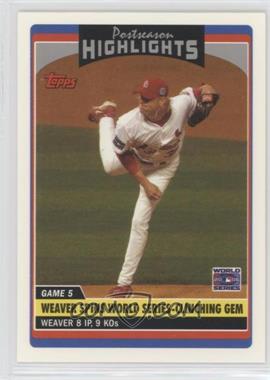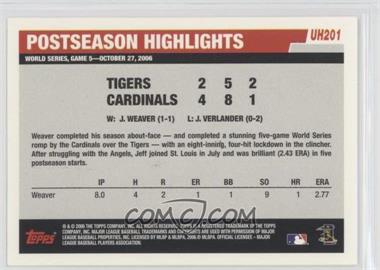 UH1 Austin Kearns
UH2 Adam Eaton
UH3 Juan Encarnacion
UH4 Jarrod Washburn
UH5 Alex Gonzalez
UH6 Toby Hall
UH7 Preston Wilson
UH8 Ramon Ortiz
UH9 Jason Michaels
UH10 Jeff Weaver
UH11 Russell Branyan
UH12 Brett Tomko
UH13 Doug Mientkiewicz
UH14 David Wells
UH15 Corey Koskie
UH16 Russ Ortiz
UH17 Carlos Pena
UH18 Mark Hendrickson
UH19 Julian Tavarez
UH20 Jeff Conine
UH21 Dioner Navarro
UH22 Bob Wickman
UH23 Felipe Lopez
UH24 Eddie Guardado
UH25 David Dellucci
UH26 Ryan Wagner
UH27 Nick Green
UH28 Gary Majewski
UH29 Shea Hillenbrand
UH30 Jae Seo
UH31 Royce Clayton
UH32 Dave Riske
UH33 Joey Gathright
UH34 Robinson Tejada
UH35 Edwin Jackson
UH36 Aubrey Huff
UH37 Akinori Otsuka
UH38 Juan Castro
UH39 Zach Day
UH40 Jeremy Accardo
UH41 Shawn Green
UH42 Kazuo Matsui
UH43 J.J. Putz
UH44 David Ross
UH45 Scott Williamson
UH46 Joe Borchard
UH47 Elmer Dessens
UH48 Odalis Perez
UH49 Kelly Shoppach
UH50 Brandon Phillips
UH51 Guillermo Mota
UH52 Alex Cintron
UH53 Denny Bautista
UH54 Josh Bard
UH55 Julio Lugo
UH56 Doug Mirabelli
UH57 Kip Wells
UH58 Adrian Gonzalez
UH59 Shawn Chacon
UH60 Marcus Thames
UH61 Craig Wilson
UH62 Cory Sullivan
UH63 Ben Broussard
UH64 Todd Walker
UH65 Greg Maddux
UH66 Xavier Nady
UH67 Oliver Perez
UH68 Sean Casey
UH69 Kyle Lohse
UH70 Carlos Lee
UH71 Rheal Cormier
UH72 Ronnie Belliard
UH73 Cory Lidle (in memoriam)
UH74 David Bell
UH75 Wilson Betemit
UH76 Danys Baez
UH77 Mike Stanton
UH78 Kevin Mench
UH79 Sandy Alomar, Jr.
UH80 Cesar Izturis
UH81 Jeremy Affeldt
UH82 Matt Stairs
UH83 Hector Luna
UH84 Tony Graffanino
UH85 J.P Howell
UH86 Bengie Molina
UH87 Maicer Izturis
UH88 Marco Scutaro
UH89 Daryle Ward
UH90 Sal Fasano
UH91 Oscar Villarreal
UH92 Gabe Gross
UH93 Phil Nevin
UH94 Damon Hollins
UH95 Juan Cruz
UH96 Marlon Anderson
UH97 Jason Davis
UH98 Ryan Shealy
UH99 Francisco Cordero
UH100 Bobby Abreu
UH101 Roberto Hernandez
UH102 Gary Bennett
UH103 Aaron Sele
UH104 Nook Logan
UH105 Alfredo Amezaga
UH106 Chris Woodward
UH107 Kevin Jarvis
UH108 B.J. Upton
UH109 Alan Embree
UH110 Milton Bradley
UH111 Pete Orr
UH112 Jeff Cirillo
UH113 Corey Patterson
UH114 Josh Paul
UH115 Fernando Rodney
UH116 Jerry Hairston, Jr.
UH117 Scott Proctor
UH118 Ambiorix Burgos
UH119 Jose Bautista
UH120 Livan Hernandez
UH121 John McDonald
UH122 Ronny Cedeno
UH123 Nate Robertson
UH124 Jamey Carroll
UH125 Alex Escobar
UH126 Endy Chavez
UH127 Jorge Julio
UH128 Kenny Lofton
UH129 Matt Diaz
UH130 Dave Bush
UH131 Jose Molina
UH132 Mike MacDougal
UH133 Ben Zobrist (RC)
UH134 Shane Komine RC
UH135 Casey Janssen RC
UH136 Kevin Frandsen (RC)
UH137 John Rheinecker (RC)
UH138 Matt Kemp (RC)
UH139 Scott Mathieson (RC)
UH140 Jered Weaver (RC)
UH141 Joel Guzman (RC)
UH142 Anibal Sanchez (RC)
UH143 Melky Cabrera (RC)
UH144 Howie Kendrick (RC)
UH145 Cole Hamels (RC)
UH146 Willy Aybar (RC)
UH147 Jamie Shields RC
UH148 Kevin Thompson (RC)
UH149 Jon Lester RC
UH150 Stephen Drew (RC)
UH151 Andre Ethier (RC)
UH152 Jordan Tata RC
UH153 Mike Napoli RC
UH154 Kason Gabbard (RC)
UH155 Lastings Milledge (RC)
UH156 Erick Aybar (RC)
UH157 Fausto Carmona (RC)
UH158 Russell Martin (RC)
UH159 David Pauley (RC)
UH160 Andy Marte (RC)
UH161 Carlos Quentin (RC)
UH162 Franklin Gutierrez (RC)
UH163 Taylor Buchholz (RC)
UH164 Josh Johnson (RC)
UH165 Chad Billingsley (RC)
UH166 Kendrys Morales (RC)
UH167 Adam Loewen (RC)
UH168 Yusmeiro Petit (RC)
UH169 Matt Albers (RC)
UH170 John Maine (RC)
UH171 Alex Rodriguez SH
UH172 Mike Piazza SH
UH173 Cory Sullivan SH
UH174 Anibal Sanchez SH
UH175 Trevor Hoffman SH
UH176 Barry Bonds SH
UH177 Derek Jeter SH
UH178 Jose Reyes SH
UH179 Manny Ramirez SH
UH180 Vladimir Guerrero SH
UH181 Mariano Rivera SH
UH182 Mark Kotsay PH
UH183 Derek Jeter PH
UH184 Carlos Delgado PH
UH185 Frank Thomas PH
UH186 Albert Pujols PH
UH187 Magglio Ordonez PH
UH188 Carlos Delgado PH
UH189 Kenny Rogers PH
UH190 Tom Glavine PH
UH191 Polacido Polanco / Jeff Suppan PH
UH192 Jose Reyes PH
UH193 Endy Chavez / Yadier Molina PH
UH194 Craig Monroe PH
UH195 Justin Verlander / Joel Zumaya PH
UH196 Paul LoDuca / Carlos Beltran PH
UH197 Albert Pujols / Jim Edmonds / Scott Rolen PH
UH198 Anthony Reyes PH
UH199 Chris Carpenter PH
UH200 David Eckstein PH
UH201 Jeff Weaver PH
UH202 David Ortiz / Jermaine Dye / Travis Hafner LL
UH203 Joe Mauer / Derek Jeter / Robinson Cano LL
UH204 David Ortiz / Justin Morneau / Raul Ibanez LL
UH205 Carl Crawford / Chone Figgins / Ichiro LL
UH206 Johan Santana / Chien-Ming Wang / Jon Garland LL
UH207 Johan Santana / Roy Halladay / C.C. Sabathia LL
UH208 Johan Santana / Jeremy Bonderman / Jon Lackey LL
UH209 Francisco Rodriguez / Bobby Jenks / B.J. Ryan LL
UH210 Ryan Howard / Albert Pujols / Alfonso Soriano LL
UH211 Freddy Sanchez / Miguel Cabrera / Albert Pujols LL
UH212 Ryan Howard / Albert Pujols / Lance Berkman LL
UH213 Jose Reyes / Juan Pierre / Hanley Ramirez LL
UH214 Derek Lowe / Brandon Webb / Carlos Zambrano LL
UH215 Roy Oswalt / Chris Carpenter / Brandon Webb LL
UH216 Aaron Harang / Jake Peavy / John Smoltz LL
UH217 Trevor Hoffman / Billy Wagner / Joe Borwski LL
UH218 Ichiro AS
UH219 Derek Jeter AS
UH220 Alex Rodriguez AS
UH221 David Ortiz AS
UH222 Vladimir Guerrero AS
UH223 Ivan Rodriguez AS
UH224 Vernon Wells AS
UH225 Mark Loretta AS
UH226 Kenny Rogers AS
UH227 Alfonso Soriano AS
UH228 Carlos Beltran AS
UH229 Albert Pujols AS
UH230 Jason Bay AS
UH231 Edgar Renteria AS
UH232 David Wright AS
UH233 Chase Utley AS
UH234 Paul LoDuca AS
UH235 Brad Penny AS
UH236 Derrick Turnbow AS
UH237 Mark Redman AS
UH238 Francisco Liriano AS
UH239 A.J. Pierzynski AS
UH240 Grady Sizemore AS
UH241 Jose Contreras AS
UH242 Jermaine Dye AS
UH243 Jason Schmidt AS
UH244 Nomar Garciaparra AS
UH245 Scott Kazmir AS
UH246 Johan Santana AS
UH247 Chris Capuano AS
UH248 Magglio Ordonez AS
UH249 Gary Matthews, Jr. AS
UH250 Carlos Lee AS
UH251 David Eckstein AS
UH252 Michael Young AS
UH253 Matt Holliday AS
UH254 Lance Berkman AS
UH255 Scott Rolen AS
UH256 Bronson Arroyo AS
UH257 Barry Zito AS
UH258 Brian McCann AS
UH259 Jose Lopez AS
UH260 Chris Carpenter AS
UH261 Roy Halladay AS
UH262 Jim Thome AS
UH263 Dan Uggla AS
UH264 Mariano Rivera AS
UH265 Roy Oswalt AS
UH266 Tom Gordon AS
UH267 Troy Glaus AS
UH268 Bobby Jenks AS
UH269 Freddy Sanchez AS
UH270 Paul Konerko AS
UH271 Joe Mauer AS
UH272 B.J. Ryan AS
UH273 Ryan Howard AS
UH274 Brian Fuentes AS
UH275 Miguel Cabrera AS
UH276 Brandon Webb AS
UH277 Mark Buehrle AS
UH278 Trevor Hoffman AS
UH279 Jonathan Papelbon AS
UH280 Andruw Jones AS
UH281 Miguel Tejada AS
UH282 Carlos Zambrano AS
UH283 Ryan Howard HRD
UH284 David Wright HRD
UH285 Miguel Cabrera HRD
UH286 David Ortiz HRD
UH287 Jermaine Dye HRD
UH288 Miguel Tejada HRD
UH289 Lance Berkman HRD
UH290 Troy Glaus HRD
UH291 David Wright / Tom Glavine TL
UH292 Ryan Howard / Tom Gordon TL
UH293 Miguel Cabrera / Dontrelle Willis TL
UH294 Andruw Jones / John Smoltz TL
UH295 Alfonso Soriano TL
UH296 Albert Pujols / Chris Carpenter TL
UH297 Adam Dunn / Bronson Arroyo TL
UH298 Lance Berkman / Roy Oswalt TL
UH299 Chris Capuano / Prince Fielder TL
UH300 Freddy Sanchez / Jason Bay TL
UH301 Carlos Zambrano / Juan Pierre TL
UH302 Alex Gonzalez / Travis Hoffman TL
UH303 Derek Lowe / Rafael Furcal TL
UH304 Omar Vizquel / Jason Schmidt TL
UH305 Brandon Webb / Chad Tracy TL
UH306 Matt Holliday / Garrett Atkins TL
UH307 Alex Rodriguez / Chien-Ming Wang TL
UH308 Curt Schilling / David Ortiz TL
UH309 Roy Halladay / Vernon Wells TL
UH310 Miguel Tejada / Erik Bedard TL
UH311 Carl Crawford / Scott Kazmir TL
UH312 Jeremy Bonderman / Magglio Ordonez TL
UH313 Justin Morneau / Johan Santana TL
UH314 Jon Garland / Jermaine Dye TL
UH315 Travis Hafner / C.C. Sabathia TL
UH316 Emil Brown / Mark Grudzielanek TL
UH317 Frank Thomas / Barry Zito TL
UH318 Jarrod Weaver / Vladimir Guerrero TL
UH319 Michael Young / Gary Matthews, Jr. TL
UH320 Ichiro / J.J. Putz TL
UH321 Derek Jeter / Robinson Cano CD
UH322 Chris Carpenter / Mark Mulder CD
UH323 Jason Schmidt / Trevor Hoffman CD
UH324 David Wright / Paul LoDuca CD
UH325 Lance Berkman / Roy Oswalt CD
UH326 David Jeter / Jose Reyes CD
UH327 Cliff Floyd / David Wright CD
UH328 Francisco Liriano / Johan Santana CD
UH329 J.D. Drew / Stephen Drew CD
UH330 Jered Weaver / Jeff Weaver CD
Parallels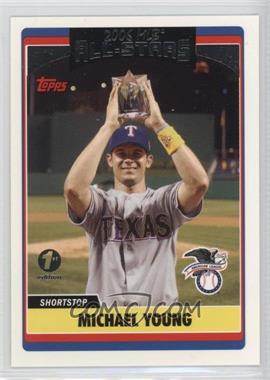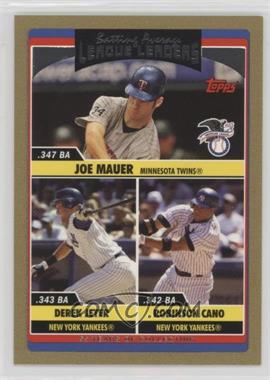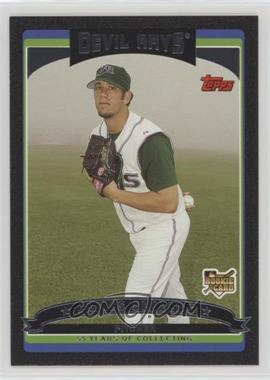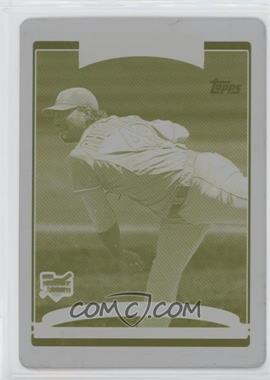 All 330 base cards are available in the following parallels.
1st Edition (Hobby wax, and HTA Jumbo packs only)
Gold (serial-numbered to 2006 copies)
Black (serial-numbered to 55 copies; HTA Jumbo packs only)
Platinum (one-of-one)
Printing Plates (set of four for each card; HTA Jumbo packs only)
Limited Edition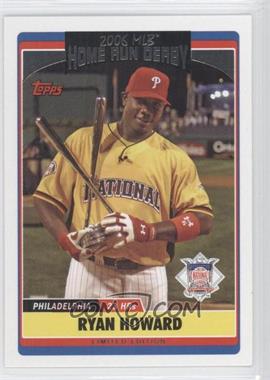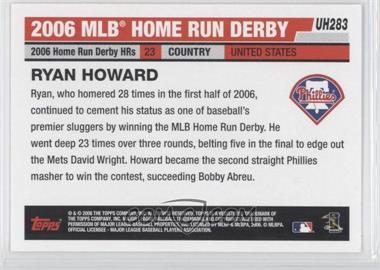 Inside each 2006 Topps Updates & Highlights factory set are three exclusive Limited Edition parallels. Each card had the words "LIMITED EDITION" stamped in (rather small) gold foil on the front.
Chrome Rookie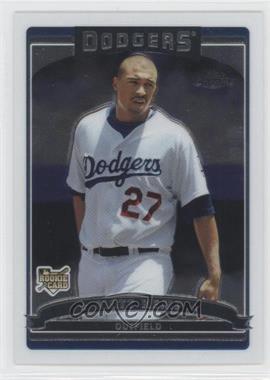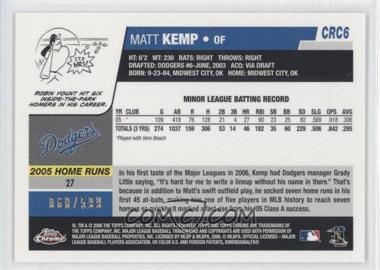 In lieu of releasing a stand-alone Chrome edition of Updates & Highlights, Topps instead issued this Chrome partial-parallel featuring 50 of the base set more prominent rookies. One card from this set was packaged as a box-topper in every Hobby wax and HTA Jumbo box. The cards were packaged in a clear fin-sealed pack, and it is common to see these packs unopened.
Each card is serial-numbered to 599 copies with a Refractor parallel, numbered to 59 copies, also available.
CRC1 Ben Zobrist
CRC2 Shane Komine
CRC3 Casey Janssen
CRC4 Kevin Frandsen
CRC5 John Rheinecker
CRC6 Matt Kemp
CRC7 Scott Mathieson
CRC8 Jered Weaver
CRC9 Joel Guzman
CRC10 Anibal Sanchez
CRC11 Melky Cabrera
CRC12 Howie Kendrick
CRC13 Cole Hamels
CRC14 Willy Aybar
CRC15 James Shields
CRC16 Kevin Thompson
CRC17 Jon Lester
CRC18 Stephen Drew
CRC19 Andre Ethier
CRC20 Jordan Tata
CRC21 Mike Napoli
CRC22 Kason Gabbard
CRC23 Lastings Milledge
CRC24 Erick Aybar
CRC25 Fausto Carmona
CRC26 Russell Martin
CRC27 David Pauley
CRC28 Andy Marte
CRC29 Carlos Quentin
CRC30 Franklin Gutierrez
CRC31 Taylor Buchholz
CRC32 Josh Johnson
CRC33 Chad Billingsley
CRC34 Kendrys Morales
CRC35 Adam Loewen
CRC36 Yusmeiro Petit
CRC37 Matt Albers
CRC38 John Maine
CRC39 Josh Willingham
CRC40 Taylor Tankersley
CRC41 Pat Neshek
CRC42 Francisco Rosario
CRC43 Matt Smith
CRC44 Jonathan Sanchez
CRC45 Chris DeMaria
CRC46 Manuel Corpas
CRC47 Kevin Reese
CRC48 Brent Clevlen
CRC49 Anderson Hernandez
CRC50 Chris Roberson
Inserts
Rookie Debut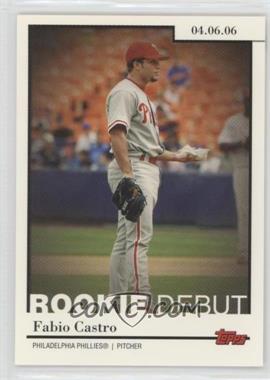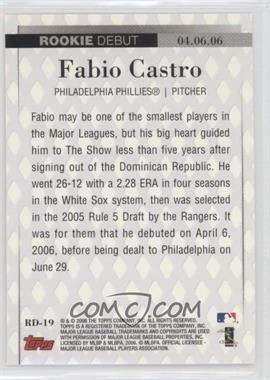 RD1 Joel Zumaya
RD2 Ian Kinsler
RD3 Kenji Johjima
RD4 Josh Barfield
RD5 Nick Markakis
RD6 Dan Uggla
RD7 Eric Reed
RD8 Carlos Martinez
RD9 Angel Pagan
RD10 Jason Childers
RD11 Ruddy Lugo
RD12 James Loney
RD13 Fernando Nieve
RD14 Reggie Abercrombie
RD15 Boone Logan
RD16 Brian Bannister
RD17 Ricky Nolasco
RD18 Willie Eyre
RD19 Fabio Castro
RD20 Jordan Tata
RD21 Taylor Buchholz
RD22 Sean Marshall
RD23 John Rheinecker
RD24 Casey Janssen
RD25 Russell Martin
RD26 Yusmeiro Petit
RD27 Kendrys Morales
RD28 Alay Soler
RD29 Jered Weaver
RD30 Matt Kemp
RD31 Enrique Gonzalez
RD32 Lastings Milledge
RD33 Jamie Shields
RD34 David Pauley
RD35 Zach Jackson
RD36 Zach Minor
RD37 Jon Lester
RD38 Chad Billingsley
RD39 Scott Thorman
RD40 Anibal Sanchez
RD41 Mike Thompson
RD42 T.J. Beam
RD43 Stephen Drew
RD44 Joe Saunders
RD45 Carlos Quentin
Barry Bonds 715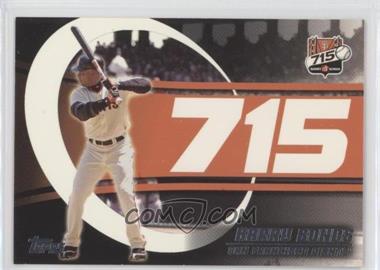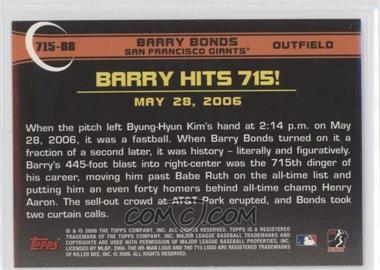 This single card commemorates Barry Bonds 715th career home run, passing Babe Ruth for second on the all-time list.
Barry Bonds Home Run History
Please see 2005 Topps Barry Bonds Home Run History
Mickey Mantle Home Run History
Please see 2006 Topps Mickey Mantle Home Run History
Box Bottoms
A panel of four was printed on the back side of each HTA Jumbo box.
HTA1 Shawn Green
HTA2 Austin Kearns
HTA3 Brandon Phillips
HTA4 Jered Weaver
HTA5 Carlos Lee
HTA6 Bobby Abreu
HTA7 Shea Hillenbrand
HTA8 Cole Hamels
HTA9 Greg Maddux
HTA10 B.J. Upton
HTA11 Aubrey Huff
HTA12 Stephen Drew
HTA13 Sean Casey
HTA14 Jeff Conine
HTA15 Johan Santana / Francisco Liriano
HTA16 Melky Cabrera
Autographs & Game-Used
All-Star Stitches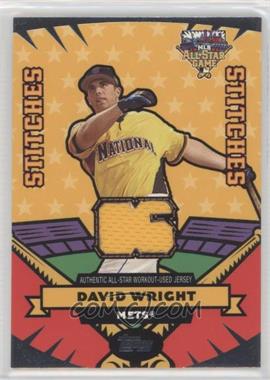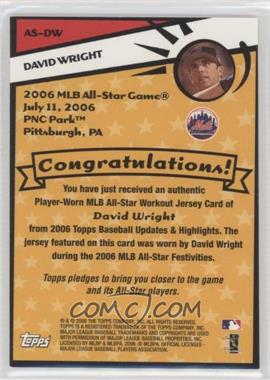 Each All-Star Stitches is also available in an All-Star Patches parallel, which is exclusive to Hobby wax and HTA Jumbo boxes and serial-numbered to ten.
AS-AJ Andruw Jones
AS-AJP A.J. Pierzynski
AS-AP Albert Pujols
AS-AR Alex Rodriguez
AS-AS Alfonso Soriano
AS-BA Bronson Arroyo
AS-BF Brian Fuentes
AS-BJ Bobby Jenks
AS-BM Brian McCann
AS-BP Brad Penny
AS-BR B.J. Ryan
AS-BW Brandon Webb
AS-CB Carlos Beltran
AS-CC Chris Carpenter
AS-CFC Chris Capuano
AS-CL Carlos Lee
AS-CU Chase Utley
AS-CZ Carlos Zambrano
AS-DE David Eckstein
AS-DO David Ortiz
AS-DT Derrick Turnbow
AS-DU Dan Uggla
AS-DW David Wright
AS-ER Edgar Renteria
AS-FS Freddy Sanchez
AS-GM Gary Matthews, Jr.
AS-GS Grady Sizemore
AS-IR Ivan Rodriguez
AS-JB Jason Bay
AS-JC Jose Contreras
AS-JD Jermaine Dye
AS-JDS Jason Schmidt
AS-JL Jose Lopez
AS-JM Joe Mauer
AS-JP Jonathan Papelbon
AS-JR Jose Reyes
AS-JS Johan Santana
AS-JT Jim Thome
AS-KR Kenny Rogers
AS-LB Lance Berkman
AS-MAR Mark Redman
AS-MB Mark Buehrle
AS-MC Miguel Cabrera
AS-MH Matt Holliday
AS-ML Mark Loretta
AS-MO Magglio Ordonez
AS-MR Mariano Rivera
AS-MT Miguel Tejada
AS-MY Michael Young
AS-PK Paul Konerko
AS-PL Paul LoDuca
AS-RC Robinson Cano
AS-RH Roy Halladay
AS-RJH Ryan Howard
AS-RO Roy Oswalt
AS-SK Scott Kazmir
AS-SR Scott Rolen
AS-TEG Troy Glaus
AS-TG Tom Gordon
AS-TH Trevor Hoffman
AS-TMG Tom Glavine
AS-VG Vladimir Guerrero
AS-VW Vernon Wells
Dual
Each All-Star Stitches Dual is exclusive to Hobby wax and HTA Jumbo boxes and serial-numbered to 50 copies.
MM Joe Mauer / Brian McCann
RO David Ortiz / Alex Rodriguez
WS Grady Sizemore / Vernon Wells
TG Miguel Tejada / Vladimir Guerrero
SS Ichiro / Alfonso Soriano
RH Mariano Rivera / Trevor Hoffman
PW David Wright / Albert Pujols
HT Jim Thome / Ryan Howard
HS Johan Santana / Roy Halladay
CJ Andruw Jones / Miguel Cabrera
Derby Digs Jerseys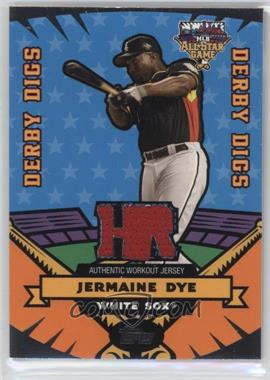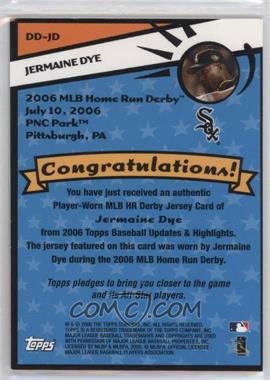 DD-DO David Ortiz
DD-DW David Wright
DD-JD Jermaine Dye
DD-LB Lance Berkman
DD-MC Miguel Cabrera
DD-MT Miguel Tejada
DD-RH Ryan Howard
DD-TG Troy Glaus
Touch 'Em All Base Relics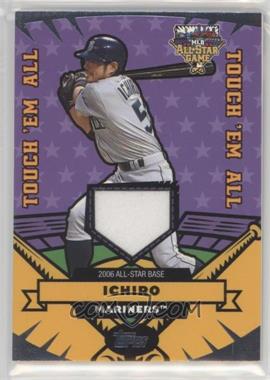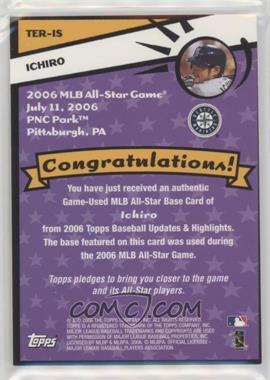 Touch 'Em All Base Relics feature pieces of the bases used in the 2006 All-Star Game and are exclusive to Hobby wax and HTA Jumbo packs.
TER-AP Albert Pujols
TER-AR Alex Rodriguez
TER-CB Carlos Beltran
TER-DO David Ortiz
TER-DW David Wright
TER-IS Ichiro
TER-JM Joe Mauer
TER-MT Miguel Tejada
TER-MY Michael Young
TER-RH Ryan Howard
Midsummer Covers Baseball Relic
Each Midsummer Covers Baseball Relic is exclusive to Hobby wax and HTA Jumbo packs, serial-numbered to ten copies each, and features pieces of balls used in the 2006 All-Star Game.
MC-AR Alex Rodriguez
MC-AS Alfonso Soriano
MC-BR B.J. Ryan
MC-CU Chase Utley
MC-DW David Wright
MC-JB Jason Bay
MC-MR Mariano Rivera
MC-MY Michael Young
MC-PK Paul Konerko
MC-VG Vladimir Guerrero
Barry Bonds 715 Relic
This one-card Barry Bonds jersey relic is serial-numbered to 715 copies.
Rookie Debut Autographs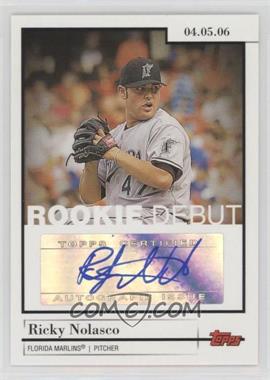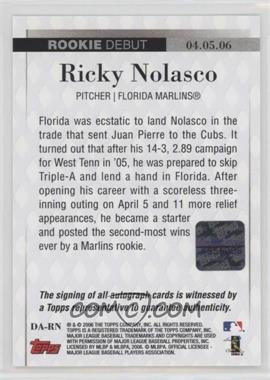 The specific odds of finding a Rookie Debut Autograph are as follows.
Group A: 1:10,600 Hobby; 1:15,000 retail; 1:4416 HTA
Group B: 1:5600 Hobby; 1:7400 retail; 1:2163 HTA
Group C: 1:2200 Hobby; 1:2775 retail; 1:815 HTA
Group D: 1:1180 Hobby; 1:1450 retail; 1:415 HTA
DA-AL Adam Loewen B
DA-BL Bobby Livingston C
DA-EF Emiliano Fruto C
DA-FC Fausto Carmona C
DA-IK Ian Kinsler A
DA-JL Jon Lester D
DA-JS Jeremy Sowers B
DA-MA Matt Albers A
DA-MN Mike Napoli D
DA-MP Martin Prado D
DA-RA Reggie Abercrombie A
DA-RN Ricky Nolasco D
DA-ST Scott Thorman C
DA-YP Yusmeiro Petit D
Signature Moves
The specific odds of finding a Signature Moves card are as follows.
Johnny Damon: 1:300,000 Hobby; 1:175,000 retail; 1:53,000 HTA
Craig Wilson: 1:100,000 Hobby; 1:80,000 retail; 1:30,000 HTA
Huff/Wilkerson: 1:17,500 Hobby; 1:22,000 retail; 1:6,624 HTA
Julio Lugo: 1:17,500 Hobby; 1:22,000 retail; 1:6,624 HTA
Brandon Phillips: 1:9800 Hobby; 1:11,000 retail; 1:10,000 HTA
AH Aubrey Huff
BP Brandon Phillips
BW Brad Wilkerson
CW Craig Wilson
JD Johnny Damon
JL Julio Lugo
All-Star Autographs
Each All-Star Autograph is serial-numbered to 25 copies.
AR Alex Rodriguez
DO David Ortiz
DW David Wright
Barry Bonds Home Run History Autographs