1993 Topps Traded
Description
The 1993 Topps Traded set was released exclusively as a factory set in the Autumn of 1993. The 132-card set featured all the latest rookies, veteran players who had changed teams, and for the third and final year, that year's USA Baseball National Team.
The most notable rookie card is of Todd Helton -- who is depicted in his USA Baseball uniform.
Exclusion of Alex Rodriguez
In 1993, Alex Rodriguez was the widely considered America's best high school baseball player and was expected to be chosen first overall by the Seattle Mariners in the MLB Draft (which he was). That Spring, Rodriguez became the first high school player to tryout and be offered a spot on the USA National Team -- which was usually reserved for the nation's best collegiate amateurs. As part of USA Baseball's sponsorship agreement with Topps, if Rodriguez agreed to join the National Team, Topps would have the right to issue a Rodriguez trading card -- along with the rest of the U.S. National Team -- meaning, Rodriguez's first (and only) Major League true rookie card would have been included in that year's Topps Traded.
Under the advice of his agent Scott Boras (who wanted to negotiate a more lucrative trading card contract), Rodriguez declined USA Baseball's offer. Rodriguez then signed an exclusive deal with draft pick and Minor League card maker Classic. When Rodriguez made his Major League debut the following year, Donruss, Fleer, Pacific, Pinnacle Brands, and Upper Deck all were able to issue true rookie cards. Topps, which unlike their competitors, did not subscribe to the MLBPA's Group Licensing Agreement and signed players to individual contracts, did not issue their first Alex Rodriguez card until 1998.
Distribution
Factory Set exclusive.
Reviews
Checklist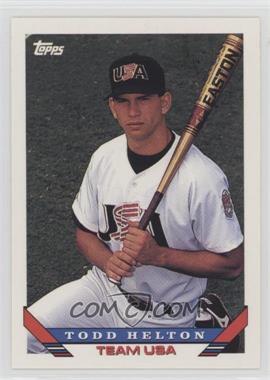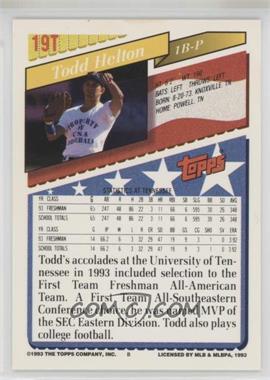 1T Barry Bonds
2T Rich Renteria
3T Aaron Sele
4T Carlton Loewer USA RC
5T Erik Pappas
6T Greg McMichael RC
7T Freddie Benavides
8T Kirk Gibson
9T Tony Fernandez
10T Jay Gainer RC
11T Orestes Destrade
12T A.J. Hinch USA RC
13T Bobby Munoz
14T Tom Henke
15T Rob Butler
16T Gary Wayne
17T David McCarty
18T Walt Weiss
19T Todd Helton USA RC
20T Mark Whiten
21T Ricky Gutierrez
22T Dustin Hermanson USA RC
23T Sherman Obando RC
24T Mike Piazza
25T Jeff Russell
26T Jason Bere
27T Jack Voigt RC
28T Chris Bosio
29T Phil Hiatt
30T Matt Beaumont USA RC*
31T Andres Galarraga
32T Greg Swindell
33T Vinny Castilla
34T Pat Clougherty USA RC
35T Greg Briley
36T Dallas Green / Davey Johnson MGR
37T Tyler Green
38T Craig Paquette
39T Danny Sheaffer RC
40T Jim Converse RC
41T Terry Harvey USA RC*
42T Phil Plantier
43T Doug Saunders RC
44T Benito Santiago
45T Dante Powell USA RC
46T Jeff Parrett
47T Wade Boggs
48T Paul Molitor
49T Turk Wendell
50T David Wells
51T Gary Sheffield
52T Kevin Young
53T Nelson Liriano
54T Greg Maddux
55T Derek Bell
56T Matt Turner RC
57T Charlie Nelson USA RC*
58T Mike Hampton
59T Troy O'Leary RC
60T Benji Gil
61T Mitch Lyden RC
62T J.T. Snow
63T Damon Buford
64T Gene Harris
65T Randy Myers
66T Felix Jose
67T Todd Dunn USA RC
68T Jimmy Key
69T Pedro Castellano
70T Mark Merila USA RC
71T Rich Rodriguez
72T Matt Mieske
73T Pete Incaviglia
74T Carl Everett
75T Jim Abbott
76T Luis Aquino
77T Rene Arocha
78T Jon Shave
79T Todd Walker USA RC
80T Jack Armstrong
81T Jeff Richardson RC
82T Blas Minor
83T Dave Winfield
84T Paul O'Neill
85T Steve Reich USA RC*
86T Chris Hammond
87T Hilly Hathaway RC
88T Fred McGriff
89T Dave Telgheder RC
90T Richie Lewis RC
91T Brent Gates
92T Andre Dawson
93T Andy Barkett USA RC
94T Doug Drabek
95T Joe Klink
96T Willie Blair
97T Danny Graves USA RC
98T Pat Meares RC
99T Mike Lansing RC
100T Marcos Armas RC
101T Darren Grass USA RC*
102T Chris Jones
103T Ken Ryan RC
104T Ellis Burks
105T Roberto Kelly
106T Dave Magadan
107T Paul Wilson USA RC
108T Bob Natal
109T Paul Wagner
110T Jeromy Burnitz
111T Monty Fariss
112T Kevin Mitchell
113T Scott Pose RC
114T Dave Stewart
115T Russ Johnson USA RC
116T Armando Reynoso
117T Geronimo Berroa
118T Woody Williams RC
119T Tim Bogar RC
120T Bob Scafa USA RC*
121T Henry Cotto
122T Gregg Jefferies
123T Norm Charlton
124T Bret Wagner USA RC*
125T David Cone
126T Daryl Boston
127T Tim Wallach
128T Mike Martin USA RC*
129T John Cummings RC
130T Ryan Bowen
131T John Powell USA RC
132T Checklist 1-132 CL