2016 Topps Holiday
Description
2016 Topps Holiday is a 200-card parallel brand that was released exclusively to Walmart stores November 16th. The set is an abbreviated re-hash of the 2016 Topps flagship set, similar to Chrome and Opening Day, with snowflake accents added in the corners. Each ten-pack box will yield either an autograph or a Relic.
Despite being released long after the season's conclusion, the set does not contain base cards of Chris Carter or Jonathan Villar the 2016 National League leaders in home runs and stolen bases, respectively.
Distribution
Ten cards per pack, ten packs per box. Exclusive to Walmart.
Reviews
Insertion Ratios
| Cards | Total Cards | Numbered To | Odds |
| --- | --- | --- | --- |
| Base | 200 | - | ? |
| Metallic Snowflake | 200 | - | 1:2 |
| Relics | 51 | - | ? |
| Autographs | 35 | varies | ? |
| Autographs Metallic Snowflake | 35 | one-of-one | ? |
| Autograph Relics | 40 | 3 | ? |
| Autograph Relics Metallic Snowflake | 40 | one-of-one | ? |
Checklist
Base Set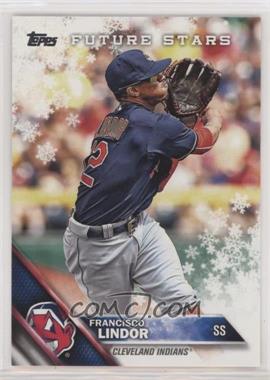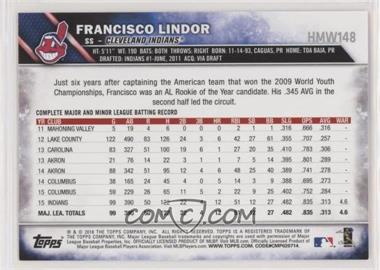 HMW1 Mike Trout
HMW2 Jose Berrios RC
HMW3 Paul Goldschmidt
HMW4 Jason Heyward
HMW5 CC Sabathia
HMW6 Starling Marte
HMW7 George Springer
HMW8 Jaime Garcia
HMW9 Justin Upton
HMW10 Brett Gardner
HMW11 Jose Abreu
HMW12 Dallas Keuchel
HMW13 Aroldis Chapman
HMW14 Andrelton Simmons
HMW15 Adam Jones
HMW16 Matt Holliday
HMW17 Jacoby Ellsbury
HMW18 Wade Davis
HMW19 Joe Panik
HMW20 Alex Rodriguez
HMW21 Matt Andriese
HMW22 Byung-Ho Park RC
HMW23 Carlos Gonzalez
HMW24 Manny Machado
HMW25 Noah Syndergaard FS
HMW26 Julio Urias RC
HMW27 Dustin Pedroia
HMW28 Jackie Bradley, Jr.
HMW29 Nelson Cruz
HMW30 Jonathan Lucroy
HMW31 Corey Kluber
HMW32 Adeiny Hechavarria
HMW33 Seung-Hwan Oh RC
HMW34 Michael Fulmer RC
HMW35 Andrew Miller
HMW36 Shelby Miller
HMW37 Raisel Iglesias FS
HMW38 Nori Aoki
HMW39 Anthony Rizzo
HMW40 Byron Buxton FS
HMW41 Jake Odorizzi FS
HMW42 Madison Bumgarner
HMW43 Masahiro Tanaka
HMW44 Curtis Granderson
HMW45 Aaron Nola RC
HMW46 Tyler White RC
HMW47 Johnny Cueto
HMW48 Andrew McCutchen
HMW49 Francisco Rodriguez
HMW50 Asdrubal Cabrera
HMW51 Luis Severino RC
HMW52 Marcell Ozuna
HMW53 Vince Velasquez
HMW54 Melvin Upton, Jr.
HMW55 Lorenzo Cain
HMW56 David Price
HMW57 Michael Conforto RC
HMW58 Kris Bryant FS
HMW59 Kole Calhoun FS
HMW60 Freddie Freeman
HMW61 Brandon Crawford
HMW62 Aledmys Diaz RC
HMW63 Ryan Howard
HMW64 Giancarlo Stanton
HMW65 Mark Teixeira
HMW66 Marco Estrada
HMW67 Mallex Smith RC
HMW68 Mark Trumbo
HMW69 Zack Greinke
HMW70 Matt Wieters
HMW71 Jon Lester
HMW72 Jeremy Hazelbaker RC
HMW73 Jacob deGrom
HMW74 Clayton Kershaw
HMW75 Max Scherzer
HMW76 David Ortiz
HMW77 Evan Gattis
HMW78 Ichiro
HMW79 J.D. Martinez FS
HMW80 Josh Donaldson
HMW81 Kyle Schwarber RC
HMW82 Justin Verlander
HMW83 Evan Longoria
HMW84 Ian Desmond
HMW85 Neil Walker
HMW86 Matt Harvey
HMW87 Steven Matz FS
HMW88 Matt Adams
HMW89 Hyun-Soo Kim RC
HMW90 Dexter Fowler
HMW91 Prince Fielder
HMW92 Elvis Andrus
HMW93 Cole Hamels
HMW94 Albert Almora RC
HMW95 Tanner Roark
HMW96 Gerrit Cole
HMW97 Matt Carpenter
HMW98 Jason Kipnis
HMW99 Miguel Cabrera
HMW100 Carlos Martinez
HMW101 Eric Hosmer
HMW102 Maikel Franco FS
HMW103 Jason Hammel
HMW104 Xander Bogaerts
HMW105 Dellin Betances
HMW106 Hanley Ramirez
HMW107 Joe Mauer
HMW108 R.A. Dickey
HMW109 Russell Martin
HMW110 Bryce Harper
HMW111 Daniel Murphy
HMW112 Bartolo Colon
HMW113 Denard Span
HMW114 Yu Darvish
HMW115 Todd Frazier
HMW116 Sonny Gray
HMW117 Trayce Thompson RC
HMW118 Adrian Beltre
HMW119 Yunel Escobar
HMW120 Trevor Rosenthal
HMW121 James Shields
HMW122 Joc Pederson FS
HMW123 Josh Reddick
HMW124 Doug Fister
HMW125 Gregory Polanco
HMW126 Henry Owens RC
HMW127 Jose Bautista
HMW128 Robert Stephenson RC
HMW129 Corey Seager
HMW130 Eugenio Suarez
HMW131 Tyler Naquin RC
HMW132 Carlos Correa FS
HMW133 Michael Brantley
HMW134 Stephen Strasburg
HMW135 Justin Bour
HMW136 Trevor Story RC
HMW137 Josh Harrison
HMW138 Stephen Piscotty RC
HMW139 Cameron Maybin
HMW140 Yovani Gallardo
HMW141 Mookie Betts
HMW142 Michael Pineda
HMW143 Adam Wainwright
HMW144 Erick Aybar
HMW145 Odubel Herrera FS
HMW146 Addison Russell FS
HMW147 Michael Wacha
HMW148 Francisco Lindor FS
HMW149 Kenta Maeda RC
HMW150 Yasiel Puig
HMW151 Jeremy Hellickson
HMW152 DJ LeMahieu
HMW153 Adrian Gonzalez
HMW154 Miguel Sano RC
HMW155 Nomar Mazara RC
HMW156 Jon Jay
HMW157 Hunter Pence
HMW158 Edwin Encarnacion
HMW159 Didi Gregorius
HMW160 Chris Archer
HMW161 Buster Posey
HMW162 Salvador Perez
HMW163 Felix Hernandez
HMW164 Albert Pujols
HMW165 Mike Moustakas
HMW166 Roberto Osuna FS
HMW167 Craig Kimbrel
HMW168 Jeff Samardzija
HMW169 Jed Lowrie
HMW170 Ian Kinsler
HMW171 Jake Arrieta
HMW172 Blake Snell RC
HMW173 Ross Stripling RC
HMW174 Martin Prado
HMW175 Troy Tulowitzki
HMW176 Ryan Braun
HMW177 Chris Sale
HMW178 Matt Duffy
HMW179 Ender Inciarte
HMW180 Wil Myers
HMW181 Nolan Arenado
HMW182 Starlin Castro
HMW183 Yadier Molina
HMW184 Javier Baez FS
HMW185 Carlos Rodon FS
HMW186 Christian Yelich
HMW187 Stephen Vogt
HMW188 Robinson Cano
HMW189 Brandon Belt
HMW190 Danny Salazar
HMW191 Victor Martinez
HMW192 Joey Votto
HMW193 Rougned Odor
HMW194 Kyle Seager
HMW195 Marcus Stroman
HMW196 Kenley Jansen
HMW197 Jameson Taillon RC
HMW198 David Wright
HMW199 Yoenis Cespedes
HMW200 Nick Castellanos
Parallels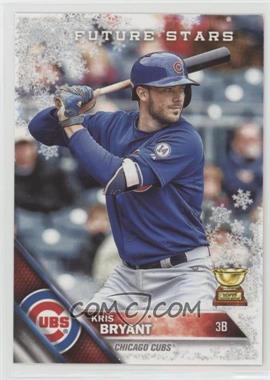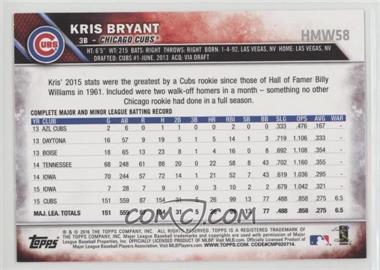 All 200 base cards are available in a Metallic Snowflake parallel.
Relics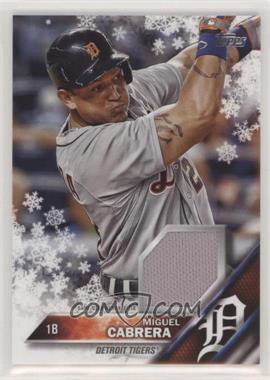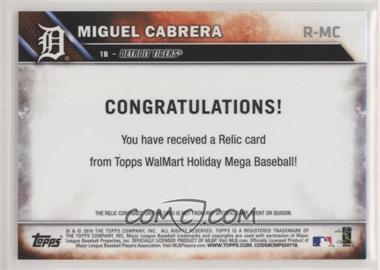 R-AB Aaron Blair
R-AC Aroldis Chapman
R-AG Adrian Gonzalez
R-AJ Adam Jones
R-AN Aaron Nola
R-ARI Anthony Rizzo
R-ARU Addison Russell
R-BS Blake Snell
R-CA Chris Archer
R-CD Corey Dickerson
R-CK Corey Kluber
R-CM Colin Moran
R-CMA Carlos Martinez
R-CR Carlos Rodon
R-CS Chris Sale
R-DP Dustin Pedroia
R-DPR David Price
R-DW David Wright
R-EH Eric Hosmer
R-EL Evan Longoria
R-FF Freddie Freeman
R-GC Gerrit Cole
R-GS Giancarlo Stanton
R-GSP George Springer
R-HR Hanley Ramirez
R-IK Ian Kinsler
R-JAB Jose Abreu
R-JD Jacob deGrom
R-JHE Jason Heyward
R-JPE Joc Pederson
R-JR Joey Rickard
R-JS Jorge Soler
R-JU Justin Upton
R-KC Kole Calhoun
R-KK Kevin Kiermaier
R-LS Luis Severino
R-MC Miguel Cabrera
R-MD Matt Duffy
R-MP Michael Pineda
R-MSA Miguel Sano
R-NM Nomar Mazara
R-NS Noah Syndergaard
R-RB Ryan Braun
R-RC Robinson Cano
R-SD Sean Doolittle
R-SG Sonny Gray
R-SMA Starling Marte
R-TT Troy Tulowitzki
R-TWA Taijuan Walker
R-YC Yoenis Cespedes
R-YP Yasiel Puig
Autographs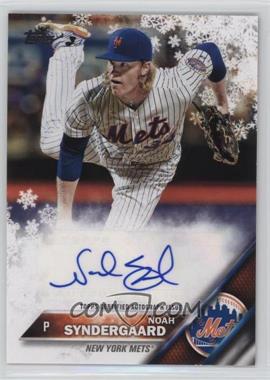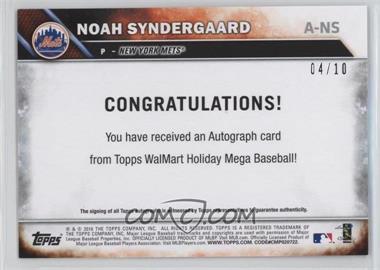 Each Autograph is also available in a one-of-one Metallic Snowflake parallel.
A-AC Alex Cobb
A-AN Aaron Nola
A-ARE A.J. Reed
A-BPA Byung-Ho Park
A-BS Blake Snell
A-CKL Corey Kluber
A-CR Carlos Rodon
A-FL Francisco Lindor
A-JB Jose Berrios
A-JD Jacob deGrom
A-JE Jerad Eickhoff
A-JH Jason Heyward
A-JP Joe Panik
A-JS Jorge Soler
A-JT Jameson Taillon
A-KB Kris Bryant
A-KK Kevin Kiermaier
A-KM Kendrys Morales
A-KS Kyle Schwarber
A-LG Lucas Giolito
A-LS Luis Severino
A-MD Matt Duffy
A-MF Michael Fulmer
A-MFR Maikel Franco
A-MP Michael Pineda
A-MS Miguel Sano
A-NM Nomar Mazara
A-NS Noah Syndergaard
A-PO Peter O?Brien
A-RST Ross Stripling
A-SD Sean Doolittle
A-SP Stephen Piscotty
A-TS Trevor Story
A-TT Trea Turner
A-TW Taijuan Walker
Autograph Relics
Each Autograph Relic is serial-numbered to three with a one-of-one Metallic Snowflake parallel also available.
AR-AN Aaron Nola
AR-BH Bryce Harper
AR-BP Brandon Phillips
AR-BPO Buster Posey
AR-CB Charlie Blackmon
AR-CC Carlos Correa
AR-CG Carlos Gonzalez
AR-CH Cole Hamels
AR-CK Craig Kimbrel
AR-CKE Clayton Kershaw
AR-CM Carlos Martinez
AR-DP Dustin Pedroia
AR-DPR David Price
AR-DW David Wright
AR-EE Edwin Encarnacion
AR-FL Francisco Lindor
AR-GP Gregory Polanco
AR-HR Hanley Ramirez
AR-JD Jacob deGrom
AR-JHE Jason Heyward
AR-JM Joe Mauer
AR-JP Joc Pederson
AR-JV Joey Votto
AR-KB Kris Bryant
AR-KM Kenta Maeda
AR-KS Kyle Seager
AR-KSC Kyle Schwarber
AR-MB Madison Bumgarner
AR-MS Miguel Sano
AR-MT Mike Trout
AR-NS Noah Syndergaard
AR-PF Prince Fielder
AR-PG Paul Goldschmidt
AR-RB Ryan Braun
AR-SG Sonny Gray
AR-SMA Steven Matz
AR-TS Trevor Story
AR-TT Troy Tulowitzki
AR-TW Taijuan Walker
AR-WM Wil Myers