1987 Topps Traded
Description
1987 Topps Traded is a 132-card set released exclusively to Hobby dealers. The product features players who were traded during the 1987 season and rookies called up during the season.
Approximately 30,000 Traded Tiffany sets were also printed.
Distribution
Factory sets only. Hobby only.
Reviews
Insertion Ratios
| Cards | Total Cards | Numbered To | Hobby Odds | Retail Odds |
| --- | --- | --- | --- | --- |
| Base | 132 | - | ? | ? |
Checklist
Base Set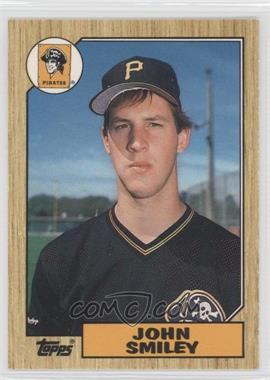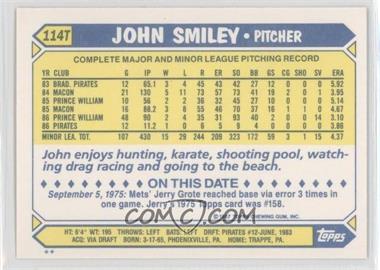 1T Bill Almon
2T Scott Bankhead
3T Eric Bell
4T Juan Beniquez
5T Juan Berenguer
6T Greg Booker
7T Thad Bosley
8T Larry Bowa MGR
9T Greg Brock
10T Bob Brower
11T Jerry Browne
12T Ralph Bryant
13T DeWayne Buice
14T Ellis Burks XRC
15T Ivan Calderon
16T Jeff Calhoun
17T Casey Candaele
18T John Cangelosi
19T Steve Carlton
20T Juan Castillo
21T Rick Cerone
22T Ron Cey
23T John Christensen
24T David Cone XRC
25T Chuck Crim
26T Storm Davis
27T Andre Dawson
28T Rick Dempsey
29T Doug Drabek
30T Mike Dunne
31T Dennis Eckersley
32T Lee Elia MGR
33T Brian Fisher
34T Terry Francona
35T Willie Fraser
36T Billy Gardner MGR
37T Ken Gerhart
38T Dan Gladden
39T Jim Gott
40T Cecilio Guante
41T Albert Hall
42T Terry Harper
43T Mickey Hatcher
44T Brad Havens
45T Neal Heaton
46T Mike Henneman XRC
47T Donnie Hill
48T Guy Hoffman
49T Brian Holton
50T Charles Hudson
51T Danny Jackson
52T Reggie Jackson
53T Chris James XRC
54T Dion James
55T Stan Jefferson
56T Joe Johnson
57T Terry Kennedy
58T Mike Kingery
59T Ray Knight
60T Gene Larkin XRC
61T Mike LaValliere
62T Jack Lazorko
63T Terry Leach
64T Tim Leary
65T Jim Lindeman
66T Steve Lombardozzi
67T Bill Long
68T Barry Lyons
69T Shane Mack
70T Greg Maddux XRC
71T Bill Madlock
72T Joe Magrane XRC
73T Dave Martinez XRC
74T Fred McGriff
75T Mark McLemore
76T Kevin McReynolds
77T Dave Meads
78T Eddie Milner
79T Greg Minton
80T John Mitchell XRC
81T Kevin Mitchell
82T Charlie Moore
83T Jeff Musselman
84T Gene Nelson
85T Graig Nettles
86T Al Newman
87T Reid Nichols
88T Tom Niedenfuer
89T Joe Niekro
90T Tom Nieto
91T Matt Nokes XRC
92T Dickie Noles
93T Pat Pacillo
94T Lance Parrish
95T Tony Pena
96T Luis Polonia XRC
97T Randy Ready
98T Jeff Reardon
99T Gary Redus
100T Jeff Reed
101T Rick Rhoden
102T Cal Ripken, Sr. MGR
103T Wally Ritchie
104T Jeff M. Robinson
105T Gary Roenicke
106T Jerry Royster
107T Mark Salas
108T Luis Salazar
109T Benito Santiago
110T Dave Schmidt
111T Kevin Seitzer XRC
112T John Shelby
113T Steve Shields
114T John Smiley XRC
115T Chris Speier
116T Mike Stanley XRC
117T Terry Steinbach XRC
118T Les Straker
119T Jim Sundberg
120T Danny Tartabull
121T Tom Trebelhorn MGR
122T Dave Valle XRC
123T Ed Vande Berg
124T Andy Van Slyke
125T Gary Ward
126T Alan Wiggins
127T Bill Wilkinson
128T Frank Williams
129T Matt Williams XRC
130T Jim Winn
131T Matt Young
132T Checklist 1T-132T
Parallels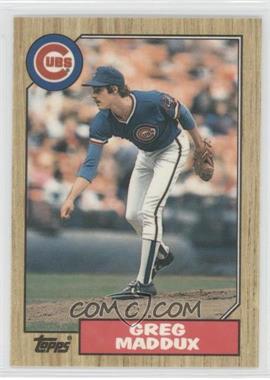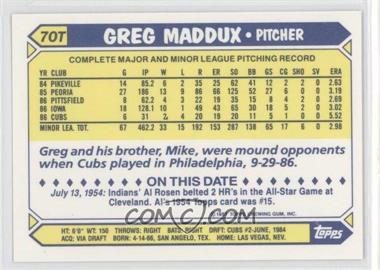 About 30,000 Topps Traded Tiffany sets were also produced. Tiffany sets have a glossy coating on the front of each card.