1986 Topps Super
Description
1986 Topps Super is a 60-card partial-parallel of the 1986 Topps set. Each card measures 4 7/8" by 6 7/8". Cards are very similar to the Topps regular issue; two exceptions are that on the back they are numbered differently and an additional line of type is printed at the bottom of the back noting an accomplishment of that player at the end of the 1985 season.
Unlike previous year's Supers, the '86 Supers were distributed exclusively in 500-card vending cases.
Distribution
500 card Vending boxes. Six boxes per case.
Reviews
Checklist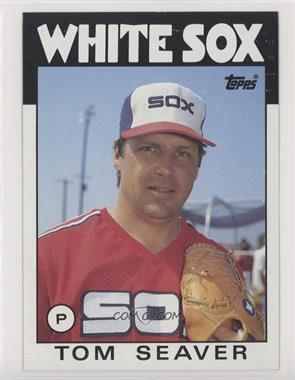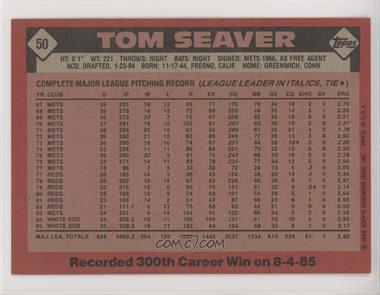 9 Harold Baines
10 Jorge Bell
11 Bert Blyleven
12 Wade Boggs
13 Phil Bradley
14 George Brett
15 Hubie Brooks
16 Tom Browning
17 Bill Buckner
18 Brett Butler
19 Gary Carter
20 Cecil Cooper
21 Darrell Evans
22 Dwight Evans
23 Carlton Fisk
24 Steve Garvey
25 Kirk Gibson
26 Rich Gossage
27 Pedro Guerrero
28 Ron Guidry
29 Tony Gwynn
30 Rickey Henderson
31 Keith Hernandez
32 Tom Herr
33 Orel Hershiser
34 Jay Howell
35 Reggie Jackson
36 Bob James
37 Charlie Leibrandt
38 Jack Morris
39 Dale Murphy
40 Eddie Murray
41 Dave Parker
42 Tim Raines
43 Jim Rice
44 Dave Righetti
45 Cal Ripken, Jr.
46 Pete Rose
47 Nolan Ryan
48 Ryne Sandberg
49 Mike Schmidt
50 Tom Seaver
51 Bryn Smith
52 Lee Smith
53 Ozzie Smith
54 Dave Stieb
55 Darryl Strawberry
56 Gorman Thomas
57 John Tudor
58 Fernando Valenzuela
59 Willie Wilson
60 Dave Winfield
1 Don Mattingly
2 Willie McGee
3 Bret Saberhagen
4 Dwight Gooden
5 Dan Quisenberry
6 Jeff Reardon
7 Ozzie Guillen
8 Vince Coleman