2018 Topps Home Run Challenge
Description
2018 Topps Home Run Challenge is a 50-card set that was randomly inserted into packs of 2018 Topps Series One and Two and 2018 Topps Allen & Ginter. The back of each card has a code that is concealed by a scratch-off "bar." In order to play the Home Run Challenge game, the code must be revealed and entered onto a special website.
Once the code is entered, the collector must predict the exact day his designated player hits a home run. If he does hit a home run on the day selected, the collector would then receive a special serial-numbered parallel of that player -- with a different set of parallels for each month. All winning entries would then be entered into a drawing for additional prizes (autographs, replica jerseys, and the like). The Grand Prize is an all-expenses paid trip for two to the 2019 All-Star Game's Home Run Derby.
Distribution
Reviews
Checklist
NOTES
Since the Home Run Challenge game is dependent on the number of cards redeemed and the performance of each individual player, not all 50 cards have a parallel in each color.
Each card was produced (and serial-numbered) to the number of winning entries for that player in that month.
Base Set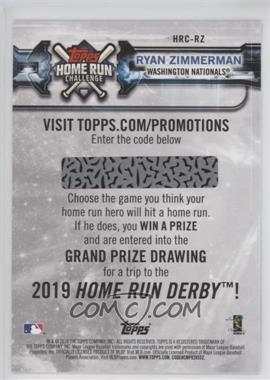 HRC-AD Adam Duvall
HRC-AE Anthony Rendon
HRC-AJ Aaron Judge
HRC-AM Andrew McCutchen
HRC-AO Adam Jones
HRC-AR Anthony Rizzo
HRC-BD Brian Dozier
HRC-BH Bryce Harper
HRC-CB Cody Bellinger
HRC-CD Corey Dickerson
HRC-CL Charlie Blackmon
HRC-EE Edwin Encarnacion
HRC-ET Eric Thames
HRC-FF Freddie Freeman
HRC-GA Gary Sanchez
HRC-GP George Springer
HRC-GS Giancarlo Stanton
HRC-JA Jose Abreu
HRC-JB Jay Bruce
HRC-JC Jonathan Schoop
HRC-JG Joey Gallo
HRC-JL Jake Lamb UER (Pictured is Daniel Descalso)
HRC-JM J.D. Martinez
HRC-JS Justin Smoak
HRC-JU Justin Upton
HRC-JV Joey Votto
HRC-KB Kris Bryant
HRC-KD Khris Davis
HRC-LM Logan Morrison
HRC-MA Manny Machado
HRC-MC Michael Conforto
HRC-MD Matt Davidson
HRC-MM Mike Moustakas
HRC-MN Mike Napoli
HRC-MO Marcell Ozuna
HRC-MR Mark Reynolds
HRC-MS Miguel Sano
HRC-MT Mike Trout
HRC-NA Nolan Arenado
HRC-NC Nelson Cruz
HRC-PG Paul Goldschmidt
HRC-RO Rougned Odor
HRC-RZ Ryan Zimmerman
HRC-SC Scott Schebler
HRC-SS Steven Souza, Jr.
HRC-TM Trey Mancini
HRC-TS Travis Shaw
HRC-WC Willson Contreras
HRC-WM Wil Myers
HRC-YA Yonder Alonso
Parallels
Sepia (March/April Winners)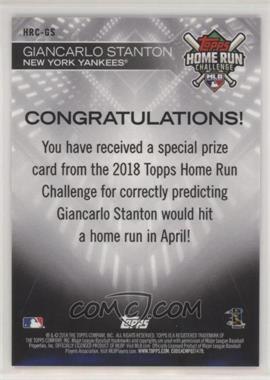 HRC-AD Adam Duvall 9
HRC-AE Anthony Rendon 6
HRC-AJ Aaron Judge 20
HRC-AM Andrew McCutchen 7
HRC-AO Adam Jones 15
HRC-AR Anthony Rizzo 9
HRC-BD Brian Dozier 23
HRC-BH Bryce Harper 35
HRC-CB Cody Bellinger 9
HRC-CD Corey Dickerson 8
HRC-CL Charlie Blackmon 22
HRC-EE Edwin Encarnacion 19
HRC-ET Eric Thames 25
HRC-FF Freddie Freeman 21
HRC-GA Gary Sanchez 18
HRC-GS George Springer 34
HRC-GS Giancarlo Stanton 17
HRC-JA Jose Abreu 15
HRC-JB Jay Bruce 2
HRC-JC Jonathan Schoop 3
HRC-JG Joey Gallo 28
HRC-JM J.D. Martinez 14
HRC-JS Justin Smoak 7
HRC-JU Justin Upton 24
HRC-JV Joey Votto 7
HRC-KB Kris Bryant 14
HRC-KD Khris Davis 20
HRC-LM Logan Morrison 11
HRC-MA Manny Machado 22
HRC-MC Michael Conforto 14
HRC-MD Matt Davidson 14
HRC-MM Mike Moustakas 30
HRC-MO Marcell Ozuna 6
HRC-MS Miguel Sano 18
HRC-MT Mike Trout 46
HRC-NA Nolan Arenado 17
HRC-NC Nelson Cruz 19
HRC-PG Paul Goldschmidt 10
HRC-RZ Ryan Zimmerman 8
HRC-SC Scott Schebler 7
HRC-TM Trey Mancini 5
HRC-TS Travis Shaw 18
HRC-WM Wil Myers 7
HRC-YA Yonder Alonso 27
Pink (May Winners)
HRC-AD Adam Duvall 14
HRC-AE Anthony Rendon 17
HRC-AJ Aaron Judge 37
HRC-AO Adam Jones 14
HRC-AR Anthony Rizzo 32
HRC-BD Brian Dozier 11
HRC-BH Bryce Harper 27
HRC-CB Cody Bellinger 11
HRC-CD Corey Dickerson 2
HRC-CL Charlie Blackmon 8
HRC-EE Edwin Encarnacion 15
HRC-FF Freddie Freeman 15
HRC-GA Gary Sanchez 11
HRC-GP George Springer 8
HRC-GS Giancarlo Stanton 13
HRC-JA Jose Abreu 6
HRC-JC Jonathan Schoop 14
HRC-JG Joey Gallo 10
HRC-JM J.D. Martinez 31
HRC-JS Justin Smoak 8
HRC-JU Justin Upton 31
HRC-JV Joey Votto 3
HRC-KB Kris Bryant 14
HRC-KD Khris Davis 22
HRC-LM Logan Morrison 8
HRC-MA Manny Machado 21
HRC-MC Michael Conforto 14
HRC-MD Matt Davidson 3
HRC-MM Mike Moustakas 11
HRC-MO Marcell Ozuna 2
HRC-MR Mark Reynolds 5
HRC-MS Miguel Sano 4
HRC-MT Mike Trout 28
HRC-NA Nolan Arenado 21
HRC-NC Nelson Cruz 9
HRC-PG Paul Goldschmidt 9
HRC-RZ Ryan Zimmerman 1
HRC-SS Scott Schebler 2
HRC-TM Trey Mancini 22
HRC-TS Travis Shaw 22
HRC-WC Willson Contreras 11
HRC-YA Yonder Alonso 5
Blue (June Winners)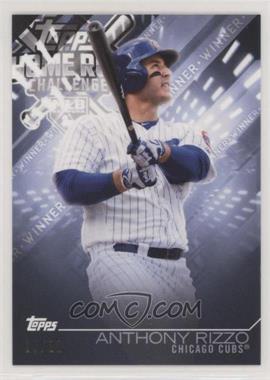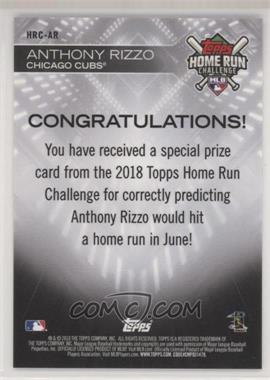 HRC-AD Adam Duvall 7
HRC-AE Anthony Rendon 23
HRC-AJ Aaron Judge 26
HRC-AM Andrew McCutchen 20
HRC-AO Adam Jones 3
HRC-AR Anthony Rizzo 22
HRC-BD Brian Dozier 11
HRC-BH Bryce Harper 17
HRC-CB Cody Bellinger 30
HRC-CL Charlie Blackmon 15
HRC-EE Edwin Encarnacion 14
HRC-ET Eric Thames 26
HRC-FF Freddie Freeman 18
HRC-GA Gary Sanchez 7
HRC-GP George Springer 20
HRC-GS Giancarlo Stanton 31
HRC-JA Jose Abreu 12
HRC-JB Jay Bruce 1
HRC-JC Jonathan Schoop 14
HRC-JG Joey Gallo 15
HRC-JL Jake Lamb 22
HRC-JM J.D. Martinez 31
HRC-JS Justin Smoak 14
HRC-JU Justin Upton 26
HRC-JV Joey Votto 13
HRC-KB Kris Bryant 3
HRC-KD Khris Davis 11
HRC-LM Logan Morrison 13
HRC-MA Manny Machado 24
HRC-MC Michael Conforto 14
HRC-MD Matt Davidson 14
HRC-MM Mike Moustakas 25
HRC-MO Marcell Ozuna 23
HRC-MR Mark Reynolds 4
HRC-MT Mike Trout 25
HRC-NA Nolan Arenado 53
HRC-NC Nelson Cruz 27
HRC-PG Paul Goldschmidt 39
HRC-RO Rougned Odor 22
HRC-SS Scott Schebler 13
HRC-TM Trey Mancini 13
HRC-TS Travis Shaw 4
HRC-WC Willson Contreras 10
HRC-WM Wil Myers 7
HRC-YA Yonder Alonso 9
Red (July Winners)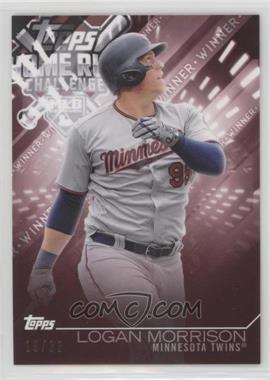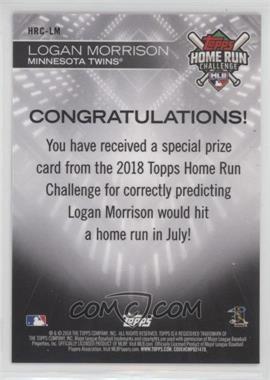 HRC-AD Adam Duvall 11
HRC-AE Anthony Rendon 9
HRC-AJ Aaron Judge 53
HRC-AM Andrew McCutchen 17
HRC-AO Adam Jones 15
HRC-AR Anthony Rizzo 23
HRC-BD Brian Dozier 27
HRC-BH Bryce Harper 19
HRC-CD Corey Dickerson 30
HRC-CL Charlie Blackmon 56
HRC-EE Edwin Encarnacion 30
HRC-ET Eric Thames 15
HRC-FF Freddie Freeman 23
HRC-GP George Springer 36
HRC-GS Giancarlo Stanton 64
HRC-JA Jose Abreu 20
HRC-JC Jonathan Schoop 61
HRC-JG Joey Gallo 47
HRC-JM J.D. Martinez 55
HRC-JS Justin Smoak 37
HRC-JU Justin Upton 17
HRC-JV Joey Votto 6
HRC-KB Kris Bryant 8
HRC-KD Khris Davis 60
HRC-LM Logan Morrison 33
HRC-MA Manny Machado 32
HRC-MC Michael Conforto 29
HRC-MD Matt Davidson 23
HRC-MM Mike Moustakas 16
HRC-MO Marcell Ozuna 31
HRC-MR Mark Reynolds 32
HRC-MT Mike Trout 58
HRC-NA Nolan Arenado 81
HRC-NC Nelson Cruz 28
HRC-PG Paul Goldschmidt 61
HRC-RO Rougned Odor 20
HRC-RZ Ryan Zimmerman 22
HRC-SS Scott Schebler 12
HRC-SS Steven Souza, Jr. 23
HRC-TM Trey Mancini 26
HRC-TS Travis Shaw 50
HRC-WC Willson Contreras 19
HRC-WM Wil Myers 48
HRC-YA Yonder Alonso 33
Gray (August Winners)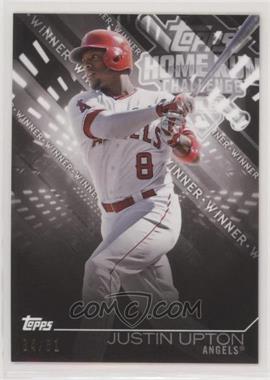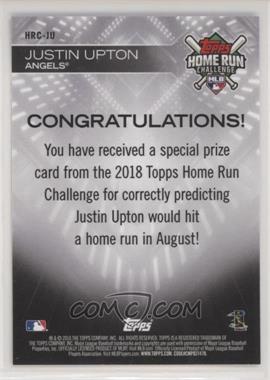 HRC-AE Anthony Rendon 6
HRC-AM Andrew McCutchen 30
HRC-AO Adam Jones 32
HRC-AR Anthony Rizzo 63
HRC-BD Brian Dozier 40
HRC-BH Bryce Harper 82
HRC-CB Cody Bellinger 23
HRC-CL Charlie Blackmon 20
HRC-EE Edwin Encarnacion 35
HRC-ET Eric Thames 25
HRC-FF Freddie Freeman 34
HRC-GP George Springer 5
HRC-GS Giancarlo Stanton 86
HRC-JA Jose Abreu 51
HRC-JB Jay Bruce 5
HRC-JC Jonathan Schoop 33
HRC-JG Joey Gallo 82
HRC-JM J.D. Martinez 84
HRC-JS Justin Smoak 52
HRC-JU Justin Upton 51
HRC-KD Khris Davis 85
HRC-MA Manny Machado 60
HRC-MC Michael Conforto 50
HRC-MD Matt Davidson 25
HRC-MM Mike Moustakas 48
HRC-MO Marcell Ozuna 21
HRC-MR Mark Reynolds 8
HRC-MS Miguel Sano 55
HRC-MT Mike Trout 22
HRC-NA Nolan Arenado 21
HRC-NC Nelson Cruz 93
HRC-PG Paul Goldschmidt 66
HRC-RO Rougned Odor 88
HRC-RZ Ryan Zimmerman 64
HRC-SS Scott Schebler 23
HRC-SS Steven Souza, Jr. 23
HRC-TM Trey Mancini 71
HRC-TS Travis Shaw 89
HRC-WC Willson Contreras 6
HRC-WM Wil Myers 16
HRC-YA Yonder Alonso 19
White (September/October Winners)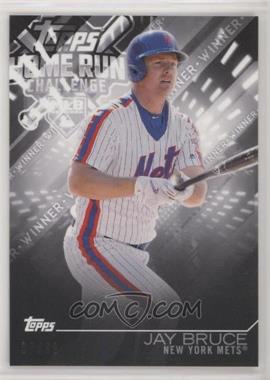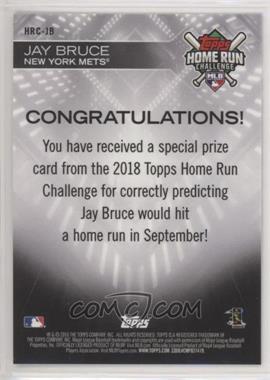 HRC-AE Anthony Rendon 62
HRC-AJ Aaron Judge 59
HRC-AM Andrew McCutchen 68
HRC-AO Adam Jones 15
HRC-AR Anthony Rizzo 19
HRC-BD Brian Dozier 32
HRC-BH Bryce Harper 41
HRC-CB Cody Bellinger 78
HRC-CD Corey Dickerson 21
HRC-CL Charlie Blackmon 70
HRC-EE Edwin Encarnacion 41
HRC-FF Freddie Freeman 28
HRC-GA Gary Sanchez 69
HRC-GP George Springer 57
HRC-GS Giancarlo Stanton 60
HRC-JB Jay Bruce 60
HRC-JC Jonathan Schoop 6
HRC-JG Joey Gallo 86
HRC-JM J.D. Martinez 87
HRC-JS Justin Smoak 30
HRC-JU Justin Upton 35
HRC-JV Joey Votto 36
HRC-KB Kris Bryant 29
HRC-KD Khris Davis 112
HRC-MA Manny Machado 47
HRC-MC Michael Conforto 92
HRC-MD Matt Davidson 8
HRC-MM Mike Moustakas 50
HRC-MO Marcell Ozuna 65
HRC-MR Mark Reynolds 7
HRC-MT Mike Trout 119
HRC-NA Nolan Arenado 102
HRC-NC Nelson Cruz 46
HRC-PG Paul Goldschmidt 16
HRC-RO Rougned Odor 16
HRC-SS Scott Schebler 58
HRC-SS Steven Souza, Jr. 36
HRC-TM Trey Mancini 43
HRC-TS Travis Shaw 99
HRC-WC Willson Contreras 31
HRC-WM Wil Myers 9